Dr. Axe

>

Recipes

>

Gluten-Free
Buffalo Chicken Dip Recipe
Ingredients:
1 pound chicken, roasted and shredded
½ cup homemade ranch dressing
16 ounces organic cream cheese
½ cup organic bleu cheese
2 ounces shredded buffalo mozzarella
½ cup buffalo hot sauce
Directions:
Heat oven to 350 F.
Place the chicken in a large mixing bowl. Add the ranch dressing, cheeses, and hot sauce and mix well.
Transfer the mixture to a baking dish and bake for 20 minutes. Serve warm with raw veggies.
Autumn and winter mean football season, and football season means lots of snacks. Which can spell danger to a healthy eating regimen, unless you send your snacks to training camp to shape up. (I have a whole "Snacks" category over there on the right side to help you do just this.)
This weekend, let's bench those fried buffalo wings and sub in this Buffalo Chicken Dip, which has all the flavor of wings and bleu cheese dressing mixed into one easy dish. Best of all, this dip is packed with healthy fats, is gluten-free and leaves no messy fingers behind. Try it served up with some cut up raw veggies, and you'll be getting your daily fiber in a delicious way.
Start by whipping up my Homemade Ranch Dressing Recipe. Fair warning: once you try this dressing, you'll want to always have some on hand, especially if you have little ones who will only eat their veggies when they can dunk them. This buffalo chicken dip is also a terrific way to use up leftover meat — or on a busy day, grab an organic rotisserie chicken from the store to use. Your friends and family are going to love this game day snack!
We'll kick things off by preheating the oven to 350 F. placing the cooked, shredded chicken into a bowl. Next, add in my Homemade Ranch Dressing, three cheeses (oh yes, this is going to be a good one) and your favorite hot sauce. Mix it all up really well.
And if you want to turn up the heat, you can definitely add a few extra dashes of hot sauce!
Next, transfer the chicken mixture to a greased baking dish for easy cleanup later. Slide this bad boy into the oven and let it bake for 20 minutes.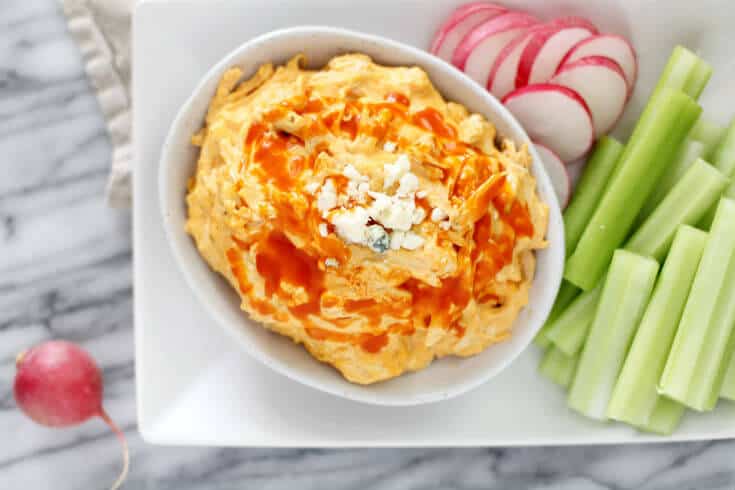 This Buffalo Chicken Dip is best straight right out of the oven. It's terrific for dipping raw veggies like benefit-rich celery sticks, carrots or bell pepper strips — or eating straight from the baking dish with a spoon!
Serve this for the next football game for a snack that's sure to satisfy.
---
Get FREE Access!
Dr. Josh Axe is on a mission to provide you and your family with the highest quality nutrition tips and healthy recipes in the world...Sign up to get VIP access to his eBooks and valuable weekly health tips for FREE!
Free eBook to boost
metabolism & healing
30 Gluten-Free Recipes
& detox juicing guide
Shopping Guide &
premium newsletter