Do you need a new snack? If you're like me, you're always on the lookout for something tasty to nibble on while you catch up on Netflix or to curb hunger when you're wrapping up the work day. Easy to prepare, delicious to eat and portable are my top snack criteria, and this Baked Apple Rings recipe ticks all the boxes!
This is a great recipe to use for nutrition-rich apples that don't look too pretty but are still safe to eat. It's sweet enough to satisfy a sweet tooth, but not overly so. And while they take a little while to bake, there's so little hands-on time that making these apple rings is a breeze. Bonus: the kids will love them!
Preheat the oven to 200 degrees F. This low temperature allows the apples to get nice and crispy without burning. First core the apples, then use a mandoline or a knife to slice the apples thinly into a ring shape.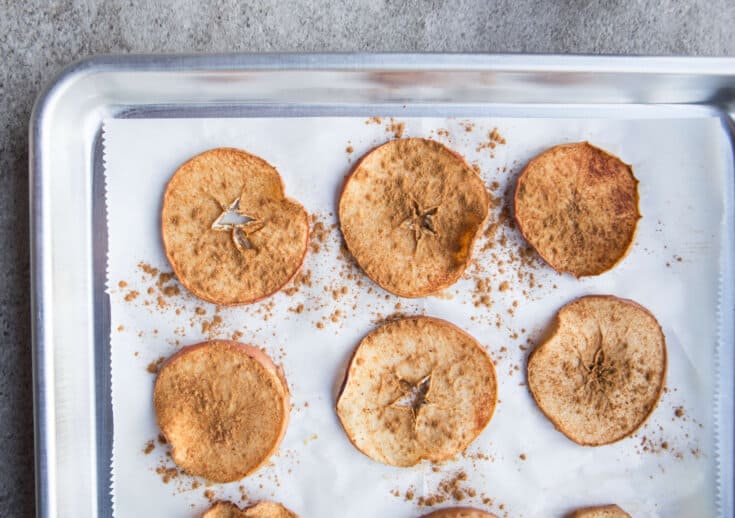 Toss the apple rings in a bowl with the cinnamon, nutmeg and ginger. Then lie them flat on a parchment paper-lined baking sheet.
Bake the apple rings for an hour. Sprinkle them with a little extra cinnamon — and some coconut sugar if you're feeling naughty — and enjoy!
You can easily pack these with lunches or serve as an after-school snack. Make a big batch, because they'll go quickly!
Total Time
1 hour 10 minutes
Ingredients:
6 large apples
1 teaspoon of each: cinnamon, ginger, nutmeg
Directions:
Preheat oven to 200 degrees F.
Core apples then slice thinly with a knife or mandoline.
Toss apples with spices and place of baking sheet lined with parchment paper.
Bake for 1 hour. Sprinkle with cinnamon and serve.
Get FREE Access!
Dr. Josh Axe is on a mission to provide you and your family with the highest quality nutrition tips and healthy recipes in the world...Sign up to get VIP access to his eBooks and valuable weekly health tips for FREE!
Free eBook to boost
metabolism & healing
30 Gluten-Free Recipes
& detox juicing guide
Shopping Guide &
premium newsletter