This Dr. Axe content is medically reviewed or fact checked to ensure factually accurate information.
With strict editorial sourcing guidelines, we only link to academic research institutions, reputable media sites and, when research is available, medically peer-reviewed studies. Note that the numbers in parentheses (1, 2, etc.) are clickable links to these studies.
The information in our articles is NOT intended to replace a one-on-one relationship with a qualified health care professional and is not intended as medical advice.
This article is based on scientific evidence, written by experts and fact checked by our trained editorial staff. Note that the numbers in parentheses (1, 2, etc.) are clickable links to medically peer-reviewed studies.
Our team includes licensed nutritionists and dietitians, certified health education specialists, as well as certified strength and conditioning specialists, personal trainers and corrective exercise specialists. Our team aims to be not only thorough with its research, but also objective and unbiased.
The information in our articles is NOT intended to replace a one-on-one relationship with a qualified health care professional and is not intended as medical advice.
100 Healthy Snacks: Best Healthy Snack Ideas for on the Go
June 23, 2018
Pop quiz: when are you most vulnerable to making unhealthy choices? A. When you have delicious, good-for-you treats nearby? Or B. When you're hungry and desperate to eat something — anything? If you picked the latter, you're not alone. It's easy to eat healthily when nutritious foods are at your fingertips, but when your only options are from a vending machine or convenience store, things get tricky.
Luckily, by whipping up your own healthy snacks on-the-go, you can avoid this once and for all. I've selected some of my favorite treats that are easy to prepare and even easier to throw in your bag. Skip the processed stuff and reach for these instead. You'll never be hunting for healthy snacks for your family again.
Note: I recommend using natural sweeteners like raw honey, real maple syrup or organic coconut sugar to get the most nutrients out of these recipes. Also eliminate conventional cow's milk and use coconut milk, almond milk or organic grass-fed goat milk or cheese, replace table salt with sea salt, and replace canola and vegetable oil with coconut oil, olive oil or ghee. Replace olive oil with avocado oil when cooking at a high temperature.
100 Healthy Snacks On the Go
These colorful bars — thanks to anti-inflammatory pistachios and antioxidant-rich cranberries ­— are crazy simple to make. Melt liquid ingredients like coconut oil, butter and maple syrup, and then stir in dry ones, including quinoa cereal. Let the ingredients hang out and work their magic in the refrigerator until the bars have set.
Once your apples are sliced, these "cookies" come together in seconds. They're super easy to customize, making them a fun activity to have the kids help out with. Use organic dark chocolate chips or make your own with coconut oil and organic cocoa.
When you're craving a sweet treat, these gluten-free muffins fit the bill. And with bits of pecans and dark chocolate chips, they've got enough crunch to feel substantial, too. Make an extra batch and freeze them for busy weeks.
Whether you're looking for a mid-afternoon snack or a pre-workout meal, these protein bars are inexpensive to make and taste great. They're sweetened naturally, and thanks to the protein powder and chia seeds, they'll keep you feeling full.
I love pumpkin pie, so when I saw this yummy healthy snacks option, I just had to include it. Plus, these bars make it easy to get a perfectly portioned treat to take on the go. Pecans help form a crunchy crust while the "crème" filling is silky smooth thanks to pure pumpkin puree and coconut milk. Wash this down with a glass of milk — mmm!
No baking, no gluten, no problem. These date-based balls firm up in the fridge and are perfect to pack into lunch bags. Just use a quality nut butter in place of the faux peanut butter, and you're good to go!
Cookie dough is delicious enough, but to find a version that's actually good for you is hard to come by. That's why these are one of my favorite healthy snacks. Coconut flakes and chocolate chips (opt for dark) make this sweet, while nut butter gives it staying power. These make a great after-dinner snack — no baking required.
These gummy treats are better than the ones you purchase by the pack. Not only are they cheaper than their store-bought counterparts, but they are good for you, too. They're filled with fresh fruit juice and berries, antioxidant-rich raw honey and gelatin, helping keep your hair, nails and skin looking good. Your kids will love them — and so will you.
These citrus honey nut bars will wake up your taste buds. They're crunchy, healthy and simple to make; kids can definitely help. Best of all, with a few simple substitutions, you can make cinnamon and cacao versions of the bars, ensuring every family member will find a flavor they love.
For a cool treat, this all-natural pudding is sure to please. Chia seeds are rich in fiber and protein, adding an extra nutritional boost alongside fresh fruit and almond milk. To eat this on the go, store in a mason jar or portion out into individual food storage containers.
Almond and chocolate fans, rejoice. Satisfy your sweet tooth with these yummy bars. Perfect when you need a chocolate pick-me-up or even as a healthy dessert, these no-bake bars are made with almond flour, coconut and dark chocolate — yum! Just be sure to use powdered coconut sugar.
I love when pantry staples come together to create a yummy snack. These filling energy bites are great to nosh on during busy days or when you're on the run. Flaxseed and oatmeal are packed with fiber, while coconut flakes and honey add a hint of sweetness. Skip the peanut butter and choose your favorite nut butter instead.
With just seven ingredients, these cookies are healthy snacks you can feel good about and still satisfy your taste buds! They're crunchy (yay, pecans!), sweet (chocolate chips and coconut flakes, yum!) and are finger-lickin' good.
If you enjoy cereal bars but not what's in the processed versions, you will love these bars. They're oozing with clean, all-natural ingredients like cinnamon, honey and blueberries. They make a quick on-the-go breakfast or snack. You'll never turn to the packaged stuff again.
Fudgy, fruity and … good for you? These brownies nail it. With just 100 calories and wholesome ingredients, you'll feel guilt-free reaching for these when you want chocolate, no matter where you are!
When you need a portable breakfast, this is a tasty go-to option. Vitamin-rich sweet potatoes are a "nest" for eggs over easy or served omelet style. Add your favorite veggies and opt for beef or turkey bacon. Prep these the night before and reheat before running out the door.
Warning: This is not your traditional pate recipe. Instead of being made from ground meat and fat (similar to chicken liver pate), this recipe is vegetarian.
Baked oatmeal fans (and soon-to-be fans), you'll love this recipe! Oatmeal gets an on-the-go makeover in this easy recipe. You can make these plain or add your favorite toppings like fresh fruit, granola or jam. This recipe also makes several servings; make these on a Sunday and have snacks for the rest of the week.
These easy-to-make power balls are excellent snacks during workouts, hikes or other energy-zapping activities. With a mixture of protein-rich sunflower seeds, fiber-full flax meal, vitamin-rich wheat germ and more, these balls will give you a dose of fuel without requiring processed ingredients.
Nut butter bars are popular for good reason: they're full of protein, use few ingredients and taste delicious. Whey protein powder will give you an extra boost of energy while bananas and honey add natural sweetness.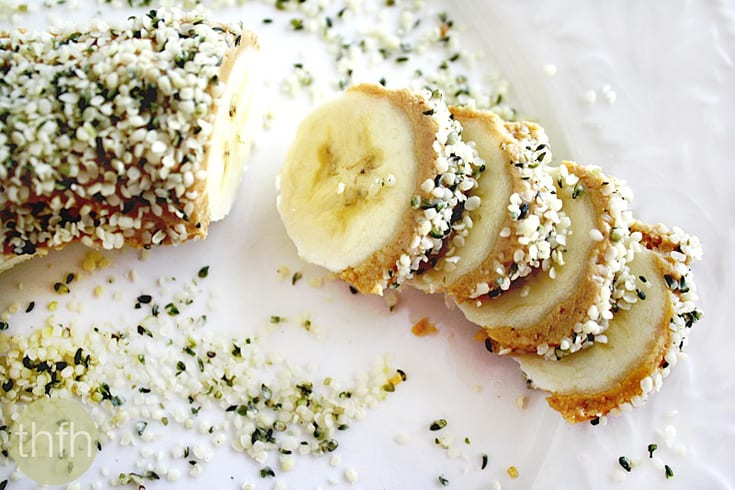 These three-ingredient "sushi" rolls are fun for kids to make and turn plain bananas into a fun snack. Who said you can't play with your food? Put these in a to-go container to enjoy when you're out and about.
You'll want to ration out these crackers before tasting them because, as they say, once you pop, you can't stop. These gluten-free crackers are made with almond flour for a light texture, and while I love the suggested seasonings (especially the crushed red pepper flakes for a little heat!), you can totally customize these based on your family's favorite flavors. Garlic, for example, would be great. Try them spread with hummus for extra protein and nutrients.
You won't believe how simple these are to make! Tossing cashews with maple syrup, sea salt and lime juice gives them a salty, zingy flavor you'll love. Try adding in other nut favorites to vary the flavor.
A vegan and Paleo take on buffalo chicken wings? While this buffalo cauliflower recipe may not be exactly like the real thing, it won't disappoint anyone hoping to enjoy the classic buffalo flavor in a vegan, Paleo way.
This cross between a muffin and a cookie is easy to make and even easier to eat while on the go. Their sweetness comes naturally from maple syrup, and there are lots of options to customize these to your taste —but I recommend the lemon zest for a unique flavor!
When you want the convenience of an energy bar without all the suspicious ingredients, these are a wonderful option. They require just four ingredients (the cinnamon is optional, but I love it!), and you can either cut into bars or roll into balls. So simple but so tasty.
Who knew that sweet potatoes could make fruit leather so healthy and so good? The vitamin-packed veggie is the star of this healthy snack. And with a handful of common ingredients like apples and cinnamon powder, they're super easy to make, too.
Chickpeas can easily turn into crispy, crunchy portable snacks. I love how simple this recipe is. Coat chickpeas in your favorite seasonings, bake and eat. These are great warm or at room temperature. Try it next time you're considering popcorn.
This is traditionally a Christmas snack, but it's so good, you'll love it any time of year! They are a little more work, but with just three ingredients — egg whites, roasted almonds and raw honey — they'll come together quickly. Perfect for a mid-day snack or special treat!
You'll feel good about snacking on these addictive chips. Made with just three ingredients, these apple chips are baked in the oven for a few hours at a low temperature to produce thin, crispy chips. Use coconut sugar in place of regular refined, or skip it altogether — you won't miss it!
A cookie that's good for you? That's the case with these easy-peasy breakfast cookies that make an excellent mid-afternoon snack. Serve with a side of fruit for a filling, healthy cookie.
A new take on the traditional peanut butter and banana sandwich, this almond butter version is just as yummy (and better for you!). This is one of  my favorite grab-and-go, healthy snack ideas. It takes just seconds to make; choose honey as your sweetener and slather on walnuts and chia seeds.
Baba ganoush is not the most popular recipe, so maybe you've never heard of it before … It's a lot like hummus. Both use garlic and ground sesame seeds, or tahini. Instead of chickpeas, however, baba ganoush uses eggplant as the main ingredient.
Parents will enjoy these banana split-inspired bites just as much as kids. With no ice cream and a short ingredient list, they're also a snack you can feel good about eating. Chunks of pineapple, strawberries and banana get covered in a dark chocolate shell and frozen. Chopped nuts or coconut are an optional — but highly suggested — addition that'll push these pops over the edge.
This simple pudding recipe is perfect any time of day and comes together easily in a blender. Nutrient-packed avocados, blueberries, and chia seeds combine with coconut milk, vanilla and honey for a pudding the whole family will love.
Cowboy caviar is the perfect snack for a summer picnic or barbecue, but really, the bean and veggie mixture creates a tasty fiber-rich snack any time of the year.
Have a cool, bubbly snack that's totally good for you, too. This cherry limeade uses sparkling water, frozen cherries, lime juice and honey for a naturally sweet drink that's great for skipping the afternoon slump.
There are two other healthy snack ideas here, but this last one is my favorite. This creamy, Greek yogurt-rich dip is made with cocoa powder, maple syrup and vanilla extract and is perfect for dipping cut fruit or even sneaking a spoonful solo!
These fun-colored bars (no food dye here!) use all-natural ingredients to make simple, healthy and delicious take-along snacks that are full of superfoods.
Looking for a snack to enjoy with your cup of morning coffee? This gluten-free pumpkin bread is the perfect option. Enjoy it on the side or dunked into your cup of coffee.
No need to shell out money for specialty almond butter when you can make your own chocolate version at home. It takes just five minutes and keeps well in the refrigerator. Try it spread on your favorite sprouted grain toast for a quick and filling snack.
Cookie dough that's meant to be eaten as a snack and it's healthy? This snack dip fits the bill. No one will guess the secret ingredient — chickpeas! Opt for sea salt and flax seed, and use honey to sweeten. Try pairing it with fresh fruit, your favorite rice crackers or just snack on it solo.
Five minutes and four ingredients are all you need for this sweet, frozen treat. Use fresh or frozen berries, sweeten with honey and process in a food processor for a homemade yogurt that tastes better than the store brands.
Skip pricey bars and make your own with this healthy recipe. Using fresh, wholesome ingredients like brown rice cereal, cashews and dried berries (try honey instead of brown rice syrup), you can make your own delicious, inexpensive healthy snack bars in just minutes.
It's time to toss out that jar of queso you bought in the chip aisle of the supermarket and try this healthy queso recipe made with high-quality cheeses.
This creamy snack is easy to make and fun to eat! Roll your banana pieces in the peanut butter/yogurt combo, coat in crushed almonds and freeze for three hours. You'll have a fruity popsicle that's actually good for you.
This fun take on nachos is one of the best after-dinner healthy snack ideas. The usual nacho fixings get swapped for apple slices, almond butter, shredded coconut, sliced almonds and chocolate chips (go for dark!) for a sweet treat you'll feel good about eating.
There are no surprises in this healthy, homemade granola. Chopped pecans, almonds and sunflower seeds give it just the right amount of crunch, while dried apples and raisins provide natural sweetness. The result is a snack that's loaded with healthy fats and perfect for when you're on the run.
Try this fruity take on the traditional quesadilla. Spread your favorite nut butter on a sprouted grain tortilla and top with sliced bananas and strawberries. Sprinkle with a dash of cinnamon and heat. Try other types of berries, too: blackberries or raspberries would make an equally delicious addition.
Sometimes you just crave a warm, comforting baked good. When you do, these Paleo muffins with almond meal and cacao nibs are ready to satisfy that craving.
Here's a brownie you won't feel guilty about eating. Cacao powder gives these brownies the chocolatey taste you expect, while Medjool dates hold your "batter" together. You'll love snacking on these when you have a hankering for something sweet.
Pumpkin pie isn't relegated to dessert anymore. Not only are these bites delicious, they're also full of healthy ingredients like Medjool dates, pecans and pumpkin puree. They're perfect as an after-dinner sweet and can be made into bars, too.
Why spend money on sugar-laden store brands when you can make your own healthy applesauce right at home? This autumn recipe is an easy way to use up fresh apples. Lemon juice and cinnamon are the only extras you'll need for a fresh, easy snack!
This incredibly simple fruit recipe takes just minutes from beginning to end. Slice several bananas and sprinkle with cinnamon and honey. Heat a tablespoon of coconut oil and fry the bananas for a sweet, healthy snack that's great after dinner or any time you need to satisfy a sweet tooth.
You'll need just five ingredients to get the benefits of coconuts and pecans in this easy, portable snack. Throw them in your lunch bag for a workday snack or chow down after working out.
This pudding tastes like a dessert but it's oh-so-good for you. Vanilla extract, raspberries, milk and honey combine with lemon juice, chia seeds and Greek yogurt for a snack you won't be able to keep your hands off of. Bonus: it makes a yummy breakfast, too.
Just four ingredients are needed for this filing bar that's loaded with antioxidants and healthy fats — and there's no cooking required! Throw these in your bag for a quick snack en route to work, school or play.
A healthy alternative to sugary, processed lemon bars, these protein bars are made with oat flour and applesauce for a filling snack that's easy to grab and eat on the go.
Enjoying the incredible health benefits of olives has never been easier with this olive tapenade recipe. Try this spread over a piece of toast or with crackers. This also makes a healthy appetizer for your next gathering.
This recipe can't be any easier. Use your favorite cultured yogurt, like kefir or Greek, and, using a toothpick, dip blueberries. Place on a cookie sheet, freeze for an hour, and you have your own homemade yogurt berries! Strawberries, blackberries, or even grapes would be equally delicious.
A cross between zucchini bread and an oatmeal raisin cookie, these cookies make an excellent snack — they're a little sweet and full of wholesome ingredients, and one batch makes about two dozen. Wrap in an airtight container to keep them fresh for a few days.
Need a new way to get your kale fix? This healthy hummus is it. The superfood gets whipped up into a creamy hummus with the addition of chickpeas, lemon juice and tahini. The result is a spread you'll want to put on everything.
Skip the delivery and go homemade with these smaller versions of the cheesy favorite. The homemade sauce means you'll know exactly what's in them. Use your favorite sprouted grain English muffin brand and buffalo mozzarella. You can even make these mini pizzas ahead of time and freeze. Just pop 'em in a toaster oven when you're ready to eat.
Skip the bag of chips and munch on these roasted chickpeas instead. The Cajun-inspired seasonings provide a little heat, but feel free to use your own favorites — an Italian version with oregano and garlic would be delicious, too. You won't feel bad about popping these in your mouth.
These hearty little quesadillas are the perfect after-school snacks for the kiddos — or pre-dinner snacks for adults. Use sprouted grain or brown rice tortillas and a cookie cutter to make these mini quesadillas. Fill them with avocado, hummus, cilantro and cheese, and enjoy!
Excellent for when you have an abundance of zucchini in your garden or at the farmer's market, these chips are easy to make and easier to eat because they're just that good. With only three ingredients (use sea salt instead of kosher), they come together quickly. Add your favorite herbs or seasonings to customize them, too.
These avocado deviled eggs are a low-carb snack, perfect for keto dieters or anyone wanting a dose of healthy protein and fat in between meals to help stay full and alert.
Kid-friendly popcorn gets a grown-up kick in this zesty recipe. Freshly popped corn (go for your favorite organic brand) gets tossed with fresh butter, lime juice, jalapeño, cumin, red pepper flakes for extra heat and tequila. It's a great way to spice up a movie night.
Another awesome no-bake recipe, these granola bites are packed with fiber and protein. They're perfect pre- or post-workout, and kids will love 'em, too.
Not quite falafel, not quite burgers, these chickpea bites are made with red onions and seasonings and then baked in the oven. The result is a chickpea patty that's crispy on the outside and soft on the inside. Use coconut flour and homemade breadcrumbs for a snack that's great in a sandwich, atop a salad or just on its own.
Photo: PBS
An upscale dip at a budget price, this spicy black bean hummus/dip hybrid is perfect for dunking veggies or using as a sandwich/quesadilla spread. Its south-of-the-border ingredients, like cilantro, lime juice and salsa, make it a welcome addition to Mexican night, too.
This classic recipe is one of my favorites. It's a good snack to eat with veggies or spread on sprouted grain bread. Plus, it uses staple ingredients and comes together in just minutes. You'll want to put this on everything!
Nachos are an awesome snack while watching a movie, cheering on your favorite team or when you just want something delicious. Baked sweet potatoes stand in for tortilla chips to make this list of healthy snack ideas. Your nachos will still be loaded — with nutrients, healthy fats and flavor. Top 'em with yogurt, black beans, avocado and a sprinkle of cheese.
Similar to a cookie but better because they're actually good for you, these no-bake balls are a perfect snack any time of day. They require just six ingredients, but they're chockfull of flavor.
The current "it" food kale gets the chip treatment in this simple recipe. With paprika, chili and crushed red pepper adding extra heat, you won't reach for the potato chips anymore after making these!
This trail mix is loaded with some of my favorites, like heart-healthy almonds, crunchy pumpkin seeds and just a teeny bit of dark chocolate chips. The sweetness comes from natural honey and dried cranberries. Throw it on top of a bowl of yogurt for a quick mid-morning snack.
This quick and easy pico recipe is one of the most perfect healthy snack ideas when you're craving Mexican or Tex-Mex. Use it to top a salad, to dip chips and veggies into or spread on a sprouted grain English muffin with a little sprinkle of fresh cheese for a unique snack.
These ridiculously easy crackers are perfect as a vehicle for hummus or salsa, or to nibble on their own. Feel free to add extra seasonings, too. And with only four common ingredients necessary, you can make these in a snap.
Perfect to dunk freshly cut veggies in or to use as a spread, this homemade dressing nixes all the icky preservatives. By using Greek yogurt, you'll get the creaminess you're used to with all the health benefits. Try using fresh dill as your herb of choice.
Use sprouted grain or sourdough bread, or skip the bread altogether, and opt for using zucchini slices instead. Top it with your favorite hummus, sugar snap peas, fresh tomato slices and basil for a crunchy, satisfying "sandwich" that's perfect for a midday snack or light lunch.
Ceviche is a traditional South American dish that typically is made with raw fish and lime juice. This vegetarian version is a creative twist on the classic flavor.
Perfect for adding extra flavor to veggies or your favorite chips, this creamy avocado-based dip is full of fresh ingredients like jalapeños, cilantro and garlic and is super simple to make.
This wildly simple recipe turns regular old nuts into a fragrant, spicy treat. Use them to top a salad or eat them by the handful. They also make a great addition to a homemade trail mix. Bonus: wrap nuts in pretty packaging, tie with a bow and give them to guests as a dinner party souvenir.
Not only are these pumpkin seeds great for snacking on their own, they make a crunchy addition to a homemade trail mix, and they're fun to make as a kids' project. Eat them whole and enjoy!
When you're craving game-day wings, these bites will satisfy even the most hardcore buffalo fans. Cauliflower is baked then smothered in a hot sauce and butter combo. For the healthiest results, use coconut flour in place of all-purpose flour and opt for grass-fed butter.
This seven layer bean dip is a great shareable snack. I enjoy pairing it with sprouted tortilla chips or raw vegetables for healthy snacking.
This snack looks decadent, but you won't feel guilty about indulging. Dip fresh strawberries in melted chocolate (I recommend dark) and sprinkle with sea salt. Refrigerate until hard and enjoy! It's excellent when craving a sweet snack after dinner.
Who needs a pizza crust when you've got zucchini? These mini pizzas are a perfect bite-size, mini meal, and that's why they make my list of healthy snack ideas. I love how you get the bubbly cheese and sauce with an extra dose of veggies. Skip the optional pepperoni or use beef pepperoni with no nitrates and sprinkle some fresh basil on these instead.
Beets often get a bad rap, and the benefits are frequently overlooked. This beet hummus recipe helps incorporate them in a familiar way. After you make this pretty pink hummus, you may never go back to the traditional kind.
You can't go wrong with spinach and artichoke dip. This dish is naturally filled with nutrient-dense spinach and artichoke, but this recipe takes the nutrient factor up a notch with probiotic-rich kefir and gluten-free flour.
There are definite perks to going grain-free, and this easy grain-free cinnamon date granola makes it feel easy. Trust me, you won't even miss grains with this dish.
Finding healthy snacks at the movie theater is impossible. While this cauliflower popcorn recipe may not be quite like the real thing, choose this veggie popcorn replacement the next time you want to sit down and enjoy a show.
I'm sure you've already noticed … Snack time does not have to equal empty calories. Between-meal snacks can be a great way to sneak in an extra serving of vegetables. Try making these crispy green bean chips for some added greens in your diet.
These peach caprese skewers are a light and fresh snack option — perfect for nibbling on by the side of the pool or at your next summer picnic. I prefer swapping buffalo mozzarella for the traditional mozzarella cheese.
Goat cheese and thyme both showcase two distinct flavors that make this snack dip stand out from the number of different dip options out there. If you're sensitive to cow's dairy, you may find this dip easier to digest since goat cheese contains A2 casein.
You're probably thinking jalapeño poppers are greasy bar food … which isn't untrue. This recipe, however, takes the traditionally gut-wrenching dish and turns it into a healthier, baked alternative.
Crackers made from seeds? That's right. These crackers are bursting with healthy omega-3 fatty acids thanks to the chia seeds, sesame seeds, flaxseeds and pumpkin seeds.
Try feeding these Paleo almond crusted baked zucchini crisps to your friends — or the kids. I'm guessing they won't even know these zucchini bites are healthy … and they'll be begging for more.
One reason I love tzatziki sauce (aside from how delicious it is) is because of how versatile it is. Traditionally, in a Mediterranean diet, tzatziki is served over a gyro or falafel, but you can use it as a sauce for dipping vegetables, too — or even over a salad. Try making this dip for your next gathering. It's sure to be a crowd-pleaser.