Dr. Axe

>

Recipes

>

Gluten-Free
Paleo Muffins with Almond Meal & Cacao Nibs
Ingredients:
3 eggs
1/4 cup coconut oil, liquefied
1/4 cup honey, OR 1 full dropper of liquid vanilla stevia OR 2 tablespoons coconut sugar.
1 teaspoon vanilla extract
1/8 teaspoon apple cider vinegar
1 cup almond meal
3 tablespoons arrowroot starch
1 1/2 tablespoons ground flaxseed
1 teaspoon baking powder
1/2 teaspoon cinnamon
1/2 teaspoon salt
1 cup cacao nibs
Directions:
Heat the oven to 375 F.
In a large mixing bowl, whisk the eggs until they're lighter in color. Add the remaining wet ingredients and whisk together.
In a medium bowl, whisk the dry ingredients together until well mixed. Add the dry ingredients to the wet ingredients. Stir to combine thoroughly, then let the mixture sit for 2 minutes.
Add paper liners to a muffin pan. Fill each muffin cup 3/4 full and bake for 13–15 minutes or until golden brown.
Muffins are a great way to get in a quick breakfast or enjoy a hearty snack. But good luck finding a healthy, already-made muffin.
For starters, just one muffin might set you back hundreds of calories, with heaps of refined sugar and other unsavory ingredients. And if you need a gluten-free muffin, you're often better off eating cardboard — those muffins have no taste!
Luckily, we can make these Paleo Muffins your new go-to healthy snack. These yummy treats have it all: They're ready in under half an hour, are full of recognizable, good-for-you ingredients, and there's not a grain in sight. We use almond meal instead of flour and add sweetness with honey, coconut sugar and stevia. Yum!
Are you ready to add these Paleo muffins into your life? You should be.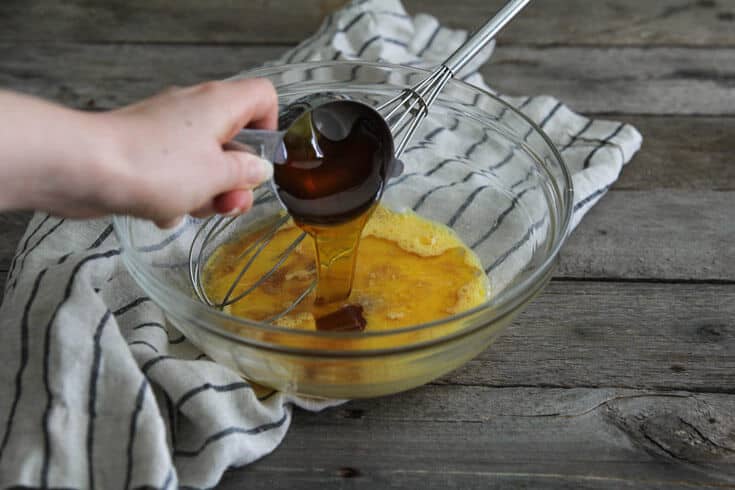 We start by preheating the oven to 375 F. Then in a large mixing bowl, whisk the eggs. You know they're ready once they lightened up in color.
Add the remaining wet ingredients to the bowl and then whisk them into the eggs until they're all mixed up. I especially love that these Paleo muffins have ground flaxseeds in them, keeping you full longer.
Now grab a medium bowl and combine the dry ingredients in it. Once they're mixed up well, add these dry ingredients into your larger bowl with the wet ingredients. Give everything a few good stirs before letting the Paleo muffin batter sit for a few minutes.
Add paper liners to your muffin pan and fill each muffin cup 3/4 of the way. We want to leave some room for the muffins to puff up and expand while they bake. Slide the muffins into the oven, and bake for 13–15 minutes or until the muffin tops are a nice golden brown.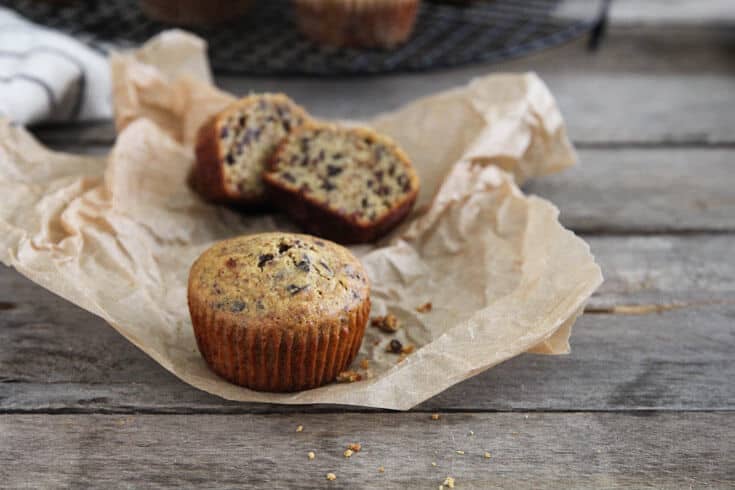 How easy were these Paleo Muffins to prepare? They're a great recipe to let your kids help out with, too. Give them a wooden spoon and let 'em stir! And if you're feeling extra naughty or want these muffins to be more of a dessert, you can even replace half the cacao nibs with chocolate chips. I hope you enjoy these Paleo muffins!
Get FREE Access!
Dr. Josh Axe is on a mission to provide you and your family with the highest quality nutrition tips and healthy recipes in the world...Sign up to get VIP access to his eBooks and valuable weekly health tips for FREE!
Free eBook to boost
metabolism & healing
30 Gluten-Free Recipes
& detox juicing guide
Shopping Guide &
premium newsletter