Banana Nut Muffins Recipe
There's nothing like a good muffin recipe. Not only are they super simple to make, but you can make them healthy enough for breakfast and sweet enough for dessert. Talk about double-duty banana nut muffins!
Bananas and Nuts — Two of the Best Ingredients
One of my favorite muffin combos are bananas and nuts, like this easy Paleo banana nut muffin recipe. They're a terrific way to use up over-ripe bananas and come together easily. These grain-free muffins are made with heart-healthy almond flour, which is loaded with vitamin E, and a gluten-free sprouted flour blend. You can either make these a vegan recipe by using ground flax instead of eggs.
And the nutrition in these is second to none. Nutrition-rich bananas are a healthy option for people who don't have a form of insulin resistance; because they're quite high in carbs and sugar, you should avoid them if you do.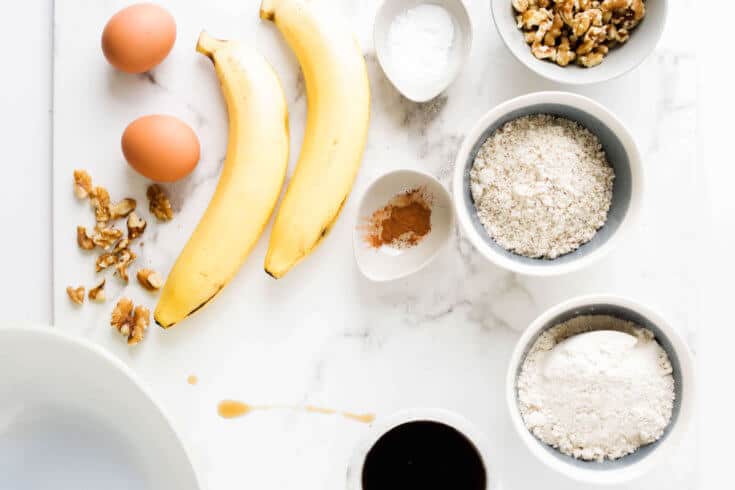 But for the rest of us, bananas are low in fat and provide a quick energy boost, making them (and these muffins!) a great after-workout snack. They're also full of potassium and fiber. In fact, just one banana contains about 10 percent of your daily recommended amount. Eating enough fiber keeps your digestive system running smoothly and helps you feel full longer.
And let's not forget about the nuts in these banana muffins! Walnuts are loaded with omega-3 fatty acids, which are awesome for reducing inflammation, improving circulation and controlling blood sugar. They're also known to fight depression and improve brain health. You could also use any other nuts you have on hand, like pecans or cashews; you'll still get those nutty benefits.
---
How to Make Banana Nut Muffins
Do you know how to make banana nut muffins? Get ready to bake your favorite banana nut muffins ever!

Start by preheating the oven to 350 F. Grease a muffin tray or line them with paper muffin cups.
Mix all the ingredients in a large bowl.
Next, fill the muffin cups cups 2/3 of the way full, as the muffin tops will puff up during baking. Add the extra bananas and crushed walnut topping to the top of the muffins.
Bake the muffins for 15-18 minutes. These easy banana muffins are ready! Have one with your morning coffee, grab one to enjoy as a mid-afternoon snack or nibble on one after dinner.
Ingredients:
1 cup almond flour
1 cup gluten-free sprouted flour blend (brown rice, oat and sorghum blend)
1 teaspoon cinnamon
½ teaspoon salt
2 teaspoons baking soda
2 eggs or 2 flax eggs (flax eggs: 1/4 cup water + 2 tablespoons ground flax)
¼ cup water
½ cup maple syrup
2 very ripe bananas, mashed
½ cup walnuts, crushed
TOPPINGS:
1 banana, cut in half and thinly sliced
Crushed walnuts
Directions:
Preheat oven to 350 F.
Mix all ingredients in a large bowl.
Fill greased or paper-lined muffin cups 2/3 full.
Add banana slice and walnuts and bake for 15-18 minutes.