Benefits of Ginger Shots (and the Perfect Recipe)
We're always looking for an easy, tasty and effective way to boost immune system, digestive and brain function, especially when the dreary days of winter roll around again. Did you know that you can reduce inflammation, fight infections and boost energy with … a shot? Ginger shots are loaded with antioxidants and micronutrients, including vitamins C and E.
Taking one a day (or a few a week) can aid your overall health and ability to fight infections, moodiness and more.
What Are Ginger Shots?
Ginger shots are made with a combination of immune-boosting, antioxidant and anti-inflammatory ingredients with ginger root playing the star role. You can find them at healthy cafes or speciality stores, or you can make them yourself at home. The ingredients will vary depending on the recipe, but citrus juice, cayenne and turmeric are most commonly used.
Ginger shots can be taken daily or several times per week to support immune system function and have become increasingly popular as a natural preventative tool during cold and flu season. The same can be said of ginger water, an increasingly popular beverage, and ginger tea.
Benefits
The benefits of ginger shots come from its combination of impressive ingredients. Together, they make for an antioxidant, anti-inflammatory, nutrient-rich powerhouse. Here's a rundown of the benefits:
Fights free radical damage
Boosts immune system health
Fights inflammation and infections
Aids digestion
Lowers cholesterol
Supports heart health
Promotes detoxification
Boosts skin health
Aids weight loss
Improves mood and energy levels
Supports hydration
Balances blood sugar levels
Ingredients
1. Ginger Root
Ginger root has been used across the globe for centuries because of its medicinal properties. Of the many ginger health benefits, perhaps the most impressive and well-researched are the ability to reduce inflammation, improve brain function, promote healthy digestion and regulate blood sugar levels.
2. Turmeric Root
Turmeric is rich in polyphenols, called curcuminoids, that have powerful antioxidant and anti-inflammatory effects. It has also shown to help relieve depression and anxiety, boost skin health and reduce pain.
3. Cayenne Pepper
Cayenne pepper provides vitamin C, E and B6, along with potassium, manganese and flavonoids. It's a natural aid for digestion, helps to relieve pain, supports detoxification, reduces congestion and aids weight loss. Research indicates that capsaicin, a major compound in cayenne, helps to boost your metabolic rate modestly.
4. Lemon Juice
Lemon juice is a good source of vitamin C, which has proven to improve immune system health, and reduce the duration and severity of respiratory infections. Lemon juice also improves skin health by preventing oxidative damage and helps increase iron absorption.
5. Apple Cider Vinegar
Apple cider vinegar promotes detoxification and increases satiety, thereby aiding weight loss. Research shows that it also helps to regulate blood sugar levels and improve insulin sensitivity, while lowering cholesterol levels.
6. Coconut Water
Coconut water is high in potassium and serves as a healthy electrolyte replacement. It's hydrating, may help to lower LDL cholesterol and blood pressure, and promotes natural detoxification.
How to Make Ginger Shots
The first step to making ginger shots is to prep your ingredients. If you're using ginger or turmeric root, wash it throughly and chop it into small pieces. You can put the roots into a juicer, if you have one, and then add the juice to the other ingredients in a blender.
If you don't have a juicer at home (or just don't feel like using one), all of the ingredients can be blended and then you'll use a fine-mesh sieve to remove the pulp.
That's it! Easy peasy, and you'll have a pitcher of ginger shots ready to drink for the week. Simply store them in an airtight glass (or smaller individual glasses) for up to one week.
Optional Additions
Want to add in an extra punch of sweetness, hydration or nutrients to your ginger shots? Try some of these optional additions:
Natural sweetener — If you prefer a sweet flavor in your shot, add a natural sweetener like raw honey, stevia or maple syrup. Start with a small amount and increase as needed. Remember that if you're going to take a ginger shot every day, you want to avoid making them too high in calories, so a small addition of sweetness is the way to go.
Black pepper — Black pepper supports the absorption of turmeric and promotes an even greater anti-inflammatory effect. Add a pinch of black pepper to your recipe for that extra kick of pain-relieving effects.
Fresh orange or pineapple juice — The taste of ginger isn't for everyone, so adding in fresh juice from orange or pineapple can help to minimize the taste, while providing additional micronutrients, including vitamin C.
Sparkling water — You can turn your shot into a longer-lasting beverage by adding sparkling water (after blending). Simply pour your shot into a glass with ice, add in your desired amount of sparking water and stir.
Storage Instructions
Ginger shots will be best served fresh, but they can be stored in the refrigerator for up to a week. Store the liquid in an air-tight container, but keep in mind that the longer it sits, the less potent it will be.
To store ginger shots for a longer period of time, store them in the freezer for 2–3 months. This will work best when you use an ice cube tray to freeze shots individually. Then let them melt naturally a few hours before consumption or blend them again with a little water.
How to Serve
Ginger shots can be served in small glasses or consumed in 1–2 swigs. You can also serve them over ice and sparkling water to make a mocktail or add a shot to your favorite fresh juice or smoothie recipe. There's no wrong way to do it!
Precautions and Side Effects
With any new natural health remedy, it's best to go slow with ginger shots. Start with one shot every other day and increase to once daily if you're tolerating them well. Do not exceed one shot per day.
People who are allergic to ginger (or any other ingredient in the recipe) should not consume ginger shots.
For people on blood thinners, taking ginger shots regularly is not recommended. People on blood sugar medications should also stick to consuming ginger in only small amounts because the root may reduce blood sugar levels.
Other Healthy Mocktails
Print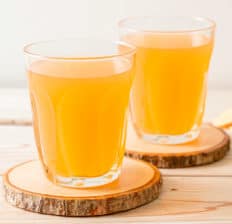 Ginger Shots Recipe
---
Author:

Total Time:

10 min

Yield:

5

shots

1

x

Diet:

Vegan
Description
Ginger shots can be found at healthy cafes or speciality stores, but you can make them yourself at home. The ingredients will vary depending on the recipe, but citrus juice, cayenne and turmeric are most commonly used. Here's a great standard ginger shots recipe.
---
½ cup

fresh ginger root, washed and chopped

2 tablespoons

chopped turmeric root (or

1/2 teaspoon

turmeric powder)

¼ teaspoon

cayenne pepper

¼ cup

fresh lemon juice

½ cup

apple cider vinegar

½ cup

coconut water
---
Instructions
Add all ingredients to a blender and blend until smooth.

Pour the mixture over a fine-mesh sieve into a small pitcher.

Divide juice into smaller glasses for storage in the refrigerator or ice cubes for storage in the freezer.
Notes
You can make a large batch of ginger shots by doubling or tripling this recipe, and then freeze servings in an ice cube tray. They will last 2–3 months.

Add a natural sweetener if desired, such as stevia, raw honey or maple syrup.

Consider adding a pinch of black pepper for an even greater anti-inflammatory effect.
If this drink is too bitter for your taste, consider substituting fresh orange or pineapple juice for the lemon. It'll retain the levels of vitamin C but add more fruit sugar.
Turn your shot into a longer-lasting beverage by adding sparkling water after blending.
Prep Time:

10 min

Category:

Beverages

Method:

Blender/juicer

Cuisine:

American
Nutrition
Serving Size:

2 oz

Calories:

13

Sugar:

0.8g

Sodium:

17mg

Fat:

0.1g

Carbohydrates:

2.5g

Fiber:

0.4g

Protein:

0.3g
Keywords: ginger shots recipe, how to make ginger shots