Cowboy Caviar: The Best Hearty Salsa Alternative
Hands up if you like salad… or dips… or salsa. Now what if you could get that all rolled into one? Say hello to cowboy caviar, your new favorite dish.
What Is Cowboy Caviar?
No one is quite sure how cowboy caviar got its name and, depending on where you're from, you might've heard it called a few things: black-eyed pea salad, Southwestern dip or black bean salsa. But whatever its name, you'll want to lasso up this recipe.
This cowboy salsa is full of some pretty tasty ingredients, like black beans, black-eyed peas, avocado and seasonings. The beauty of cowboy caviar is its simplicity. Aside from chopping your veggies, this is a "throw in a bowl and forget about it" type of recipe. No cooking means it's a summertime favorite, perfect for those nights when the last thing you want to do is turn on the oven.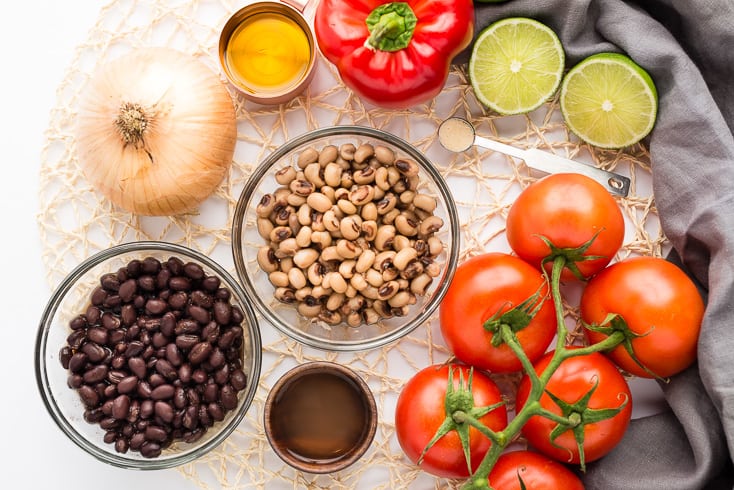 Because it's a salad/salsa/dip hybrid, there are also tons of ways to enjoy cowboy caviar! You can eat it solo or serve it as a side for burgers or BBQ chicken. The fresh flavors make it a delicious topping for tacos, and I've never had a chip that doesn't love cowboy caviar on top of it. If you really want to get creative, you can serve this cowboy caviar recipe with scrambled eggs or as a topping for oven-baked potatoes or French fries. With this flavor combination, you can't really go wrong.
Best of all, this cowboy caviar is suitable for all palates. Vegans, vegetarians, gluten-haters — cowboy caviar is for everyone! No dairy, no gluten — just a whole lot of flavor.
Nutrition Facts
But, you wonder, is cowboy caviar healthy? You're in luck because this is one of the healthiest dips around! Here's (approximately) all the good stuff you're getting in one serving: (1)
130 calories
4.26 grams protein
6.11 grams fat
15.66 grams carbohydrates
5.6 grams fiber
6.47 grams sugar
376 milligrams sodium
57.7 milligrams vitamin C (77 percent DV)
1,411 IUs vitamin A (60 percent DV)
35.9 micrograms vitamin K (40 percent DV)
0.432 milligrams manganese (24 percent DV)
0.219 milligrams copper (24 percent DV)
Now let's talk about some of the ingredients that make this cowboy caviar so good for you.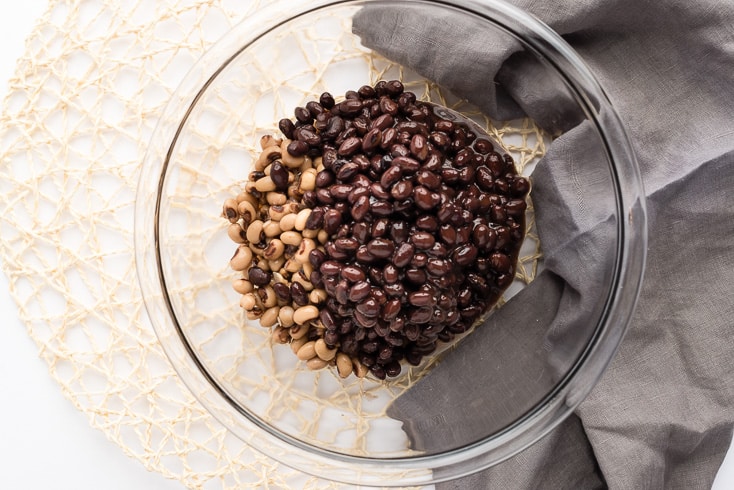 Black beans are an inexpensive way to get your fill of fiber, protein and legume goodness. These affordable beans are awesome at reducing inflammation. They also protect your heart from disease thanks to the phytonutrients in beans, which help get rid of bad cholesterol.
Black beans also are packed with fiber, which joins in on the fight against "bad" cholesterol levels and keeps you feeling full for a longer amount of time, along with removing waste and toxins from your body.
Black-eyed peas aren't as common as black beans, but they should be. They're especially good for your digestion and help keep bowel movements regular. Additionally, black-eyed peas are rich in iron, which helps to prevent anemia and are fantastic for your skin and hair thanks to the vitamin A.
Another ingredient in this cowboy caviar that you've likely seen popping up a lot is apple cider vinegar. Not only are there a ton of home uses for apple cider vinegar, but when you ingest it, ACV can boost your metabolism, is full of good probiotics to give your gut a friendly kick and even lowers blood pressure.
How to Make Cowboy Caviar
Now that you know why cowboy caviar is so good for you, it's time to get this healthy dip going. Because this recipe is basically just assembly, you can prepare it ahead of time and save yourself from slaving in the kitchen while guests or family are in a different room.
Go ahead and dice up your pepper and tomatoes…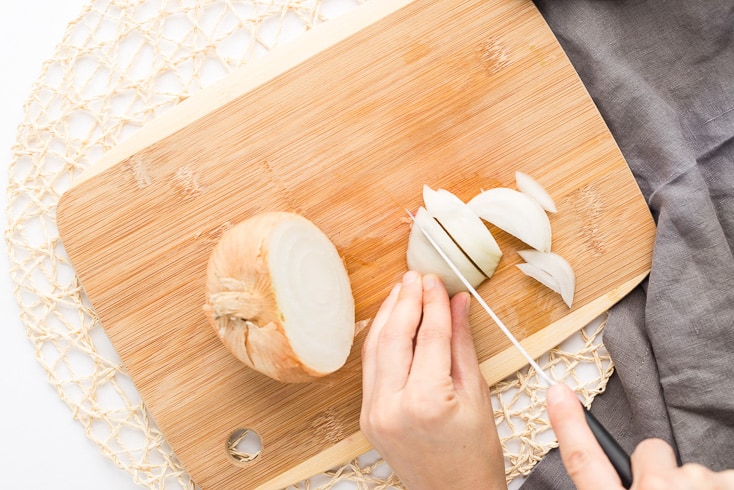 …and then your onion.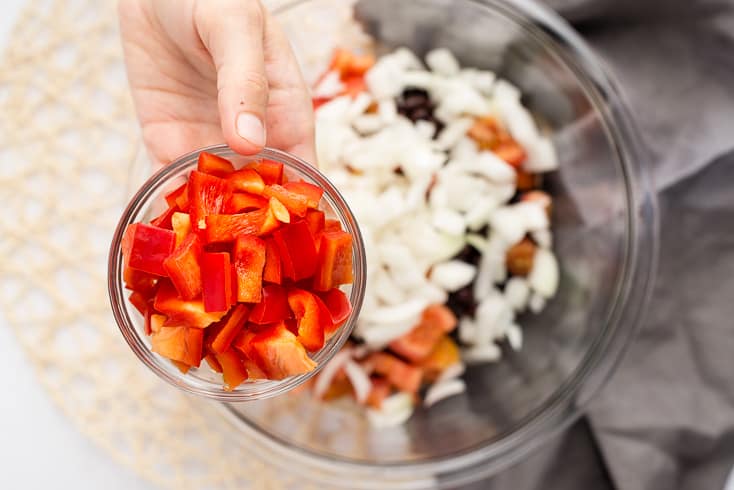 At this point, if you're making the salsa in advance, you can go ahead and chuck the onions, pepper and tomato in a bowl and place it in the fridge until you're ready to add the rest of the ingredients.
But if you're ready to go to town on this cowboy caviar ASAP, add everything in a large bowl now.
If you're feeling extra zesty, a splash of freshly squeezed lime juice is a nice addition!
Total Time
Prep: 10 minutes; Total: 40 minutes
Ingredients:
15 ounces cooked black beans, drained and rinsed
15 ounces black-eyed peas, drained and rinsed
2 roma tomato, diced
1 red bell pepper, diced
1 red onion, diced
1 cup cilantro leaves, chopped
2 tablespoons apple cider vinegar
1 tablespoon maple sugar
½ teaspoon garlic powder
½ teaspoon dried oregano
½ teaspoon dried basil
½ teaspoon chili powder
¼ teaspoon ground black pepper
¼ cup extra virgin olive oil or avocado oil
½ avocado, diced
Tortilla chips for serving
Directions:
Mix all ingredients together in a large bowl and refrigerate 30 minutes prior to serving.
Serve with your favorite grain-free chips or atop your favorite tacos.