Classic Hummus Recipe, Plus 8 Reasons to Eat It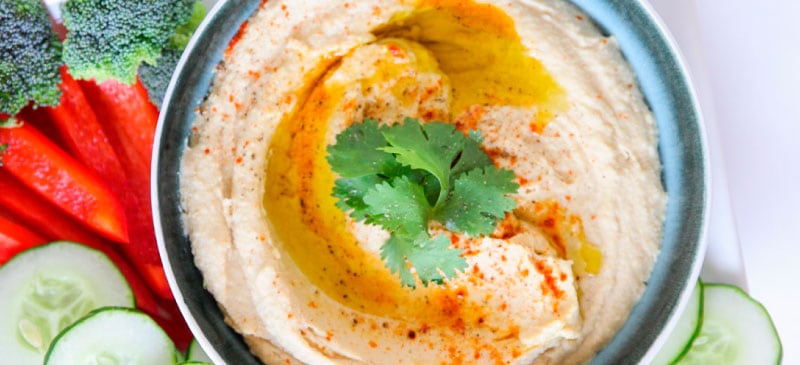 Hummus is a creamy, thick spread made primarily from mashed chickpeas and a few other healthy ingredients that has become popular worldwide over the past couple of decades. It has long been enjoyed in Middle Eastern and North African countries and today in commonly eaten across North America and Europe, too.
If you walk by the refrigerated section at your local supermarket, you'll find a myriad of brands and flavors of the stuff being sold — sometimes at exorbitant prices. But did you know that it's incredibly simple to make your own? How do you make hummus from scratch? The easy hummus recipe below is a great place to get started.
This hummus recipe isn't flashy; it doesn't require fancy ingredients, but instead uses those you probably already have in your kitchen. What it does have is a ton of flavor that's foolproof to make. Once you try this homemade hummus, you'll wonder why you ever spent money buying it pre-made.
What Is Hummus?
What is hummus made with? This thick spread/dip is traditionally made with chickpeas (garbanzo beans), sesame tahini, olive oil and garlic. Other flavor enhancers like lemon juice, red pepper, olives and veggies can also be included.
Hummus has long been enjoyed in Middle Eastern and North African countries, including Israel, Palestine, Jordan, Lebanon, Syria, Turkey and others. In fact, it's deep history goes all the way back thousands of years. Today, it's considered to be one of the most widely consumed Middle Eastern foods in the world, often paired with pita bread and veggies for dipping.
Flavored types of hummus — for example, popular types like roasted red pepper or Kalamata olive hummus, which you may have seen in supermarkets — have additional ingredients that are mixed into the basic hummus recipe described above.
Because it's a good source of fiber (from chickpeas), protein (from chickpeas), healthy fats (from tahini and olive oil) and even some antioxidants (from garlic and other additions), it's not only tasty but a very healthy addition to your diet, too.
Regularly consuming hummus may help to promote healthy cholesterol and triglycerides levels, fill you up and reduce overeating, contribute to digestive health, and more.
Nutrition Facts
The recipe below serves eight people. Each serving (1/4 cup) of homemade hummus contains about:
259 calories
10 grams total fat
32 grams carbohydrates
11 grams protein
Benefits
1. Good Source of Plant-Based Protein
What is hummus good for? To start, hummus is an excellent protein source for vegetarians, vegans and omnivores, too. Chickpeas, which are the base of nearly all hummus recipes, are plant-based and high in protein, which can help to make you feel full after consuming them. The feeling of satiety therefore makes you less likely to snack (especially on junk food) between meals.
Because hummus is often eaten with pita bread or another type of whole grain, the chickpeas and grains together make up a "complete protein," meaning they contain all essential amino acids that are necessary for the body to acquire from food and to then use for energy.
Tahini, made from ground sesame seeds, is also a great source of important amino acids (specifically one called methionine), which allows tahini to create another complete protein when combined with chickpeas, similarly to chickpeas and grains do.
2. Fights Illness and Disease
Beans, and chickpeas in particular, have been shown to help balance cholesterol levels, reduce hypertension and protect against heart disease. In fact, hummus is commonly eaten in many Mediterranean nations that experience great health, low rates of cardiovascular disease and longevity, with Greece and Turkey two of them.
This may be due to the high fiber content in chickpeas, which helps people avoid overeating and gaining harmful excess weight, especially around the organs. Beans also help keep the arteries clear from plaque buildup, decreasing the chances of cardiac arrest and stroke.
Chickpeas have also been shown to have protective properties against cancer, in particular colon cancer. This is due to chickpeas' ability to keep the digestive system, including the colon, free from harmful bacteria and toxic buildup, since the beans' fiber helps to keep waste moving out of the body quickly.
Additionally, a diet rich in all beans has been shown to reduce hyperglycemia and help balance blood sugar levels. This decreases the chance of developing diabetes or insulin resistance.
3. Decreases Inflammation
Inflammation is the body's natural defense to move toxins out of the body. However, when your body has a high level of inflammation, it indicates that your body has been trying to overcome food, environmental or medicinal toxins. Foods that help reduce inflammation also help in reducing the chance of arthritis and disease, and they help heal the body.
Hummus has garlic, olive oil and chickpeas, which are all known anti-inflammatory foods. Chickpeas have been found not only to reduce inflammation, but also to reduce blood clots. Research out of the University of Karachi in Pakistan done on two different varieties of chickpeas showed both were effective at reducing inflammation markers.
Research published in the British Journal of Nutrition showed that olive oil can reduce inflammation in the body and can also help with healthy cholesterol levels.
4. Helps Digestion and Intestinal Health
Chickpeas are an excellent high-fiber food, which has multiple health benefits, including helping to foster a healthy digestive system, making us feel full and satisfied, improving cardiovascular health, and more.
Consuming enough fiber daily (between 25–35 grams depending on your gender and needs) is correlated with a healthy body weight and deceased chance of obesity-related diseases like type 2 diabetes, heart disease and many more. Hummus makes an excellent addition to any high-fiber diet.
5. High in Vitamins and Minerals
It is hard to beat the winning combination of essential micronutrients that the ingredients in hummus has to offer. In addition to protein and fiber, the chickpeas used in hummus are high in iron, folate, phosphorus and B vitamins (all especially important for vegetarians and vegans who may be lacking in these nutrients).
Lemon juice also contains a high level of immunity-boosting vitamin C and antioxidants. Tahini has high levels of copper, magnesium, zinc, iron, phosphorus and calcium too. And of course there is garlic too, which contains many trace minerals, antioxidants and vitamins.
6. Supports Bone Health
Sesame seeds, used in making tahini, are an excellent source of various important bone-building minerals, including zinc, copper, calcium, magnesium, phosphorus, iron and selenium. Copper helps keep the skeletal structure strong by facilitating the binding of collagen to elastin, which is one important building block of bones.
At the same time, calcium may be able to help lower levels of bone loss, especially as someone ages. Zinc has been shown to be an important factor in bone development and growth and a protector of bone health.
Studies have shown that zinc deficiencies are closely tied to stunted bone growth and that zinc can contribute to bone formation and healthy mineralization in both younger people and older populations that are more at risk.
7. Protects Heart Health
Studies suggest that diets rich in extra virgin olive oil, one of the main ingredients used in hummus, help prevent cardiovascular disease in several important ways. Regularly consuming good-quality olive oil has been correlated with improving blood pressure levels, glucose metabolism and reducing harmful cholesterol.
Both olive oil and sesame seeds have also been shown to help reduce inflammation and provide important antioxidants, both of which play a part in maintaining heart health by keeping the structure of arteries and cell walls healthy. Finally, diets rich in beans have been shown to help protect heart health partially due to their low score on the glycemic index.
8. Boosts Your Energy
Chickpeas, like all beans and legumes, contain starch, which is a complex carbohydrate that the body is able to use steadily for energy. Starches contain natural sugars called glucose, which the body uses easily for many essential functions. Unlike simple sugars found in many products like refined flour, white bread, pasta, soda, candy and most other processed foods, starches take an extended period of time to break down once consumed.
This means they provide "time released" energy and do not spike your blood sugar in the same way that simple carbohydrates found in processed foods do. The process of digesting and utilizing the glucose found in all beans and starches is drawn-out, keeping blood sugar stable for a while before it beings to drop back down again and you require more food.
How to Make Hummus
Ready to make the best hummus recipe that's also super simple? This recipe serves 4 to 8 people and only takes about 5 minutes to make.
Ingredients include cooked garbanzo beans, drained (about one can) and rinsed; sesame tahini (made with hulled sesame seeds, it usually comes in a jar);  lemon juice; sea salt; garlic, minced; good-quality extra virgin olive oil; and paprika to taste.
Start by draining and rinsing the garbanzo beans. Next, place all the ingredients into a food processor and blend until you've reached the desired consistency.
If necessary, add a bit more benefit-loaded olive oil to keep the hummus smooth and creamy. Do you prefer a hummus recipe without tahini? You'll simply need to add more olive oil instead. Try using about one-third cup of olive oil per full recipe and slowly adding more until you reach the consistency you'd like.
Hummus tastes great served with raw veggies or gluten-free crackers. It also makes a tasty spread for wraps or sandwiches. You can use hummus on this falafel recipe as well.
Types of Hummus
There are endless ways to use hummus: as a dip along with whole grain sprouted bread or crackers, smeared on a veggie-based sandwich, as a dressing on top of salad or grains, and even as a healthy substitution for other spreads like sugary jelly or butter.
Due to all the different types of hummus that are now readily available in almost all grocery stores, finding and using hummus has never been easier. If you are lucky enough to live by a health food store, definitely check out the hummus selection — chances are they carry hummus varieties that are unlike any you've ever seen in larger grocery chains.
In health food or vegetarian-based stores, it's now common to find hummus made from other types of beans (black beans, edamame or lentils, for example) and with ingredient additions and flavors that can spice up any bland meal. Some of the most popular types of hummus include:
Storage Instructions
How long does homemade hummus last? If you make this hummus recipe, it should last for about one week in the refrigerator, or possibly up to 10 days when stored in an airtight container.
Homemade hummus does not stay fresh as long as the kinds you'd buy in the store because it doesn't have preservatives, but adding lemon juice may help to keep it fresh for a bit longer.
Print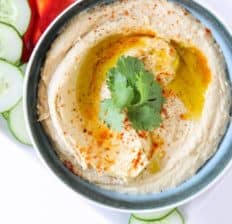 Classic Hummus Recipe
---
Author:

Total Time:

5 min

Yield:

8

servings

1

x

Diet:

Vegan
Description
Hummus is a Middle Eastern dip that's surprisingly easy to make, so give this flavorful classic version a go!
---
2 cups

garbanzo beans, drained and rinsed

2

cloves garlic, minced

⅓ cup

tahini

¼ cup

lemon juice

1 teaspoon

sea salt

1 tablespoon

olive oil
paprika to taste
---
Instructions
Drain and rinse the garbanzo beans.
Mince two cloves of garlic.
Place all ingredients (except for the paprika) into a food processor and blend until smooth.
Scrape hummus out of food processor container and place into a small dish or storage container. Sprinkle paprika on top.
Notes
If necessary, add a bit more benefit-loaded olive oil to keep the hummus smooth and creamy.
Hummus tastes great served with raw veggies or gluten-free crackers. It also makes a tasty spread for wraps or sandwiches.
Prep Time:

4 min

Category:

Dips

Method:

Food processor

Cuisine:

Middle Eastern
Nutrition
Serving Size:

1/4 cup

Calories:

259

Sugar:

5.6g

Sodium:

259mg

Fat:

10.2g

Saturated Fat:

1.4g

Unsaturated Fat:

0g

Carbohydrates:

32.9g

Fiber:

9.7g

Protein:

11.5g

Cholesterol:

0mg
Keywords: hummus recipe, how to make hummus, homemade hummus