What Is Falafel? Pros, Cons & How to Make It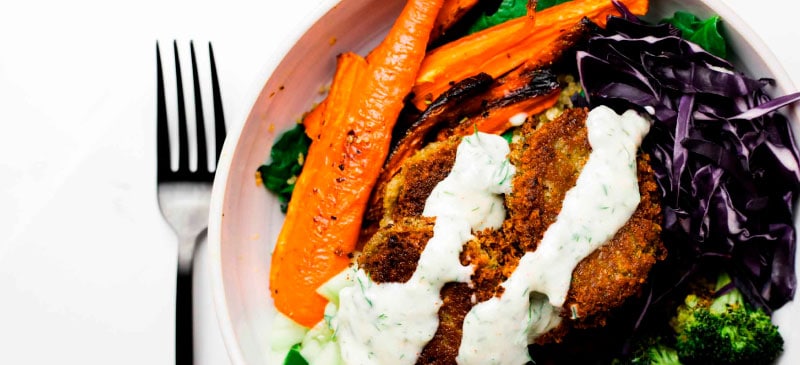 If you've ever eaten at a Middle Eastern restaurant before, you've likely either tried falafel or seen it on the menu. This vegetarian-friendly dish is sold on every street corner in countries like Syria, Lebanon, Jordan and Palestine and is delightfully delicious. It's also simple to make and enjoy right at home with my homemade, naturally vegan falafel recipe.
Although falafels don't exactly have a reputation for being healthy or nutritious, making a few simple swaps in your recipe can instantly bump up the health benefits and nutrition profile of this delicious delicacy.
So is falafel vegan? What is a falafel sandwich, and is it healthy?
Keep reading for everything you need to know about this flavor-packed fritter.
What Is Falafel?
So what exactly is in your falafel sandwich, and what is falafel made of? Falafel is a common Middle Eastern dish that is made from chickpeas or fava beans that have been ground up, shaped into a ball-like patty and deep-fried or baked.
Other falafel ingredients include herbs and spices like cumin, coriander and garlic.
They can be served alone, as part of an assortment of small dishes or appetizers known as a meze, or tucked into a pita, sandwich or wrap. They are also used as a plant-based protein source in many vegetarian recipes and can be enjoyed in plant-based pasta dishes, pizzas, waffles and even tacos.
Like most things concerning the Middle East, the origins of falafel are slightly controversial depending whom you ask. However, it's generally believed to have originated in Egypt, where it's prepared with fava beans, via Christian Copts.
From there, it spread throughout the Arab world and later into Israel. Interestingly, everywhere else replaces the original fava beans with nutrition-rich chickpeas.
No matter where in the Middle East you are, you're guaranteed to be standing a stone's throw away from a falafel stand. In fact, Egypt, Palestine, Lebanon, Syria and Israel have all named falafel as their national dish.
Though it took a while for falafel to hit the U.S., you can now find these addicting little snacks at Middle Eastern restaurants and salad bars throughout the country — and now, with my easy falafel recipe, in your kitchen.
Is It Healthy? Pros and Cons
Although traditional falafels are made using a variety of healthy falafel ingredients like beans, herbs and spices, they are also deep-fried in oil, which significantly increases the content of fat and calories in the final product.
According to a recent 2019 study published in BMJ, regular consumption of fried foods may be associated with a higher risk of dying from heart disease for women. Other research shows that eating fried foods could also be tied to a higher risk of developing chronic conditions, such as diabetes, high blood pressure and heart problems.
Not only that, but another study conducted by University of Navarra in Pamplona, Spain found that frequent consumption of fried foods was linked to a higher risk of weight gain and obesity.
Fortunately, there are plenty of ways to make falafels a bit healthier, and they can even be baked instead of fried to significantly slash their content of calories and fat.
Baked falafels are a great source of protein and fiber, both of which can help ramp up weight loss by keeping you feeling fuller for longer between meals and reducing levels of ghrelin, the hormone responsible for stimulating feelings of hunger. Falafels also supply a range of other key vitamins and minerals as well, including manganese, copper and folate.
They're also super versatile and a great meat substitute for those looking to transition to a more plant-based diet, promote sustainability and reduce their environmental impact.
How to Make Falafel
How do you make falafel from scratch? You'll be surprised at how simple homemade falafel is to make.
What is the best falafel mix?
We use a combination of chickpeas and black-eyed peas to get the at-home texture just right. Both of these beans, but in particular chickpeas, are loaded with protein and fiber, so even though falafel is meat-free, you're sure to feel full!
Then, we'll add in fresh parsley and a heap of seasonings. Don't be deterred by the list — you likely have them all in your pantry, and the combination of cardamom, cumin, cayenne and cilantro is going to give your falafel recipe a ton of flavor.
Finally, we'll fry these up with avocado oil. Refined avocado oil is a great option for cooking at high heat, as it can withstand temperatures up to 400 degrees Fahrenheit. It also helps your body better absorb nutrients and improves cardiovascular health.
Start by adding in all the ingredients except the avocado oil to a food processor. Blend on high until it's well combined, adding more Paleo flour if needed.
Allow the mixture to sit in the refrigerator for an hour.
In a large frying pan over medium to medium-high heat, add the avocado oil. While it heats up, use a tablespoon to scoop out the falafel "dough" and form it into small discs.
Fry for 4 minutes, flip and cook for an additional 4 minutes or until golden brown.
Add the falafel to your favorite salad and drizzle our Hummus or Avocado Ranch Dressing on top.
Other Recipes
There are plenty of authentic falafel recipe ideas out there, many of which involve deep-frying your patty in highly processed vegetable oil and piling on the salt. Fortunately, there are also plenty of strategies you can use for how make falafel a bit healthier, without skimping on taste or flavor.
For example, my gluten-free falafel recipe uses a combination of black-eyed peas and chickpeas, along with other ingredients like red onions, garlic, parsley and cilantro. Instead of using canola oil or vegetable oil for frying, it uses avocado oil, which can withstand very high temperatures without breaking down or oxidizing.
Alternatively, try making your falafel recipe baked instead of fried to give it a healthy twist and cut down on the fat content of your fritters. This typically involves placing spoonfuls of patties on a sheet and baking for 20–25 minutes at 375 degrees Fahrenheit.
You can also try swapping other veggies into your falafel recipes, like in this Zucchini Falafel Recipe. Kale, lentils, green peas, sweet potatoes and spinach can all be excellent additions to any spicy falafel recipe as well.
Enjoy your homemade fritters in a healthy falafel wrap by opting for a whole wheat pita and loading up on the veggies. If you're cutting back on carbs, collard greens also make a great substitute for wraps and can help squeeze a few extra nutrients into your meal.
For a flavorful falafel sauce, try out this Creamy Avocado Cilantro Lime Dressing, which features goat yogurt, garlic and avocado.
So what should you serve falafel with? It goes well with nearly everything!
In the Middle East, it's usually stuffed in a pita and served with hummus. Grab a gluten-free pita and whip up this Tzatziki Sauce to spread on it.
If you want to get a little funky, Paleo ranch dressing tastes fantastic with it, too. It also goes really well served with a salad like this Cauliflower Tabbouleh Salad, which is from the same region, or even chopped up and added right to a salad, like this Cucumber Tomato Salad.
Of course, you don't need to serve it with anything at all — falafel is tasty enough to eat solo! Let's get cooking.
Risks and Side Effects
Although falafels can generally be enjoyed safely as part of a healthy diet, there are several downsides that need to be considered as well.
For starters, it's important to exercise caution if you have an allergy to any of the ingredients found in falafel, especially when dining out. Serious allergic reactions have been reported to ingredients like sesame seeds, which are often used in the sauce that accompanies falafel burgers and wraps.
If you do have any food allergies, be sure to inform the staff when dining out and check the ingredients label carefully when purchasing pre-made products.
Additionally, keep in mind that not all falafels are created equal, and some varieties may be much more healthy than others. Baked falafel made with whole food ingredients like chickpeas, herbs and spices, for example, boasts a much better nutrient profile than falafels that are deep-fried, highly processed and pumped full of unhealthy ingredients.
Making your own falafels at home can help put you in control of what's going on your plate while also optimizing the potential health benefits of your meal.
Conclusion
What is falafel, and what is falafel made of? Falafel is a type of patty made from chickpeas and/or fava beans that have been ground up, pressed into a ball-like shape, and fried or baked. Other common falafel ingredients include garlic, parsley, cumin and coriander.
Is falafel healthy? Traditional falafels are often deep-fried, which significantly increases the fat and calorie content of the final product.
Baked falafels are a much better choice and are high in protein, fiber and a range of important micronutrients to support overall health.
Aside from baking your falafels, you can also try mixing in other veggies, using avocado or coconut oil in place of refined vegetable oil and making a few simple switches to your wrap to help boost the potential health benefits.
Print
Vegan Falafel Recipe
---
Author:

Total Time:

1 hour 30 minutes

Yield:

10

-

1

2

1

x

Diet:

Vegan
Description
You'll be surprised at how easy this falafel recipe is to make. We use a combo of chickpeas and black-eyed peas to get the right texture.
---
¾ cup

chickpeas

¾ cup

black-eyed peas

½

red onion, chopped

1

clove garlic, minced

4 tablespoons

flat-leaf parsley

4 tablespoons

cilantro

1 teaspoon

cayenne

1 teaspoon

cumin

1 teaspoon

coriander

1 teaspoon

cardamom

1 teaspoon

salt

1 teaspoon

pepper

½ teaspoon

baking powder

1

–

3

tablespoons water

1½

–

2

tablespoons Paleo flour

6

–

8

tablespoons avocado oil for frying
---
Instructions
Add all ingredients except the avocado oil in a food processor and blend on high until well combined, adding more Paleo flour if needed.
Allow mixture to sit in the fridge for one hour.
In a large frying pan over medium to medium-high heat add the avocado oil.
Using a tablespoon, scoop out falafel and form into disks.
Fry for 4 minutes, flip and cook for an additional 4 minutes or until golden brown.
Add to your favorite salad and drizzle our Hummus or Avocado Ranch Dressing on top.
Notes
You can adjust the spices to your liking, perhaps adding some red pepper flakes for some more spice.
Alternatively, you can make this a baked falafel recipe by baking instead of frying, though it will add time to the recipe.
Prep Time:

20 min

Cook Time:

70 min

Category:

Main dish

Method:

By hand

Cuisine:

Middle Eastern
Nutrition
Calories:

155

Sugar:

1.7g

Sodium:

217mg

Fat:

9.9g

Saturated Fat:

1.1g

Unsaturated Fat:

8.8g

Trans Fat:

0g

Carbohydrates:

13.4g

Fiber:

3g

Protein:

4.2g

Cholesterol:

0mg
Keywords: falafel, easy falafel recipe, vegan falafel recipe, best falafel recipe