Creamy Avocado Cilantro Lime Dressing Recipe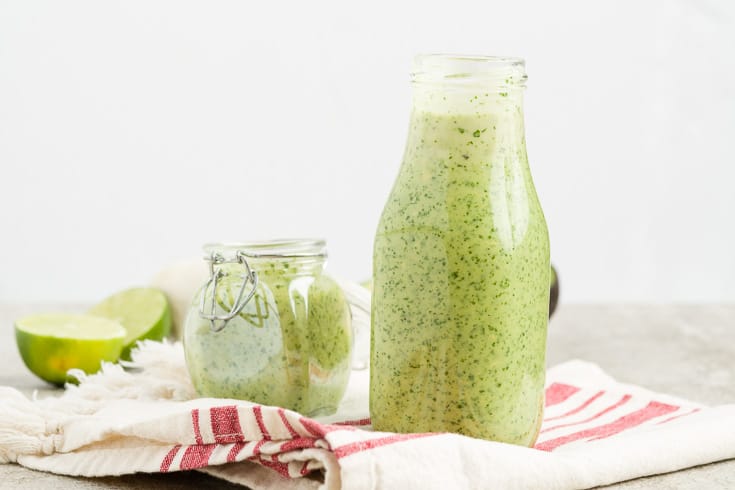 If you need to jazz up a salad or dish of veggies with a zesty, spicy and flavorful dressing, look no further than this cilantro lime dressing. Because the base of this dressing is avocado and goat yogurt, it's perfectly creamy. And the mix of jalapeño, lime and cumin adds a little heat, while the cilantro adds the bite.
Plus, this cilantro lime dressing is packed with healthy fats, completely gluten-free and perfect for anyone on the keto diet.
The Best Cilantro Lime Dressing Combos
There are plenty of ways to use this cilantro lime dressing. Really, the combos are endless. Use it to add flavor and zest to a plain house salad or my fattoush salad, add it as a topping on raw or baked veggies, like broccoli, cauliflower or Brussels sprouts, or spoon it over an omelette made with diced peppers and onions.
It goes well with falafel too.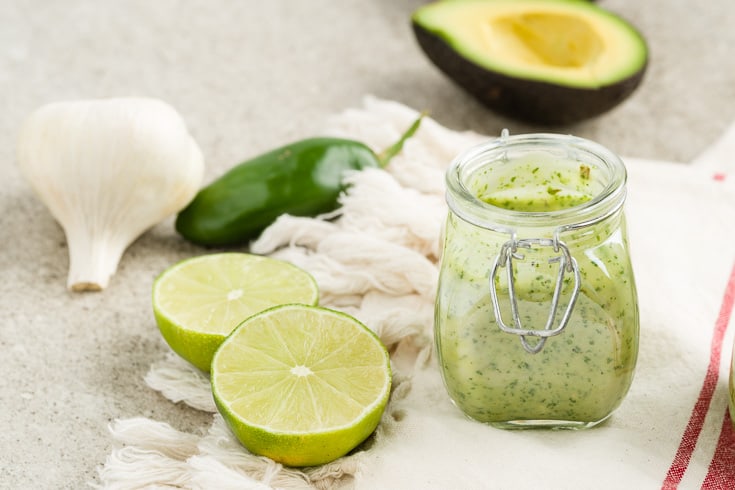 Even dipping some keto bread or paleo naan bread into this dressing as a snack works well. Once you try this dressing, you'll want to add it to everything! So explore a little and use this dressing as a tool to make foods more satisfying and flavorful.
Nutrition Facts
One serving of my cilantro lime dressing contains roughly the following (1, 2, 3, 4):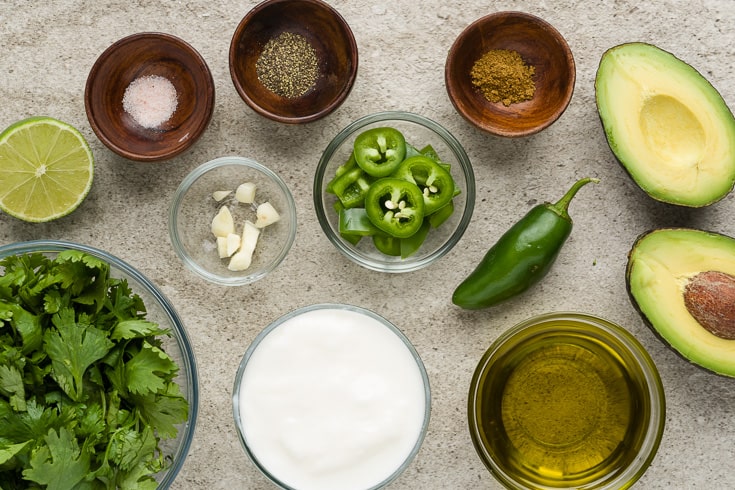 123 calories
1 gram protein
12 grams fat
3.6 grams carbohydrate
0.8 grams sugar
2 grams fiber
14 micrograms vitamin K (16 percent DV)
10 milligrams vitamin C (13 percent DV)
1.8 milligrams vitamin E (12 percent DV)
0.4 milligrams vitamin B5 (9 percent DV)
166 IUs vitamin A (7 percent DV)
0.09 milligrams vitamin B6 (7 percent DV)
26 micrograms folate (7 percent DV)
0.05 milligrams vitamin B2 (5 percent DV)
0.5 milligrams vitamin B3 (4 percent DV)
0.06 milligrams copper (7 percent DV)
90 milligrams sodium (6 percent DV)
11 milligrams magnesium (4 percent DV)
177 milligrams potassium (4 percent DV)
27 milligrams phosphorus (4 percent DV)
0.065 milligrams manganese (4 percent DV)
Here's a quick glance at some of the top health benefits associated with the ingredients in this cilantro lime dressing: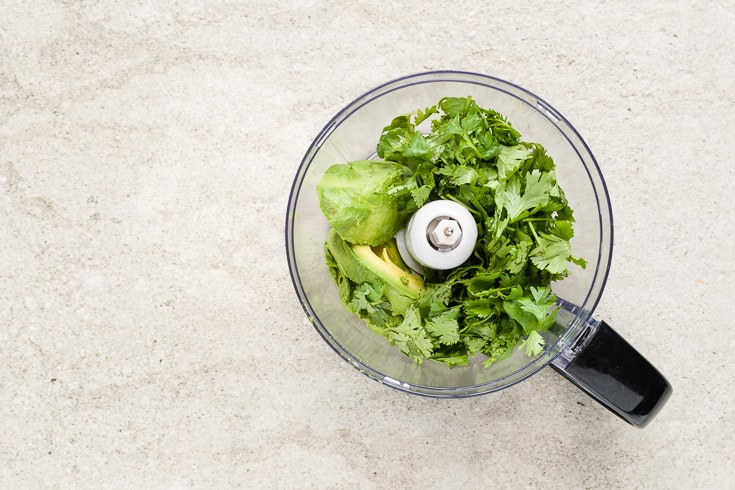 Cilantro: Cilantro benefits come from its vitamin K content, which boosts heart health and reduces the risk of osteoporosis, and its phytonutrients that help to reduce inflammation and free radical damage. Cilantro promotes the detoxification of heavy metals like lead, arsenic and mercury that can lead to disease, and it also works to ease digestive discomfort. (5)
Garlic: Research shows that raw garlic works as a preventative agent and treatment for cardiovascular and metabolic diseases like diabetes and hypertension. Adding garlic to your diet may also help reduce the risk of certain cancers, including stomach, colon, pancreas and breast cancers. (6)
Olive oil: Olive oil is a rich source of antioxidants, anti-inflammatory compounds, monounsaturated fats, vitamin K and vitamin E. Consuming olive oil can help to protect your heart, aid weight loss by reducing hunger and cravings, support brain health and fight depression. (7)
Avocado: Avocado benefits come from its nutrition content. It's loaded with healthy fats, fiber, vitamin A, folate and potassium. It's considered a superfood because of its ability to help fight disease, improve the health of your heart, aid weight management and support your digestive system. (8)
How to Make Cilantro Lime Dressing
To prepare this cilantro lime dressing, you'll need a food processor or blender.
Simply add all of your ingredients — that's one avocado, one peeled clove of garlic, ½ of a chopped jalapeno, ½ cup of chopped cilantro, ¼ cup of plain goat yogurt, juice of half a lime, one teaspoon of lime zest, ¼ cup of olive oil, ¼ teaspoon of sea salt, ¼ teaspoon of pepper and ½ teaspoon of cumin.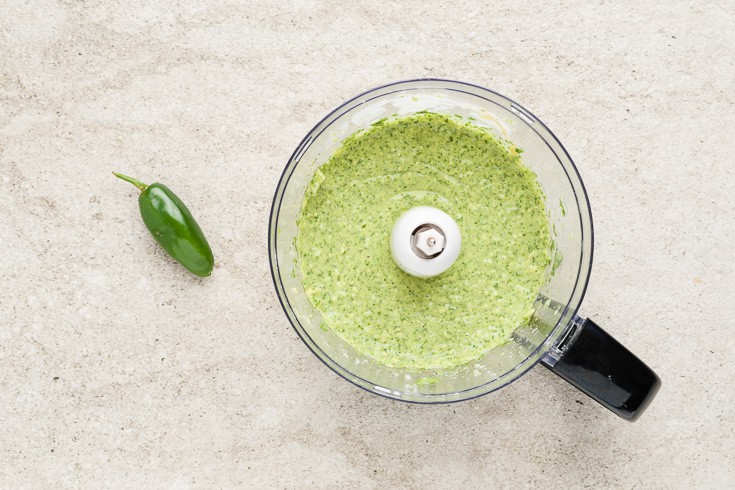 And blend them until they are well-combined. You should have a smooth and creamy dressing.
Store your dressing in a glass mason jar or container and enjoy with a variety of different foods and meals!
Ingredients:
1 avocado
1 clove garlic, peeled
½ jalapeno, chopped
½ cup cilantro, chopped
¼ cup plain goat yogurt
Juice of ½ lime
1 teaspoon lime zest
¼ cup olive oil
¼ teaspoon sea salt
¼ teaspoon pepper
½ teaspoon cumin
Directions:
Place all the ingredients In a food processor or blender and blend on high until well-combined.