Bone Broth-Braised Short Ribs Recipe with Garlic and Thyme
I'm always on the lookout for a restaurant-worthy dish that takes little effort to cook up. I love having a go-to dish that's easier than calling takeout and tastes even better. Well, ladies and gentlemen, I've found it. These braised short ribs are a lazy chef's dream. The prep work is minimal, and the beef short ribs cook in the crockpot for an easy braised recipe that's super versatile.
Where Does the Short Rib Come From?
Beef short ribs come from the lower part of the cow's rib cage, which is known as the short plate; that's what gives the ribs their name. This cut of beef is full of flavor, but it can be intimidating. Because the rib muscles are utilized much more than the parts of the cattle that give us steaks, short ribs tend to be really tough and hard to chew ­— unless you cook them properly, that is.
How Do You Cook Short Ribs?
While short ribs have become fairly popular in the U.S. over the past decade or so, Koreans and Argentinians have been using this cut for years as their preferred meat for grilling. For these slow cooker short ribs, however, we'll take our cues from the French, who often braise their short ribs.
Braising just means that first the meat is seared, locking in flavor and giving it a nice color, then cooked in a liquid. Cooking these short ribs in the slow cooker means they'll have time to soak up the liquid and cook through, doing away with any toughness. You won't believe how tender these short ribs are once we're done with them!
How long does it take to cook short ribs? It'll take us just five minutes to sear 'em and then another six to eight hours of complete hands-off time to let these delicious ribs reach their optimal tastiness. You can start these in the morning, set them in the crockpot and forget about them until dinnertime. They're that easy to prepare!
Nutrition Facts
I highly recommend you get grass-fed beef short ribs for this recipe. Grass-fed beef has been proven to have more nutrients than conventional beef, including more omega-3s and disease-fighting vitamins — but less cholesterol and overall fat. It's also better for the environment because this cattle produces fewer greenhouse gas emissions.
Good beef short ribs need some sort of sweetener, and here we'll use maple syrup. This natural sweetener is a relatively unrefined product that's made from the sap of maple trees. It's got a lower glycemic index than table sugar, so it won't impact your blood sugar levels as much, and it comes with benefits that only a natural product provides, like antioxidants, vitamins and minerals and better digestion.
And we can't forget the beef bone broth used here, either! Bone broth is fantastic for leaky gut syndrome; in fact, I believe it's the best food for it — and can also boost your immune system, help protect joints and get your skin glowing from the inside out. You can make your own with this homemade beef broth recipe, or buy a high-quality, organic variety.
Additionally, in each bite of these braised short ribs, you're getting: (1)
1,203 calories
126.5 grams protein
67.18 grams fat
16.99 micrograms vitamin B12 (708 percent DV)
1.4 milligrams vitamin B2 (135 percent DV)
16.5 milligrams vitamin B3 (118 percent DV)
1.4 milligrams vitamin B6 (115 percent DV)
3.9 milligrams vitamin B5 (80 percent DV)
0.4 milligrams vitamin B1 (45 percent DV)
878 IUs vitamin A (38 percent DV)
As you can see, these braised short ribs are an excellent source of B vitamins! These vitamins aren't stored too well in the body, so we want to seek out foods that have them — and these ribs definitely hit the mark! So how do you cook the beef short ribs?
---
\How to Make Braised Short Ribs
Start by heating the avocado oil in a large pan over medium heat. Sprinkle the ribs with salt and pepper and when the oil has warmed, add the short ribs to the pan.
Cook the ribs for 4–5 minutes or until they're browned and then remove from the heat and set aside.
While the beef short ribs are browning, I recommend you get the sauce ready. In a medium bowl, combine all of the remaining ingredients.
Stir them together and then add the sauce and the short ribs to the crockpot.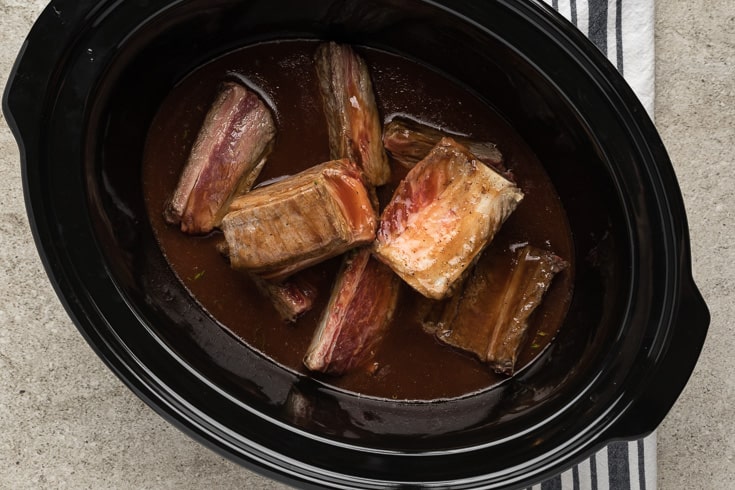 Cover and cook the braised short ribs on low for eight hours.
Serve these short ribs with brown rice, mashed sweet potatoes or your favorite leafy green salad.
Total Time
Prep: 15 minutes; Total: 8 hours 15 minutes
Ingredients:
6–8 grass-fed, beef short ribs
½ teaspoon sea salt
½ teaspoon pepper
2 tablespoons avocado oil
4 cloves of garlic, minced
2½ cups beef bone broth
One 15-ounce can tomato sauce
3 tablespoons Worcestershire sauce
¼ cup maple syrup
4–6 sprigs thyme
Directions:
In a large pan, over medium heat, add the avocado oil.
Sprinkle the ribs with salt and pepper and place them in the pan.
Cook for 4–5 minutes, or until lightly browned.
Remove from heat and set aside.
In a medium bowl, combine the remaining ingredients.
Add the ribs and the mixture to the crockpot and cook on low for 8 hours.