Hearty Spaghetti Squash Casserole Recipe
Eating seasonally is one of the best parts about home cooking. I don't know about you, but when I think about autumn and winter, I think of warm, comforting casseroles.
Too often, though, casseroles are recipes packed with heavy, refined carbs and few, if any, vegetables. While they may taste good, you won't feel too great after a serving. That's what makes this healthy spaghetti squash casserole such a stellar cold-weather meal.
Here, spaghetti squash replaces the pasta you typically find in casseroles. You'll add a colorful medley of vegetables, but with both mozzarella and raw goat cheese, this easy-to-make spaghetti squash casserole feels indulgent — it's the best of both worlds!
What Makes This Spaghetti Squash Casserole So Healthy?
The key ingredient to this casserole is the spaghetti squash. At first glance, this vegetable doesn't resemble anything close to spaghetti. But once the squash is cooked, its flesh turns to spaghetti-like strands, perfect for sauces, casseroles or any other meal where pasta is normally used.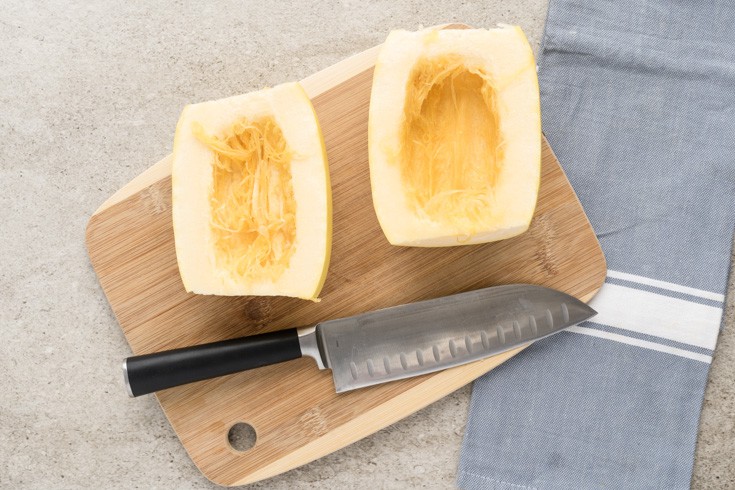 Best of all, spaghetti sauces is packed with nutrients you just won't find in pasta. Its bright hue is thanks to the beta-carotene. This cartenoid is one of the reasons why spaghetti squash is full of antioxidants and great for your skin, eyes and respiratory health.
But spaghetti squash isn't the only good-for-you ingredient in this healthy casserole. You'll also include two of my favorite leafy greens, kale and spinach.
Kale is an impressive anti-inflammatory food. Because it's full of omega-3s, it helps balance our omega-3 to omega-6 ratio, critical for keeping inflammation at bay. It's also great for heart health and helping to lower cholesterol and promote cellular health.
Spinach is another green nutrition giant. It helps guard cells from mutations that lead to cancerous tumor growth and protects against heart disease. (1) The fiber found in spinach both slows the blood's absorption of glucose and reduces cholesterol levels, two important factors in reducing your risk of a heart attack or stroke. (2) The high levels of vitamins A and C also boost immunity, helping you keep bacteria and viruses at bay.
Can your usual casserole recipe do all that?!
Nutrition Facts
Let's take a closer look at what one serving of this spaghetti squash casserole offers: (3)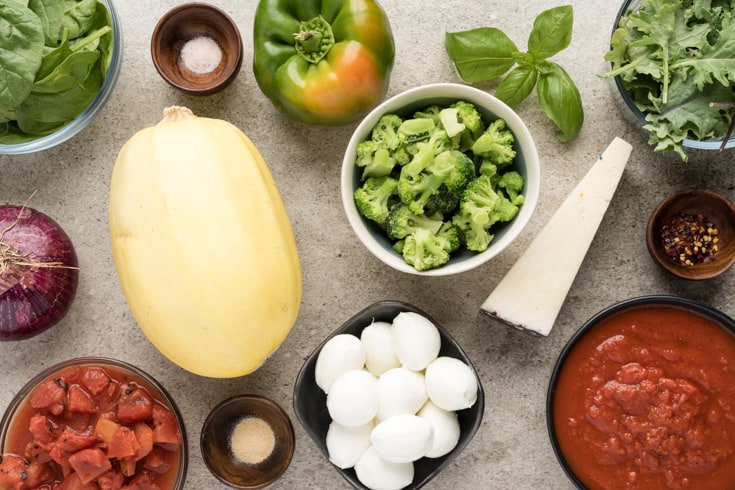 190 calories
8.65 grams protein
8.22 grams fat
23.46 grams carbohydrates
1408 IUs vitamin A (60 percent DV)
48.5 micrograms vitamin K (54 percent DV)
4.362 milligrams vitamin B3 (31 percent DV)
0.49 milligrams manganese (27 percent DV)
17.2 milligrams vitamin C (23 percent DV)
223 milligrams calcium (22 percent DV)
154 milligrams phosphorus (22 percent DV)
As you can see, the variety of vegetables in this spaghetti squash casserole make this an easy, vegetarian-friendly main dish. If you wanted, you could add protein to bulk this up even more. You can also easily make this vegan by omitting the cheese. Overall, this squash casserole is really easy to modify for your family's nutritional needs and tastes.
How to Make Spaghetti Squash Casserole
So how do you make spaghetti squash casserole? Let's get started.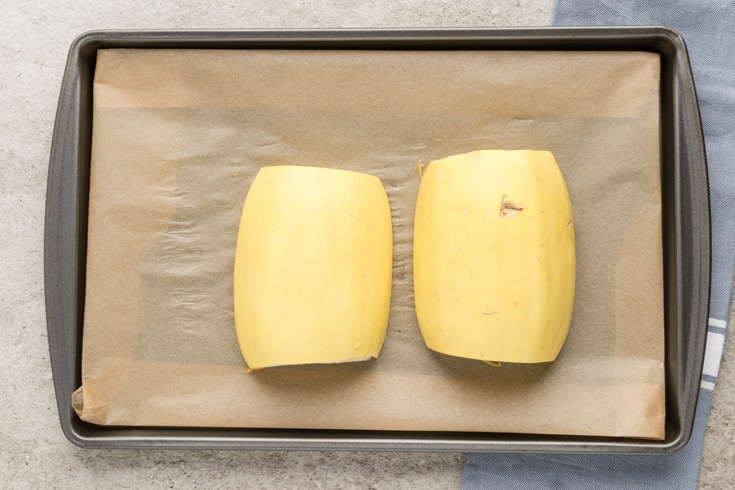 Start by preheating the oven to 400 F. While that happens, line a baking sheet with parchment paper and place the halved squash sides on it, face down. Bake the pieces until the squash if fork tender, around 30 to 40 minutes.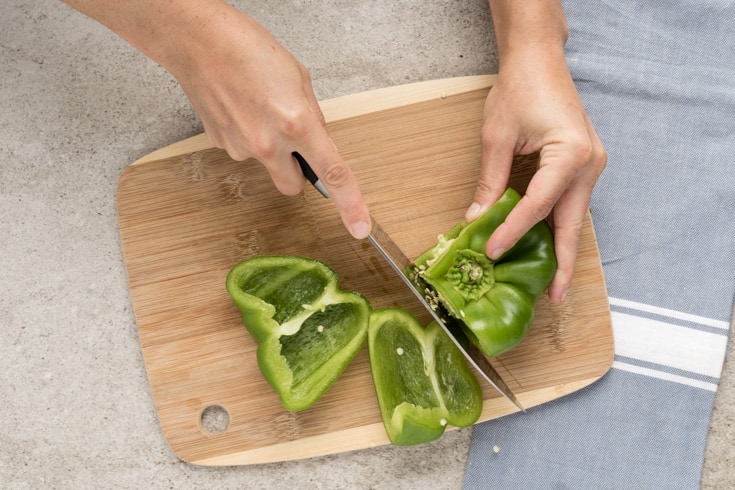 While the squash is cooking, chop up your veggies.
There will be no onion left behind in this spaghetti squash casserole!
When the squash is done, turn the oven heat down to 350 F. We're not finished with it just yet.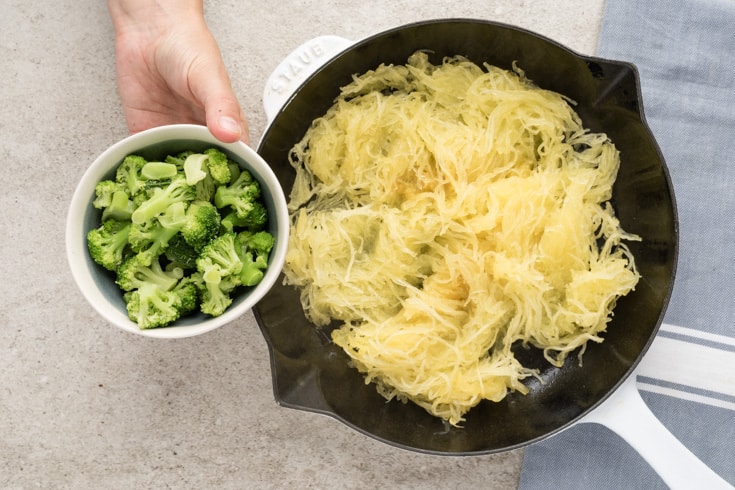 Once the spaghetti squash has cooled off, scrape the flesh into a cast-iron skillet.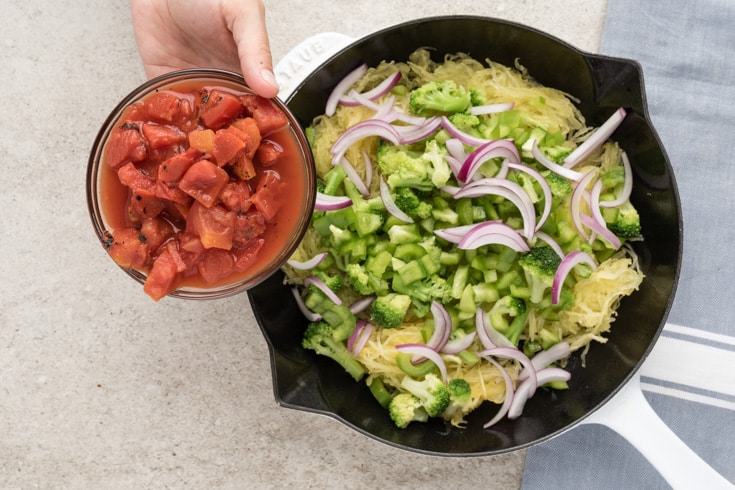 Then add in the other ingredients, except for the cheese and basil.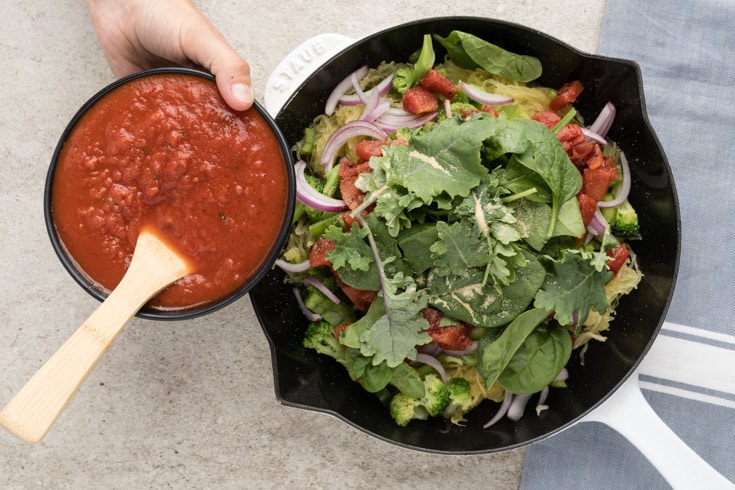 Use a wooden spatula to combine all of the ingredients.
Now it's cheese time! Top the casserole with the buffalo mozzarella and bake for 25–30 minutes.
When the casserole is out of the oven, grate the raw goat cheese on top…
…and finish off with the fresh basil.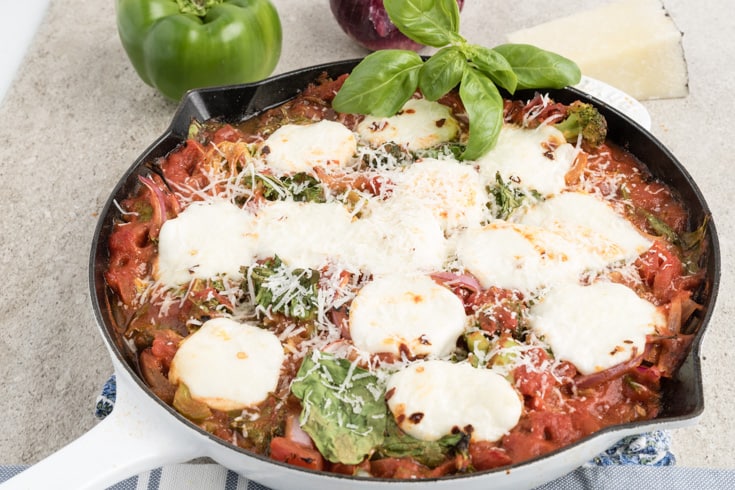 This gorgeous, healthy spaghetti squash is officially ready to eat!
Serve warm and enjoy.
Total Time
1 hour 10 minutes
Ingredients:
1 spaghetti squash, cut in ½ length-wise
1 cup spinach
1 cup kale
½ red onion, chopped
½ green bell pepper, chopped
1 cup broccoli
1½ cup marinara sauce
¼ cup fire-roasted diced tomatoes
¼ teaspoon sea salt
¼ teaspoon pepper
One 7-ounce package of buffalo mozzarella
¼ cup raw goat cheese, grated
fresh basil for topping
Directions:
Preheat the oven to 400 F.
On a baking sheet lined with parchment paper, place the squash face down and bake for 30–40 minutes, or until fork tender.
Reduce oven to 350 F.
Allow the spaghetti squash to cool and, using a fork, scrape the inside of the squash and place the strands in a bowl.
In a medium-size cast iron skillet, add the spaghetti squash and remaining ingredients, except for the cheeses and basil.
Using a wooden spatula, mix everything until well-combined.
Top with buffalo mozzarella and bake for 25–30 minutes.
Add the raw cheese and basil, serve and enjoy!