Roasted Acorn Squash Recipe
Most people are familiar with regular squash and butternut squash, two autumn staples. But acorn squash tends to fly under the radar — and no, it's not a food for squirrels! Acorn squash gets its name from its acorn-like shape and if you're unfamiliar with cooking it in the kitchen, it's high time to change that with my Roasted Acorn Squash recipe.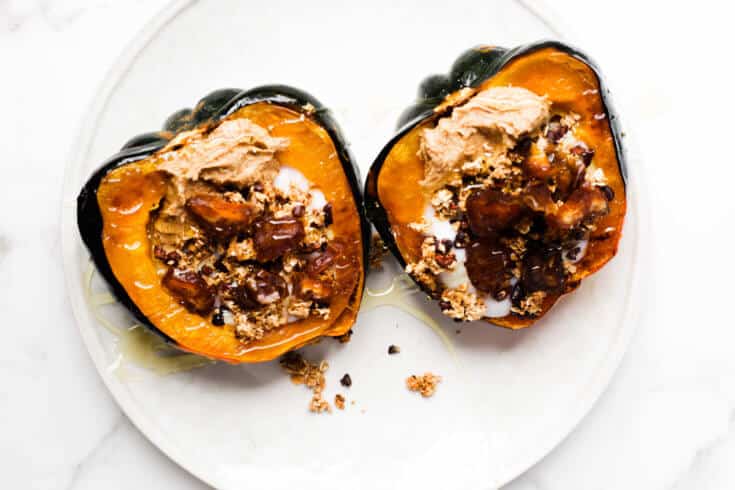 What is Acorn Squash?
Acorn squash is a type of winter squash, as are pumpkins, delicata squash and spaghetti squash. Though they're named after winter, these squash are harvested in the fall, but should last right on through the colder months when stored in a cool, dry place.
When it's in season, from October to December, acorn squash can also be purchased for quite cheap at farmer's markets and grocery stores. Cooking acorn squash results in a mildly sweet, slightly nutty flavor, making it an excellent vehicle for stronger seasonings. If you're out shopping for acorn squash, look for ones with dull green skin (which is edible!). If it's orange, the flesh will be tough to get through.
Nutrition Facts
Aside from being delicious, acorn squash is great for you. One cup provides 36 percent of your daily value of fiber, which is great for helping you feel full. It's also loaded with vitamin C and potassium. If you're looking for a lower-carb vegetable, acorn squash is a terrific choice.
In fact, one serving of acorn squash, or about 205 grams, provides (1):
115 calories
30 grams carbohydrates
2 grams protein
0 grams fat
22.1 milligrams vitamin C (37 percent DV)
896 milligrams potassium (26 percent DV)
0.5 milligram manganese (25 percent DV)
0.3 milligram thiamin (23 percent DV)
88.2 milligrams magnesium (22 percent DV)
0.4 milligram vitamin B6 (20 percent DV)
877 IU vitamin A (18 percent DV)
1.9 milligrams iron (11 percent DV)
38.9 micrograms folate (10 percent DV)
1 milligram pantothenic acid (10 percent DV)
90.2 milligrams calcium (9 percent DV)
0.2 milligram copper (9 percent DV)
92.2 milligrams phosphorus (9 percent DV)
How to Roast Acorn Squash
One of the beauties of acorn squash is just how versatile it is. You can prepare it in the oven, in a microwave, bake it, sauté it or even steam it. In fact, I've rounded up 18 delicious acorn squash recipes here. But by far, my favorite way of cooking acorn squash is by roasting it. Try my super easy Roasted Acorn Squash recipe at your next meal.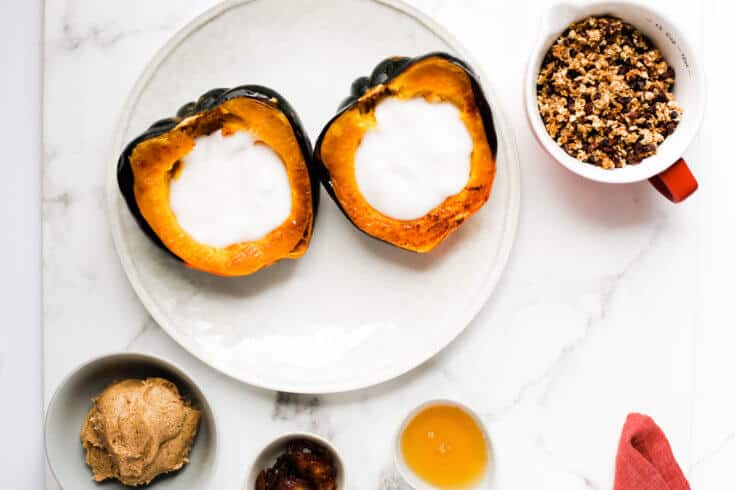 Start by preheating the oven to 400 F. Next, place the acorn squash on a baking sheet lined with parchment paper and bake for 30 minutes or until the squash is fork-tender.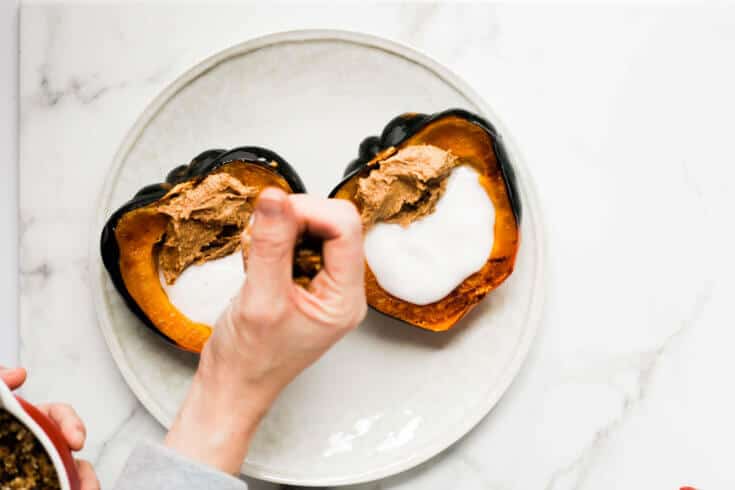 Place the acorn squash on two separate plates and add the toppings. The unique variety of toppings used in this roasted acorn squash recipe mean that you can enjoy the vegetable as a side dish, a healthy dessert or even a breakfast (just roast the acorn squash the night before and quickly reheat before filling with toppings).
For starters, the coconut yogurt adds protein but keeps this acorn squash recipe dairy-free. The almond and cashew butter add protein, while the dates and raw honey keep things sweet. And we can't forget the granola for crunch and fiber. You can even add a dash of cinnamon or nutmeg to finish this acorn squash off.
If you thought squash recipes were boring, this roasted acorn squash recipe will change your mind. Serve and enjoy!
Ingredients:
1 acorn squash, sliced in half lengthwise and seeds removed
Toppings:
1 cup unsweetened coconut yogurt, divided
¾ cup granola, divided
4 dates, pitted and chopped, divided
2 tablespoons almond or cashew butter, divided
1 tablespoon raw honey or maple syrup, divided
Directions:
Preheat the oven to 400 F.
Place the acorn squash on a baking sheet lined with parchment paper and bake for 30 minutes, or until fork tender.
Place the acorn squash on two separate plates and add toppings.
Serve and enjoy!
Get FREE Access!
Dr. Josh Axe is on a mission to provide you and your family with the highest quality nutrition tips and healthy recipes in the world...Sign up to get VIP access to his eBooks and valuable weekly health tips for FREE!
Free eBook to boost
metabolism & healing
30 Gluten-Free Recipes
& detox juicing guide
Shopping Guide &
premium newsletter