Dr. Axe

>

Recipes

>

Gluten-Free
Butternut Squash Soup Recipe
Ingredients:
4 tablespoons butter
1 onion, chopped
1 Granny Smith apple, peeled, cored and chopped
2 teaspoons dried sage
1 butternut squash, peeled, seeded and cut into chunks
4 cups chicken broth
¼–½ cup coconut milk
nutmeg
sea salt and pepper
Directions:
In a large pot over medium heat, melt butter.
Add onion, apple and sage and cook, stirring occasionally, for 8 minutes.
Add squash and broth. Bring to a simmer and cook until squash is tender, 15–20 minutes.
Transfer mixture to a blender (or use an immersion blender), working in batches if necessary, and puree until smooth. (Be careful blending hot liquids.)
Return to the pot, stir in coconut milk to reach desired consistency.
Heat through and season with nutmeg, sea salt and pepper to taste before serving.
Few things are ascozy and comforting as homemade soup, no matter what time of year. But people are always scared off of making it from scratch because it seems like a long, labor-intensive meal. I'm here to show you how easy it is to make a delicious, good-for-you soup that you can get on the dinner table tonight. This soup, made with vitamin-rich butternut squash, will turn you into a soup convert.
Start by melting butter ­in a pot over medium heat. Once it's bubbly, add in your chopped onion ­— yellow works well here — apple and sage. Cook for about 8 minutes, stirring occasionally. Smells good, doesn't it?
Time to add the butternut squash! Throw it into the pot along with the broth. Bring it all to a simmer and cook until the squash is tender. You should be able to stick a fork in a piece of squash and pull it out easily by now.
Now it's time to turn this into soup. If you have an immersion blender, use it to blend the soup right into the pot. If not, use your normal blender. Let the soup cool off a bit to avoid hurting yourself. Transfer the mix into a blender. If your blender is on the smaller side, do this in batches to avoid overfilling. When the soup is blended to the consistency you prefer — are you a chunky or smooth soup kind of person? ­— return it to the pot.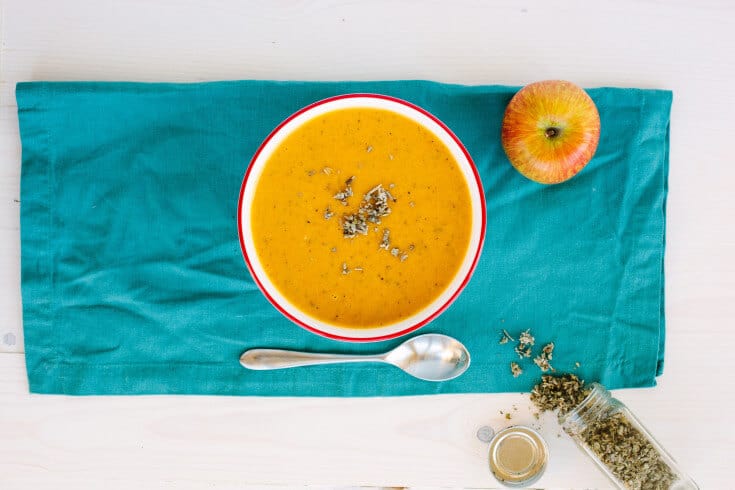 Add in coconut milk and heat the soup through. Season with sea salt, pepper and nutmeg (don't forget the nutmeg!) to taste and enjoy. How easy was that?
Get FREE Access!
Dr. Josh Axe is on a mission to provide you and your family with the highest quality nutrition tips and healthy recipes in the world...Sign up to get VIP access to his eBooks and valuable weekly health tips for FREE!
Free eBook to boost
metabolism & healing
30 Gluten-Free Recipes
& detox juicing guide
Shopping Guide &
premium newsletter