Vegetarian Ceviche Recipe with Mushrooms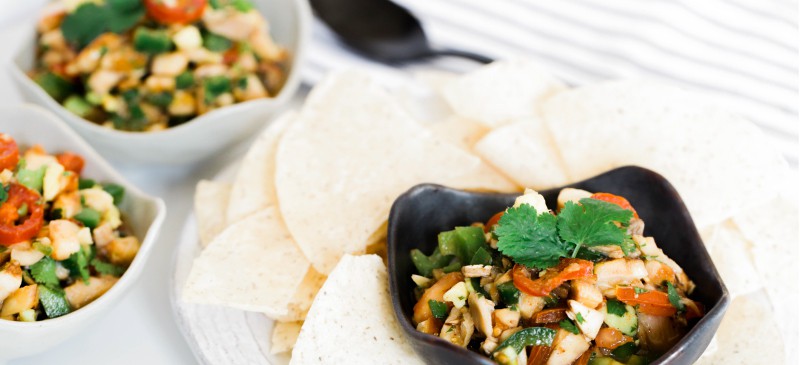 If you are vegan or vegetarian, chances are you've probably never had ceviche before. With my vegetarian ceviche recipe — which is also a vegan ceviche recipe — you can enjoy this classic treat even if you don't eat meat or fish.
Of course, ceviche is a traditional South American dish that typically is made with two essential ingredients: raw fish and lime juice. The seafood used in ceviche never comes in contact with a flame, but it gets chemically changed in its own unique way.
The "cooking" of ceviche is actually accomplished by marination with some type of citrus juice.
While most ceviche recipes call for using fish or shellfish, I wanted to change things up a bit and create a ceviche recipe that is vegetarian and vegan-friendly. It's also a ceviche recipe packed with nutrition and explosive flavor.
Instead of seafood, this recipe uses nutrition-rich mushrooms as the star, and let me tell you — this vegetarian ceviche recipe is so tasty you won't miss the fish at all.
What Is Ceviche?
What is ceviche exactly? Ceviche, also spelled as "cebiche" or "seviche" and often misspelled "cerviche," traditionally takes some type of raw seafood and marinates it for a substantial amount of time in acidic citrus juice, usually lime or lemon.
Many people debate whether ceviche originates from Peru or Ecuador, while other food historians say the Spanish should get the credit.
Either way, it is a centuries-old dish that remains popular all over South America, the Caribbean and Mexico. These days, ceviche definitely has fans around the world, and it's not too hard to find it on restaurant menus, especially if you're treating yourself to some South American cuisine.
Fresh seawater fish fillets are at the heart of traditional ceviches recipes. Since ceviche never gets cooked by an actual heat source, it is absolutely essential to use very fresh seafood.
In addition to using white fish, scallop ceviche and shrimp ceviche are also popular, but I highly recommend avoiding shellfish ceviches due to the many inherent problems with shrimp and other shellfish.
Ceviche additions or garnishes can vary by country or individual creator. One of the most common additions to a ceviche recipe is aji pepper or another spicy chili pepper variety. Sea salt, black pepper, chopped onions and cilantro are also commonly found in ceviche recipes.
The way ceviche is served can also vary from place to place. Peruvian ceviche is typically served with sweet potatoes or corn on the cob slices, while Ecuadorians tend to serve their ceviche with nuts or popcorn.
Mexican ceviche takes an entirely different approach and puts the pieces of cured seafood on toasted tortillas with raw onion on top.
Traditional Ceviche vs. Vegetarian Ceviche
Traditionally, the best ceviche recipe is one that uses the absolute freshest, highest quality seafood. Acidic citrus juice is able to change the chemical composition of the seafood used in ceviche —making it not completely raw like it was before, but it still doesn't cook it in the traditional sense of the word.
According to the Centers for Disease Control and Prevention, the changes that result from ceviche's marination are not enough to get it of the raw food category. The CDC states, "Raw meat or seafood may contain germs; this includes raw meat that is "cooked" with citrus juice, vinegar, or other acidic liquid (such as ceviche, a dish of raw seafood marinated in citrus juice)."
So while ceviche may be a step above the completely raw and untouched fish commonly used in sushi and sashimi, it still comes with the risk of ingesting potentially harmful bacteria because it is technically uncooked. A vegetarian ceviche recipe doesn't come with the same danger as traditional ceviche since mushrooms don't require cooking to be completely safe to consume.
What is vegan ceviche made of? In this vegan ceviche, mushroom is the star.
While you may think that using mushrooms instead of seafood as the main ingredient in ceviche will result in a zero protein content, mushrooms are actually an impressive non-meat source of protein.
Mushrooms are low in carbohydrates and calories but a great source of B vitamins, trace minerals, fiber and protein. They're also an anti-inflammatory food, containing high levels of beta-glucans compounds that keep immune cells alert, plus a powerful antioxidant called ergothioneine that helps lower bodywide inflammation.
In addition, this recipe calls for nothing but fresh veggies and some lime juice. The tomatoes and peppers provide a huge boost to immunity thanks to their vitamin C content, while avocado packs a nutritional punch as a true superfood and healthy fat source.
This vegetarian Peruvian ceviche recipe is topped off with onion and cilantro, making it simple, healthy and delicious.
How to Make Vegetarian Ceviche
When it comes to how to make ceviche, no matter what ingredients you use, the preparation is extremely easy and quick. Simply cut up your main ingredients, add citrus juice, allow some marination time, and then you're ready to start eating.
For this vegetarian ceviche recipe, you just need to wash, dry and chop your key ingredients, and then you're ready to create this flavorful delight.
In a large mixing bowl, add all of the recipe ingredients, and mix until well-combined.
Next, cover the mixing bowl, and refrigerate it for 30 minutes. This allows the ingredients to marinate and come together nicely.
Serve your vegetarian ceviche recipe with your favorite grain-free tortilla chips and enjoy!
Print
Vegetarian Ceviche Recipe with Mushrooms
---
Author:

Total Time:

30 minutes

Yield:

7

1

x

Diet:

Gluten Free
Description
Most ceviche recipes call for using fish or shellfish. Here is a vegetarian ceviche recipe that is packed with nutrition and explosive flavor.
---
3 cups

of mushrooms of choice, chopped

3

Roma tomatoes, chopped

1

green bell pepper, chopped

1

jalapeño, stem removed and chopped

1

avocado, pitted and diced

1

red onion, chopped (optional*)
juice of

4

–

5

limes

½ cup

cilantro, chopped
---
Instructions
In a large mixing bowl, add all of the ingredients, and mix until well-combined.
Cover and refrigerate for 30 minutes, allowing ingredients to marry.
Serve with your favorite grain-free tortilla chips.
Notes
The onion is optional. Feel free to skip.
For additional citrus flavor, add lemon juice.
Prep Time:

30 min

Category:

Dips/Snacks

Method:

By hand

Cuisine:

South American
Nutrition
Serving Size:

190g

Calories:

83

Sugar:

4.1g

Sodium:

9mg

Fat:

4.5g

Saturated Fat:

0.7g

Unsaturated Fat:

3.8g

Trans Fat:

0g

Carbohydrates:

10.9g

Fiber:

3.7g

Protein:

2.8g

Cholesterol:

0mg
Keywords: vegetarian ceviche recipe, vegan ceviche mushroom, vegetarian peruvian ceviche,