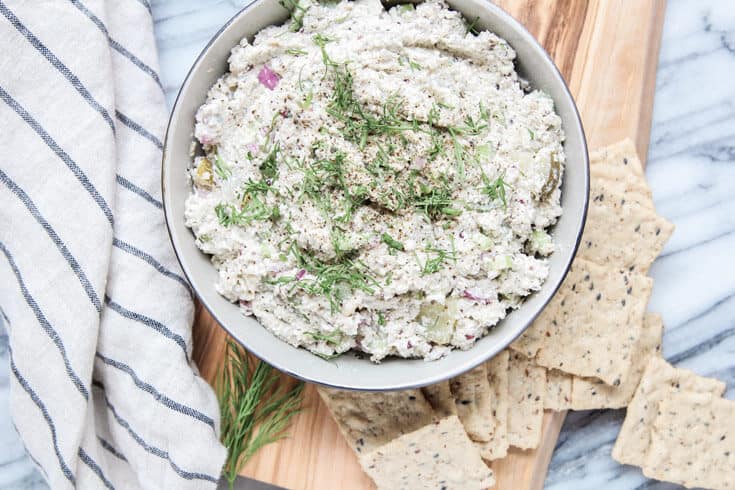 Have you tried pate before? It's a mixture of ground meat and fat that's been blended into a smooth paste, such as chicken liver pate. It can be really delicious, but also quite fattening — most recipes are loaded with cream cheese or quite a bit of butter, not to mention meat!
But if you're looking for a lighter pate that's vegetarian friendly, this Wakame Pate is for you. It's made with dulse seaweed, too, which has been eaten in northern Europe for ages. The brown sea vegetable has a meaty texture, which makes it a terrific stand-in for meat in this veggie Wakame pate recipe. The next time you want an appetizer that will impress, you've got to try this!
We'll start by mixing together the sunflower seeds, wakame, dulse, garlic, lemon juice, dill and pickle brine in a food processor. Pulse the ingredients until they're well mixed — it'll look like tuna salad.
I love the sunflower seeds in this dulse pate. They are full of vitamins, healthy fats and can lower your risk of heart disease. Not bad for some tiny little seeds!
Transfer the ingredients to a mixing bowl and add in the pickles, red onion and celery. These are all vegetables with so much flavor — this wakame pate really packs a punch.
This tasty entree is ready! Serve it chilled with a little fresh dill and black pepper to taste. This is a fantastic dish to make ahead, to take to a barbecue or just to nosh on at home. Serve with flax crackers and enjoy!
Ingredients:
2 cups sunflower seeds, soaked for a minimum of 2 hours
1 teaspoon of each dried dulse seaweed and dried wakame
2 cloves garlic, crushed
1⁄2 lemon, juiced
1⁄2 teaspoon dill
2 tablespoons pickle brine
1⁄2 cup dill pickles, chopped
4 teaspoons minced red onion
1⁄2 cup minced celery
Directions:
Combine sunflower seeds, dulse, garlic, lemon juice, dill and pickle brine in food processor and pulse until well combined (mixture will look like tuna salad).
Transfer to medium-sized mixing bowl, and fold in pickles, red onion and celery.
Serve cold and garnish with fresh dill and freshly ground black pepper to taste.
Served on flax crackers.