Sweet Potato Tacos Recipe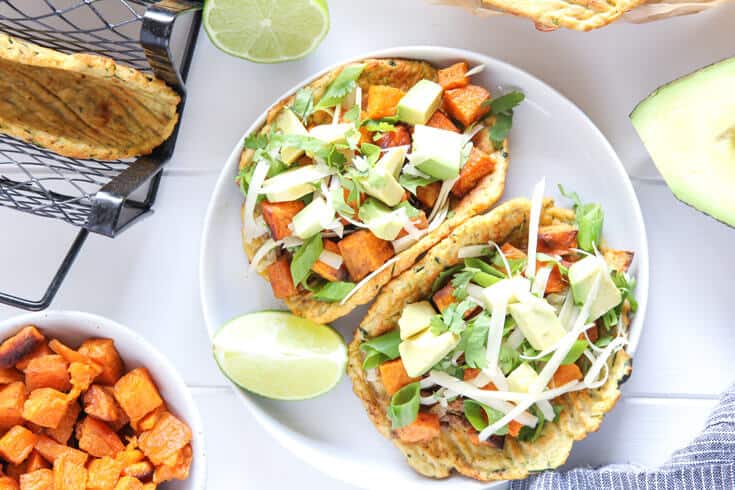 How great are Mexican-inspired dishes? They're usually pretty easy to prepare and full of flavor. Unfortunately, though, they can also be quite heavy, especially when you factor in a rice filling, heavy flour tortilla and typical fillings.
I've always thought there must be a different way to eat tacos — a veggie-heavy filling with a light tortilla that doesn't compromise on taste. Enter these Sweet Potato Tacos. Taco night turns into a nutritional powerhouse when you mix ground beef with vitamin A-rich sweet potatoes. This is a carb you want to chow down on.
Another highlight of these sweet potato tacos is that they're wrapped in zucchini tortillas. Yes, you read that right. Get an extra serving of veggies in and enjoy a delicious tortilla.
Seriously, if you like tacos, you won't be able to keep your paws off these sweet potato tacos. Ready to start cooking?
Start by preheating the oven to 375 F. Add the sweet potato mixture to a large bowl and mix it all up well with your hands — or let the kids take care of this step!
When everything's nicely combined, add it to a baking dish and slide in the oven for the next 20–30 minutes.
While that's happening, cook up the meat and onions in a large pot over medium heat until the meat is fully cooked, about 12–15 minutes. Season to taste with salt and pepper, then drain the meat and onions — no need to eat up the grease the meat will release while cooking! Add in the chili and garlic powders and oregano and stir together.
The sweet potatoes should be done by now. Add them to the meat mix and then stuff 'em into these sweet potato tacos into the zucchini tortillas.
This is an awesome dinner to serve with a fixings bar: set out sliced onions, avocado slices, green onions, cilantro, raw cheese, peppers, sour cream or whatever else your little taco-loving heart desires. Kids will love choosing their own toppings, and you'll love lessening the cooking load. When you need a new take on an old fave, whip up these sweet potato tacos. You won't regret it!
Other Sweet Potato Recipes
Looking for more sweet potato recipes to try out? Here are some to get you started:
Ingredients:
Sweet Potato Mixture:
6 sweet potatoes, peeled and diced (1'')
1 tablespoon olive oil
1 tablespoon cumin
1 tablespoon smoked paprika
sea salt & pepper to taste
Meat/Onion Mixture:
1 pound lean ground beef (grass-fed)
1⁄2 yellow onion, finely chopped
1 tablespoon chili powder
1 tablespoon garlic powder
2 tablespoons oregano
1 recipe zucchini tortillas
Additional Toppings:
avocado, pitted, peeled and diced
green onions, chopped
cilantro
raw cheese, shredded
Directions:
Preheat oven to 375 F.
In a large mixing bowl, add sweet potato mixture.
Using your hands, mix until well combine.
Place mixture in a baking dish and bake for 20–30 minutes.
While the sweet potato mixture is roasting, cook the meat and onions, in a large pot over medium heat until meat is fully cooked (about 12-15 minutes).
Drain the meat and onion mixture. Add in all seasonings, stirring until mixed well.
Remove sweet potatoes from the oven.
Serve on zucchini tortillas. Top with avocado, green onions, cilantro and shredded raw cheese (optional*).