Protein Blueberry Macadamia Bar Recipe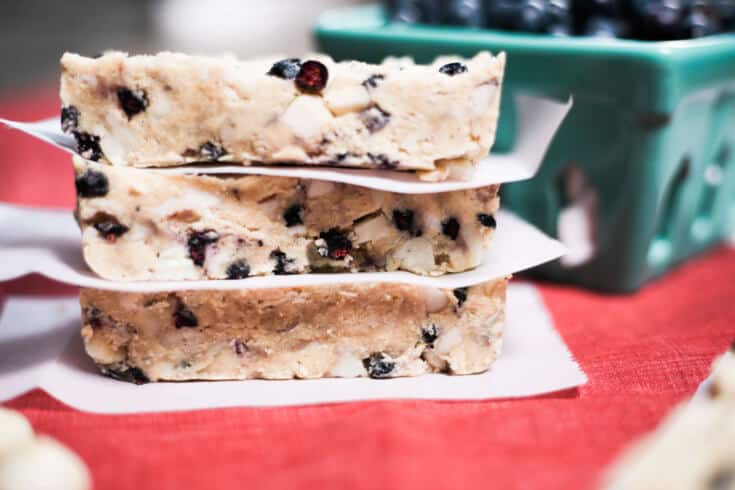 Do you enjoy protein bars? I love eating them on the go. They're an easy way to ensure I get my protein fill, which is crucial for improving muscle mass and promoting heart health. Unfortunately, some of the bars you buy at the store are packed with icky fillers and strange ingredients. It's enough to make you skip protein bars altogether.
That is, until you try these. My Protein Blueberry Macadamia Bars (powered by bone broth) take an average protein bar and upgrade them. These delicious bars are packed with healing raw honey and macadamia nuts — let's hear it for healthy fats! These protein blueberry bars get an extra dose of deliciousness from protein powder made from bone broth. It will also boost energy and keep your joints feeling great. It doesn't get any better.
Ready to make these no-bake protein bars? Let's get started! Combine the melted coconut butter, honey, vanilla and sea salt in a big bowl and whisk together. Then, add the protein powder into the mix and stir.
Add the remaining ingredients — blueberries, macadamia nuts and water — and then pour into the greased loaf pan. Here comes the best part: Instead of baking the loaf, put the loaf into the refrigerator and let it chill for the next one to two hours. Once the "dough" is firm, cut the loaf into protein bar shapes.
These protein bars are so simple to make and way better than anything you'd find at the store. The fact that they don't require any baking makes them that much better! Don't forget to throw one of these in your gym bag.
Ingredients:
1 cup coconut butter (melted)
1⁄2 cup raw honey
1 teaspoon vanilla extract
1⁄8 teaspoon sea salt
1⁄2 cup dried blueberries
1⁄2 cup macadamia nuts, chopped
4 scoops of protein powder made from bone broth (unflavored)
** add 3 tablepoons water for consistency as needed
Directions:
Whisk together butter, honey, vanilla and sea salt.
Add protein powder and combine.
Add remaining ingredients and combine.
Pour into a greased loaf pan.
Refrigerate 1–2 hours and cut into bar shapes.