This Dr. Axe content is medically reviewed or fact checked to ensure factually accurate information.
With strict editorial sourcing guidelines, we only link to academic research institutions, reputable media sites and, when research is available, medically peer-reviewed studies. Note that the numbers in parentheses (1, 2, etc.) are clickable links to these studies.
The information in our articles is NOT intended to replace a one-on-one relationship with a qualified health care professional and is not intended as medical advice.
This article is based on scientific evidence, written by experts and fact checked by our trained editorial staff. Note that the numbers in parentheses (1, 2, etc.) are clickable links to medically peer-reviewed studies.
Our team includes licensed nutritionists and dietitians, certified health education specialists, as well as certified strength and conditioning specialists, personal trainers and corrective exercise specialists. Our team aims to be not only thorough with its research, but also objective and unbiased.
The information in our articles is NOT intended to replace a one-on-one relationship with a qualified health care professional and is not intended as medical advice.
40 Secretly Healthy Sweet Potato Recipes
November 12, 2023
So, you've tried getting creative and making your own baked sweet potato French fries, but now you're looking to take things to the next level and use up all those sweet potatoes you're seeing available everywhere. Well, there's no better time than now to start experimenting with some new sweet potato recipes!
It's that time of year when sweet potatoes are at their best and sweetest — plus they are sold at great prices everywhere you look! So take advantage of these nutrient-packed delicious tubers and start using them in some unexpected ways.
Surprisingly Healthy Sweet Potato Recipes
Sweet potatoes are thought to be one of the oldest consumed vegetables, dating back thousands of years ago in areas across Central and South America. Today there are many perks to eating and cooking with various types of sweet potatoes: They're inexpensive, last a long a time in your refrigerator, are extremely versatile in recipes and luckily are packed with important nutrients, too.
Because of their creamy texture and caramelized sweet taste when cooked (especially when roasted), sweet potatoes have tons of different culinary applications. They are a staple throughout nations in Africa, where they are commonly used in breakfast stews, served with beans and fish, or made into flour.
Throughout Asia they are featured in tempura dishes, soups and stir-fries. In the Pacific Island region, they are used in countries, including Malaysia and Singapore, in coconut milk-based desserts and soups, and in Korea, sweet potatoes are used to make a type of popular cellophane noodle.
Sweet potatoes are also literally a life-saver: They are one of the most vital foods and sources of nutrients for people living in the Philippines in impoverished areas because of their ease of growing, low cost and long shelf life.
For inspiration, we looked at cuisines from around the world to bring you some unexpected and delicious ways to use sweet potatoes.
Breakfasts and Smoothies
Nothing is more satisfying than homemade pancakes. Made with only six simple ingredients, these sweet potato pancakes are so easy that you can whip them up even on a weekday or when you haven't had time to plan ahead.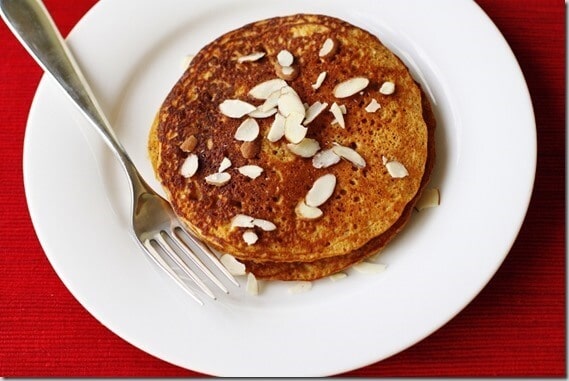 Photo: Maple Cinnamon Sweet Potato Pancakes / Carrots 'N' Cake
A unique twist on an old favorite breakfast staple, oats get an update thanks to the warming spices and creamy sweet potatoes. Opt for a plant-based milk, like almond or coconut milk, or a raw/low-temperature organic dairy milk in order to keep this recipe entirely clean.
There are few things that smell up a home better than homemade sweet bread. Instead of relying on the store-bought kinds that tend to be filled with processed ingredients and way too much sugar, try making your own using healthy sweet potatoes!  
 Photo: Cinnamon Spice Sweet Potato Bread / Averie Cooks
Enjoy the delicious sweetness of sweet potato with the earthiness of mushrooms in this scrumptious quiche! Try this mouth-watering and delicious one-dish meal for breakfast, lunch or dinner!
The perfect way to start your day: filling potatoes with an extra slight sweetness from beets, plus crispy, flavorful turkey bacon to provide some extra protein and staying power. Add an egg or two to boost your protein and nutrition!
Photo: Sweet Potato Beet Hash / Dr. Axe
If beets aren't your thing, try this beet-less version instead. This classic is ready in less than an hour and uses spices you likely already have in your kitchen.
Hash browns are a breakfast staple, and using sweet potatoes makes them healthier than your average version. This recipe is easy to make with just five main ingredients, all of which are natural and healthy!
If you want to make potato hash a meal, this sweet potato casserole version is perfect. Utilizing different types of goat cheese, this one is sure to be a keeper and a regular addition to your breakfast rotation.
Main Courses
Sick of eating frozen veggie burgers every time you don't have time to cook a decent dinner? Try making these filling, gluten-free veggie burgers in bulk on the weekends and freezing them afterward so you can whip them out of the freezer whenever needed. Top with all your favorite toppings, including avocado and plenty of veggies, and consider going "bunless" and having them over a salad instead.
Photo: Sweet Potato Quinoa Patties / A House in the Hills
Stuffing sweet potatoes with high-quality, organic chopped turkey meat makes for one noteworthy and filling dinner that will surprise the whole family and make everyone wonder why you didn't try this one sooner! Of course, using some healthy ghee, coconut oil or grass-fed butter is also an option in place of the recommended duck fat if this ingredient is unavailable to you.
Love shepherd's pie but don't always feel like having something so heavy? Try this lightened-up version that is not only vegan, using zero dairy, but also features satisfying sweet potatoes and filling lentils (high in protein, phosphorus, fiber, folate and copper) instead!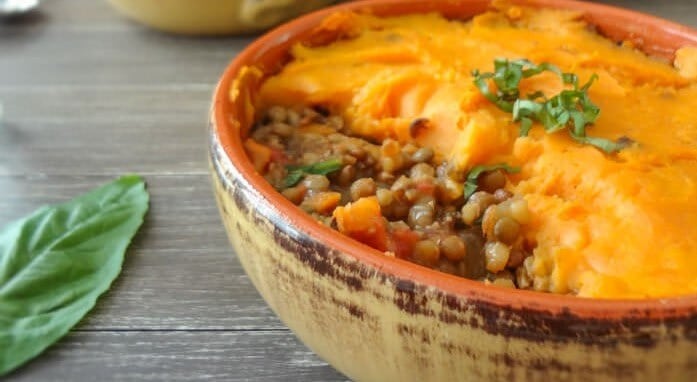 Photo: Lentil and Sweet Potato Shepard's Pie / One Ingredient Chef
This one does take a while to make, but boy is it worth it. Utilizing Paleo flour to keep it gluten-free, this is the perfect fall or winter casserole … or just one to make anytime if you crave sweet potatoes as the main ingredient in a meal.
This combination of potatoes, beans, oats and spices makes one filling burger that's totally gluten- and meat-free! What's not to like about a hearty veggie burger topped with all the fixings on a cold fall day?
You can sub in almond, quinoa or coconut flour for the millet in order to add even more gluten-free nutrients. Try keeping the burger bun-free by serving it over a salad or along with your favorite side dishes.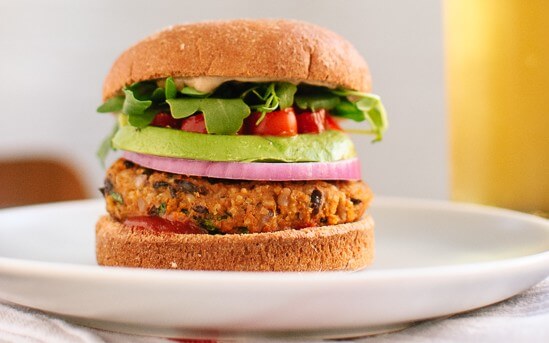 Photo: Sweet Potato Veggie Burger / Cookie and Kate
This is the perfect thing to make when you're craving creamy pasta, but you're also looking to keep your meal nice and healthy. Roasted red peppers make a fantastic sauce when blended, covering the gluten-free sweet potato "pasta" in an irresistible way. You could also make this meal even bigger and more beneficial by adding extra wilted greens or filling beans for protein.
Ever made sweet potato dough? If not, this tomato basil calzone is the perfect recipe to try. It's a healthier spin on an Italian favorite and a recipe sure to be a crowd-pleaser.
If you are a fan of Indian-flavored dishes, you'll love this take on sweet potatoes. A range of exotic but easily accessible spices add a big flavor punch while still keeping things simple enough to make. Chickpeas add a nice dose of filling protein, and quinoa could even be subbed in for jasmine rice to add even more.
Photo: Coconut Sweet Potato Curry / One Ingredient Chef
Nothing says cold-weather comfort food like chili! This sweet but savory plant-based chili makes the perfect weeknight meal than can also easily be stored as healthy leftovers for the next day.
Shredded sweet potatoes stand in for traditional processed noodles in this savory, grain-free pasta dish.
There's something so comforting about a creamy, hearty risotto that most of us love so much and crave this time of year as the weather keeps getting colder. Make your risotto even better by using coconut oil or grass-fed butter instead of olive oil in order to get the healthiest source of fat that you can for this particular meal and preparation method. Using a cooking oil that is good for you adds not only flavor and texture, but good fats that helps your body function and heal!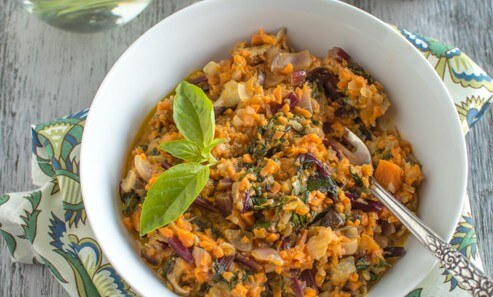 Side Dishes
Skip the poor-quality fried corn chips and fake "nacho" cheese, and instead opt for making your own awesome loaded sweet potato nacho platter. Add filling beans and high-quality organic cheese along with all the usual veggie toppings.
What's more comforting during the colder months than a creamy bowl of soup? Garlic keeps this soup rich and savory, while the sweet potatoes give it just enough sweetness and a velvety texture that makes it similar to a chowder-style soup.
Photo: Roasted Garlic and Sweet Potato Soup / Dr. Axe
Who would have thought that these two tastes went together? Roasting the potatoes brings out their natural sweet flavor and starchiness even more, so they pair up perfectly next to caramelized pineapple.
What makes a good salad? Many different satisfying colors and textures!
Pomegranates add a pop of color to this simple potato salad and some disease-fighting antioxidants too. Sprinkle on some pumpkin seeds and organic goat cheese for even more depth of flavor.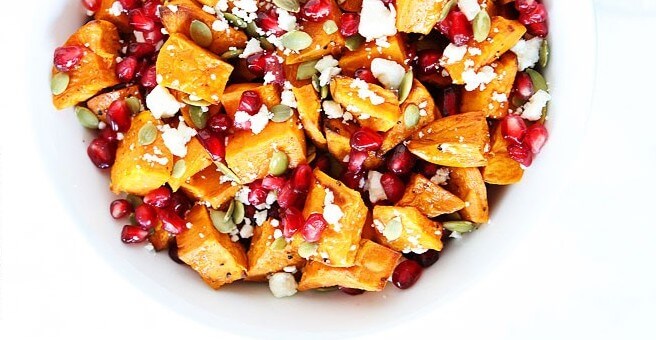 Photo: Sweet Potato and Pomegranate Salad / Two Peas and Their Pod
What's better than joining two of your favorite health foods? Sweet potatoes and hummus make a perfect complex carb and protein-packed appetizer or snack that will definitely keep you more satisfied between meals than pretzels or potato chips. Hummus has enough health benefits on its own, but adding sweet potatoes makes this one impressive dip.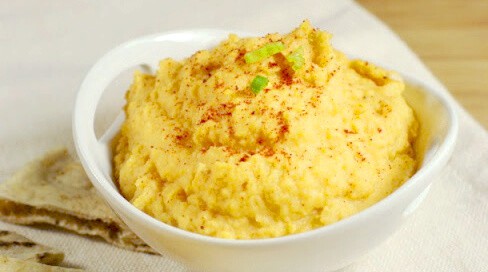 Photo: Sweet Potato Hummus / The Kitchen is My Playground
A completely different Thai-feeling twist on your potatoes, this recipe will surprise guests and make you wonder why you never thought of this interesting, delicious combination of ingredients before.
Why not try something new and add some color to your average sweet potatoes? Purple sweet potatoes will stand out on your dinner table and maybe even get your kids interested in helping you mash them too.
Photo: Mashed Purple Sweet Potatoes / Spoon Fork Bacon
Get the familiar comforting side dish but without the unnecessary extra sugar, butter and calories. Pecans add a pop of extra flavor and healthy fats too. Sub in a natural sweetener like pure maple syrup or molasses instead of brown sugar to keep this recipe as healthy as possible.
This recipe will remind you of your grandma's cooking! Use lean organic turkey bacon in place of regular bacon, and opt for grass-fed butter in order to keep this comforting recipe on the still-healthy side.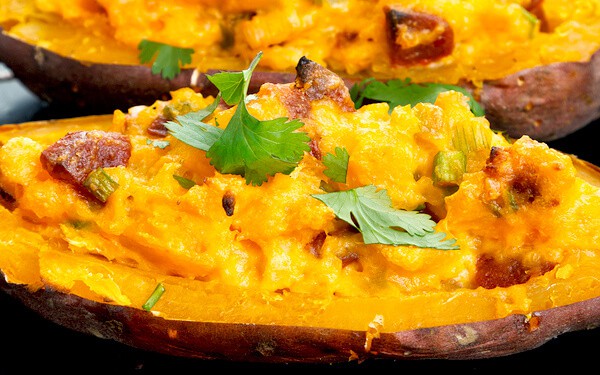 Photo: Stuffed Fluffy Sweet Potatoes / Grandmother's Kitchen
Jazz up your typical mayo-based potato salad with this lightened-up version that features black beans and spices, filling you up guilt-free. This would make the perfect addition to your next barbecue or picnic.
Photo: Southwestern Cold Sweet Potato Salad / twopeasandtheirpod.com
You knew this one had to make the list! So easy to make, crunchy and a great addition to any meal, make these sweet potato fries tonight!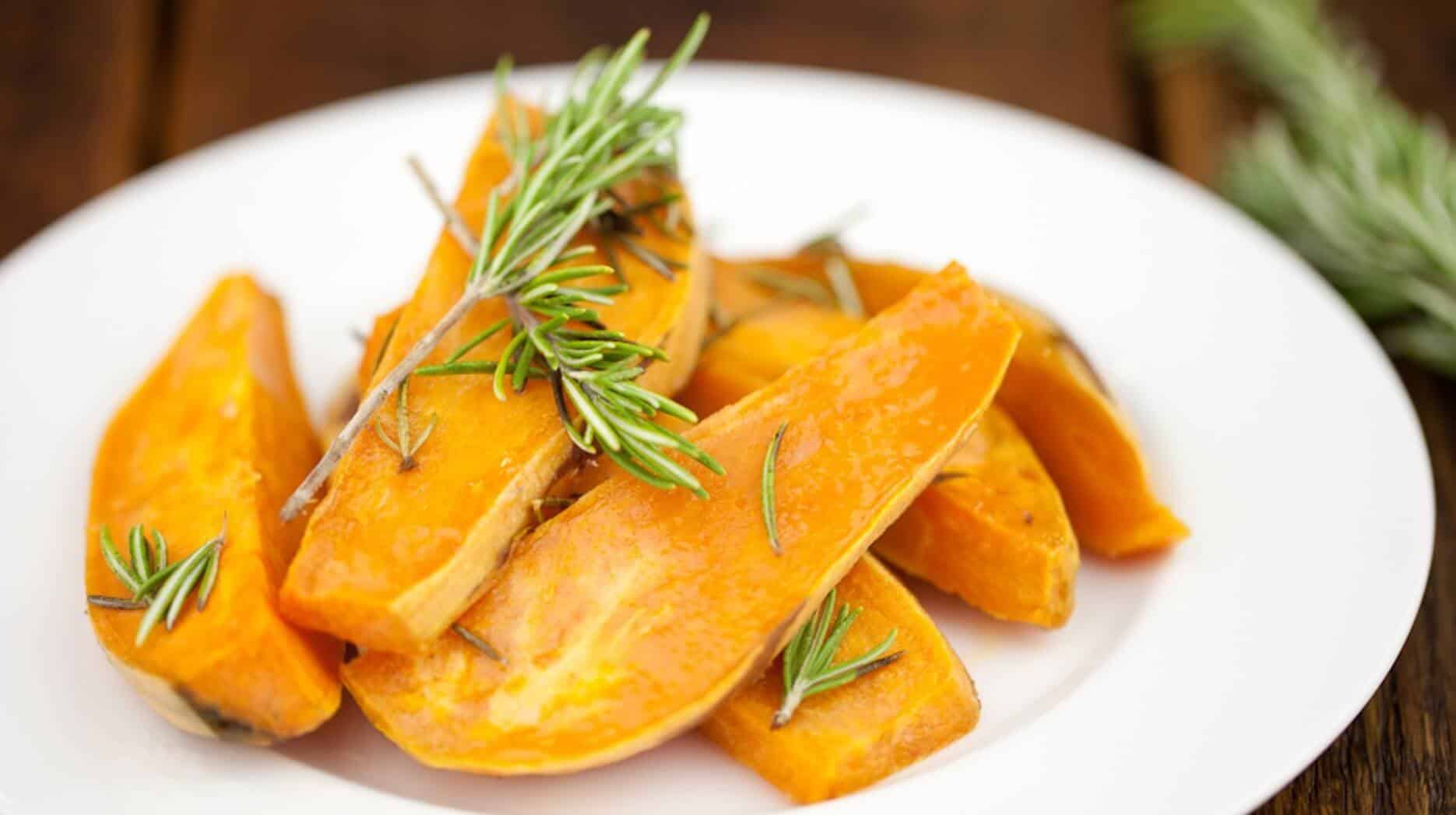 Photo: Rosemary Sweet Potato Fries / Dr. Axe
A surprising filling inside your favorite Asian-flavored side dish! Sweet potatoes, veggies, beans and optional chicken make these almost satisfying enough to be a main meal.
If you love a buttery biscuit but wish that there was a better way to soak up your favorite recipes, try making these upgraded sweet potato biscuits.
This has Thanksgiving dinner written all over it! What better way to use up all the apples and sweet potatoes available at the farmers market throughout the fall season?
What's not to love about "meatballs" made with healthy and colorful spinach and sweet potatoes? Even your kids are sure to love these bite-size goodies. These would make a great addition to a brown rice pasta, over a salad or served along with some roasted veggies.
 Photo: Sweet Potato Spinach Balls/ In Simone's Kitchen
If potato skins are something you or your family are always drawn to when eating out, try making your own healthy version instead, this time with a Mexican twist. The beans make the skins even more filling, making them a great lunch or dinner option when served with some salad or veggies. Remember to use organic grass-fed cheese or even try using goat cheese or organic Greek yogurt, which has the tartness of sour cream.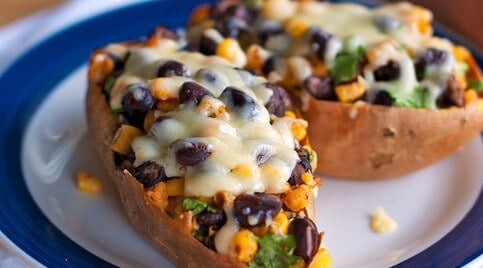 Photo: Mexican Sweet Potato Skins/ Pinch of Yum
Desserts
Brownies made out of sweet potatoes might sound strange, but blended potatoes work surprisingly well to add moisture and extra gooeyness, while helping cut down on the amount of butter and sugar needed. The same trick works well with banana, apple sauce, squash and even beans too!
Photo: Sweet Potato Brownies / Dr. Axe
Coconut and almond flours make this pie dense and filling while still keeping the sugar low and traditional taste intact.
Photo: Gluten Free Sweet Potato Pie / The Roasted Root
A guilt-free and gluten-free way to enjoy everyone's favorite after dinner treat, these cookies get an upgrade using nut butter instead of flour.
Photo: Sweet Potato Chocolate Chip Cookies / PaleOMG
All of the cold, creaminess of ice cream without the heavy cream, loads of sugar and extra fat, this is a totally plant-based way to make a smooth and delicious shake, perfect for a fall night when you're craving something sweet.
Here's a dessert so healthy and yummy made with rolled oats, raisins and coconut oil. You may find yourself saving some for breakfast the next morning!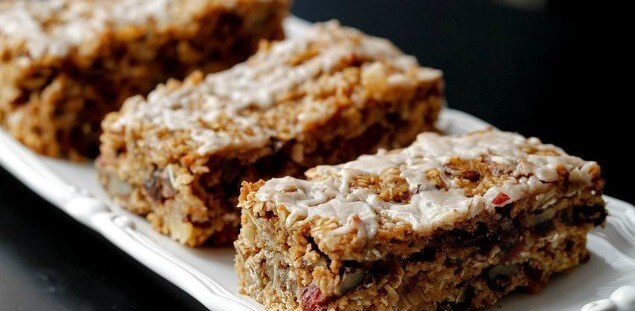 Photo: Sweet Potato Cookie Bar / The Kitchen Whisperer