Sweet Potato Hash Browns Recipe
Though I tend to avoid starchy carbohydrates, sweet potatoes are one of my favorite exceptions. This orange root vegetable ranks low on the glycemic index, making it a viable option for diabetics and others watching their blood sugar levels. Not only that, but sweet potatoes are loaded with potassium, vitamins and antioxidants … One sweet potato has more than 100 percent of your daily value of vitamin A.
If your familiarity with sweet potatoes is limited to roasting them or eating them as a Thanksgiving side dish, you're in for a treat with my easy sweet potato hash browns recipe. A delicious, healthy alternative to traditional greasy potato hash browns, these sweet potato hash browns are an excellent breakfast dish. Served solo or alongside eggs and beef or turkey bacon, it's a tasty way to kick off your day with nutrients. Let's do it!
A Complete Breakfast with Sweet Potato Hash Browns
Wondering what else you can serve along with these hash browns for a really satisfying and savory breakfast? You actually have a lot of options! Here are just some of the healthy breakfast items you may want to consider:
Recipe Nutrition Facts
One serving of these delicious sweet potato hash browns contains about: (1, 2, 3, 4, 5, 6)
159 calories
3.2 grams protein
5.3 grams fat
28 grams carbohydrates
4.3 grams fiber
7 grams sugar
16 milligrams sodium
22,033 IUs vitamin A (over 100 percent DV)
20 milligrams vitamin C (22 percent DV)
443 milligrams potassium (10 percent DV)
0.5 milligrams iron (2.8 percent DV)
30 milligrams calcium (2.3 percent DV)
How to Make Sweet Potato Hash Browns
This recipe really isn't hard to make at all. You're going to be using raw — not roasted — sweet potatoes, which really cuts down on overall recipe time. Once you have your potatoes grated in a bowl, you basically just combine all of the ingredients on the stovetop and to finish it off, give it a little time in the oven to create a roasted sweet potato finish that is crispy and absolutely delicious.
Start by peeling and grating two pounds of sweet potatoes. If possible, check out your local farmer's market for fresh, organic varieties.
After peeling, use a grater to create sweet potato shreds. Look at that terrific orange color! Toss in your chopped onion and garlic cloves and, of course, those finely grated sweet potatoes into a heated skillet with 2 tablespoons of coconut oil or ghee. Don't forget to season to taste with sea salt and pepper.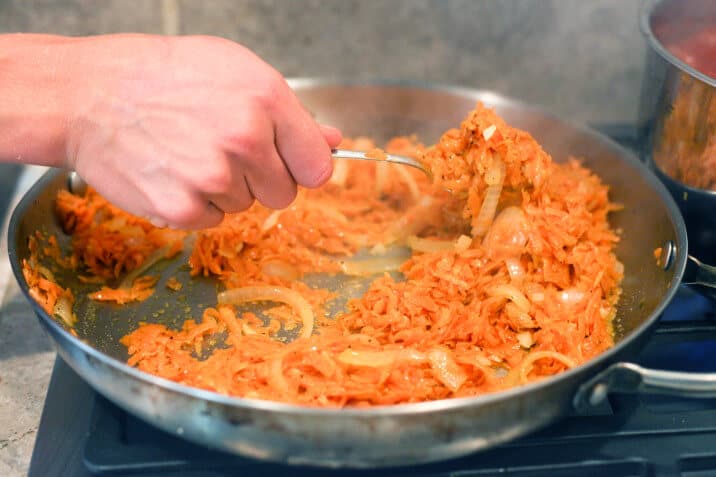 Sauté all the fixings for 10 to 15 minutes on the stovetop, until the potatoes are tender and the onions are translucent.
Transfer the mixture to a baking pan and brush with an egg wash. Pop it in the broiler for about five minutes, or until the potatoes have reached your desired crispiness.
See how easy this sweet potato hash brown recipe is? Try it on a leisurely weekend to enjoy with the family.
Ingredients:
1 onion, chopped
2 cloves garlic, chopped
2 pounds sweet potatoes, peeled and grated
2 tablespoons coconut oil or ghee
Egg wash (1 egg beaten with a tablespoon of water)
Sea salt and black pepper to taste
Directions:
In a large skillet over medium-high heat, add the onions. Season with salt and pepper.
Add in the garlic and sweet potatoes.
Sauté for 10–15 minutes until sweet potatoes are tender and onions are translucent.
Transfer the sweet potato mixture to a baking pan and brush with the egg wash.
Broil for five minutes, or until potatoes have reached your desired crispiness. They should be just a little browned on top.