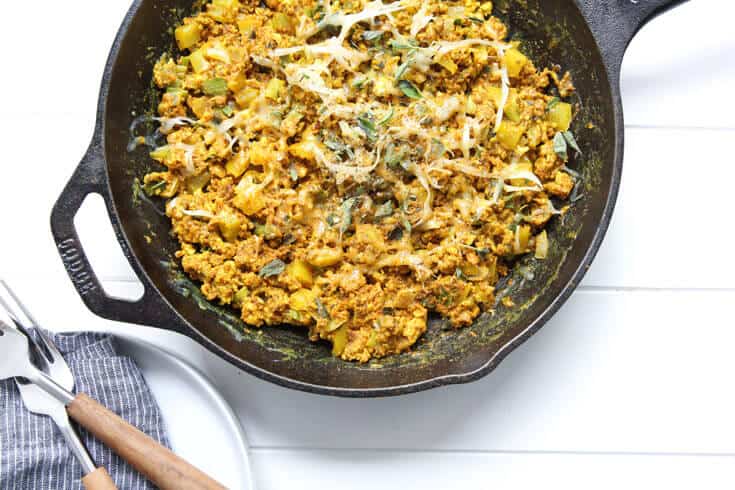 When you want a hearty breakfast, few foods are a better option than eggs. They're easy to make and full of healthy benefits, from reducing heart disease and improve eye health.
But no matter how much you love them, eggs prepared the same way every day get pretty boring. Luckily, these Turmeric Eggs are ready to be added to your breakfast menu.
If you've never incorporated benefit-rich turmeric into your morning meals, prepare for a life-changing experience. This powerful herb is just what you need to kickstart your day. Also try our turmeric tea recipe. 
Turmeric is more effective than many prescription herbs, regulates cholesterol and even manages diabetes. If that's not an incentive to chow down on these turmeric eggs, I don't know what is.
Let's get cooking!
Start by sautéing onions, green onions and garlic in ghee over medium-low heat for 10 minutes or so. Ghee adds fat-soluble vitamins and a super buttery flavor — it's one of my favorite oils to cook with.
Once the veggies have softened, add in the cheese, eggs and herbs. Cook the whole mixture for 10 minutes, stirring continuously.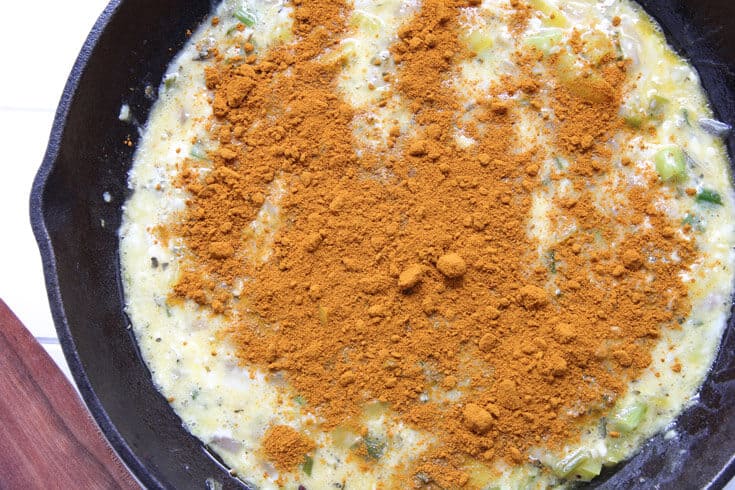 Don't forget to add in that turmeric! Once the eggs have set, remove from the heat and serve.
These turmeric eggs are an easy recipe to double or even triple for a crowd. Serve with gluten-free toast and enjoy!
Other Flavorful Egg Dishes
Ingredients:
4 eggs
2 ounces raw goat or sheep cheese, shredded
3 tablespoons ghee
½ cup red onions, chopped
8 green onions, chopped
1 cup yellow peppers, chopped
6 cloves of garlic, minced
1 tablespoon thyme
1 tablespoon oregano
1 tablespoon basil
2 tablespoons turmeric
Directions:
Sauté onions, green onions and garlic in pan with ghee over medium-low heat for 10 minutes.
Add in eggs, cheese and herbs.
Cook for 10 minutes, stirring continuously and add in turmeric.