Heart-Healthy Eggs Benedict Recipe with Asparagus
Eggs Benedict is one of those items that you'll always see on a breakfast or brunch menu. It's a breakfast classic. But, when prepared with the traditional ingredients, it can be hard on your waistline, heart, brain and digestion.
In my eggs Benedict recipe, I use immune-boosting, heart healthy, anti-inflammatory foods like avocado, asparagus and tomato. This low-carb breakfast is also high in healthy fats that are key for maintaining optimal health. So give this eggs Benedict recipe a try — you'll never go back to the traditional dish again.
What Is Eggs Benedict?
Eggs Benedict is a classic breakfast dish that usually includes an English muffin, poached eggs, Canadian bacon or ham and hollandaise sauce that's made with egg yolks, butter and lemon juice.
When these ingredients are layered and topped with the buttery hollandaise sauce, it serves as a decadent combination, but it can leave you feeling bloated and tired. That's because of the refined carbohydrates and processed meat that's included in the traditional eggs Benedict recipe.
To make this a healthier choice for breakfast or brunch, I brought in some nutritious and beneficial ingredients that will boost your energy levels and even improve your heart and brain health. Now you can enjoy this classic dish without the guilt or consequences!
Nutrition Facts
One serving of eggs Benedict made using this recipe contains roughly the following (1, 2, 3, 4):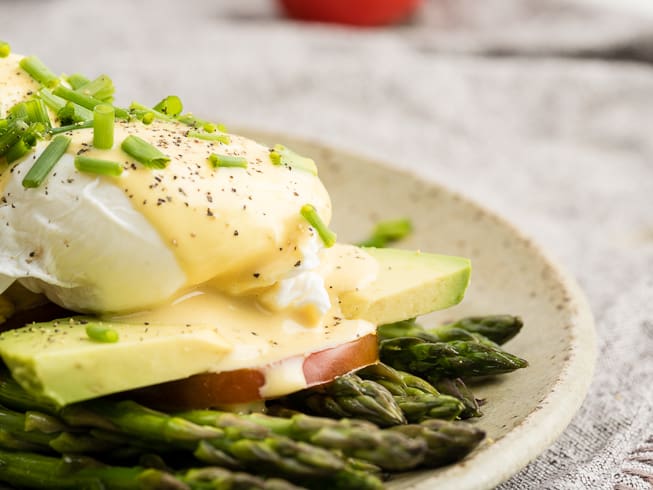 342 calories
11 grams protein
30 grams fat
11 grams carbohydrates
3 grams sugar
6 grams fiber
1,886 IUs vitamin A (81 percent DV)
66 micrograms vitamin K (74 percent DV)
230 milligrams choline (54 percent DV)
0.5 milligrams vitamin B2 (46 percent DV)
2 milligrams vitamin B5 (40 percent DV)
145 micrograms

folate

(36 percent DV)
0.3 milligrams vitamin B6 (28 percent DV)
0.5 micrograms vitamin B12 (24 percent DV)
0.25 milligrams thiamin (24 percent DV)
3.6 milligrams vitamin E (24 percent DV)
17 milligrams vitamin C (23 percent DV)
2.2 milligrams niacin (16 percent DV)
0.38 milligrams copper (43 percent DV)
21 micrograms

selenium

(40 percent DV)
221 milligrams phosphorus (32 percent DV)
373 milligrams sodium (25 percent DV)
1.8 milligrams zinc (23 percent DV)
4 milligrams iron (23 percent DV)
0.3 milligrams manganese (17 percent DV)
621 milligrams potassium (13 percent DV)
41 milligrams magnesium (13 percent DV)
78 milligrams calcium (8 percent DV)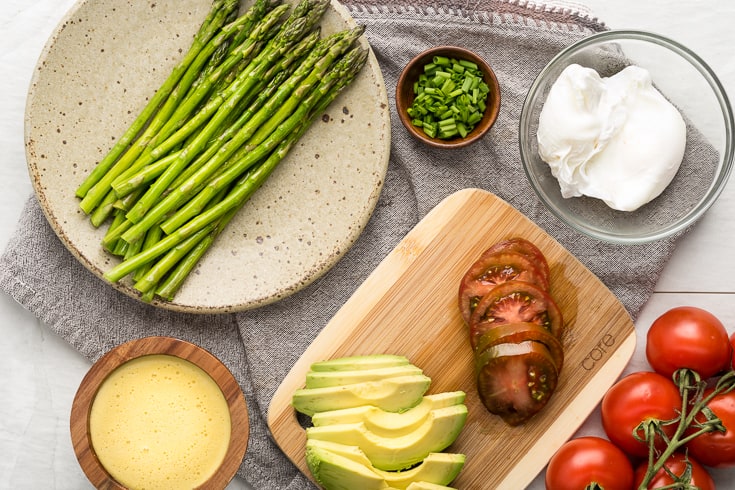 Here's a quick glance at some of the top health benefits associated with the ingredients in my eggs Benedict recipe:
Asparagus: Asparagus is full of nutrients, including folic acid, potassium, vitamin B6, vitamin A and vitamin C. It's also very low in calories and has powerful antioxidant and anti-inflammatory properties. Eating asparagus can help you to reduce common chronic health problems, like heart disease, type 2 diabetes and cancer.

Asparagus nutrition

also nourishes the digestive tract and improves your metabolism. (5)
Avocado: Avocados are one of the best superfoods to add to your diet. They are packed with essential nutrients, including monounsaturated fats that help to reverse insulin resistance and regulate blood sugar levels. Monounsaturated fats are also great for your heart and brain, helping you to prevent health conditions like cognitive decline, heart disease and cancer. (6)
Tomato: Tomato nutrition is well researched because of its powerful antioxidants. It's a high-antioxidant food that is one of the best sources of lycopene, an important phytonutrient. Research shows that lycopene can defend you against cancer, heart disease, diabetes, arthritis and cognitive decline. (7)
Eggs: Eggs have a complete amino acid profile, which means that they are a high-quality source of protein that is able to reduce your risk of heart disease, metabolic syndrome and cognitive decline. The health benefits of eggs even include weight loss, which is due to the lutein in eggs. (8)
How to Make Eggs Benedict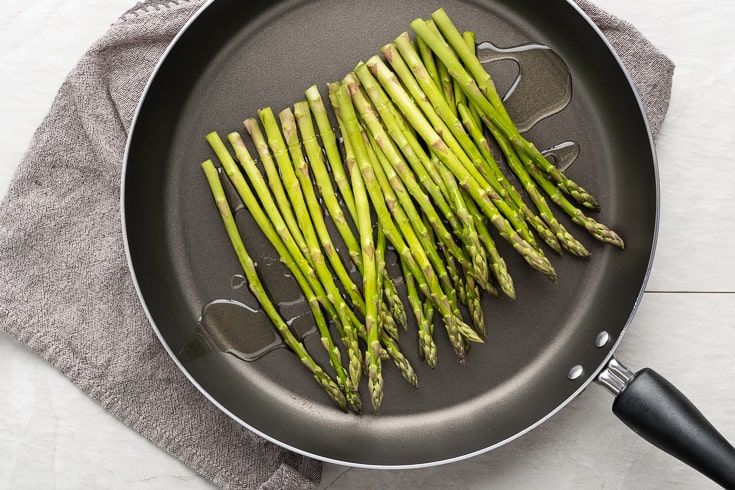 The first step to making this healthy eggs Benedict is cooking up the asparagus. In a medium-size frying pan, add 1–2 teaspoons of either coconut oil or avocado oil and set your stove to medium heat.
Add 1 bunch of asparagus to the frying pan and let them cook until they're tender. It should take about 8–10 minutes.
Next, you have to cook your eggs.
To poach an egg, bring 2–3 cups of water to a boil in a small pot. When the water is boiling, gently lower the eggs into the water and allow them to boil for 3 minutes. Then remove the eggs and set them aside so that you can begin assembling your eggs Benedict.
Divide the asparagus on two separate plates. Then slice ¼ tomato and add about 3 slices to each plate, right on top of the asparagus.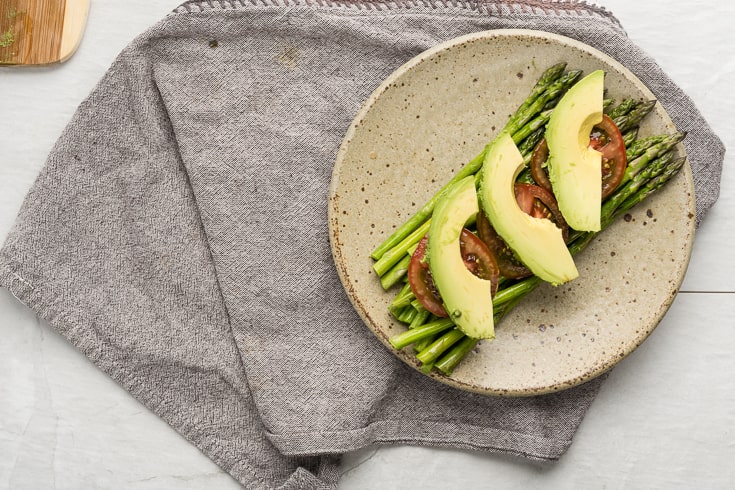 Now slice ½ avocado and add the slices to each plate, on top of the tomato.
You'e ready to add the eggs on top. When you cut into them, the yolk will break over your veggies, which is really what makes these healthy eggs Benedict so tasty.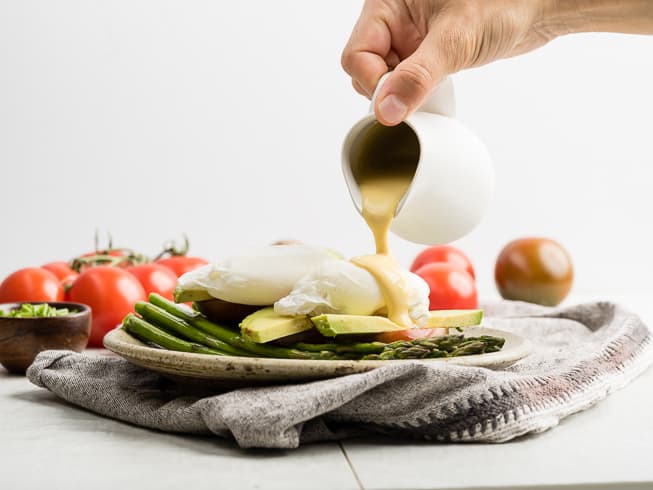 Your last step is to drizzle on your homemade hollandaise.
And just like that, you have a super healthy, figure-friendly, low-carb breakfast or brunch. Enjoy!
Ingredients:
1 bunch asparagus (16 pieces)
1–2 teaspoons coconut or avocado oil
¼ tomato, sliced
½ avocado, sliced
2 eggs, poached
Directions:
In a medium-size frying pan over medium heat, add coconut or avocado oil.
Add the asparagus to the frying pan and pan fry until for tender, about 8–10 minutes.
In a small pot, bring 2–3 cups of water to a boil.
Once boiling, gently lower the eggs into the water and allow to boil for 3 minutes. Remove the eggs once finished and set them aside for assembly.
Divide the asparagus on two separate plates and add sliced tomato and avocado on top.
Add the eggs and drizzle on the hollandaise.
Top with chives.