Miso Soup Recipe with Mushrooms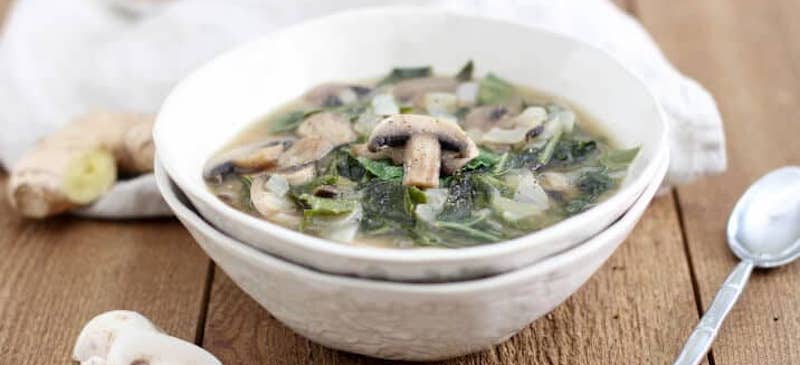 If you've ever eaten at a Japanese restaurant, chances are high that you've had miso soup, as it's often served as a starter. But you don't have to order out to enjoy the cancer-fighting benefits of this healthy dish; you can prepare my miso soup recipe quickly and easily at home.
Why is miso soup so good for you? It lies in the power of fermentation.
What Is Miso?
What makes this miso soup recipe so nutritious is properly prepared miso, made from soybeans. While I'm not usually a soy fan, because the beans are fermented, miso is loaded with probiotic benefits. And making the best miso soup recipe from scratch means you can avoid the additives and excess sodium that too often are included in restaurant versions.
I love this easy miso soup recipe with mushrooms as a meal starter or even as a hot tonic when I feel a cold coming on, as ginger contains immune-boosting qualities. I'm positive you'll enjoy it.
Is Miso Good or Bad for You?
Soy is a controversial topic, and generally I am in the "no soy" camp. Why? Today, soy is touted as a "health food" that's high in plant-based protein, and therefore it's added to numerous processed products — especially things like packaged veggie burgers made with soy lecithin, soy milk, soy yogurt and so on.
Of course, soy is also the main ingredient in soybean oil and soy protein powder (where it's called "soy protein isolate"). But while some promote the benefits of soy, evidence shows that some forms of soy should be avoided.
Is soy bad for you? Hasn't it been included in Asian diets for centuries?
The majority of soy used today in commercially sold products is far from the type traditionally consumed in Japan and other parts of Asia. An extremely high percentage of all soy grown in the U.S. today — roughly 94 percent — is genetically modified (GMO) and is not harvested the same way as traditional soy was for generations; therefore, it doesn't provide the same nutrition benefits or digestibility.
According to a 2013 report published in the Journal of Nutrition, the source of soybeans and the processing procedures used to make soy products are believed to be important aspects to consider — mainly because these have significant effects on the content of certain bioactive protein subunits and "antinutrients" found in soy.
The same report also mentions the documented potential safety concerns with increased consumption of soy products.
Negative impacts of soy products have been observed in thyroid and reproductive functions as well as certain types of carcinogenesis. Overall, existing data regarding soy's risks is somewhat inconsistent or inadequate still (which is why the topic continues to be debated hotly), but the health benefits of consuming soy protein or isolated soy products are not well-supported at all.
So how bad is miso soup for you? When made from scratch, it's actually a healthy meal or side dish.
What sets miso apart — and similarly natto and tempeh, two other soy products — is that they're fermented sources of soy. When you ferment soybeans, you have a completely different product that yields a completely different set of available nutrients.
Organically grown fermented soy products like miso, tempeh or natto are the only types of soy I recommend consuming for this reason.
How to Make Miso Soup
How do you make miso soup from scratch?
Let's begin by heating the broth. Water is fine, too, but the broth will make this Japanese miso soup recipe more flavorful. Once the broth is simmering, carefully remove half a cup of it. Then, in a small bowl, whisk it together with the miso until it's thoroughly combined.
Next, add the miso/broth mixture back to the pot. Then toss in the rest of the ingredients. Pro tip: Freeze the fresh ginger before making this soup; it'll grate very easily.
Return the pot to a simmer and then decrease the heat and allow to cook for another 20 minutes. Your miso mushroom soup is ready!
This miso soup recipe with mushrooms can be customized to your tastes. For example, I haven't specified what type of mushrooms to use here because they all taste great in this soup. Morels, baby bellas, crimini, shiitake, oyster — choose your favorite or grab a variety from what's on sale at the farmers market.
If you enjoy a little heat, hot peppers would be a terrific addition. Make this miso soup recipe with vegetables of your choosing.
Similar Recipes
Looking for other vegan soups to try? Here are a few delicious recipes you can make:
Print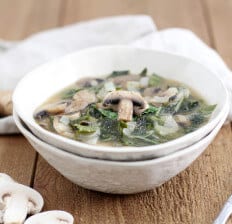 Miso Soup Recipe with Mushrooms
---
Author:

Prep Time:

5

Cook Time:

20

Total Time:

25 minutes

Yield:

2

1

x

Diet:

Vegan
Description
Try this healthy, delicious miso soup recipe with mushrooms. The soybeans are fermented, so this it's loaded with gut-friendly probiotics.
---
4 cups

organic broth or water

2 tablespoons

mellow white miso

2 cups

fresh mushrooms or

1/2 cup

dried, chopped

1

large yellow or red onion, diced

2

cloves garlic, pressed or minced

1

–

2

teaspoons grated ginger

2 cups

coarsely chopped collard greens

2 tablespoons

coconut aminos
---
Instructions
In a medium pot, heat broth or water over medium-high heat. Once simmering, remove about half a cup and whisk together with the miso, incorporating until smooth.
Add the miso mixture back to the pot along with the mushrooms, onion, garlic, ginger, collards and coconut aminos. Return to a simmer and decrease heat to low, simmering gently for 20 minutes.
Notes
You can use water instead of broth, though broth brings more flavor.
As far as broth goes, use vegetable broth for a vegan version. You can sub in bone broth if you aren't looking to keep this recipe vegan/vegetarian.
Category:

Soup

Method:

By hand

Cuisine:

Japanese
Nutrition
Serving Size:

2

Calories:

128

Sugar:

10.7g

Sodium:

1,764mg

Fat:

1.7g

Saturated Fat:

0.3g

Unsaturated Fat:

1.4g

Trans Fat:

0g

Carbohydrates:

24.3g

Fiber:

4.8g

Protein:

7.2g

Cholesterol:

0mg
Keywords: japanese miso soup recipe, easy miso soup recipe, best miso soup recipe, miso soup recipe with vegetables
Get FREE Access!
Dr. Josh Axe is on a mission to provide you and your family with the highest quality nutrition tips and healthy recipes in the world...Sign up to get VIP access to his eBooks and valuable weekly health tips for FREE!
Free eBook to boost
metabolism & healing
30 Gluten-Free Recipes
& detox juicing guide
Shopping Guide &
premium newsletter