Thai Coconut Chicken Soup Recipe
If chicken soup is good for the body and the soul, then this easy Thai coconut chicken soup takes the goodness to a whole new level. It's packed with healthy fats from coconut milk, a punch of spicy flavor from red curry paste and some (optional) chili peppers, and the nutrition of numerous vegetables plus lemongrass- and ginger-infused broth. Believe me, this soup will have you saying, "More, please!" And you will be in luck, because this recipe makes enough for a crowd.
Thai food is traditionally known for its attention to balanced flavors (sour, sweet, salty, bitter and spicy) and the use of ingredients that are both delicious and medicinal. This Thai Coconut Chicken Soup is no exception. By steeping lemongrass and ginger in the broth, which is the base of the soup, you'll release their oils and gain great health benefits.
You'll get the same properties you get from lemongrass essential oil. It flushes harmful toxins out of your body, helps with digestion, kills bacteria, and helps relieve aches and pains. Ginger health benefits include warding off stroke and heart disease, helping with digestion, fighting infection, aiding respiratory function and many more.
And that's just the foundation of the soup! The next layer will be creamy and nutritious coconut milk and red curry paste, which is a paste made with red chili peppers and garlic, two of the top seven fat-burning foods you can eat. Add in the optional bird's eye chilis for even more fat-burning benefits.
Then it's time for the chicken and veggies. You might notice a couple of unordinary vegetables in the group: Japanese sweet potatoes and bamboo shoots. (You should be able to find these at your local natural foods or international foods store.) These will add flavor, texture and amazing nutrition to the soup. Purple-skinned Japanese sweet potatoes contain anthocyanin, the same nutrient that gives eggplant its purple color and health benefits.
How to Make This Thai Coconut Chicken Soup Recipe
Getting hungry yet? Grab a large soup pot, and let's get started!
You'll begin by bringing some chicken broth to a boil in your large pot along with a couple lemongrass stalks, some ginger root, and the optional bird's eye chili peppers. If you can't find the Thai peppers, you can substitute fresh jalapeños.
Never cooked with fresh lemongrass stalks before? Never fear. They're easy to prep: chop off the root end and discard; chop off the leaves (you can save these to make a delicious tea); remove any dry layers from the outside of the resulting stalk, which should be whitish-green and about the size and length of a pencil. Chop the stalks in half and smash them with a rolling pin to break them down and release even more of the essential oil and flavor.
While the broth is simmering, grab a medium pot and bring the coconut milk to a low boil over medium-high heat. Once it's bubbling, whisk in the red curry paste until it's incorporated. Then turn off the heat and move this pot to the side.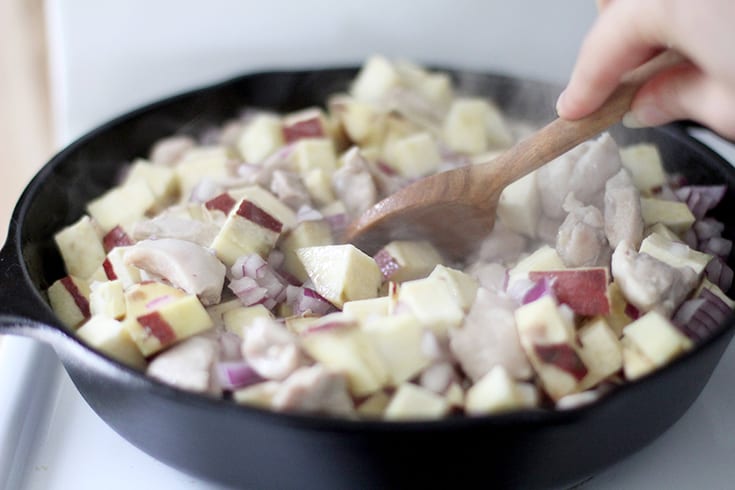 Next, grab a large skillet or wok and melt some butter or coconut oil in it over medium heat. Once the fat is hot, add your chopped chicken thighs and cook them about 5 minutes. (If you don't have chicken thighs on hand, chicken breasts will also work as a substitute.) Stir them around a bit just to make sure they're cooking evenly and not sticking. After 5 minutes, add your red onions and diced sweet potatoes. Cook these for 5 minutes more. At this point, the chicken should be browned and the onions slightly soft. Turn off the heat and set the skillet aside.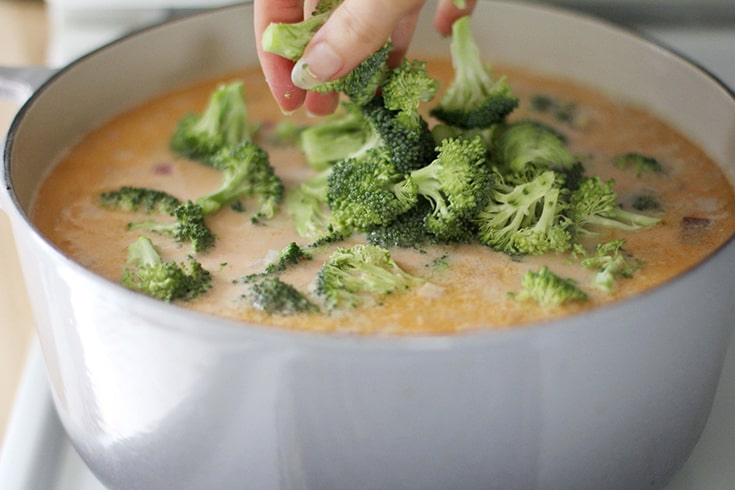 Going back to your broth, you want to remove the lemongrass, ginger and chili peppers with a handled sieve or slotted spoon and discard. Increase the heat to medium on the broth and carefully add in the coconut milk-curry mixture, chicken and veggie mixture, broccoli and bamboo shoots. Now you'll let this simmer for 10 minutes to allow the potatoes to finish cooking and the broccoli to cook.
Lastly, you'll turn off the heat and stir in the scallions and fresh lime juice. I highly recommend using fresh limes that have been sliced into lime wedges and squeezed as compared to the packaged lime juice you can buy in stores. This is going to add some freshness and the sour flavor component. Cover the coconut soup and allow it to rest for 10 minutes. Then ladle it up and enjoy the creamy, spicy, sweet, sour and salty flavors of this soup!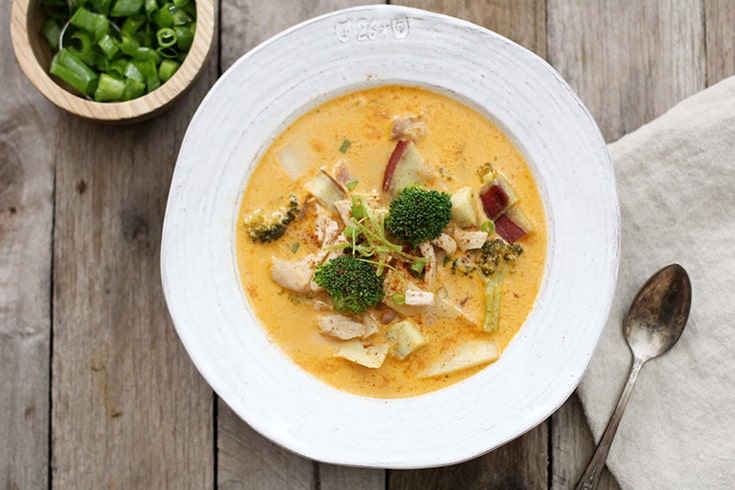 I hope you'll love this hearty Thai soup so much you'll want to make it again. One aspect that is great about this dish is it's incredibly versatile. Next time, try experimenting with carrots, mushrooms, cilantro, fish sauce or noodles (in place of the potatoes). The possibilities are truly endless with this coconut soup.
Ingredients:
4 cups low-sodium chicken broth
2 stalks fresh lemongrass, cut in half and smashed
1 medium knob of ginger, peeled and coarsely chopped
1–2 bird's eye chili peppers, optional
three 13.5-ounce cans coconut milk
one 4-ounce jar Thai red curry paste
2 tablespoons grass-fed butter or coconut oil
2 pounds boneless skinless chicken thighs, chopped
2 red onions, chopped
2 large Japanese sweet potatoes, diced
1 head broccoli, chopped
one 13.5-ounce can bamboo shoots, drained
1 bunch scallions, chopped
juice of two limes
Directions:
In a large pot or dutch oven, bring the broth, lemongrass, ginger, and optional chili peppers to a boil over medium-high heat. Decrease heat to medium-low and simmer while you prepare the rest of the ingredients.
In a medium pot, heat the coconut milk to a low boil over medium-high heat. Add the red curry paste and whisk to combine until smooth and fully incorporated. Turn off heat and set aside.
In a large skillet, heat the butter or oil over medium heat. Once the butter is melted or the oil is shimmering, add the chicken thighs and cook for 5 minutes, stirring occasionally. Add the onions and sweet potatoes and cook 5 minutes more. Turn off heat and set aside.
Remove the lemongrass, ginger and chili peppers from the broth with a handled sieve or slotted spoon and discard.
Increase heat to medium and add the coconut-curry mixture, chicken and vegetable saute, broccoli, and bamboo shoots. Simmer for 10 minutes.
Turn off the heat and add the scallions and lime juice. Stir, cover and allow the soup to rest for 10 minutes to allow the flavors to marry.