Apple Cinnamon Baked Oatmeal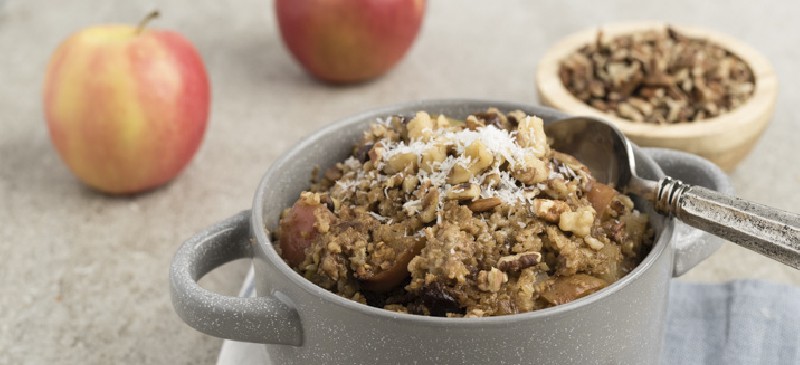 How about a warm bowl of oatmeal for breakfast? Add kefir, apples, raisins and nuts — and I'm game. My baked oatmeal recipe is the perfect way to start your day. The steel cut oats give it a hearty, chewy texture, and the spices I add, like cinnamon, nutmeg and cardamom, create a really well-rounded flavor.
This is a great go-to breakfast because oats are gluten-free and easier to digest than grains that contain gluten. So for those of you who like to avoid eating gluten foods, like me, try this easy and healthy baked oatmeal recipe.
Steel Cut Oats vs. Rolled Oats
It's easy to get confused about the difference between steel cut oats and rolled oats. When looking through the oats selection at the grocery store, it seems like every package has big health and flavor claims, so which one is better?
I use steel cut oats in this recipe because they go through very little processing, as opposed to instant or quick oats. Think about it this way: all types of oatmeal start out as plain groats, which are the kernels from whole grains. The difference is in what's done to the groats during processing. For steel cut oats, the groats are split, or cut into pieces. That's why they have a chewier texture and nuttier flavor. They also have less of an impact on your blood sugar levels because they aren't highly processed.
With rolled oats, the groats are steamed to make them soft, pressed between rollers and then dried. They go through a bit more processing than steel cut oats, and for that reason, they cook quicker.
For this baked oatmeal recipe, I chose to use steel cut oats because the nutty flavor and hearty, bigger pieces go perfectly with the other ingredients.
Nutrition Facts
One serving of my baked oatmeal recipe contains roughly the following:
353 calories
13 grams of protein
19 grams of fat
47 grams of carbohydrates
8 grams of fiber
22 grams of sugar
0.53 milligrams thiamin (49 percent DV)
0.35 milligrams riboflavin (32 percent DV)
1 milligram vitamin B5 (22 percent DV)
0.3 micrograms vitamin B2 (15 percent DV)
0.15 milligrams vitamin B6 (12 percent DV)
48 milligrams choline (11 percent DV)
225 IUs vitamin A (10 percent DV)
29 micrograms folate (7 percent DV)
3.5 milligrams vitamin C (5 percent DV)
0.8 milligrams vitamin E (5 percent DV)
0.6 milligrams niacin (4 percent DV)
3 micrograms vitamin K (3 percent DV)
3 milligrams manganese (174 percent DV)
427 milligrams phosphorus (61 percent DV)
0.3 milligrams copper (41 percent DV)
3 milligrams zinc (40 percent DV)
116 milligrams magnesium (37 percent DV)
538 milligrams sodium (36 percent DV)
18 micrograms selenium (33 percent DV)
237 milligrams calcium (24 percent DV)
2.4 milligrams iron (14 percent DV)
567 milligrams potassium (12 percent DV)
Here's a quick glance at some of the top health benefits associated with the ingredients in this baked apple cinnamon oatmeal recipe:
Oats: Oats are high in fiber, so they help to lower cholesterol levels and make you feel full and satisfied, without experiencing cravings soon after eating them because of fluctuating blood sugar levels. Eating oats can also help to boost your immune system and reduce inflammation, helping you to fight disease.
Apples: Apples have very strong antioxidant and anti-inflammatory activity, so they can help health conditions like diabetes, heart disease and cancer as well as digestive issues. Plus, apple nutrition includes vitamin C and potassium.
How to Make Apple Cinnamon Baked Oatmeal
Before you get your ingredients together for this baked oatmeal recipe, preheat your oven to 350 degrees Fahrenheit.
Your first step is to add the following ingredients to a pot: coconut milk (reduced fat — or go with one can of full fat and add three cups of water), coconut sugar, butter, sea salt, nutmeg, cinnamon and cardamom.
Bring the mixture to a boil over high heat.
Next, add in the chopped apples, steel cut oats, chopped nuts (I chose walnuts) and raisins.
Mix all of these ingredients together until they are well-combined.
Your last step is to transfer the mixture to a greased 9 x 13 pan, or use an oven-safe pot and bake for 30 to 35 minutes.
The top of your baked oatmeal should be slightly crispy and you can add some more nuts for an extra crunch.
Transfer your cinnamon spiced baked oatmeal to a large bowl and enjoy!
Other Warm Breakfasts to Make
Print
Apple Cinnamon Baked Oatmeal
---
Author:

Total Time:

45 minutes

Yield:

6

1

x

Diet:

Gluten Free
Description
Let's be honest: Standard oatmeal can be a little boring. However, if you had some select ingredients to up the flavor, and then bake it? Wow! The texture and flavor will make you want to put this on repeat.
---
4 cups

canned reduced fat (or light) coconut milk

½ cup

coconut sugar

2 tablespoons

unsalted butter

¾ teaspoon

cinnamon

¼ teaspoon

nutmeg

⅛ teaspoon

cardamom

2 cups

steel cut oats

2 cups

chopped apples

½ cup

raisins

1 cup

chopped nuts

½ teaspoon

sea salt
---
Instructions
Preheat oven to 350 F.
Bring coconut milk, coconut sugar, butter, salt, nutmeg, cardamom and cinnamon to boil in pot over high heat.
Add remaining ingredients to pot and mix.
Transfer contents to greased dutch oven and bake for 30–35 minutes.
Prep Time:

10 minutes

Cook Time:

35 minutes

Category:

Breakfasts

Method:

Baking

Cuisine:

American
Nutrition
Serving Size:

1 bowl

Calories:

353

Sugar:

22g

Sodium:

358mg

Fat:

19g

Saturated Fat:

8.9g

Unsaturated Fat:

7.5g

Trans Fat:

0.1g

Carbohydrates:

47g

Fiber:

8g

Protein:

13g

Cholesterol:

10mg
Keywords: baked oatmeal, apple cinnamon oatmeal, healthy baked oatmeal