Huevos Rancheros Recipe: A Classic Mexican Breakfast Dish
Eggs are a breakfast staple for good reason. They're relatively inexpensive, quick to make, full of protein and tasty! But preparing them the same way everyday can bore even the most avid egg eater. It's time to breathe new life into your morning eggs with this huevos rancheros recipe.
What Are Huevos Rancheros?
Spanish for "rancher's eggs," huevos rancheros are a classic Mexican breakfast dish. They're so simple, in fact, that most Mexican cooks wouldn't consider them worthy of a recipe. Just lightly fry corn tortillas to heat them up, cook a couple of eggs and top with fresh salsa. Done!
But this huevos rancheros recipe takes things up a notch. To make these more filling, we'll incorporate grass-fed beef. Red onions add extra flavor, while the jalapeño gives just enough of a spicy kick to wake you up in the morning.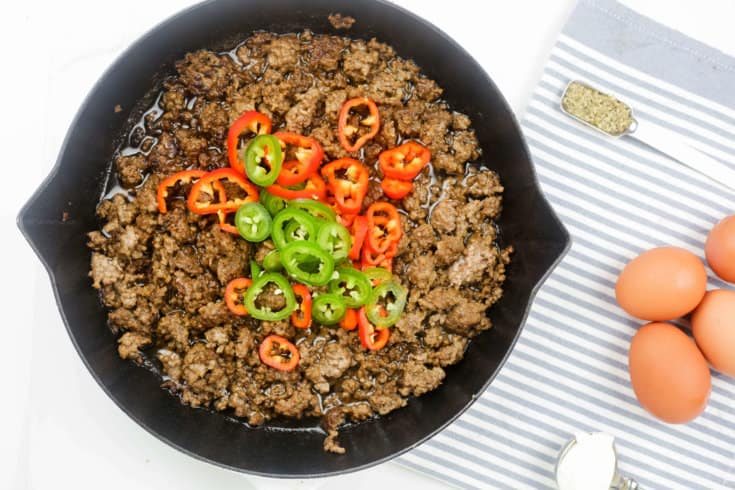 Because everyone likes their eggs a different way, you'll prepare them however you like and then add them to tortillas and top with your favorite Tex-Mex toppings. I'm talking salsa, avocados, tomatoes, cilantro, hot sauce or whatever you love on your tacos. Best of all, you can stuff everything into Paleo tortillas — perfect if you're going low-carb or avoiding gluten!
This huevos rancheros recipe is an awesome way to kick off your day!
Nutrition Facts
Best of all, this huevos rancheros recipe is good for you. Each serving contains approximately: (1)(2)
151 calories
10.4 grams fat
1.7 grams sugar
46.8 grams protein
1.0 microgram vitamin B12 (17 percent DV)
0.3 milligrams vitamin B6 (13 percent DV)
0.2 milligrams riboflavin (13 percent DV)
6.7 milligrams vitamin C (11 percent DV)
342 IUs vitamin A (7 percent DV)
21.5 micrograms folate (5 percent DV)
3.3 micrograms vitamin K (4 percent DV)
0.1 milligram thiamin (4 percent DV)
Eggs have been vilified for years as increasing cholesterol, but they actually help regulate bad cholesterol. They're also high in omega-3s, a good type of fat that our bodies require to function properly. The carotenoids found in eggs help to prevent disease and boost eye health. Their high protein count also makes them a filling food. You might find that you're not as hungry when you eat eggs.
Grass-fed beef is also fantastic for your health. It has more health benefits than conventionally-raised, grain-fed beef, including more omega-3s, vitamins and antioxidants. Grass-fed beef is packed with conjugated linoleic acid, or CLAs, a fatty acid we have to get through the foods we eat. CLAs have been studied as cancer-fighters and may help to fight heart disease and keep your blood sugar at a healthy level. Plus, grass-fed beef is less likely to be given hormones and antibiotics.
How to Make Huevos Rancheros
You're probably ready to make these huevos rancheros for breakfast (or breakfast at dinner!), and you won't believe how easy it is.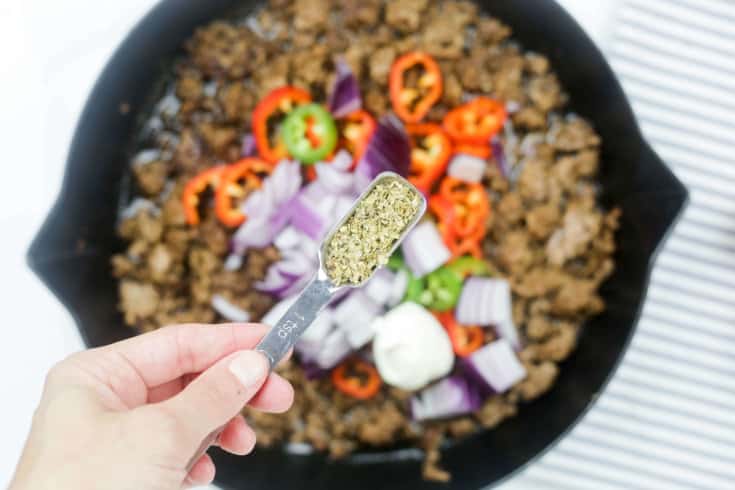 Start by browning the ground beef in a medium skillet with coconut oil, about 5–7 minutes, stirring occasionally.
Next, add in the onion, jalapeño, cream cheese and spices. Stir it all up until the onion becomes translucent, then remove the pan from heat.
In a separate pan, prepare the eggs the way you like them best.
Then top your Paleo tortillas with the beef mixture, pile on the eggs and finish off with your fixings of choice.
Ingredients:
½ pound grass-fed ground beef
½ red onion, diced
1 small jalapeño, stem removed, diced (seeds removed, optional*)
2 tablespoons grass-fed cream cheese
1 teaspoon oregano
Salt and pepper to taste
4–6 large eggs, fried or scrambled
For toppings:
1–2 tomatoes, diced
1 avocado, pitted and diced
Fresh cilantro, chopped
Directions:
In a large skillet, over medium heat, add in coconut oil and grass-fed beef, stirring occasionally until the beef is browned, about 5–7 minutes.
Add in the onion, jalapeño, cream cheese, oregano, salt and pepper, stirring until onion becomes translucent and remove from heat.
In a separate pan, over medium-low heat, cook the eggs as desired.
Serve on Paleo tortillas, topped with fresh tomato, avocado and cilantro.