Italian-Inspired Macaroni Salad Recipe with Cherry Tomatoes
I'll be honest: macaroni salad isn't usually a dish I get too excited about. The kind of macaroni salad most of us grew up with is usually packed with mayonnaise, sugar (a hidden ingredient many people won't tell you about!) and refined white pasta.
But then I got to thinking about how to make my own macaroni salad recipe. Something loaded with fresh flavors and wholesome ingredients and, of course, is easy to make. And that's how I came up with this Italian-inspired easy macaroni salad recipe. Dare I say it's the best pasta salad you'll try?
What Sets This Macaroni Salad Apart
This macaroni salad couldn't be easier to assemble, and you might be surprised by the ingredients in it. My recipe for pasta salad includes cheesy buffalo mozzarella, shredded chicken and brown rice pasta. Best of all, it's good for you.
Buffalo mozzarella is made from the milk of water buffalo. Like other high-quality cheeses, it's rich in calcium and protein. We add just enough here to ensure you enjoy cheesy bites without having it overpower the rest of the meal.
The pesto in this macaroni salad adds a ton of flavor. Pesto is a topping that instantly makes any dish feel more special. For this recipe, my homemade basil tomato pesto would work nicely, but any of your favorite pesto recipes are fine, too. To save time, you can also use pre-made pesto; I'd recommend getting some at your local farmers market or sticking to the ones in the refrigerated section at the grocery store.
Adding cooked chicken to this easy pasta salad is a great way to up the protein content, making this macaroni salad the perfect main meal. I recommend grilled chicken sprinkled with Italian seasoning — mmm!
And finally, instead of refined carbs, which have no nutritional value and contribute to conditions like obesity and diabetes, we're using brown rice pasta. This type of noodle is becoming more popular thanks to its health benefits, so you should be able to find it at your local grocery store. It's made from ground brown rice, which can boost heart health and lower cholesterol levels.
Because it's not made from wheat, brown rice pasta is also naturally gluten-free, making it safe for those following a gluten-free diet. Its taste is really similar to whole-wheat pasta, and it's cooked the same, too. It makes a great alternative to your normal pasta options.
Nutrition Facts
So what are you getting in one serving of this macaroni salad recipe? (1)
226 calories
14.6 grams protein
13.56 grams fat
1.3 grams fiber
11.86 grams carbohydrates
1.46 grams sugar
0.684 milligrams manganese (37 percent DV)
3.306 milligrams vitamin B3 (24 percent DV)
18 micrograms vitamin K (20 percent DV)
0.41 micrograms vitamin B12 (17 percent DV)
383 IUs vitamin A (16  percent DV)
0.201 milligrams vitamin B6 (15 percent DV)
1.46 milligrams vitamin E (10 percent DV)
How to Make A Macaroni Salad
What makes this macaroni salad extra wonderful is that you basically combine all the ingredients in a big bowl and dig in. You'll have to do a bit of prep work first, though.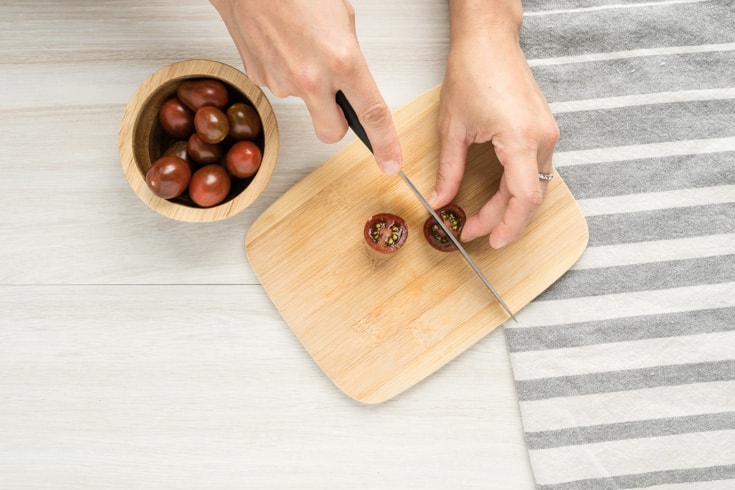 Start by halving your cherry tomatoes. Go for the freshest ones you can find; they'll add a little sweetness to this pasta dish.
You'll want to chop up the buffalo mozzarella as well. I like chopping it into small pieces, but you can opt for chunks if you'd like.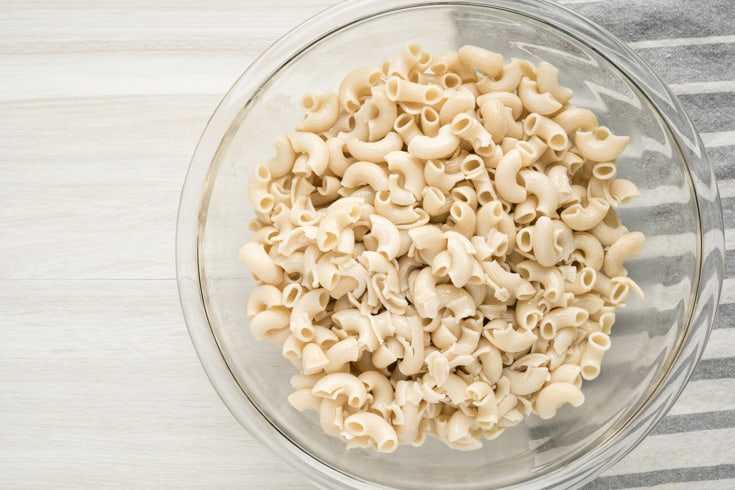 While you're chopping away, prepare the pasta.
Once the pasta has cooked and cooled, it's time for the mixing to begin. Toss in those cherry tomatoes…
…then add in the pesto.
Add the Italian seasoning, capers and drizzle the balsamic vinegar over it all.
And we can't forget the cheese! Add in the buffalo mozzarella here.
Gently stir the macaroni salad together, making sure the noodles are well-coated with pesto and the other ingredients are evenly combined.
Add in the chicken.
Then chow down and eat! This hearty macaroni salad works really well as a main dish, but you can also serve smaller portions and enjoy as a side. I'm sure this pasta salad is going to be a new favorite.
Ingredients:
1 box brown rice macaroni pasta, cooked
2 cups chicken, shredded and cooked
1 cup cherry tomatoes, halved
1 package buffalo mozzarella pearls, chopped
½ cup fresh chopped basil
¼ cup pesto
¼ cup capers
1 tablespoon Italian seasoning
3 tablespoons olive oil
2 tablespoons balsamic vinegar
Salt and pepper, to taste
Directions:
In a large bowl, mix all the ingredients together until well-combined.
Can be served at room temperature or chilled.