Easy Chicken Enchilada Recipe (Ready in 35 Minutes!)
If you've traveled to Mexico or have been to a Mexican restaurant then you may already be familiar with, or even in love with, enchiladas. They're basically a tortilla filled with tasty ingredients and topped with a flavorful sauce.
What's not to love? Well sometimes, enchiladas aren't so healthy either because they are fried, don't contain any vegetables, are smothered in an excessive amount of sour cream or all of the above.
The great thing about making an enchilada recipe in the comfort of your own kitchen is that you are in complete control of the ingredients and cooking process. I want to let you in on this easy chicken enchilada recipe that doesn't take a lot of time, but is loaded with nutrition and flavor. Get excited for this healthy twist on a Mexican classic.
What Is An Enchilada?
You may have eaten one before, but do you know how to answer this question: what is an enchilada? An enchilada is a tortilla that has been rolled around a filling before being fried or baked and topped with some type of finishing sauce. The tortilla is usually either a corn tortilla or a flour tortilla.
What about that tasty filling? Enchiladas are typically stuffed with meat and all or some of the following: beans, cheese and vegetables. The topping on enchiladas can vary too, but it's often a tomato- and chili-based sauce. Enchiladas can also have additional toppings like fresh cilantro, cheese, sour cream, lettuce and chopped onions.
Enchiladas have a Mexican origin that dates all the way back to Mayan times when the practice of hand rolling tortillas around other ingredients is said to have first began. When enchiladas became a Mexican street food, they were often just consisted of a plain corn tortilla dipped in chili sauce with no fillings. Nowadays, enchilada options are basically endless with all kinds of variations in fillings and sauces.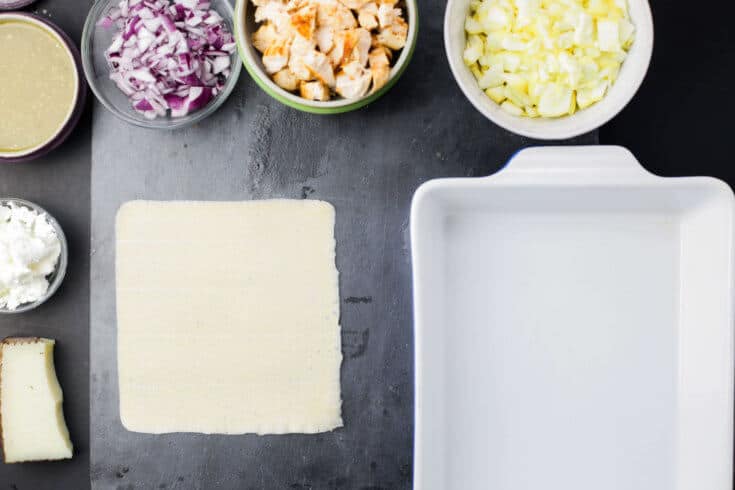 Nutrition Facts
You can follow this easy chicken enchilada recipe that is not just simple — it's also loaded with protein and other key nutrients.
How loaded? How about 43 grams of protein per serving (two enchiladas) alongside 40 grams of carbohydrates and 21 grams of fat. Each serving is 520 calories, so a perfect sized dinner.
Nutrient-wise, this chicken enchilada recipe is also loaded with the good stuff. Here's the rundown of vitamins and minerals that each serving provides:
Vitamin C — 20.5 mg (27% DV*)
Folate, DFE — 145 µg DFE (36% DV*)
Vitamin B1 (Thiamin) — 0.29 mg (26% DV*)
Vitamin B2 (Riboflavin) — 0.74 mg (67% DV*)
Vitamin B3 (Niacin) — 12.926 mg (92% DV*)
Vitamin B5 (Pantothenic acid) — 1.88 mg (38% DV*)
Vitamin B6 — 60.9 mg (68% DV*)
Vitamin B12 (Cobalamin) — 0.5 mcg (21% DV*)
Vitamin A — 1739 IU (75% DV*)
Vitamin K — 42.4 mcg (47% DV*)
Calcium, Ca — 441 mg (44% DV*)
Magnesium — 129 mg (42% DV*)
Phosphorus — 759 mg (108% DV*)
Iron — 5.18 mg (29% DV*)
Potassium — 870 mg (19% DV*)
Sodium — 450 mg (30% DV*)
Zinc — 3.46 mg (43% DV*)
Copper — 0.78 mg (87% DV*)
Selenium — 22.9 mcg (42% DV*)
Manganese — 0.73 mg (41% DV*)
How to Make Chicken Enchiladas
To date, you may have reserved your consumption of chicken enchiladas for restaurant outings. But what if I told you that it's not that hard to recreate this delicious dish in the comfort of your own kitchen.
First things first, don't forget to get your oven preheated to 350 F.
Next, chop up the chicken tenders and red onion. In a large frying pan greased with avocado oil, sauté the tenders and onion (and sprinkle with cayenne pepper and sea salt) until nearly fully cooked.
Next, set out one of your wraps or grain-free tortillas on a clean, flat surface and fill it with the cooked chicken and red onion, chopped squash, and goat cheese. Now roll it up and place it in the baking dish.
Continue to lay out each wrap, filling it, rolling it and placing each one in the baking dish.
Once you have the baking dish full, top all of the enchiladas with the salsa verde.
The sauce here is a salsa verde, which you can either buy from store or you can try your hand at salsa verde recipe. There are also many tasty recipes out there for other sauce options like tomatillo sauce or you could try an enchilada sauce recipe.
My easy chicken enchilada recipe is dairy-free, using goat cheese, which is a healthier cheese option. Plus, it's not smothered in dairy like sour cream chicken enchiladas. Also to keep the healthy factor strong, these enchiladas are baked rather than fried, and I use Paleo coconut wraps or grain-free tortillas to keep this recipe both Paleo-friendly and gluten-free.
Next, sprinkle the shredded hard goat cheese on top.
Place the baking dish in the preheated oven and bake for 15 to 20 minutes.
You'll know the enchiladas are done when they start to get a little golden brown around the edges.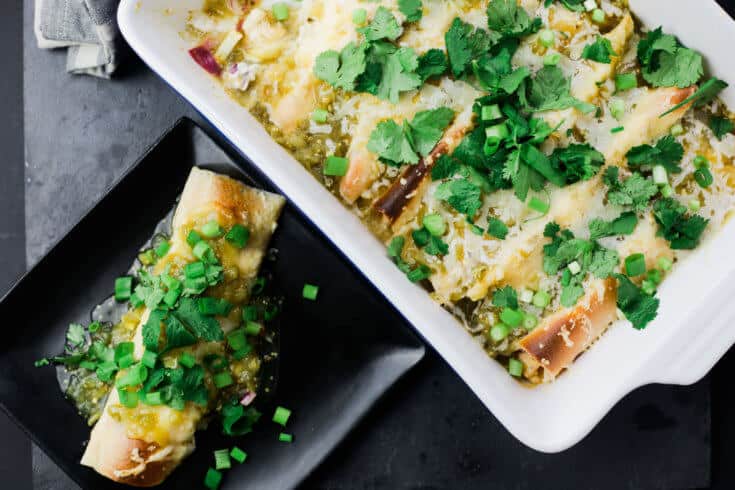 Serve your homemade enchiladas topped with fresh cilantro and green onions.
Other Healthy Mexican Dishes
Print
Chicken Enchilada Recipe
---
Author:

Total Time:

35 minutes

Yield:

4

1

x

Diet:

Gluten Free
Description
This easy chicken enchilada recipe doesn't take a lot of time, but is loaded with nutrition and flavor. Get excited for this healthy twist on a Mexican classic.
---
1

pound chicken tenders, cooked and chopped

1

red onion, chopped

½ teaspoon

cayenne pepper

½ teaspoon

sea salt

2 teaspoons

avocado oil

8

Paleo coconut wraps OR grain-free tortillas

2

yellow squash, chopped
one

4

-ounce package of soft goat cheese

1½ cups

salsa verde

½ cup

shredded hard goat or sheep cheese

½ cup

chopped cilantro

½ cup

chopped green onions
---
Instructions
Preheat oven to 350 F.
Chop up the chicken tenders and red onion.
In a large frying pan, grease with avocado oil and then sauté the chicken tenders and red onion until mostly cooked.
Dice the yellow squash.
On each tortilla, add chicken and onion and goat cheese and roll into an enchilada.
Add each roll to a 8 x 10 baking dish.
Once filled, top with salsa verde and cheese.
Bake for 20 minutes.
Serve topped with cilantro and green onions.
Prep Time:

15 min

Cook Time:

20 min

Category:

Main dishes

Method:

Stovetop and oven

Cuisine:

Mexican
Nutrition
Serving Size:

2 enchiladas (560 g)

Calories:

520

Sugar:

8.3 g

Sodium:

450 mg (40% DV)

Fat:

21.5 g

Saturated Fat:

12.1 g

Unsaturated Fat:

6.8 g

Trans Fat:

0 g

Carbohydrates:

39.9 g

Fiber:

8 g

Protein:

42.7 g

Cholesterol:

117 mg
Keywords: chicken enchiladas recipe