Paleo Tortillas Recipe — Corn-Free with Healthy Oils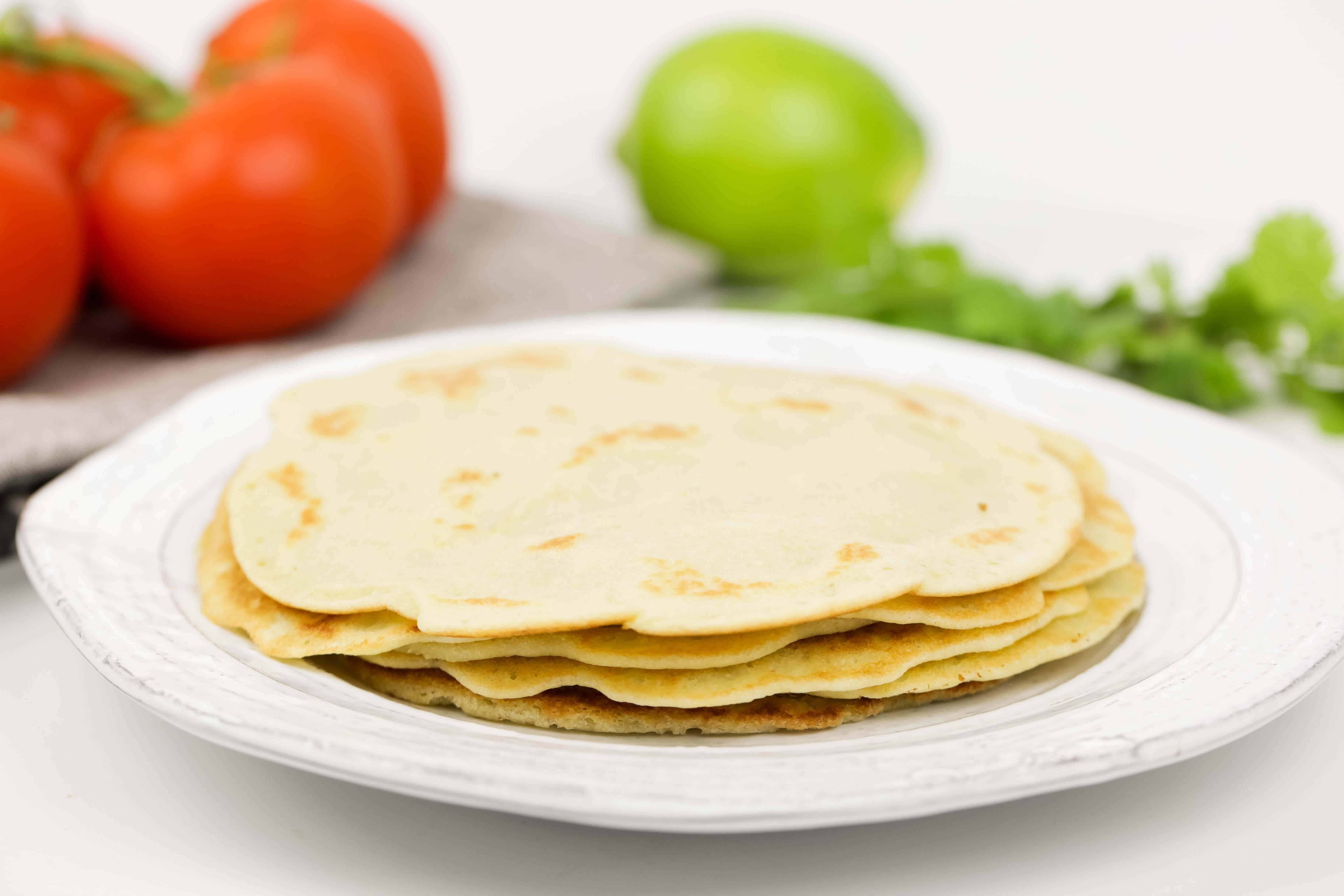 When you walk through the grocery store, I'm sure you notice the array of tortillas available. There's flour tortillas, whole wheat tortillas, corn tortillas and more. Most of these products are made with processed, refined ingredients that are stripped of the nutrients we seek when preparing a healthy meal.
My Paleo tortillas are different. They are completely free of gluten and GMO corn; plus, they contain healthy alternatives like coconut milk and arrowroot starch. You'll never settle for buying store-bought tortillas again when you see how easy it is to do it yourself. Plus, you know exactly what's going into your food — no hidden or genetically modified ingredients here!
Try these Paleo tortillas with any of these taco recipes or my healthy chicken fajitas. I know you won't be disappointed!
Why Are Conventional Tortillas Unhealthy?
Conventional tortillas are made from white flour or corn flour. I typically choose not to use these ingredients in my cooking for a few reasons. For one thing, most white flours are bleached, contain gluten (which is a common allergen) and are hard on your digestive system. For this reason, I like to choose from the number of healthy gluten-free flours that are available, like coconut flour, which I use in this Paleo tortilla recipe.
I also stay away from most products made with corn. Although the nutritional value of corn that's unprocessed, organic and non-GMO isn't necessary bad for you and has been eaten for thousands of years, the types of corn used to make foods today are so overly modified that it negates its health benefits. It's unfortunate that most corn and corn products that we eat today are genetically modified and go through so much processing that they're barely recognizable. (1)
Besides using coconut flour in my paleo tortillas recipe, I use arrowroot starch, a gluten-free, GMO-free and healthier alternative to cornstarch. Arrowroot starch is also beneficial for sensitive digestive systems, as it's one of the easiest starches for the body to digest.

Nutrition Facts
One Paleo tortilla made using this recipe contains roughly the following: (2, 3, 4, 5)
167 calories
11 grams fat
1 gram sugar
2 grams protein
15 grams carbohydrates
2 grams dietary fiber
1.24 micrograms vitamin B12 (52 percent DV)
0.14 milligrams vitamin B2 (13 percent DV)
0.52 milligrams vitamin B5 (10 percent DV)
191 international units vitamin A (8 percent DV)
0.063 milligrams vitamin B6 (5 percent DV)
0.57 milligrams vitamin E (4 percent DV)
8.6 micrograms selenium (16 percent DV)
74 milligrams phosphorus (11 percent DV)
58 milligrams calcium (6 percent DV)
117 milligrams sodium (5 percent DV)
0.83 milligrams iron (5 percent DV)
20 milligrams potassium (1 percent DV)
Here's a quick glance at some of the top health benefits associated with the ingredients in my Paleo tortillas recipe:
Arrowroot starch: Arrowroot is often used as a thickener in food and for a seemingly simple, white powdery substance, it contains important nutrients like potassium, iron and B vitamins. It also helps to boost immune function, reduce diarrhea and constipation, and fight food-borne pathogens that cause illness.
Coconut flour: Coconut flour is high in fiber, protein and healthy fats, and it's completely gluten-free. It's a favorite among Paleo dieters and people with gluten allergies or sensitivities. Coconut flour aids metabolism, helps to maintain healthy blood sugar levels and aids digestive health.
Coconut milk: Coconut milk contains a beneficial fat called lauric acid, a medium-chained fatty acid that's easily absorbed and used by the body for energy. The fats in coconut milk are known to help lower cholesterol levels, improve blood pressure and boost cardiovascular health. (7)
How to Make Paleo Tortillas
Start by preheating your oven to 300 degrees F and gather your ingredients and a large mixing bowl.
Combine your wet ingredients first — that's 2 eggs and 1 cup full-fat, canned coconut milk. Then add in the dry ingredients, including ¾ cup arrowroot starch, 3 tablespoons coconut flour and ¼ teaspoon of salt. Mix everything well and get your skillet ready.
Drizzle avocado oil in a small skillet over medium to medium-low heat. Let the oil warm up before you pour in your batter.
Pour one-third cup of batter into the pan and use a spatula to spread it out evenly. Let the tortilla cook for about 2–3 minutes and then flip it, cooking it on the other side for 2–3 minutes.
Your Paleo tortillas should turn a light golden color when they're finished. Keep them warmed in the oven until all tortillas are made and ready to use.
You're now ready to make some delicious and healthy fajitas — enjoy!
Ingredients:
2 eggs
1 cup full-fat, canned coconut milk
1 tablespoon avocado oil
¾ cup arrowroot starch
3 tablespoons coconut flour
¼ teaspoon salt
Directions:
Preheat the oven to 300 F.
In a mixing bowl, combine the wet ingredients and mix until well-combined.
Add the dry ingredients to the bowl and mix well.
Drizzle avocado oil in a small skillet over medium to medium-low heat.
Pour ⅓ cup of batter into the pan, using a spatula to spread it out.
Allow tortilla to cook for 2–3 minutes then flip, cooking for another 2–3 minutes.
Keep them warmed in the oven until all tortillas are made and ready to use.