Zucchini Tortillas Recipe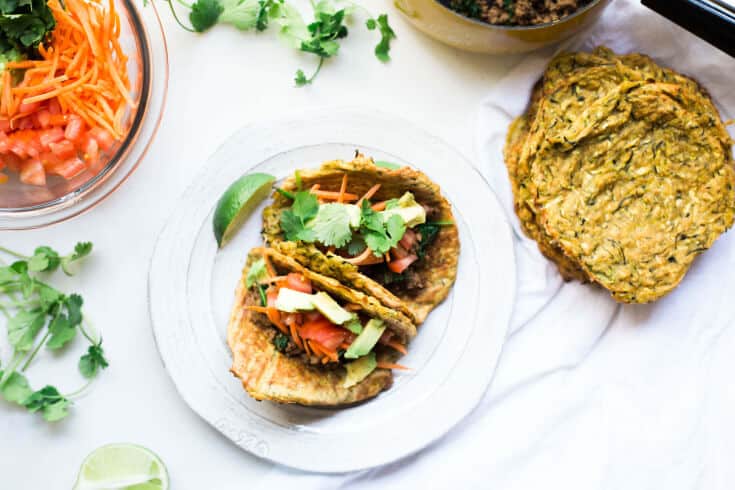 If you're a fan of Tex-Mex but trying to eat more nutritiously, it can be a little tough to stay on track — so many white flour tortillas! But I have a delicious, healthy alternative that is seriously better than anything you can buy in stores: zucchini tortillas.
These Zucchini Tortillas will take any Tex-Mex meal to the next level. They're made with arrowroot and coconut flours, making them suitable for people avoiding gluten and grains. But best of all, these zucchini tortillas have flavor baked right into them — that means a taste of paprika, cumin and chili powder in every bite. Mmm! Let's get started on these easy-to-make zucchini tortillas.
Start by preheating the oven to 350 F. Then wash and grate the nutrition-rich zucchini — this is a great recipe to make when you've got an abundance of the vegetable growing in your garden.
Squeeze the water out of the zucchini and place the grated zucchini in a bowl, tossing the zucchini juice. Next, add in the arrowroot and coconut flours, spices and eggs. Mix all the ingredients together.
Line a 9 x 11 baking sheet with parchment paper. Now it's time to grab an ice cream scoop and use it to scoop the tortilla batter onto the baking sheet. Use your fingers to press the batter down into thin, round tortilla shapes. It's all coming together!
Slide the baking sheet into the oven and let the zucchini tortillas bake for about 40 minutes or until they're golden brown.
Now stuff the zucchini tortillas with your favorite toppings and enjoy! This take on tortillas is so tasty and so versatile.
While they're terrific for tacos or fajitas, you can also use these zucchini tortillas as a bread substitute for sandwiches or serve alongside a salad. They're even delicious on their own dipped in hummus. Once you try these zucchini tortillas, you'll never go back!
Nutritional Facts
Per Serving: Calories 98.5; Total Fat 1.9 g; Cholesterol 46.5 mg; Sodium 214.1 mg; Total Carbohydrate 18.0 g
(Dietary Fiber 2.6 g, Sugars 0.1 g); Protein 3.0 g.
Ingredients:
3 cups grated zucchini (takes 4 medium zucchini to make 3 cups)
1 cup + 3 tablespoons arrowroot flour
1/2 cup coconut flour
3 eggs
1 teaspoon of each: smoked paprika, cumin, chili powder, salt, pepper
Directions:
Preheat oven to 350 F.
Wash and grate zucchini.
Squeeze the water out of the zucchini and place in a medium bowl, discarding the zucchini juice.
Add in the arrowroot flour, coconut flour, eggs and spices.
Mix until well combined.
Line a 9 x 11 baking sheet with parchment paper.
Using a 6cm ice cream scoop, scoop the tortilla batter on to the baking sheet, using your fingers to press the batter until thin round-shaped tortillas.
Bake for 40 minutes or until tortilla is golden brown.
Serve with your favorite taco toppings!