Coconut Whipped Cream Recipe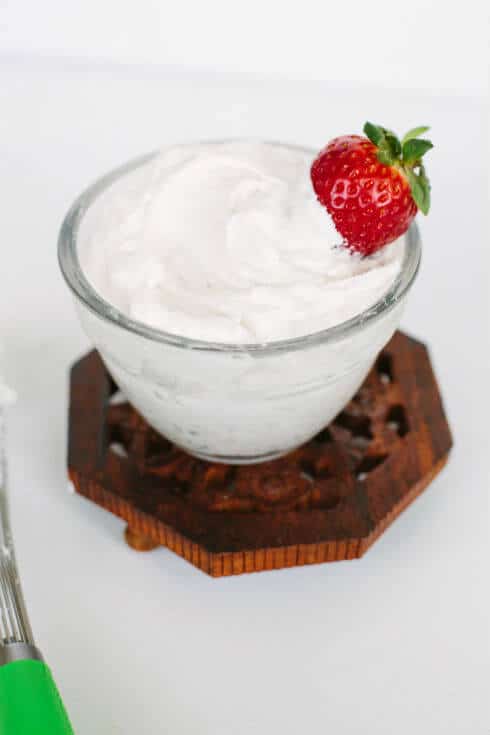 Be honest: When did you realize whipped cream doesn't actually come in a can but can be made at home? It took me longer than I'd like to admit! It's a shame, too, because the creamy stuff makes every dessert a little bit better.
You'll love how fluffy and light this Coconut Whipped Cream recipe is. It's a great way to get in some coconut milk benefits, and it's so simple to make. And since we'll use coconut milk and not a dairy product, it's perfect for those who are sensitive to dairy. You'll never go back to the canned version again!
When I say this recipe is easy, I mean it! Your first step? Stick an unopened can of coconut milk in the refrigerator overnight. This means you'll want to plan ahead when using this whipped coconut cream. Trust me, it's worth it.
In the morning, crack open the can and scoop out the solid cream that's separated and is now on top. Pour the other liquid, the coconut water, into a different container. Try adding it to your smoothies!
Add a dash of vanilla and just a little stevia to taste and then use a hand blender to whip up the cream into soft peaks. Done!
This Coconut Whipped Cream is best served immediately. I love it atop my Chocolate-Caramel Coconut Flour Brownies, my Pumpkin Pie Cheesecake and this yummy Strawberry Ice Cream. But really, you can't go wrong no matter how you eat it!
Ingredients:
1 can full-fat coconut milk
stevia or maple syrup
1 teaspoon vanilla extract
Directions:
Allow can of coconut milk to sit in fridge overnight, untouched.
In the morning, open the can and scoop out the solid cream on top. Pour the liquid into a different container.
Add vanilla and stevia or syrup to taste and use a high-powered hand blender to whip the cream into soft peaks. Serve immediately.