Energy Balls: Your Afternoon Pick-Me-Up!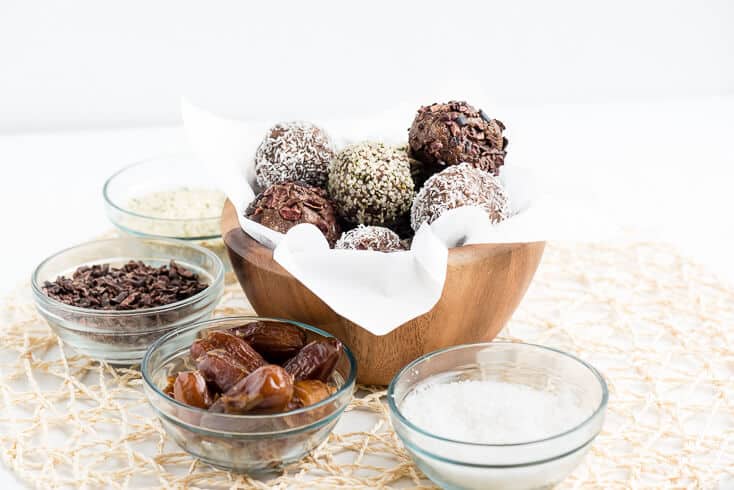 Snacks should be easy — a mid-day nibble to get you through to dinnertime or a little post-workout boost. But if you've ever attempted to find the right snack, you know how difficult it can be. So many snacks are packed with sugar, unhealthy oils and ingredients you've never heard of. At least that used to be the case until these energy balls came onto the scene. This is the snack you've been waiting for!
Energy Balls — The Perfect Healthy Snack?
What makes energy balls the perfect healthy snack? Quite a few things! They're portable, making them easy to carry along for a food fix on the go. They use minimal ingredients; you likely have everything you need to make these energy balls in your pantry already. Oh and did I mention they taste great?
These easy-to-make energy balls are also vegan-friendly, are naturally gluten-free and have no refined sugar. They require no baking or crazy kitchen tools, so they're excellent for getting kids in the kitchen. Yep, they are the perfect healthy snack!
Nutrition Facts
One energy ball contains approximately: (1)(2)
190 calories
15 carbs
13.2 grams fat
5 grams protein
73.4 miligrams sodium
12 grams sugar
183 milligrams potassium (5 percent DV)
5.4 grams fiber (22 percent DV)
30 milligrams calcium (3 percent DV)
4.9 milligrams iron (22 percent DV)
0.6 milligrams vitamin C (1 percent DV)
The ingredients in these energy balls are packed with health benefits of their own:
Cacao nibs are a superfood that have been used for thousands of years to increase energy. They're full of fiber, so you'll feel full longer after eating these energy balls, and are useful in helping you stay regular. Because cacao nibs are a good source of iron as well, they can help prevent anemia.
Sunflower butter is a great alternative to nut butters. It's high in protein, so your muscles will particularly enjoy it after a session at the gym. It's also full of healthy fats to keep your skin looking good.
Medjool dates sweeten these energy balls the all-natural way. These dates are the fruit of the date palm tree, and they're one of my favorite ways to add a sweet flavor to recipes. They're also a natural energy booster and can help decrease cholesterol. Not too shabby!
How to Make Energy Balls
What's best about these energy balls is just how simple they are to make.
Start by placing the cacao nibs and the shredded coconut into a food processor. Pulse until well-combined.
Next, place the remaining ingredients in the food processor.
Blend them up until well-combined.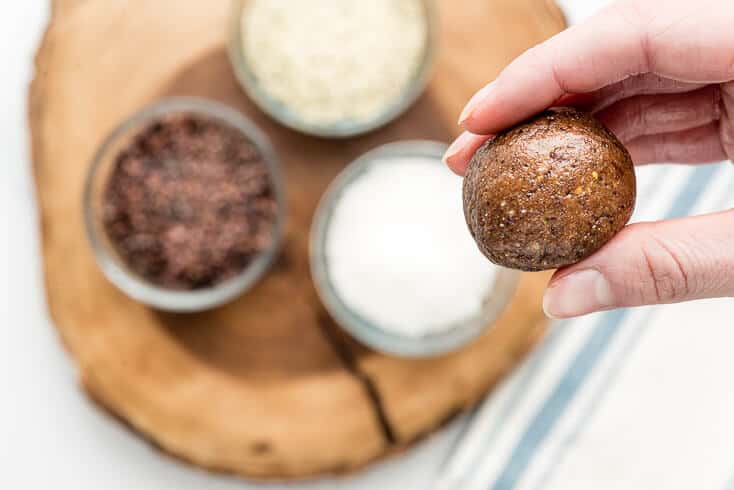 Roll the mixture into 12 balls (approximately 1 inch in diameter).
Roll the balls individually in cacao nibs, shredded coconut or hemp seeds.
…then place on a baking sheet that's been lined with parchment paper.
Cover the baking sheet and let chill for an hour in the refrigerator before eating, or freeze up to 2½ weeks.
Get FREE Access!
Dr. Josh Axe is on a mission to provide you and your family with the highest quality nutrition tips and healthy recipes in the world...Sign up to get VIP access to his eBooks and valuable weekly health tips for FREE!
Free eBook to boost
metabolism & healing
30 Gluten-Free Recipes
& detox juicing guide
Shopping Guide &
premium newsletter