This Dr. Axe content is medically reviewed or fact checked to ensure factually accurate information.
With strict editorial sourcing guidelines, we only link to academic research institutions, reputable media sites and, when research is available, medically peer-reviewed studies. Note that the numbers in parentheses (1, 2, etc.) are clickable links to these studies.
The information in our articles is NOT intended to replace a one-on-one relationship with a qualified health care professional and is not intended as medical advice.
This article is based on scientific evidence, written by experts and fact checked by our trained editorial staff. Note that the numbers in parentheses (1, 2, etc.) are clickable links to medically peer-reviewed studies.
Our team includes licensed nutritionists and dietitians, certified health education specialists, as well as certified strength and conditioning specialists, personal trainers and corrective exercise specialists. Our team aims to be not only thorough with its research, but also objective and unbiased.
The information in our articles is NOT intended to replace a one-on-one relationship with a qualified health care professional and is not intended as medical advice.
42 Best Post-Workout Meals for Faster Results
June 10, 2022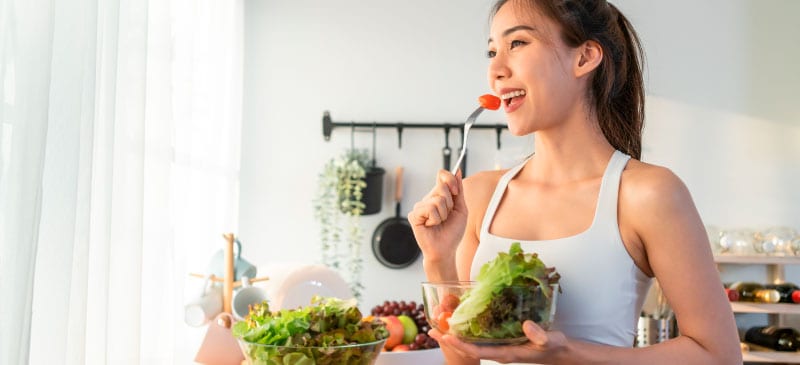 Whether you're working out to lose fat, increase muscle tone or just feel good, hitting the gym is only part of the battle to get the best results. While your diet matters throughout the day, your post-workout meal might play the biggest role of all — take that, breakfast.
See, your body stores glycogen and protein in its muscles. During a workout, your body first burns through the nutrients you ate pre-workout and moves on to the stored glycogen, burning it as energy. Then, after stepping off the treadmill, the protein in your muscles begins to drop, and muscle fibers start breaking down.
But for a magical time — for about 30 to 60 minutes after wrapping up a workout — your body is primed to refuel and replenish itself by absorbing carbs and protein once again.
I've rounded up 42 of my favorite recipes for what to eat after a workout. These include a healthy mix of complex carbohydrates, proteins, antioxidants and vitamins. From full meals both you and your family will enjoy to a few quick snacks you can chow down when you're pressed for time, you're sure to find at least one post-workout meal you'll love!
42 Best Post-Workout Meals
If you're looking for a quick and easy post-workout meal any time of day, these "quesadillas" are it. Loaded with potassium-rich bananas, almond butter for protein and fresh pomegranate — but no cheese! — these come together in just minutes. Use your favorite whole grain, grain-free or sprouted grain tortilla brand for these!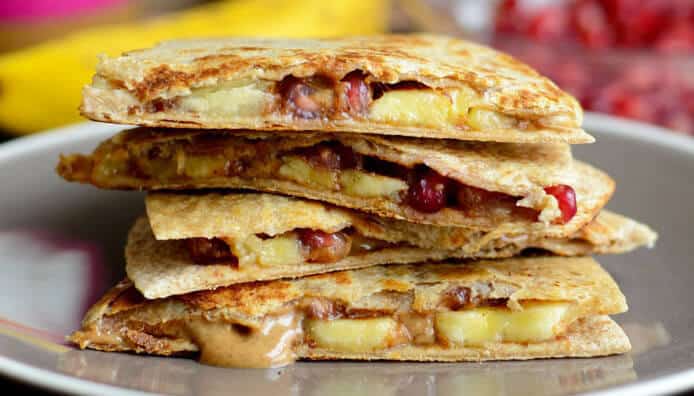 Photo: Almond Butter Pomegranate Quesadilla / Fit Foodie Finds
These vegan enchiladas are the total package. You'll be full for hours thanks to quinoa and black beans, while heart-healthy avocado adds creaminess. Sub in almond, coconut or gluten-free flour in place of the all-purpose white stuff — then bake and enjoy!
This colorful salad makes an awesome meal for those nights you can't decide what to eat after a workout. Brimming with grilled chicken, fresh fruits and veggies, and a homemade orange vinaigrette, it's especially perfect on hot summer nights.
Make the vinaigrette ahead of time, and use leftover grilled chicken to pull this together even faster. Opt for coconut sugar, and try out other fixings, too — mango would be great.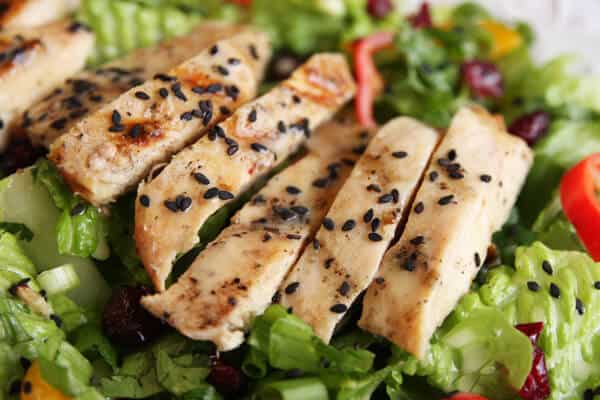 Photo: Caribbean Salad With Sweet Orange Vinaigrette / Our Best Bites
A loaded potato that's good for you? That's the case with this stuffed sweet potato.
Perfect for a solo dinner, this potato gets zapped in the microwave and then topped with black bean and corn salsa. (Use a homemade version or your favorite store brand.)
Top with a dash of cheese, broil and drizzle with a fresh avocado crema, and you have a healthy, hearty post-workout meal in just minutes. Cooking for a crowd? Roast several potatoes at once in the oven.
This bake is the quintessential Sunday supper, but it's so simple to make that it's perfect for a post-workout dinner on busy weeknights, too. Chicken thighs, onions, sweet potatoes and kale are lightly browned in a skillet for color and then finished off in the oven in just 30 minutes.
It's colorful, tasty and good for you — this bake is a winner.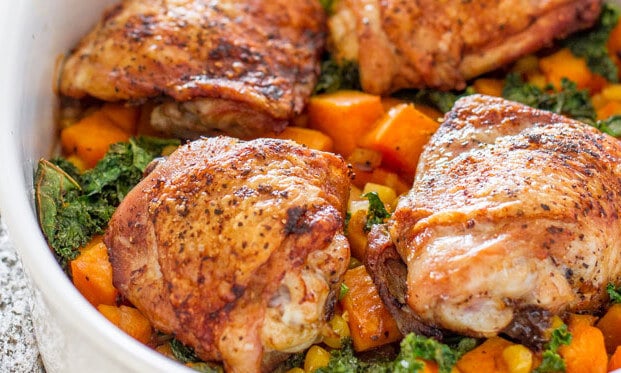 Photo: Chicken Thighs With Sweet Potatoes, Corn, and Kale Bake / Jo Cooks
You won't miss the meat in these hearty bean burgers. A chipotle spread gives protein-packed black beans a smoky flavor (but you could also use canned chipotle peppers in adobo), while almonds add extra texture and healthy fats. Topped with greens, avocado slices and fresh limes, this is a post-workout meal (lunch or dinner!) even the most hardcore carnivores will enjoy.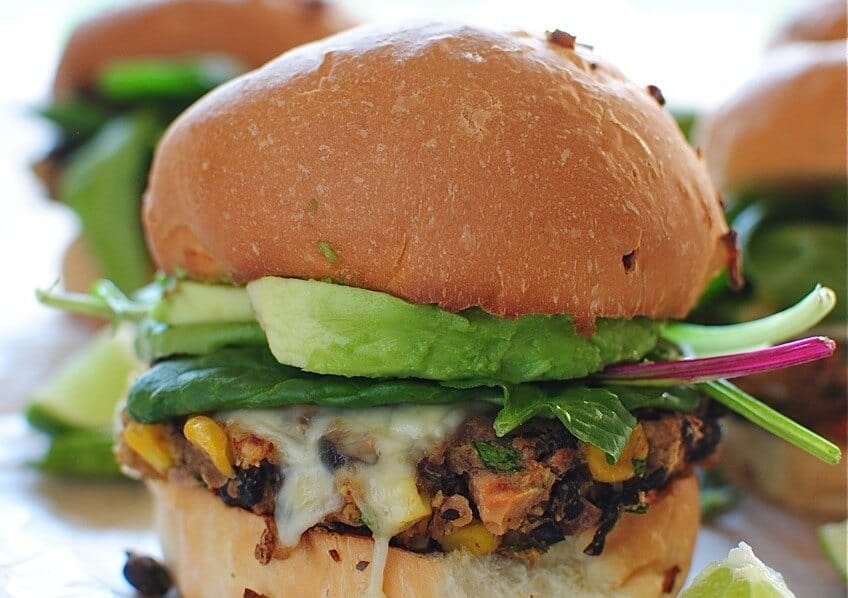 Photo: Chipotle Black Bean Burgers / Bev Cooks
When you're in a time crunch, this chia seed-based chocolate drink will help replenish your body after a workout — and you can drink it on the go! Flaxseeds and hemp seeds add in their own doses of fiber and good fats, while banana kicks in potassium. Use almond butter (or your favorite nut butter!) for a protein boost, and guzzle down.
Though this sounds like a holiday type of dish, this nut loaf is actually a great contender for a vegetarian post-workout meal. Why? Because it can be prepped in advance and is loaded with healthy, tasty ingredients!
Make it a snap by cooking the rice ahead of time and using a food processor to chop up the heart-healthy nuts and shred the cheese. Top with fresh herbs for the best flavor.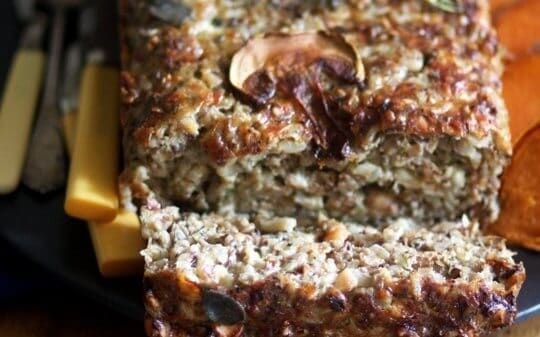 Photo: Classic Vegetarian Nut Loaf / The Kitchn
This creamy quinoa is awesome after a tough a.m. workout, though it's great for a breakfast-as-dinner meal, too. Superfood quinoa provides protein and all your amino acids, while bananas add potassium and sweetness. Sprinkle with almonds, and dig in.
You get a hearty boost of vitamins with the pineapple, peach and banana in this smoothie, and the nut milk of your choice adds protein to this post-workout meal.
If you find yourself tired of preparing sweet potatoes the same old way, this recipe will reignite your love for the healthy carbohydrates. Here, they get a flavor makeover with curry powder, cashews, broccoli and raisins.
The best part? This dish can be eaten cold, room temperature or warm. Make it ahead of time, and chow down after your workout!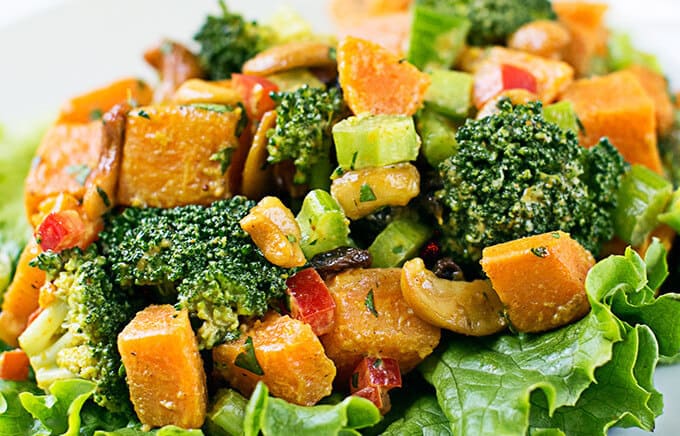 Photo: Curry Sweet Potatoes With Broccoli & Cashews / 86 Lemons
These meatballs are one of my favorite gluten-free recipes. They're full of protein thanks to grass-fed beef and eggs and the perfect food to munch on their own, add to a sandwich or top a salad with for your post-workout meal. Make extras, and freeze for busy evenings, too.

Photo: Gluten-Free Baked Meatballs / Dr. Axe
There's nothing wrong with green vanilla when it tastes this good. A great option for when you're on the go, this high-protein shake helps your body recover after a workout.
It has a healthy dose of leafy spinach, good-for-you coconut milk, bananas, almond butter and a scoop of protein powder to keep you going. This just might become your go-to shake.
Probiotic-rich kefir is one of the best foods for your body, as it's full of vitamins and minerals. It's often used in place of yogurt, but in this recipe it acts as a tenderizer for chicken.
Combined with red chili sauce, lime and honey, the result is a perfectly moist grilled chicken topped with mozzarella. Serve with a side salad, your favorite veggies or in a sandwich. You'll love the results!
Turkey and sweet potatoes? No, this isn't a Thanksgiving recipe! It is, however, a crazy simple one-pan dish that's ready in about half an hour.
Ground turkey and sweet potato bring protein and carbs to the party, while bell peppers, onions, garlic and chili pepper give this skillet meal loads of flavor.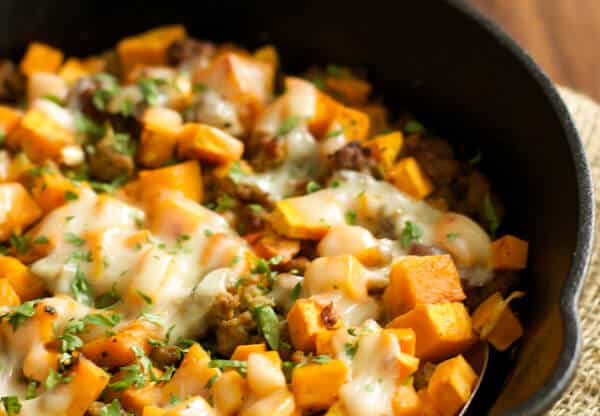 Photo: Ground Turkey Sweet Potato Skillet / Primavera Kitchen
If you want a post-workout meal rich in healthy fats, protein and leafy greens, this is the recipe for you. This salad has it all: salmon, spinach, avocado, grapefruit, oranges and almonds.
It's fast, easy and delicious — what more could you want?
Who knew that topping chicken with hummus would result in a crispy coating and moist, tender meat? When you want to feel fancy with minimal prep time, make this.
Top your chicken with store-bought or homemade hummus (psst: I love this recipe!), and then bake it atop a bed of fresh vegetables. The result is a one-dish meal that'll have you drooling, and the leftovers are great, too!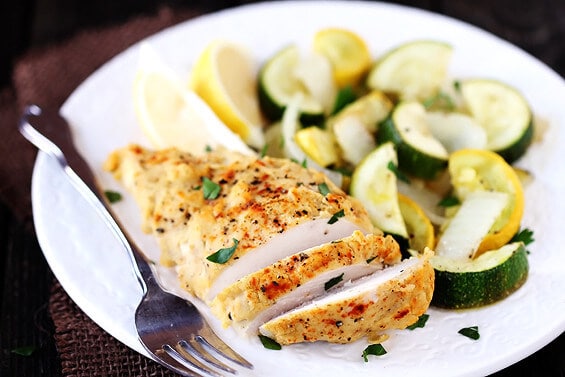 Photo: Hummus-Crusted Chicken / Gimme Some Oven
Looking for a new way to prepare ever-popular kale? This is a great option to get your dose of vitamins. The leafy greens get tender without turning soggy, while pine nuts and raisins add crunch and sweetness.
This makes a wonderfully light dinner, but to give it even more substance, consider adding chicken, grass-fed beef or turkey.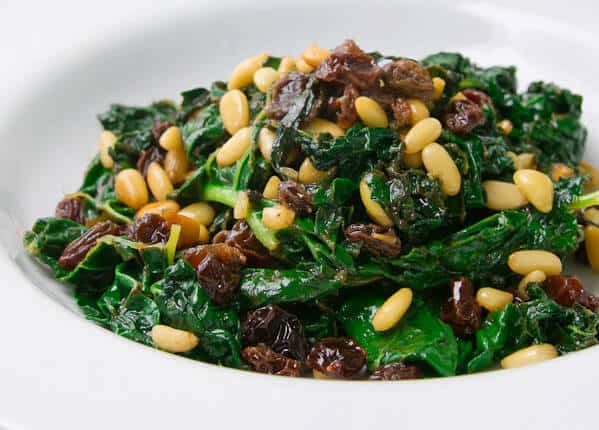 Photo: Kale With Vermouth Raisins and Pine Nuts / No Recipes
Enjoy the tropical flavors of mango and coconut while getting all the benefits of quinoa in this easy-to-make salad. Along with almonds, mangos, onions, peppers and coconut flakes, this post-workout meal packs a nutritional punch, but skip the edamame — black beans make a fiber-rich substitution.
Get a major dose of antioxidants with these matcha green tea pancakes. Not only are they a fun color (the kids will love them!), but they also get extra protein from brown rice flour and hemp protein powder.
With an all-natural topping and maybe a touch of organic chocolate syrup, you'll never wonder what to eat after a morning workout again.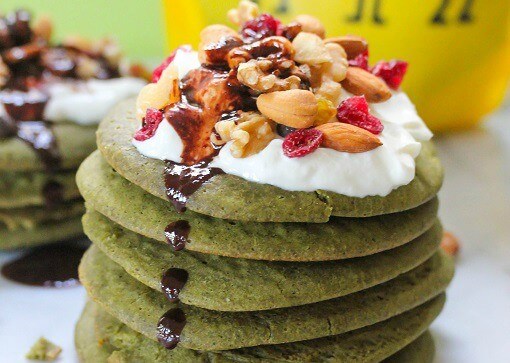 Photo: Matcha Green Tea Pancakes / The Nutty Scoop
With green tea, bananas, grapefruit, spinach and protein powder, this post-workout smoothie will keep you going well after your training session is over. It's loaded with vitamin C, protein and iron to indulge your body while tasting great. Make a batch, and sip on it after!
This Mexican-inspired dish is anything but your basic quinoa recipe. With just a few minutes of prep time, it comes together quickly in one pan.
This quinoa mix is also full of inexpensive, healthy ingredients: Corn, black beans, tomatoes and avocados all make appearances and rejuvenate your body after exercising. What more could you want?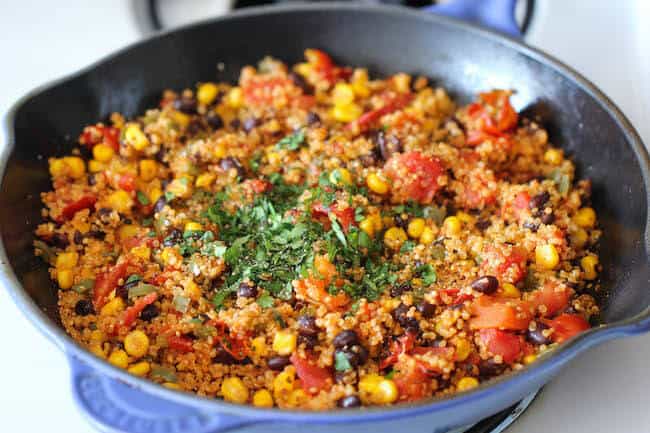 Photo: One-Pan Mexican Quinoa / Damn Delicious
Paleo diet lovers, this all-in-one meal is for you. It requires little hands-on time, letting you freshen up before chowing down.
It's easily adaptable to your family's tastes, but don't skip the vitamin A-rich sweet potatoes. Opt for chicken or turkey sausage to keep it healthy.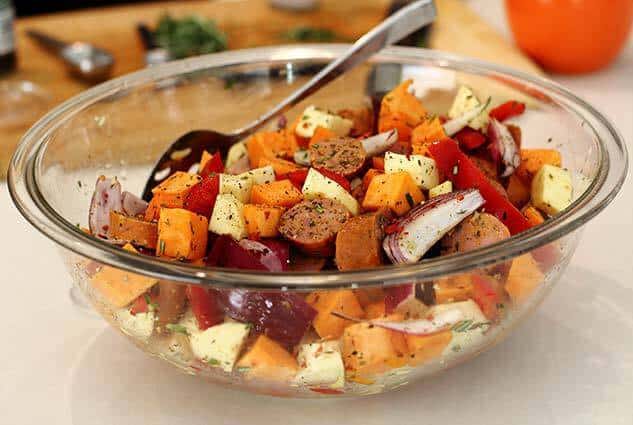 Photo: Paleo Chop & Drop Roasted Veggies & Sausage / Paleo Newbie
Crispy, golden-brown wings covered in a sweet mango glaze full of protein and the healing benefits of coconut oil? These Paleo wings have it all. They're wonderful on their own, or pair them with sweet potatoes, salad or turnip fries for a full post-workout meal.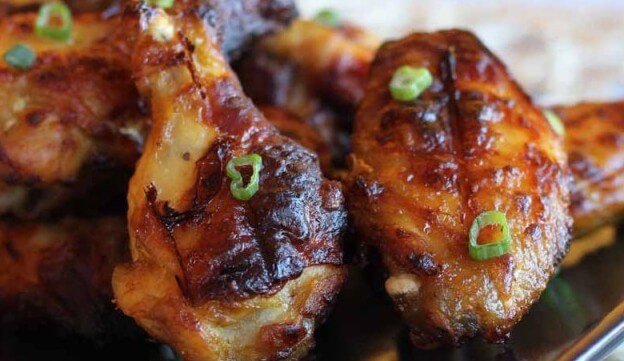 Photo: Paleo-Glazed Chicken Wings / Meatified
If whole grains are a part of your diet, bulgur makes a nice change from quinoa or rice in this one-pan recipe. This high-fiber meal gets a healthy helping of protein thanks to the chicken and a dose of probiotics and calcium from the kefir.
With no fancy ingredients required, it's easy to make in minutes, perfect for when you can't decide what to eat after a workout.
Salmon is one of the best foods you can eat. It's packed with vitamins, minerals and healthy fatty acids. Replenish your body after exercise with my pecan pesto meal.
The wild-caught salmon is drizzled with a fresh, homemade pesto and is ready in just 25 minutes. You can even make extra pesto and use it in other meals, too!
Don't undo your hard work at the gym with Chinese takeout. Make your own fried "rice" instead.
By substituting quinoa for starchy white rice, you'll get a lightened-up, healthy version of the calorie-laden favorite. With loads of veggies and eggs, it's great for non-meat eaters, but for even more protein, add in chicken or grass-fed beef.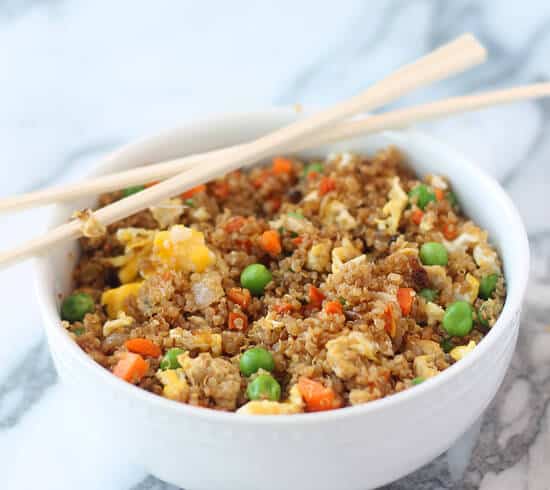 Photo: Quinoa Fried Rice / Cooking for Keeps
This burger will knock the socks off the staunchest beef lovers. It's packed with vegetables — carrots, celery and arugula are all here — plus full of protein and fiber courtesy of cannellini beans and quinoa. Add a red pepper-based relish to top it all off, and you're sure to love this for your post-workout meal.
An excellent option when there's no time for a sit-down meal, these protein bars will give you a boost until your next meal while helping your muscles recover. With oats, coconut oil, almond butter, chocolate and protein powder, you might feel energized enough for a second workout!
Using pre-cut butternut squash helps this recipe come together in a snap. The squash lends a hearty helping of vitamin A and antioxidants, while walnuts and lentils add protein, fiber and lots of flavor. It's a great vegetarian-friendly main dish, but it works well as a side to beef, fish or chicken, too.
I love how easily this fancy grilled cheese sandwich comes together ­— and how good it is for you! It's super creamy because of the protein-rich hummus and avocado and bursting with flavor from fresh basil, lemon juice and roasted red peppers. Use your favorite gluten-free bread or sprouted grain version!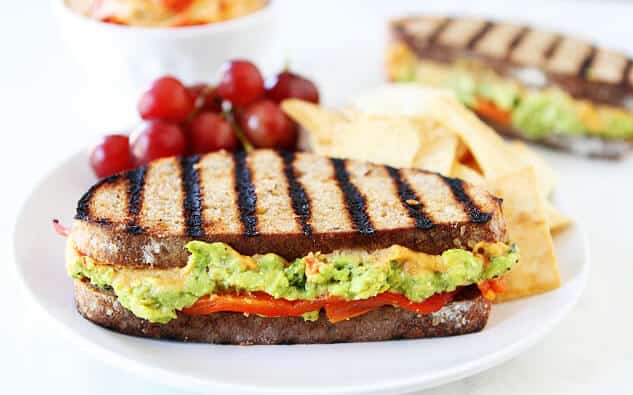 Photo: Roasted Red Pepper Hummus, Avocado, & Feta Sandwich / Two Peas and Their Pod
Jazz up your normal stir fry recipe by incorporating salmon into it. I like using broccoli, peppers, mushrooms and onions, but this is a wonderful recipe to throw in whatever's on hand: Celery, carrots and a scrambled egg make great additions.
Get the Alfredo taste without all the preservatives in the jarred stuff with this recipe. Kefir keeps this sauce creamy without added fat while grilled chicken adds extra protein — no compromising your workout results here. Opt for brown rice or gluten-free pasta and coconut flour.
Prep this slow-cooker recipe several hours before heading off to exercise, and enjoy a post-workout dinner waiting for you! Shredded chicken gets cooked with a homemade barbecue sauce (use coconut oil instead of canola oil!) and then topped with the real star, a kefir-based cilantro slaw. It's got protein, calcium and a whole lot of flavor — and it practically cooks itself!
Forget spending money on pricey salmon bowls — make your own nutritious, economical version at home! Brown rice, wild-caught salmon and avocado mean you get a healthy mix of carbs, protein and good fats in a meal that takes just minutes to assemble.
These creative chickpea and polenta bowls taste as good as they look. You'll want to smear the homemade ranch hummus on everything, while the bowls are packed with chickpeas, cannellini beans, arugula, tomatoes, avocado and lots of seasonings. You can easily swap the polenta for brown rice or quinoa, add in grilled chicken, or just enjoy as is.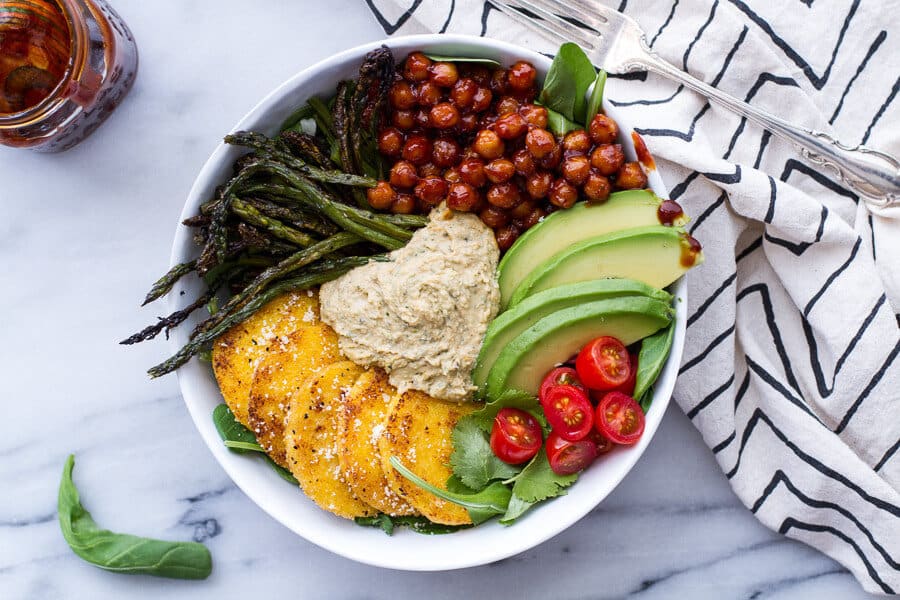 Photo: Spicy BBQ Chickpea and Crispy Polenta Bowls With Asparagus + Ranch Hummus / Half Baked Harvest
Good-carb oats, potassium-rich bananas and strawberries make this a fast and filling post-workout option that's brimming with protein and fiber. Use almond or coconut milk for a little extra zest!
Enjoy a meatless post-workout meal with these super filling bowls. They have a subtle sweetness from the sweet potato and lots of staying power from quinoa and black beans.
Best of all, they're drizzled with a homemade cilantro cream sauce made from Greek yogurt (hello, extra protein!) and honey. If you've been wondering what to eat after a workout that doesn't include meat, you need to give this a go!

Photo: Sweet Potato Black Bean Quinoa Bowls / Spoonful of Flavor
Enjoy your tacos minus the taco with one of my favorite salad recipes. Your favorite Tex-Mex fixings — ground turkey, corn, avocados, tomatoes and more ­— give this salad a lot of nutritional bang for its buck. You'll also love the homemade dressing.
Best of all, this salad comes together in just minutes for those busy days.
You won't be the same after trying this Thai stir fry. Red chilies add heat while cashews add heart-healthy benefits, flavor and crunch.
Use coconut sugar instead of brown sugar for the (awesome!) sauce. Serve with brown rice, quinoa or in lettuce wraps.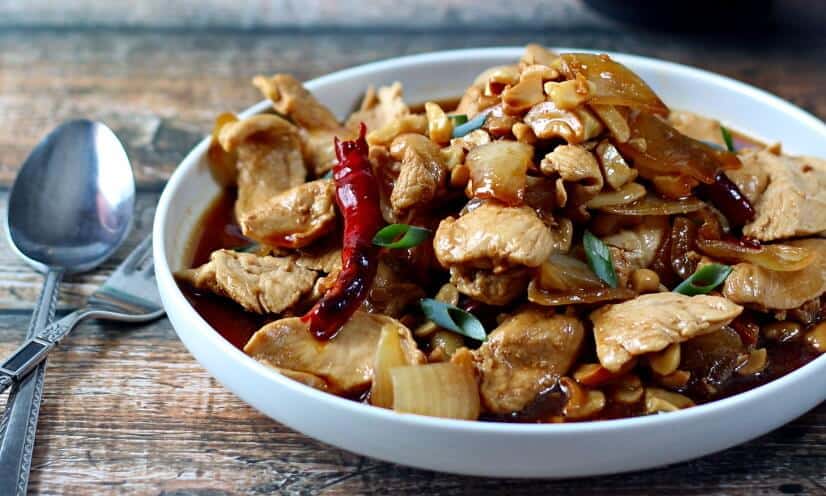 Photo: Thai Cashews With Chicken / The Wanderlust Kitchen
With a whopping 25 grams of protein, your body will hit the "reset" button after the first bite, and with three types of protein-packed lentils, this soup is anything but boring.
Not quite a pancake, not quite banana bread, these hearty little pancakes are full of post-workout fuel, no matter the time of day. Top them with fruit, nuts and maple syrup, or gobble them down on their own.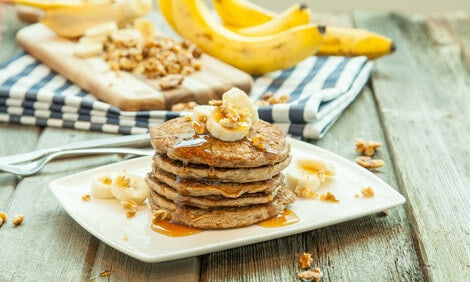 Photo: Vegan Banana Protein Pancakes / Vega