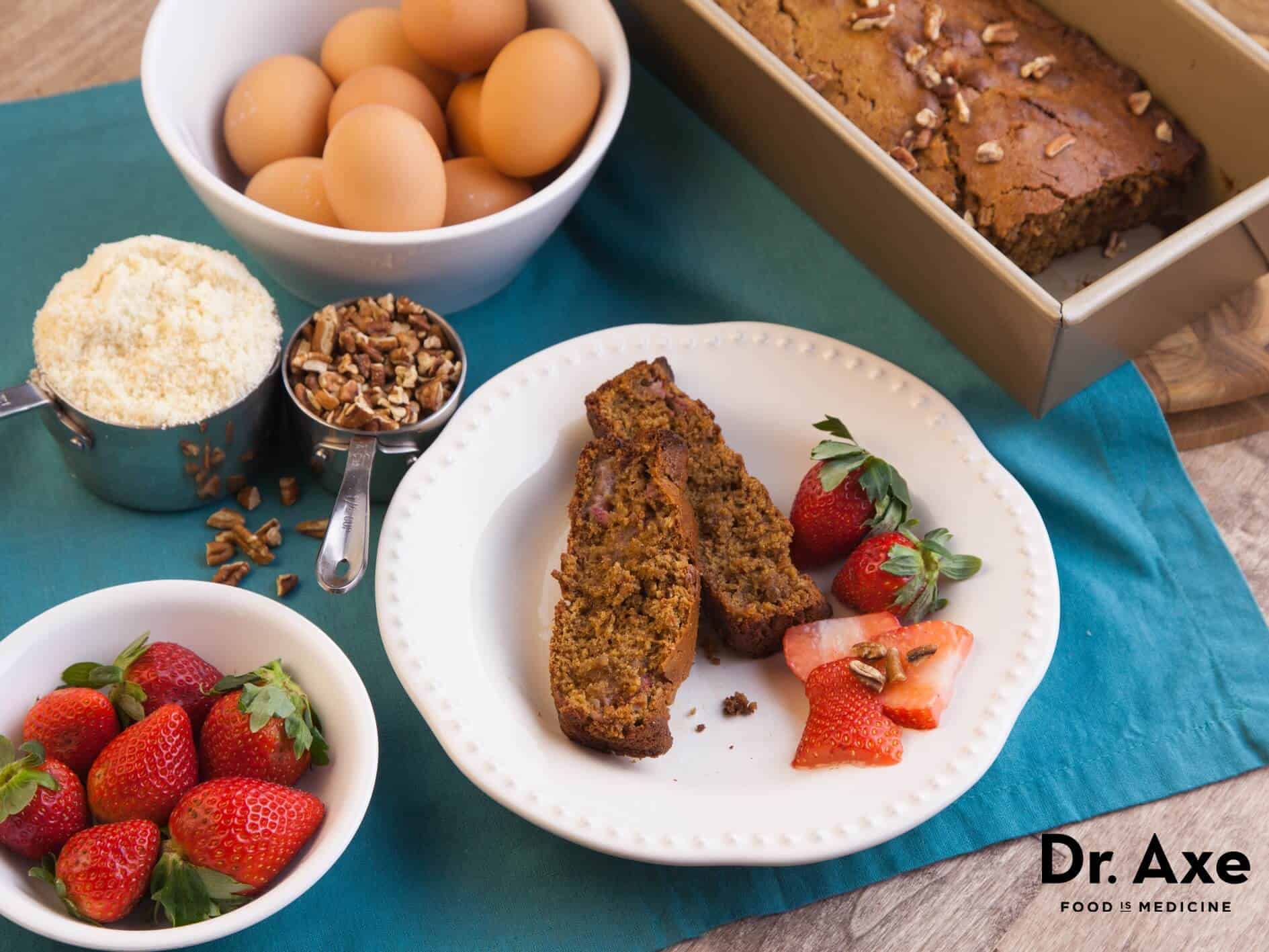 Strawberries are one of the most universally loved fruits with good reason. Beyond just looking (can anyone actually resist that juicy red color) and tasting delicious, they're extremely versatile. You can make strawberry lemonade, throw them in a smoothie or even use them as a teeth whitener!
But one of my favorite ways to use strawberries is baking them into a loaf of strawberry bread. If you've never tried strawberry bread, prepare to be dazzled. This recipe creates a fresh loaf of the stuff that's full of heart-healthy coconut oil, crunchy pecan nuts for a dose of healthy fats and cinnamon, one of the healthiest herbs.
Because it uses gluten-free flour, it's appropriate for those following a Paleo diet and it's vegan-friendly, too. It does double duty as a sweet breakfast — combine it with yogurt for more protein — or a dessert. And because this strawberry bread recipe requires only 15 minutes of hands-on time, it's the perfect recipe to make when company unexpectedly arrives.
Let's get started, shall we?
Choose the freshest, juiciest strawberries you can get your hands on and slice 'em up. Throw them in a bowl and then sprinkle with 2 tablespoons of coconut sugar, reserving the rest. Steal a few sugary berries from the bowl and nibble. I won't tell.
In a separate bowl, combine flour, the rest of your coconut sugar, cinnamon, salt and baking soda and stir to combine.
Back to the berry bowl! Add coconut oil and eggs into the bowl and then add in the bowl of dry ingredients. Don't mix these up too much; we want to stir these together until all the ingredients are just combined.
Add in pecans (or another nut of your preference — even chocolate chips would be delicious!) and transfer the whole heaping mixture to a standard-sized greased loaf pan.
Bake for 45–50 minutes or until done.
Tip: stick a toothpick in the loaf. When the toothpick comes out clean, the loaf is ready. Let the loaf cool and enjoy! If you're serving this as a dessert, a heaping scoop of ice cream makes a delicious accompaniment to this strawberry bread recipe. Enjoy!
Ingredients:
1 cup fresh strawberries
1½ cups gluten-free flour
1 cup + 2 tablespoons coconut sugar
1½ teaspoon cinnamon
½ teaspoon baking soda
½ teaspoon sea salt
½ cup + 2 tablespoons coconut oil
2 eggs, beaten
½ cup pecans, chopped
Directions:
Preheat oven to 350 degrees Fahrenheit.
Slice strawberries and place in bowl. Sprinkle lightly with 2 tablespoons of coconut sugar.
In a separate bowl, mix flour, coconut sugar, cinnamon, salt and baking soda.
Add coconut oil and eggs to the strawberries.
Add both bowls together and mix until just combined.
Stir in pecans and transfer mixture to greased loaf pan. Bake for 45–50 minutes or until cooked through.
Get FREE Access!
Dr. Josh Axe is on a mission to provide you and your family with the highest quality nutrition tips and healthy recipes in the world...Sign up to get VIP access to his eBooks and valuable weekly health tips for FREE!
Free eBook to boost
metabolism & healing
30 Gluten-Free Recipes
& detox juicing guide
Shopping Guide &
premium newsletter