Tuscan White Bean Soup Recipe
When the cold weather hits, few meals hit the mark the way soups do. Simple and delicious, they warm you right to the bones. You don't have to spend hours letting them simmer either — in fact, you can prepare a healthy, tasty soup in under an hour. Enter my Tuscan White Bean Soup.
This soup, inspired by cooking in Italy's Tuscan region, comes together in just 45 minutes. In keeping with Italian-style cooking and the Mediterranean diet, this hearty white bean soup is loaded with fresh, colorful veggies, like zucchini, carrots, kale, squash and cabbage and paired with healthy fats.
Two BPA-free cans of cannellini beans, also known as white beans, mean this Tuscan soup is full of fiber and protein, even with no meat. That's right, this soup is vegetarian. And while you could certainly eaten as a starter, with all of the veggie goodness inside, this one is best enjoyed as a main dish.
So what are we waiting for? Let's get cooking.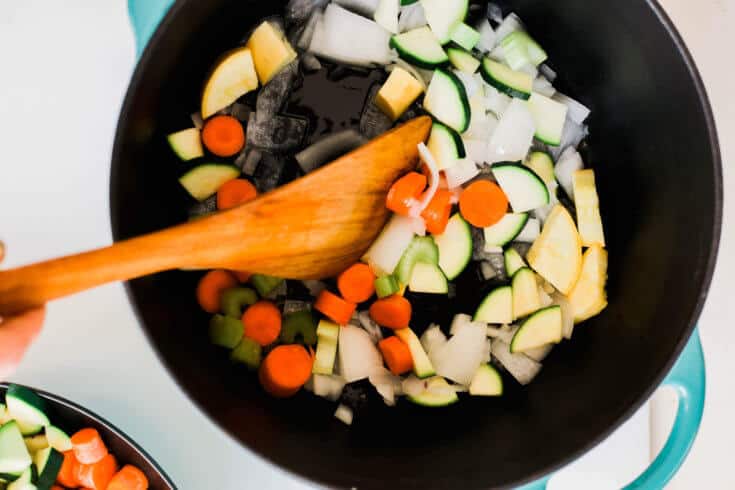 We'll start by adding avocado oil to the bottom of a stock pot. Add avocado oil and pan fry the carrots, onions, celery, garlic and squash over medium heat.
This heart-healthy oil is fantastic in cooking because it has a high smoke point, so nutrients are retained even at high temperatures.
I also especially like the benefit-rich celery in this Tuscan white bean soup. It adds some crunch and a distinct flavor with few calories. Did you know that celery is also packed with vitamin K and can lower inflammation? Those stalks are powerful!
Next, add in the broth. If you're vegetarian or vegan, opt for a veggie broth. If not, I highly suggest you try my Chicken Bone Broth Recipe in this bean soup. It's fantastic for your digestive system and one of my favorite healing foods. Using a store-bought broth is fine, too, if you're short on time!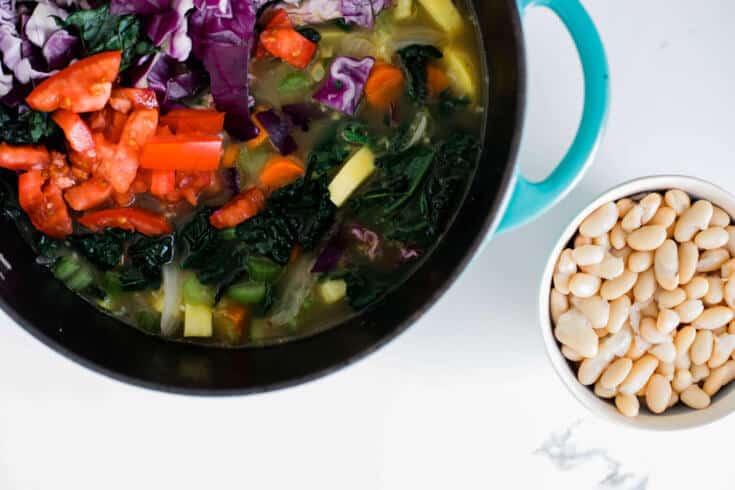 Next, add in the rest of the ingredients and let them simmer for half hour. This time will allow the cabbage and kale to soften.
Once the 30 minutes are up, turn off the heat and top the Tuscan white bean soup with shaved raw sheep or goat cheese. This is why I love the Mediterranean diet; it allows for little indulgences that are good for you, like fresh cheeses.
That's all there is to this bean soup. Ladle into a bowl and serve.
---
Today and tomorrow, I'm hosting a free presentation all about what I've created to be the fastest and most authoritative way to become a Certified Essential Oil Coach.
And you're invited! Click Here to Register
Whether you're in pursuit of essential oil mastery or you want to build an essential oil business, this is a must-see presentation. Plus, I've set aside a half hour to answer your questions.
Like I said, no charge and you can register here.
Tuscan White Bean Soup Recipe
Total Time: 45 minutes
Serves: 6-8
Ingredients:
2 tablespoons avocado oil
1 white onion chopped
3 carrots, diced
3 stalks of celery, chopped
3 cloves garlic, minced
1 tablespoon sage leaves
½ cup fresh parsley
1 roma tomato, diced
1 zucchini, diced
1 yellow squash, diced
1½ cup purple cabbage, sliced
1½ Lacinato kale
two 15.5 ounce cans of cannellini beans, rinsed
6 cups vegetable broth or chicken broth
Directions:
In the bottom of a stock pot add avocado oil and pan fry the carrots, onions, celery, garlic and squash over medium heat.
Add broth.
Add in the rest of the ingredients and simmer for 30 minutes.
Top with shaved raw sheep or goat cheese.
Get FREE Access!
Dr. Josh Axe is on a mission to provide you and your family with the highest quality nutrition tips and healthy recipes in the world...Sign up to get VIP access to his eBooks and valuable weekly health tips for FREE!
Free eBook to boost
metabolism & healing
30 Gluten-Free Recipes
& detox juicing guide
Shopping Guide &
premium newsletter