18 Low-Carb Desserts You'll Love
Kissairis Munoz
March 4, 2016
November 4, 2017
There are benefits and risks to following a low-carb diet which is why you probably don't want to follow one all the time. However, when you do, those low-carb meals aren't complete without low-carb desserts to top them off.

That's right, low-carb desserts do exist, and they're just as delicious as their carb-heavy counterparts. So if you're going low-carb, that's no need to give up the best meal of the day — dessert! These yummy treats are all on the healthier side, and while they're low in carbohydrates, they're high in flavor. Try one of these low-carb desserts at dinnertime. You're sure to find a new favorite.
---
18 Low-Carb Desserts You'll Love
Even tastier than a banana split, this no-bake cake is perfect for feeding a crowd. The crust is made with almond flour instead of graham crackers, while fresh bananas and strawberries top it all off. I love adding a sprinkling of nuts for some healthy fats, too!
---
The perfect snack to accompany a cup of tea, these blueberry scones are made from ingredients you probably already have in your kitchen. Coconut and almond flours make them nice and light, while fresh blueberries add a hint of sweetness, making these tremendous low-carb desserts.
---
3. Browned Butter Chocolate Chip Skillet Cookie
No dairy, no gluten, low-carb: This skillet cookie tastes delicious with just a few ingredients. Browning the butter adds so much flavor to this giant cookie that you might want to take this step in all your baked goods!
---
While "authentic" chocolate lasagna recipes use ingredients like Oreo cookies and Cool Whip, this low-carb dessert recipe replaces all that processed junk with wholesome variations, like almond flour, shredded coconut and homemade whipped cream. This is a lasagna done right!
---
5. Death by Chocolate Cheesecake
If death by chocolate is this good, then let it happen. With a chocolate crust, chocolate filling and whipped cream topping, this low-carb, sugar-free cheesecake will satisfy that sweet tooth.
---
6. Five-Minute Healthy Strawberry Frozen Yogurt
Why pay exorbitant prices for frozen yogurt when you can make your own? In five minutes and with just four ingredients, you'll have your own healthy low-carb dessert that can be stored for up to a month!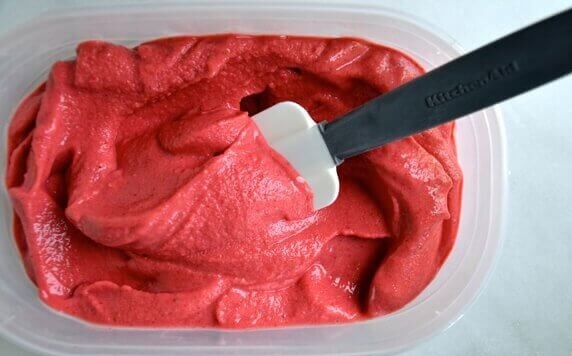 ---
7. Flourless Almond Butter Chocolate Chip Cookies
Five ingredients, eight minutes, no flour — it's just impossible that you won't love these chocolate chip cookies. If you're not a fan of almond butter, sub in your favorite nut one instead. I'd suggest just making an extra batch right now.
---
8. Flourless Chocolate Cookies
When you really want to get your chocolate on, these chocolate cookies will do the trick. Cocoa powder gives them that velvety taste while the optional chocolate chips add even more chocolatey taste. Use arrowroot powder instead of cornstarch here.
---
This sugar-free, low-carb dessert for two is so easy to make and perfect for sharing on date night. After mixing the ingredients in a bowl, this brownie bakes right in the skillet. One pan, two spoons coming right up!
---
10. Healthy Chocolate Fudge Truffles
At just 50 calories a piece and full of good-for-you ingredients like avocado, yogurt and protein powder, these low-carb truffles are a protein-rich dessert bites that are especially delicious after the gym … or lunch … or anytime, really.
---
11. Lemon Almond Shortbread Cookies
Can you believe these cookies have just four ingredients?! They're an excellent choice for an easy, low-carb dessert, particularly during springtime. You can even use this cookie recipe as a pie crust or tart base — yum!
---
Made with only wholesome ingredients like coconut oil, almond flour and and lemon extract, these cheesecake bars are sure to be a hit. Because they do use a lot of cream cheese, save these for an extra-special occasion.
---
13. Lemon Poppyseed Protein Cookies
Gluten-free, high-protein and low-carb, these lemon poppyseed cookies have it all. If you love them as much as I do, you can even eat them as a low-carb breakfast — yes, that's how healthy they are!
---
If you want to get more eggs into your diet, this custard is a tasty way to do it. It's super easy to make and finished with a three-ingredient caramel sauce that you might start drizzling on everything.
---
15. Snickerdoodle Cookie Dough Balls
These no-bake dough balls will satisfy even the pickiest eaters. They're vegan, grain-free, low-carb and taste like snickerdoodles. How could you go wrong? The almond butter adds a good dose of protein, while coconut milk and coconut flour add healthy benefits. This is a dessert you can feel good about serving the kids, too.
---
16. Strawberry Lime Mojito Cheesecake
Who needs an alcoholic mojito when you can eat this low-carb dessert instead? This is one of my favorite cheesecakes, and while the ingredients list looks long, it's completely worth it.
---
17. Sugar-Free Low-Carb Coffee Ricotta Mousse
When coffee, whipped cream and ricotta cheese meet, they make this amazing low-carb mousse. The ricotta keeps this light and fluffy, while the coffee gives you a caffeine boost. How's that for getting your java fix?
---
This fudge takes only 10 minutes to prepare and requires just five ingredients. The crunchy walnuts and smooth chocolate make a terrific pair for a low-carb dessert that's also gluten-free!
---
From the sound of it, you might think leaky gut only affects the digestive system, but in reality it can affect more. Because Leaky Gut is so common, and such an enigma, I'm offering a free webinar on all things leaky gut. Click here to learn more about the webinar.
Get FREE Access!
Dr. Josh Axe is on a mission to provide you and your family with the highest quality nutrition tips and healthy recipes in the world...Sign up to get VIP access to his eBooks and valuable weekly health tips for FREE!
Free eBook to boost
metabolism & healing
30 Gluten-Free Recipes
& detox juicing guide
Shopping Guide &
premium newsletter