Dr. Axe

>

Beauty
Homemade Canker Sore Remedy & Mouth Rinse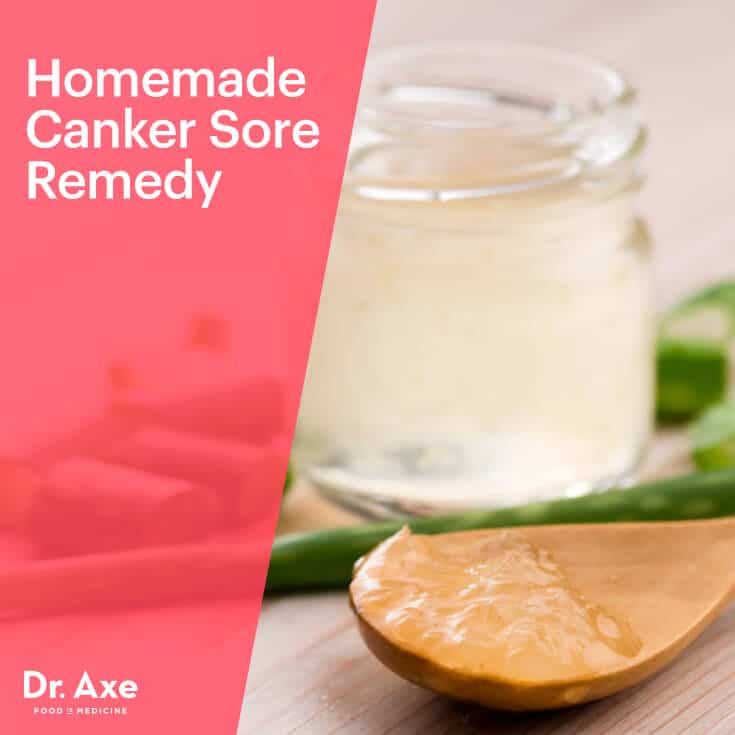 Nobody likes those small yet painful lesions known as canker sores. Whether you have one on the inside of your cheeks or lips, underneath your tongue or at the base of your gums, I'm here to help you get rid of it fast and naturally with this canker sore remedy!
Unlike fever blisters or cold sores (caused by the herpes virus), canker sores are never on the outside of the mouth and are absolutely not contagious. However, they can hurt, especially when talking or eating, and they are just plain annoying.
The exact cause of canker sores is still unknown, but if you do have a canker sore, you can reduce irritation and pain by avoiding hot and spicy food as well as toothpaste or mouth rinse containing sodium lauryl sulfate.
The good news? Most canker sores are very small (under 1/3 of an inch) and go away on their own within a week or two without any scarring. But healing time will be even quicker if you try this simple yet highly effective DIY canker sore remedy.
The first ingredient, baking soda (sodium bicarbonate), is a natural pH regulator. One of the many baking soda uses is for canker sores, which are believed to sometimes be caused by overconsumption of acidic foods or drinks. When baking soda comes into contact with an acidic substance, it naturally neutralizes the pH. So when baking soda comes into contact with a canker sore, it will immediately help to balance the pH of the sore — speeding up the healing of your whole mouth and discouraging additional canker sore formation.
The other main ingredient of the recipe, benefit-rich aloe vera, is loaded with biologically active components like vitamins, enzymes, amino acids and polysaccharides. Aloe has a long and impressive history of soothing health issues, especially when it comes to the body's tissues.
This recipe utilizes aloe as a key ingredient because of its ability to reduce inflammation, soothe irritation and promote acceleration of the healing process of the soft tissue inside your mouth where canker sores can temporarily live.
Give this easy-to-make canker sore remedy a try, as it's sure to ease pain and shorten the duration of that cranky canker sore!
[webinarCta web='hlg']
Homemade Canker Sore Remedy & Mouth Rinse
Total Time: 4 minutes
Serves: 1
Ingredients:
1 teaspoon baking soda
2 tablespoons aloe vera juice
1/2 cup warm water
Directions:
Combine all ingredients in a small glass or mug and stir well to blend ingredients.
Take a small sip and swish mixture around in your mouth for at least 10 seconds. Repeat until no rinse is left. Do not swallow.
Repeat 1x daily until canker sore completely heals.
Get FREE Access!
Dr. Josh Axe is on a mission to provide you and your family with the highest quality nutrition tips and healthy recipes in the world...Sign up to get VIP access to his eBooks and valuable weekly health tips for FREE!
Free eBook to boost
metabolism & healing
30 Gluten-Free Recipes
& detox juicing guide
Shopping Guide &
premium newsletter