This Dr. Axe content is medically reviewed or fact checked to ensure factually accurate information.
With strict editorial sourcing guidelines, we only link to academic research institutions, reputable media sites and, when research is available, medically peer-reviewed studies. Note that the numbers in parentheses (1, 2, etc.) are clickable links to these studies.
The information in our articles is NOT intended to replace a one-on-one relationship with a qualified health care professional and is not intended as medical advice.
This article is based on scientific evidence, written by experts and fact checked by our trained editorial staff. Note that the numbers in parentheses (1, 2, etc.) are clickable links to medically peer-reviewed studies.
Our team includes licensed nutritionists and dietitians, certified health education specialists, as well as certified strength and conditioning specialists, personal trainers and corrective exercise specialists. Our team aims to be not only thorough with its research, but also objective and unbiased.
The information in our articles is NOT intended to replace a one-on-one relationship with a qualified health care professional and is not intended as medical advice.
Best Sunscreens & Toxic Ones to Avoid
May 25, 2023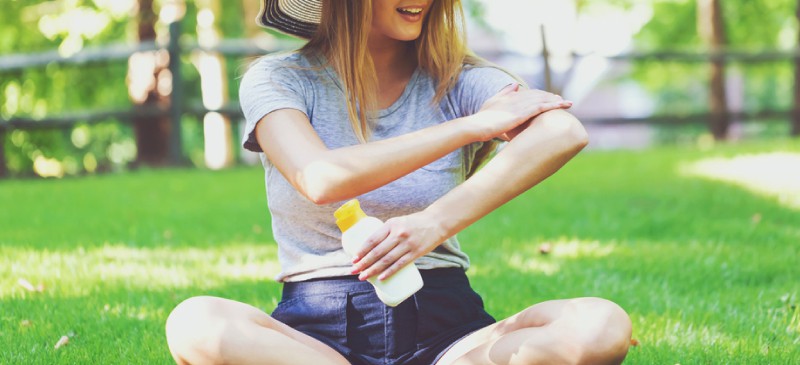 It's no secret that the sun (in moderate doses) provides all sorts of health benefits, including helping our bodies manufacture vital vitamin D. With warmer weather right around the corner, though, many people are looking for the best sunscreens to cut their risk of sun overexposure, sunburns and possibly skin cancer.
Environmental Working Group's 17th annual Guide to Sunscreens is a mix of good and bad news when it comes to the state of sunscreens sold in America and beyond. For instance, oxybenzone — a suspected hormone-disrupting chemical that is readily absorbed into the body — is used much less in the more than 1,700 products EWG examined, but it was still found, as were other troubling ingredients.
The National Toxicology Program released findings linking oxybenzone exposure to a higher risk of thyroid tumors in female rats. Even the European Commission, which reviews ingredient safety in Europe, published a final opinion finding oxybenzone unsafe for use at current levels.
"We slather these ingredients on our skin, but many of these chemicals haven't been adequately tested," said Carla Burns, EWG senior director for cosmetic science. "Despite the known toxicity concerns, oxybenzone is still widely used as a non-mineral active ingredient in sunscreens. The long-term use of these chemicals, and especially chemicals not adequately tested for safety, could be problematic."
To help navigate the sunscreen landscape, the group introduced the EWG VERIFIED® Sunscreen, sunscreens that both meet EWG's strict standards for sun protection and avoid harmful ingredients. In this 17th annual guide, the group found that only one in four of the more than 1,700 sunscreens reviewed met those standards.
As EWG explains about EWG VERIFIED®:
EWG VERIFIED sunscreens meet our exacting standards for ingredient safety, transparency and efficacy. Looking for this mark is a quick and easy way to identify the most protective products from the hundreds that are featured in our Guide to Sunscreens.

To get approved for the EWG VERIFIED mark, products must first be formulated to achieve our criteria for ingredient safety, the same requirement that thousands of EWG VERIFIED cosmetics have to meet. Sunscreens must also meet performance criteria to ensure strong UVA protection. EWG VERIFIED frees consumers from the same limited sunscreen options every year.
Sunscreen Chemicals Build Up in Your Blood
The effects of sunscreen may linger longer than expected, too. An U.S. Food and Drug Administration-led 2020 study found that "chemical sunscreen ingredients are systemically absorbed after one application, and some ingredients can stay in the blood for at least three weeks."
The sunscreen chemicals tested in this FDA study included avobenzone, oxybenzone, octocrylene, homosalate, octisalate and octinoxate, and all six active ingredients tested readily absorbed into the bloodstream of humans involved the study — and at concentrations that surpass an important FDA safety threshold.
This builds on previous research showing that sunscreen chemicals hit the bloodstream within a day of using them — and at levels high enough to prompt a government investigation on safety.
Some public safety experts say this is just one example of the backward nature of product regulation in the U.S.
Beyond safety issues is another question: Does sunscreen even work? EWG found that nearly 75 percent of sunscreens don't work and/or contain concerning ingredients that are readily absorbed by the body.
Things may be slowing moving in the right direction, but for now, the onus is still on the consumer to find sunscreen that's safer and actually works.  
Are You Using the Best Sunscreens?
A past EWG report cited research of Brian Diffey, Ph.D., emeritus professor of photobiology at the Institute of Cellular Medicine at Newcastle University. He's shown that, on average, U.S. sunscreens allow about three times more UVA rays to transfer through skin compared to European sunscreens.
In fact, Americans' sunscreen choices are fewer and often offer worse UVA protection compared to those available in the European Union.
This matters because UVA rays are more abundant than UVB rays, and UVA damage is more subtle than the sunburns induced mainly by UVB rays. UVA rays can damage your skin invisibly by suppressing the immune system and aging the skin over time. Overexposure of these rays are also linked to the development of melanoma, squamous cell carcinoma and basal cell carcinoma, too.
According to EWG, most sunscreens sold in the U.S. would not be sold in Europe, which sets much more stringent UVA standards.
Excess UVA radiation is tied to aging, immune system damage and a higher risk of certain cancers.
Sunscreen Is Only One Tool in the Sun Safety Toolbox
Now, it's important to note that there is no perfect sunscreen. Many contain harmful chemicals, and even mineral-based ones could contain nanoparticles, minute ingredients that can cross the blood-brain barrier and also harm aquatic life.
Beyond that, sunscreen is unique compared to many other personal care products because you coat it thickly onto your skin, often multiple times a day. You don't get that type of hours-long, skin-absorbing exposure with something like, say, shampoo you quickly wash off.
That's why it's very important to look for safer sunscreens if you use them and to recognize that you can't only rely on sunscreens alone to prevent sun overexposure.
No product is going to be fully protective, and no product will last on your skin for more than two hours max, EWG has noted. The group says thickly applying sunscreen coatings, reapplying every time you're out of the water and choosing a better product to begin with are all key.
Other sun-smart methods to avoid overexposures are a must. In fact, sunscreen should actually be your last line of defense against the sun after adopting other more effective measures. (More on those later.)
In the EWG's 2023 best sunscreens report, the group analyzed the ingredients and labeling claims of more than 1,700 products with SPF.
"The sunscreen industry continues to bury its head in the sand," says Scott Faber, EWG's senior Vice President for government affairs. "The market is flooded with products that provide poor UVA protection and use concerning ingredients. Sunscreen sales have increased dramatically, so sunscreen companies can certainly afford to conduct the studies needed to ensure their customers are safe." 
So what are the best sunscreens out there? Let's take a look.
The Best Sunscreens of 2023: For Recreation 
"Based on the best current science and toxicology data, we continue to recommend sunscreens with the mineral active ingredients zinc oxide and titanium dioxide, because they are the only two ingredients the FDA recognized as safe or effective in their proposed draft rules," Burns says.
Here are some of the most highly rated sunscreens that met EWG's criteria for safety and effectiveness:
Beautycounter Countersun Mineral Sunscreen Lotion, SPF 30
Babo Botanicals Sheer Mineral Sunscreen Lotion, SPF 50
ATTITUDE Mineral Sunscreen Stick, Unscented, SPF 30
ATTITUDE Mineral Sunscreen Stick, Kids, Unscented, SPF 30
ATTITUDE Mineral Sunscreen Stick, Orange Blossom, SPF 30
ATTITUDE Mineral Sunscreen Stick, Kids, Tropical, SPF 30
ATTITUDE Mineral Sunscreen Stick, Tropical, SPF 30
Babo Botanicals Clear Zinc Sunscreen Lotion, SPF 30
Babo Botanicals Baby Skin Mineral Sunscreen Lotion, SPF 50
ATTITUDE Mineral Sunscreen Stick, Face, Unscented, SPF 30
Beautycounter Countersun Mineral Sunscreen Stick, SPF 30
ATTITUDE Mineral Sunscreen Stick, Kids, Face, Unscented, SPF 30
For its 2023 sunscreen report, EWG rated these products to be among the best:
Solara Suncare Clean Freak Nutrient Boosted Daily Sunscreen, Unscented, SPF 30
True Botanicals Everyday Skin Tints, SPF 30
Beautycounter Countersun Daily Sheer Defense for Face, SPF 25
Ao Skincare 6000X Elemental Screen, SPF 30
Solara Suncare Time Traveler Ageless Daily Face Sunscreen, Unscented, SPF 30
Solara Suncare Clean Freak Nutrient Boosted Daily Sunscreen, Naturally Scented, SPF 30
Biossance Squalane + Zinc Sheer Mineral Sunscreen, SPF 30
Rejuva Minerals Sheer Daily Wear Face Protection, SPF 16
True Botanicals Skin Barrier Sun Shield, SPF 30
Biossance Squalane + Mineral, SPF 45
If you're looking for lip balm with SPF protection, EWG suggests these picks. 
Top Picks for the Best Baby Sunscreens (and Overall Kid-Friendly Picks)
ATTITUDE Mineral Sunscreen Stick, Kids, Unscented, SPF 30
ATTITUDE Mineral Sunscreen Stick, Kids, Tropical, SPF 30
Babo Botanicals Baby Skin Mineral Sunscreen Lotion, SPF 50
ATTITUDE Mineral Sunscreen Stick, Kids, Face, Unscented, SPF 30
Most Toxic Sunscreens to Avoid
Here's a big takeaway that'll make things somewhat less complicated. EWG recommends avoiding all spray sunscreens.
Not only are they very difficult to apply effectively and evenly, but there's some concern the ingredients could potentially cause irreversible lung damage. The truth is, the ingredients just haven't been tested in the aerosol capacity for long-term impact on human health, like so many other everyday chemicals, unfortunately. 
In 2021, spray sunscreens contaminated with benzene, a known carcinogen, prompted a sunscreen recall of 14 popular products. Independent testing found that the problem is widespread.
When it comes to sunscreens, here are some of the other worst overall offenders scoring in the Red Zone (10) for major safety concerns. Overall, these products tested poorly in the EWG analysis and are considered bad choices for sun protection.
Just remember, this list is not exhaustive. To check your favorite sunscreen or to peruse the database, click here.
Neutrogena Beach Defense Water + Sun Protection Sunscreen Spray, SPF 70
Hawaiian Tropic Weightless Hydration Sunscreen Clear Spray, SPF 70
COOLA Classic Body Sunscreen Spray, Peach Blossom, SPF 70
Bare Republic Clearscreen Sunscreen Spray, SPF 100
Banana Boat Ultra Defense Clear Sunscreen Spray, SPF 100
La Roche-Posay Anthelios Ultra Light Sunscreen Lotion Spray, SPF 60
Australian Gold Botanical Natural Sunscreen Spray, SPF 70
Banana Boat Ultra Sport Clear Sunscreen Spray, SPF 100
Banana Boat Ultra Sport Sunscreen Lotion, SPF 100
CVS Health Ultra Sheer Sunscreen Lotion, SPF 100
Alba Botanica Hawaiian Sunscreen Spray, Fragrance Free, SPF 70
Banana Boat Kids Clear Sunscreen Spray, SPF 65
Banana Boat Kids MAX Clear Sunscreen Spray, SPF 100
Banana Boat Ultra Sport Clear Sunscreen Spray, SPF 65
The Seaweed Bath Co. Sport+ Cooling Mist, Peppermint & Aloe, SPF 60
Panama Jack Sunscreen Lotion, SPF 100
Equate Beauty Ultra Light Sunscreen Lotion, SPF 100
This is by no means a complete list. Be sure to check your individual product's safety assessment at EWG.org.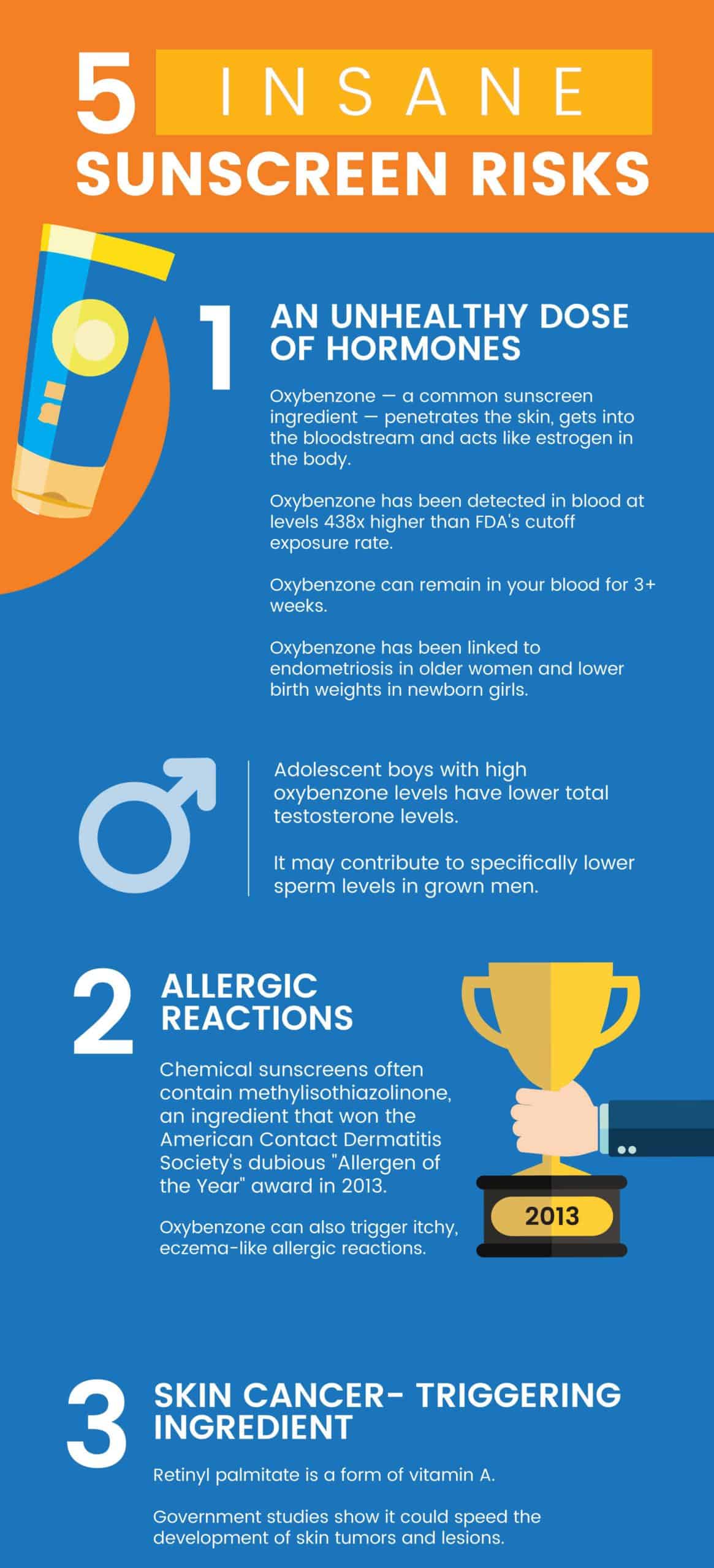 Key Findings in EWG's Sunscreen Report
Oxybenzone, found to be a troublesome ingredient for many reasons, is on the way out. As EWG puts it, "The rapid decline in use of oxybenzone is due to concerns about skin absorption and its potential to harm to health. But it's still permitted for use in U.S. sunscreens, so consumers should remain vigilant – it's in just 6 percent of all products and 13 percent of the non-mineral recreational sunscreens in our Guide to Sunscreens. This represents a steep drop by more than half compared to how much the ingredient was used in 2022."
EWG recommends avoiding high-SPF sunscreens, as they've been shown that they provide limited benefits compared to lower-SPF sunscreens, and they can give people a false sense of security against the sun. More than 80 tested sunscreens had SPF of 50 or greater, and EWG recommends avoiding products with SPF over 50.
Spray sunscreens contain cancer-causing benzene, so you should avoid them.
Europe continues to do a far better job at sunscreen regulation than the U.S. "EWG estimates that most sunscreens sold in the U.S. would be too weak for the European market because they don't filter UVA rays well enough. An EWG study of laboratory tests of 51 sunscreen products found that only 35 percent of the products tested met the EU standard, but 94 percent would pass the current U.S. standard."
Your skin is your body's largest immune system organ. Excess sun exposure can impair the immune system, but many sunscreen chemicals are readily absorbed into the bloodstream, where they could cause ill effects, too.
Stanford University dermatologists concluded that people who relied solely on sunscreens for sun protection got more sunburns than people who reported infrequent sunscreen use but wore hats and clothing to shield themselves from the sun.
An EWG analyst warns: "Sunscreen is only one form of sun protection and should not be relied on alone. It's also important to wear sunglasses, hats and t-shirts, stay in the shade, and avoid the midday sun."
The rate of new melanoma cases among American adults has tripled since the 1970s.
Evidence is increasing that UVA exposure causes skin cancer. Despite that, sunscreen rules requiring adequate UVA protection are lacking.
Oxybenzone is in widespread use in American chemical-based sunscreens. Lab testing shows skin penetration rates of 1 percent to 9 percent. That's concerning, given the fact that it acts like an estrogen in the body and is linked to abnormal sperm function in animal studies and endometriosis in studies of women. Oxybenzone also acts as a skin allergen in a significant number of people. (So does methylisothiazolinone, a common sunscreen preservative found in the majority of products surveyed.) Thankfully, places like Hawaii and Key West have banned oxybenzone in sunscreen due to its ability to bleach and kill coral reefs.
In a previous EWG review, about 40 percent of sunscreens contained vitamin A ingredients. This type of ingredient can react with UV rays and increase the risk of skin tumors, according to government animal testing data.
Scientists don't know for sure if sunscreen helps prevent melanoma. In fact, as EWG notes in its executive summary of the sunscreen guide, "Sun exposure appears to play a role in melanoma, but it is a complex disease for which many questions have not been answered. One puzzling fact: Melanomas do not usually appear on parts of the body that get daily sun exposure."
Be wary of ultra high SPF claims. There are more of them today than several years ago. The U.S. hasn't approved modern sunscreen ingredients that would do a better job of broad-spectrum protection. Because of this, UVA protection is often lacking in SPF 70+ products. In other developed countries, SPF is usually capped at 50.
Avoid spray sunscreens. It's very difficult to apply in a thickness that will provide adequate protection, plus, it increases the risk you're sending potentially damaging sunscreen chemicals directly into your lungs (and the lungs of everyone sitting around you.)
The FDA is proposing that all sprays and powders undergo additional proposes that all spray products undergo additional safety testing to ensure they can't be inhaled deep into the lungs and cause irreversible damage.
Inactive ingredients often make up 50 percent to 70 percent of sunscreen formulations, and EWG urges the FDA to investigate the safety of these ingredients, too.
FDA pilot testing uncovered spray sunscreen products that would not meet proposed standards.
EWG recommends that consumers avoid all spray and powder sunscreen products.
If you're opting for sunscreen for protection from overexposure to the sun, EWG advises to opt for mineral-based sunscreen products with zinc oxide or titanium dioxide active ingredients and avoid products with ingredients like oxybenzone and retinyl palmitate.
If you avoid the sun, get your vitamin D levels checked at your health care provider. A growing number of the population is deficient, thanks to sunscreens and spending more time indoors.
The good news is you can get enough vitamin D and protect yourself from burns without always turning to sunscreen.
How to Avoid Too Much Sun
Getting some sun exposure is vital for good health because it helps your body create vitamin D. There are multiple ways to get vitamin D, but your best bet is to get it from standing in the sun or eating vitamin D-rich foods. In fact, sitting in the sun unexposed for about 10 minutes helps your body create roughly 10,000 units of natural vitamin D.
Vitamin D deficiency has been linked to certain cancers, autoimmune diseases, heart disease, depression, osteoporosis and many other ailments, so it's important to get enough. Like almost anything, though, you can get too much of a good thing and want to make sure you avoid sunburns.
You should consider sunscreen your last resort to prevent sunburns, though. In fact, there's no clear evidence that using sunscreens actually prevents skin cancer — including in the best sunscreens — and some ingredients may actually fuel skin cancer.
Avoid overexposure during peak sunlight hours, and use sunglasses and sun-protective hats and clothing. These things reduce your risk of burns without sunscreen.
Final Thoughts
When direct sunlight hits our skin under peak conditions, our bodies manufacture high levels of vitamin D. Not getting enough vitamin D has been linked to all sorts of health problems, including cancer, arthritis, depression and other diseases.

However, you can get too much of a good thing, which is why it's important to take steps to prevent overexposure and sunburns.

There is no perfect sunscreen. Mineral sunscreens generally rate safer, but they often contain nanoparticles that are not tightly regulated or studied for long-term impact on human or aquatic health. Chemical sunscreens often contain hormone-disrupting chemicals or even an ingredient that could trigger skin cancer. Still, EWG's report helps consumers seeking sunscreen find safer choices while avoiding the most poorly rated brands.

Sunscreen should be used as a last resort. Sun-protective measures like hats, sunglasses, seeking shade and avoiding peak sunlight for extended periods of time should be used before turning to sunscreen, and when you do choose sunscreen, make sure it's one of the best sunscreens.