This Dr. Axe content is medically reviewed or fact checked to ensure factually accurate information.
With strict editorial sourcing guidelines, we only link to academic research institutions, reputable media sites and, when research is available, medically peer-reviewed studies. Note that the numbers in parentheses (1, 2, etc.) are clickable links to these studies.
The information in our articles is NOT intended to replace a one-on-one relationship with a qualified health care professional and is not intended as medical advice.
This article is based on scientific evidence, written by experts and fact checked by our trained editorial staff. Note that the numbers in parentheses (1, 2, etc.) are clickable links to medically peer-reviewed studies.
Our team includes licensed nutritionists and dietitians, certified health education specialists, as well as certified strength and conditioning specialists, personal trainers and corrective exercise specialists. Our team aims to be not only thorough with its research, but also objective and unbiased.
The information in our articles is NOT intended to replace a one-on-one relationship with a qualified health care professional and is not intended as medical advice.
Top Tea Tree Oil Uses and Benefits
December 27, 2022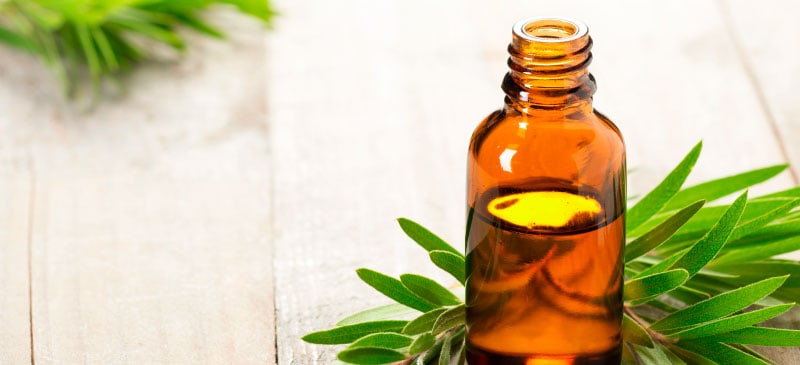 Tea tree oil, also known as melaleuca, is well-known for its powerful antiseptic properties and ability to treat wounds, which is why it's one of the top antibacterial essential oils.
Tea tree is a volatile essential oil derived mainly from the Australian native plant Melaleuca alternifolia. It's been widely used throughout Australia for at least the past 100 years, and for over seven decades, it's been documented in numerous medical studies for its ability to kill many strains of bacteria, viruses and fungi.
Tea tree oil uses are numerous — it can be used to make homemade cleaning products, diffused to kill toxic mold that's growing in your home, and applied topically to heal skin issues and treat skin infections.
I use this powerful essential oil in my tea tree oil for acne recipe and many other DIY recipes that have become part of my daily routine.
Tea tree oil is becoming an increasingly popular active ingredient in a variety of household and cosmetic products, including disinfectant sprays, face washes, shampoos, massage oils, skin and nail creams, and laundry detergents.
Research shows that tea tree's natural antiseptic and anti-inflammatory actions make it one of the most beneficial essential oils that should included as part of your natural medicine cabinet.
What Is Tea Tree Oil?
Tea tree oil is a volatile essential oil derived from the Australian plant Melaleuca alternifolia. The Melaleuca genus belongs to the Myrtaceae family and contains approximately 230 plant species, almost all of which are native to Australia.
Tea tree oil is an ingredient in many topic formulations that are used to treat infections, and it's marketed as an antiseptic and anti-inflammatory agent in Australia, Europe and North America. You can also find tea tree in a variety of household and cosmetic products, like cleaning products, laundry detergent, shampoos, massage oils, and skin and nail creams.
What is tea tree oil good for? Well, it's one of the most popular plant oils because it works as a powerful disinfectant and is gentle enough to apply topically in order to fight skin infections and irritations.
Tea tree's primary active ingredients include terpene hydrocarbons,  monoterpenes and sesquiterpenes. These compounds give tea tree its antibacterial, antiviral and antifungal activity.
There are actually over 100 different chemical components of tea tree oil — terpinen-4-ol and alpha-terpineol are the most active — and various ranges of concentrations.
Studies indicates that the volatile hydrocarbons found in the oil are considered aromatic and capable of traveling through air, pores of the skin and mucus membranes. That's why tea tree oil is commonly used aromatically and topically to kill germs, fight infections and soothe skin conditions.
Benefits
1. Fights Acne and Other Skin Conditions
Due to tea tree oil's antibacterial and anti-inflammatory properties, it has potential to work as a natural remedy for acne and other inflammatory skin conditions, including eczema and psoriasis.
A 2017 pilot study conducted in Australia evaluated the efficacy of tea tree oil gel compared to a face wash without tea tree in the treatment of mild to moderate facial acne. Participants in the tea tree group applied the oil to their faces twice a day for a 12-week period.
Those using tea tree experienced significantly fewer facial acne lesions compared to those using the face wash. No serious adverse reactions occurred, but there were some minor side effects like peeling, dryness and scaling, all of which resolved without any intervention.
2. Improves Dry Scalp
Research suggests that tea tree oil is able to improve symptoms of seborrheic dermatitis, which is a common skin condition that causes scaly patches on the scalp and dandruff. It's also reported to help alleviate contact dermatitis symptoms.
A 2002 human study published in the Journal of the American Academy of Dermatology investigated the efficacy of 5 percent tea tree oil shampoo and placebo in patients with mild to moderate dandruff.
After a four-week treatment period, participants in the tea tree group showed a 41 percent improvement in the severity of dandruff, while only 11 percent of those in the placebo group showed improvements. Researchers also indicated an improvement in patient itchiness and greasiness after using tea tree oil shampoo.
3. Soothes Skin Irritations
Although the research on this is limited, tea tree oil's antimicrobial and anti-inflammatory properties may make it a useful tool for soothing skin irritations and wounds. There is some evidence from a pilot study that after being treated with tea tree oil, patient wounds began to heal and reduced in size.
There have been case studies that show tea tree oil's ability to treat infected chronic wounds.
Tea tree oil may be effective in reducing inflammation, fighting skin or wound infections, and reducing wound size. It can be used to soothe sunburns, sores and insect bites, but it should be tested on a small patch of skin first to rule out a sensitivity to topical application.
4. Fights Bacterial, Fungal and Viral Infections
According to a scientific review on tea tree published in Clinical Microbiology Reviews, data clearly shows the broad-spectrum activity of tea tree oil due to its antibacterial, antifungal and antiviral properties.
This means, in theory, that tea tree oil can be used to fight a number of infections, from MRSA to athlete's foot. Researchers are still evaluating these tea tree benefits, but they have been shown in some human studies, lab studies and anecdotal reports.
Lab studies have showed that tea tree oil can inhibit the growth of bacteria like Pseudomonas aeruginosa, Escherichia coli, Haemophilus influenzae, Streptococcus pyogenes and Streptococcus pneumoniae. These bacteria cause serious infections, including:
pneumonia
urinary tract infections
respiratory illness
bloodstream infections
strep throat
sinus infections
impetigo
Because of tea tree oil's antifungal properties, it may have the ability to fight or prevent fungal infections like candida, jock itch, athlete's foot and toenail fungus. In fact, one randomized, placebo-controlled, blinded study found that participants using tea tree reported a clinical response when using it for athlete's foot.
Lab studies also show that tea tree oil has the ability to fight recurrent herpes virus (which causes cold sores) and influenza. The antiviral activity displayed in studies has been attributed to the presence of terpinen-4-ol, one of the oil's main active components.
5. May Help Prevent Antibiotic Resistance
Essential oils like tea tree oil and oregano oil are being used in replacement of or along with conventional medications because they serve as powerful antibacterial agents without the adverse side effects.
Research published in the Open Microbiology Journal indicates that some plant oils, like those in tea tree oil, have a positive synergistic effect when combined with conventional antibiotics.
Researchers are optimistic that this means plant oils may help prevent antibiotic resistance from developing. This is extremely important in modern medicine because antibiotic resistance may lead to treatment failure, increased health care costs and the spread of infection control problems.
6. Relieves Congestion and Respiratory Tract Infections
Very early in its history, the leaves of the melaleuca plant were crushed and inhaled to treat coughs and colds. Traditionally, the leaves were also soaked to make an infusion that was used to treat sore throats.
Today, studies show that tea tree oil has antimicrobial activity, giving it the ability to fight bacteria that lead to nasty respiratory tract infections, and antiviral activity that's helpful for fighting or even preventing congestion, coughs and the common cold. This is exactly why tea tree is one of the top essential oils for cough and respiratory issues.
7. Helps Treat Head Lice
Tea tree oil has insecticidal effects and can be used to get rid of head lice, which are small, parasitic insects that feed on human blood. A lab study conducted in Italy investigated the efficacy of tea tree oil against lice and its eggs.
Tea tree was used alone and in combination with nerolidol and tested at different ratios against 69 head lice and 187 eggs over a six-month period. Researchers found that tea tree oil alone was more effective against head lice, with treatment resulting in 100 percent mortality after 30 minutes of exposure.
A higher concentration of tea tree oil was able to induce the failure of 50 percent of the eggs to hatch. When tea tree oil was combined with nerolidol at a 1:2 ratio, the two substances caused the death of all head lice within 30 minutes and the abortive effect of lice eggs after five days of treatment.
8. Helps Treat Scabies
A common question is: Can tea tree oil get rid of scabies? The answer, according to lab studies, is yes.
A study conducted at Flinders University in Australia found that 5 percent tea tree oil and its active component terpinen-4-ol were highly effective in reducing the survival of scabies mites. Tea tree works as a natural treatment for scabies because it has powerful antimicrobial properties, giving it the ability to treat scabies on top of and beneath the skin.
9. Improves Bad Breath
Bad breath comes from bacteria that is found in your mouth, especially the back of your tongue, throat and tonsils. Because tea tree oil has antimicrobial properties that can kill this bacteria, it works as a natural remedy for bad breath.
An in vitro study also shows that tea tree oil acts as an effective antiseptic agent against oral pathogens, including Candida albicans, methicillin-resistant Staphylococcus aureus and Escherichia coli. This tea tree oil benefit can be extremely helpful after oral surgery, like a root canal, that increases your risk of developing a bacterial or fungal infection.
Keep in mind that tea tree oil should not be used internally, so if you are using it as a mouthwash to kill oral germs, make sure to spit it out afterward and rinse your mouth with water.
Uses
Tea tree oil can be used to make natural beauty, health and cleaning products that are free from dangerous chemicals. It can be used in the following ways:
Aromatically: Diffuse tea tree oil throughout your home using an oil diffuser. You can also directly inhale the oil by sniffing it right out of the bottle.
Topically: Tea tree oil can be applied to the skin topically, but you should always dilute it with a carrier oil (like jojoba oil) in a 1:1 ratio before applying it.
NOT for internal use: According to the National Poison Center, tea tree oil is known to be poisonous if swallowed. Tea tree oil should NOT be taken by mouth for any reason. If you are using tea tree for foul breath or oral health, make sure you spit it out afterward to prevent potential side effects like digestive issues, hives or dizziness.
Here are some basic ways that you can use tea tree oil at home to transform your health.
1. Natural Acne Fighter
One of the most common uses for Australian tea tree oil today is in skin care products, as it's considered one of the most effective home remedies for acne.
You can make a homemade gentle tea tree oil acne face wash by mixing five drops of pure tea tree essential oil with two teaspoons of raw honey. Simply rub the mixture on your face, leave it on for one minute and then rinse it off with warm water.
2. Improve Psoriasis and Eczema
Tea tree oil may help relieve many types of skin inflammation, including being used as a natural eczema treatment and for reducing psoriasis. Simply mix one teaspoon of coconut oil, five drops of tea tree oil and five drops of lavender oil to make your own skin improving lotion or body soap.
3. Boost Hair Health
Tea tree oil has proven very beneficial for the health of your hair and scalp. It has the ability to soothe dry, flaking scalp and remove dandruff.
To make homemade tea tree oil shampoo, mix several drops of tea tree essential oil with aloe vera gel, coconut milk  and other extracts like lavender oil.
4. Natural Treatment for Lice
To get rid of head lice naturally, combine three tablespoons of coconut oil with one teaspoon each of ylang ylang and tea tree oils. Apply this mixture all over the scalp, massaging it in thoroughly.
Then comb through the hair with a fine-tooth comb, cover the head with a shower cap and let it sit for two hours. Comb through the hair again, and rinse out the oils.
Next, combine two cups of apple cider vinegar and one cup of water, and apply the mixture with a spray bottle until the hair is completely saturated. Then rinse the hair, and comb through it again.
The last step is to apply a light application of coconut oil and leave it in. This process needs to be repeated every five to 10 days for a couple of weeks to ensure that all lice and eggs are killed.
Continue to comb through hair with a fine-tooth comb, leaving the oil in as a leave-in conditioner.
5. Natural Household Cleaner
Another fantastic way to use tea tree oil is as a household cleaner. Tea tree oil presents powerful antimicrobial activity that can kill off bad bacteria in your home.
To make a homemade tea tree oil cleanser, mix five to 10 drops of tea tree with water, vinegar and five to 10 drops of lemon essential oil. Then use it on your countertops, kitchen appliances, shower, toilet and sinks.
You can also use my homemade bathroom cleaner recipe that's made with a combination of natural cleaning products, like liquid castile soap, apple cider vinegar and baking soda.
6. Laundry Freshener
Tea tree oil has antibacterial properties, so it works great as a natural laundry freshener, especially when your laundry is musty or even moldy. Simply add five to 10 drops of tea tree to your laundry detergent.
You can also spot clean cloth, rugs or athletic equipment with a mixture of tea tree oil, vinegar and water.
7. Fight Toenail Fungus and Ringworm
Because of its ability to kill parasites and fungal infections, tea tree oil is a great choice to use on nail fungus (onychomycosis), athlete's foot and ringworm. Put two to five drops of undiluted tea tree oil on the affected area using a clean cotton swab.
For stubborn fungi, consider mixing it with natural antifungal oil of oregano. Tea tree oil has also proved beneficial for treating and removing warts, so simply put a few drops of tea tree oil directly on the area for 30 days once or twice daily.
8. Improve Foot Odor
Here's another example of how tea tree oil's antibacterial activity is super beneficial. If you're dealing with stinky feet or you need to get a funky smell out of your shoes, tea tree oil is a great remedy.
For foot odor, combine about half a teaspoon of jojoba oil and two to three drops of tea tree oil, and massage the mixture into your feet.
You can also try my exfoliating foot scrub recipe that will leave your feet smooth and odor-free.
To remove shoe odor, add five to 10 drops of tea tree oil to a spray bottle filled halfway with water, and spray the inside of your shoes. This works for sports equipment too.
9. Kill Mold
A common problem many people experience in their homes is mold infestation, oftentimes without even being aware of it. Sometimes, people even begin to experience black mold symptoms when they are exposed to this toxin in their homes.
Consider buying a diffuser and diffusing tea tree oil in the air around your home to kill mold and other bad bacteria. Also, you can spray tea tree oil all-purpose cleaner onto shower curtains and into your laundry machine, dishwasher or toilet to kill off mold and other bacteria.
10. Natural DIY Deodorant
Another great reason to use tea tree oil is to eliminate body odor. Tea tree oil has antimicrobial properties that destroy the bacteria on your skin that cause body odor.
You can make homemade tea tree oil deodorant by mixing a few drops with oil from coconut and baking soda.
11. Protect Wounds and Cuts
Tea tree oil is the perfect ingredient in a homemade wound ointment because of its antibacterial and antifungal properties. Just make sure to clean a cut first with water and hydrogen peroxide if necessary. Then put on one to three drops of tea tree oil, and cover it with a bandage to help fight off infections.
You can also make my homemade drawing salve that will help to heal skin inflammation, insect bites, boils and splinters.
12. Natural Toothpaste for Oral Health
Because of tea tree oil's ability to kill off bad bacteria and at the same time soothe inflamed skin, it's a perfect ingredient in homemade toothpaste and mouthwash. It may help reduce the bleeding of gums and tooth decay, too.
To get rid of stinky breath and improve your oral health, simply mix a few drops of tea tree oil with coconut oil and baking soda for an amazing homemade toothpaste.
13. Natural Insect Repellent
Not only does tea tree oil work as a natural insect repellent, but it also helps soothe bug bites. Because bug repellents typically contain toxic chemicals, using a natural option like tea tree oil is gentler on your skin.
Simply add two to five drops of tea tree oil to a spray bottle filled halfway with water, and spray it on your skin. You also could combine two to five drops of tea tree with a teaspoon of coconut or jojoba oil and rub it into your skin before going outside.
If you do get a bug bite, add two to three drops of tea tree to a clean cotton ball, and apply it to the affected area.
14. Cough Reliever
To relieve a cough that's caused by the common cold or another respiratory condition, simply diffuse five drops at home, inhale tea tree oil directly from the bottle, or combine one to two drops of tea tree with a half-teaspoon of coconut oil and rub the mixture into your chest and back of your neck.
Related: Blue Tansy Oil Benefits for Skin & Beyond (+ How to Use)
Risks and Side Effects
Tea tree is generally considered safe when used aromatically and topically, and it typically doesn't cause side effects. However, if you have sensitive skin, it's possible that you might experience a reaction.
Keep tea tree oil away from your eyes, contact lenses, inner nose and sensitive parts of your skin.
This essential oil possesses a sharp camphoraceous odor followed by a menthol-like cooling sensation, which can make your skin feel like it's slightly burning if you apply too much.
Remember that tea tree oil should not be consumed, and if you are using it for oral health, it needs to be spit out so none is swallowed. When used in topical products at a concentration of 5 percent to 10 percent, it normally doesn't cause allergies or skin rashes, but stronger concentration have been reported to cause dermatitis reactions.
It's always a good idea to do a small skin patch test first on your arm or leg.
When you buy tea tree oil, always look for 100 percent pure essential oil. Ideally look for oil that's therapeutic-grade and organic.
Light, heat, exposure to air and moisture all affect oil stability of essential oils, so keep your oil stored in dark, cool, dry conditions, preferably in a glass container.
Conclusion
Tea tree oil is a volatile essential oil derived from the Australian plant Melaleuca alternifolia. It is commonly used in household and beauty products because of its antiseptic and anti-inflammatory properties.
Some of the top benefits of tea tree oil include its ability to fight acne; soothe skin irritations; combat bacterial, fungal and viral infections; treat nail fungus; and get rid of lice.
You can use melaleuca in a number of DIY recipes, including a natural household cleaner, natural laundry freshener and natural acne fighter.