This Dr. Axe content is medically reviewed or fact checked to ensure factually accurate information.
With strict editorial sourcing guidelines, we only link to academic research institutions, reputable media sites and, when research is available, medically peer-reviewed studies. Note that the numbers in parentheses (1, 2, etc.) are clickable links to these studies.
The information in our articles is NOT intended to replace a one-on-one relationship with a qualified health care professional and is not intended as medical advice.
This article is based on scientific evidence, written by experts and fact checked by our trained editorial staff. Note that the numbers in parentheses (1, 2, etc.) are clickable links to medically peer-reviewed studies.
Our team includes licensed nutritionists and dietitians, certified health education specialists, as well as certified strength and conditioning specialists, personal trainers and corrective exercise specialists. Our team aims to be not only thorough with its research, but also objective and unbiased.
The information in our articles is NOT intended to replace a one-on-one relationship with a qualified health care professional and is not intended as medical advice.
10 Researched Benefits of Chiropractic Adjustments
July 5, 2018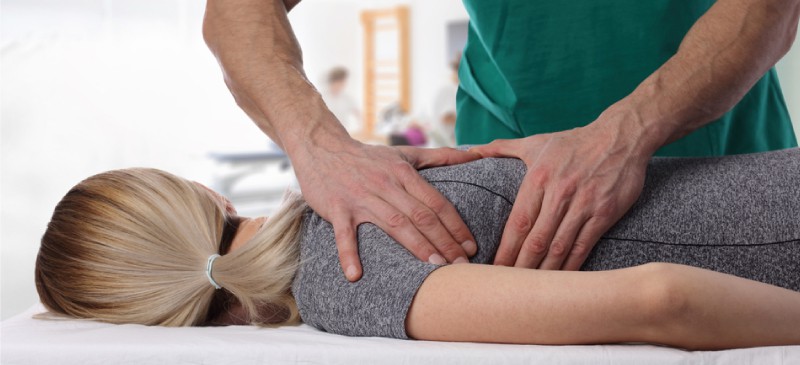 If you frequently deal with symptoms like joint pain, backaches or headaches, but are yet to ever visit a chiropractor for help, then you may be missing out on an effective and natural treatment option. Millions of people around the world have experienced the incredible benefits of chiropractic care, a holistic, non-invasive treatment approach that has been shown to help treat dozens of different conditions.
One of the best things about receiving chiropractic adjustments is that they are a completely drug-free path to healing the body naturally. Chiropractic benefits including helping to naturally improve problems such as:
Back pain
Bowel regularity
Improved mental clarity
Arthritis and joint pain
Scoliosis
Organ function
Surgery prevention
Despite its popularity, there are still a lot of misconceptions about the field of chiropractic care, including how the practice works and how chiropractors are trained. For example, did you know that many chiropractic programs incorporate an entire year of PhD-level advanced nutrition training?
Below you'll learn more about the philosophy, history and evidence-based research behind chiropractic care — shedding light on why studies have proved, objectively and subjectively, that chiropractic patients commonly experience "overall increased bodily function."
---
What Are Chiropractic Adjustments?
What is the meaning of chiropractic? There are a number of chiropractic definitions depending on who you ask. According to the World Federation of Chiropractic, the meaning of chiropractic medicine is: (1)
A health profession concerned with the diagnosis, treatment and prevention of mechanical disorders of the musculoskeletal system, and the effects of these disorders on the function of the nervous system and general health. There is an emphasis on manual treatments including spinal adjustment and other joint and soft-tissue manipulation.
Here's another chiropractic definition, this time according to the Association of Chiropractic Colleges:
Chiropractic is a healthcare discipline that emphasizes the inherent recuperative power of the body to heal itself without the use of drugs or surgery. The practice of chiropractic focuses on the relationship between structure (primarily the spine) and function (as coordinated by the nervous system) and how that relationship affects the preservation and restoration of health. In addition, doctors of chiropractic recognize the value and responsibility of working in cooperation with other health care practitioners when in the best interest of the patient.
Indeed, chiropractic can be a complementary medicine since most chiropractors are used to working with medical doctors to get people pain-free and prevent future injuries.
How Chiropractic Treatments Work:
Most of the benefits associated with chiropractic care are due to patients receiving specific chiropractic adjustments. Chiropractic adjustments work by helping to place your body in the proper position that then allows the body to heal itself. Safety is paramount. Indeed, as a holistic and alternative treatment approach, chiropractic adjustments can reduce stress placed on someone's immune system, freeing up energy to be used towards disease prevention and maintaining homeostasis. Chiropractic care aims to address the whole body, enhancing patients' ability to think, move and perform.
Chiropractors pride themselves on taking a natural, drugless approach to helping their patients reach their health goals. Essentially, the basic principle upon which the entire profession is built is that the body has the amazing, innate ability to heal itself (under the right conditions); it is the chiropractor's job to help create an environment that facilitate this inner-healing process and where safety is assured.
Because the nervous system controls every cell and organ in your body, chiropractors focus their attention on the health of the spine being properly aligned. If the spine shifts out of its proper place, then adjustments are used to help bring the spine back into alignment.
At the core of numerous chiropractic miracle stories is a concept known as "vertebral subluxation." When chiropractors use this phrase, they refer to mechanical compression and irritation to spinal joints and nerves.
Case in point: the very first chiropractic patient in history was named William Harvey Lillard, who experienced difficulty hearing due to compression of the nerves leading to his ears. He was treated by "the founder of chiropractic care," David. D. Palmer, who gave Lillard spinal adjustments in order to reduce destructive nerve compressions and restore his hearing. After doing extensive research about physiology, Palmer believed that Lillard's hearing loss was due to a misalignment that blocked the spinal nerves that controlled the inner ear (an example of vertebral subluxation). Palmer went on to successfully treat other patients and eventually trained other practitioners how to do the same. The first college of chiropractic was founded in 1897 and named after Palmer, called the Palmer Chiropractic School & Cure.
Lillard is just one example of a patient who was able to overcome a serious problem in part by receiving targeted chiropractic adjustments. For someone else, it could be that sciatica (nerve pain down the back of their legs) is compromising their quality of life, or for another person, gastrointestinal discomfort. When you consider how most cells and organs in your body are controlled by nerves traveling through your spinal canal, it's mind-blowing to consider how vast the positive outcomes of realigning these nerves can be.
Complementary treatments to chiropractic include Spinal Decompression Therapy, which involves stretching the spine, using a traction table or similar motorized device, in order to relieve back pain and/or leg pain. Deep tissue massage therapy, acupuncture and physical therapy are considered other common complementary therapies.
---
Why Get Chiropractic Adjustments?
Many things can lead to a vertebral subluxation. Some of the more common causes include:
A vertebra going out of place ("misalignment") because of a slip or fall (i.e., "macrotrauma").
The entire spine misaligning globally due to poor posture.
Joint swelling caused by damage done to the intervertebral joint.
An inflammatory response caused by a poor diet, lack of pure water or psychological stress.
Osteoporosis or degenerative changes of the spine or intervertebral discs.
Trigger points and tight back muscles that pull the vertebrae out of place.
Importance of Having Good Posture:
The problem we see in Western cultures is that our unnatural habit of sitting down all day does a lot of damage to our spine and posture. Today it's common to spend hours sitting while being glued to a cell phone, iPad or laptop. Few people take the time each day to properly stretch, fix their posture or engage in enough physical activity.
The "hunched over" lifestyle that is all too popular today causes straining on the neck, due to a condition called "forward head posture." Studies prove that for every inch your head sticks out from its true center of gravity, your neck bears an extra 10 pounds of stress! During posture evaluations, chiropractors regularly observe many of their patients carrying their head two to three inches forward, which is an extra 20–30 pounds of pressure on their neck. Just think about how dangerous this can be for the health of someone's spine, and how this straining then spills over to many other parts of the body.
---
Top 10 Benefits of Chiropractic Adjustments
Finding a good chiropractor isn't only key to correcting the damage caused by years of poor posture or trauma — it's also important for everyone wanting to take a proactive approach to protecting his or her health. It's hard to find any other profession on the planet that can prevent neuromuscular-based disease like chiropractic can. That is why I've been personally getting adjusted for over 10 years and recommend my patients, friends and family members to do the same.
But don't just take my word for it. Below you'll find evidence from medical research studies, systematic reviews and case studies supporting the many therapeutic benefits of chiropractic.
1. Sciatica 
Compared to most medical treatments, few interventions can initiate back pain relief and healing like chiropractic adjustments can. The European Spine Journal published findings from a clinical trial uncovering how chiropractic adjustments resulted in a 72 percent success rate in treating sciatica-related symptoms. This can be compared to a 20 percent success rate from treatment with physical therapy, and a 50 percent success rate from corticosteroid injections.
Another randomized, double-blind trial published in the Spine Journal comparing active versus simulated chiropractic manipulations on patients with sciatic nerve pain who were residing in rehabilitation medical centers found that active manipulations had more effect than simulated manipulations. Active manipulations reduced the number of days patients experienced moderate or severe back pain and other sciatica symptoms, and also caused no reported adverse effects. (2)
2. Low Back Pain and Neck Pain
One study involving chiropractic patients with neck pain found that 96 percent of respondents indicated that they were either "Very satisfied" or "Satisfied" with the chiropractic care they received, and that 98 percent said that they "Definitely would" or were "Very likely" to choose chiropractic care again if they experienced a similar problem. (3)
In a 2003 study published in the British Medical Journal, 183 patients with neck pain were randomly allocated to receive either manual therapy (spinal mobilization), physiotherapy (mainly exercise) or general practitioner care (counseling, education and drugs) over the course of a 52-week period. The clinical outcome measures showed that chiropractic adjustments resulted in faster recovery than physiotherapy and general practitioner care. Moreover, total costs of the chiropractic-treated patients were about one-third of the costs of physiotherapy or general practitioner care. (4)
Another study published in the Journal of Manipulative and Physiological Therapeutics found patients with chronic low-back pain treated by chiropractors showed greater improvement and satisfaction one month following treatment compared to patients treated by family physicians. Satisfaction scores were higher for chiropractic patients, as a higher proportion of chiropractic patients (56 percent vs. 13 percent in the physician group) reported that their low-back pain was better or much better. Nearly one-third of medical patients reported their low-back pain was actually worse or much worse following treatment. Other studies have shown similar results: majority of acute and chronic chiropractic patients experience better outcomes in pain, functional disability and patient satisfaction following treatment. (5)
In a study funded by NIH's National Center for Complementary and Alternative Medicine, conducted to test the effectiveness of different approaches for treating neck pain, 272 participants were divided into three groups: those that received either spinal manipulative therapy from a doctor of chiropractic (DC), those who received pain medications (over-the-counter pain relievers, narcotics and muscle relaxants), and those only following at-home exercise recommendations. After 12 weeks, about 57 percent of those who met with DCs, and about 48 percent of those who exercised, reported at least a 75 percent reduction in pain. As a comparison, 33 percent of the people in the medication group reported decreased pain. After one year, approximately 53 percent of the two drug-free groups (chiropractic and exercise) continued to report at least a 75 percent reduction in pain, compared to an average of just 38 percent pain reduction among those who only took medication. (6)
3. Headaches (Tension and Migraine)
Second only to back pain, headaches — both tension headaches and migraine headaches — are one of the most common conditions regularly managed by chiropractors. At the time I conducted this research, over 230 peer-reviewed articles referenced chiropractic's ability to help cure, prevent and ease the burden of headaches and migraines in people all across the globe!
A group trial found that 22 percent of people who had chiropractic treatment saw the number of attacks drop by 90 percent. In that same study, 49 percent said they had a significant reduction in pain intensity. Compared to most medical treatments, few interventions can initiate headache relief naturally, without the risks of taking drugs long-term, like chiropractic adjustments can. (7)
4. Colic, Acid Reflux and Ear Infections in Children
A 2011 systematic review published in the journal Explore — which included a review of 26 articles in total, including three clinical trials and four cohort studies — found that chiropractic adjustments helped greatly reduce colic symptoms. According to the authors of the review, "Our review revealed that chiropractic care is a viable alternative to the care of infantile colic and congruent with evidence-based practice, particularly when one considers that medical care options are no better than placebo or have been associated with adverse events." (8)
Although very few randomized control trials have been conducted describing other clinical effects of chiropractic care on children, many case studies have been documented that describe how children suffering from ailments including otitis media (or ear infections) or acid reflux have experienced complete to near-complete resolution after just a few visits with a chiropractor. One study found that in children with acid reflux, "Notable improvement in the patient's symptoms was observed within four visits and total resolution of symptoms within three months of care." (9)
Why are chiropractic adjustments helpful in these situations? The reasons for this vary, but there is one common theme: nerves located in the gut and brain are quite sensitive to neurological insult caused by vertebral subluxations. By realigning the spine and reducing pressure on placed on certain nerves, the gut-brain connection is improved. This works the same way in both children and adults. A healthier, "happier" gut at any age can help increase immune function, reduce inflammation and reduce pain in various parts of the body.
5. Neurological Conditions 
Exciting research is currently being conducted via upright MRI scans showing how upper cervical adjustments affect various brain-based conditions. What we have seen so far is quite remarkable. Not only are MRI scans revealing that cerebral spinal fluid and blood flow are markedly increased after a chiropractic adjustment, researchers are observing that cerebellar invagination (when the cerebellum drops down below the skull line) is being reversed and brain plaquing (common in multiple sclerosis patients) is disappearing! One example is Montel Williams, the famous TV host, who was interviewed about his experience as a MS patient under chiropractic care. Check it out here to see how it changed his life.
Additionally, there's evidence supporting the use of chiropractic treatment to help to correct vertebral subluxation that contributes to epilepsy and seizures. One study found that when 15 pediatric patients were treated with upper cervical care all reported positive outcomes as a result of chiropractic care. The conclusion of the study was that "Chiropractic care may represent a non-pharmaceutical health care approach for pediatric epileptic patients." (10)
6. Blood Pressure
In 2007, George Bakris, the world expert on hypertension, published a study with a team of researchers in the Human Journal of Hypertension showing that one upper cervical chiropractic adjustment had the same effect as two blood pressure-lowering drugs. Even more fascinating, the effects of just one adjustment lasted more than six months!
Compared to the placebo-treated patients, those who got the real procedure saw an average 14 mm Hg greater drop in systolic blood pressure (the top number in a blood pressure count) and an average 8 mm Hg greater drop in diastolic blood pressure (the bottom blood pressure number). (11)
Other studies have shown similar findings with hypotensive patients, and their low blood pressure was raised to normal levels after chiropractic care. This is exciting because it highlights the body's ability to create a homeostatic balanced environment once vertebral subluxations are removed.
7. Surgery Prevention
Chiropractic has long been heralded by natural health care providers as a natural method to prevent back surgery. In fact, the Journal of the American Medical Association just recently published its low back pain guidelines and suggested that people suffering from back pain first try chiropractic before resorting to surgery.
8. Frozen Shoulder
Last year a clinical trial was published describing how patients suffering from the debilitating condition frozen shoulder responded to chiropractic care. Of the 50 patients: 16 resolved completely; 25 showed 75 percent to 90 percent improvement; eight showed 50 percent to 75 percent improvement; and one showed 0 percent to 50 percent improvement. Before chiropractic treatment the patients reported a median initial pain score of 9 out of 10, with a range of 7 to 10. But after treatment the median score dropped down to 2, with a range of 0 to 10. (12)
9. Scoliosis
There's evidence showing that specific chiropractic adjustments, coupled with muscular rehabilitation techniques, may help prevent the progression of scoliosis. Organizations like the nonprofit Clear Institute, founded by Dr. Dennis Woggon, have set out to empower healthcare professionals with an effective chiropractic system in order to help treat people with scoliosis.
Doctors at the Clear Institute have worked very hard to perfect a model for treating scoliosis and have discovered that it is possible to effectively manage the condition without the use of restrictive braces or dangerous surgeries. In many case studies, participants have seen a 10 to 30 percent decrease in their scoliosis curvatures. You can read about some of the cases here. If you or a family member suffer from scoliosis, I strongly recommend reaching out to a doctor certified by the Clear Institute to see if they can help you!
10. Athletic Performance 
There's good reason why for years professional athletes — including Michael Phelps, Jerry Rice and Joe Montana — have made a point to regularly be treated by chiropractors. In fact, over 50 percent of NFL teams have a chiropractor on staff, this way the players always have access to adjustments, stretches and exercises when needed.
Because it is so effective at pain-based and pathological conditions, one of the most overlooked aspects of chiropractic care is that it enhances functionality in everyday life, and also athletic performance. Studies have shown that when it comes to supporting recovery and improving physical performance, chiropractic is helpful because it:
Reduces inflammatory cytokines
Enhances pulmonary function
Decreases mental and oxidative stress
Relieves muscle tension
And can naturally increase energy levels
Meanwhile, chiropractic can address sports injuries to areas of the body referenced above, including the lower back, shoulder, hips and more. "Chiropractic care can help with a multitude of sports injuries such as tendonitis, sprains, strains, back and neck pain. The goal is to help reduce inflammation, enhance joint function and reduce pain. It will also help improve range of motion, minimize recovery time, and maximize athletic performance." (13)
---
Additional Chiropractic Benefits
While the benefits mentioned above might draw the most patients to visit chiropractors, there are also many more reasons why chiropractic care is such a valuable treatment approach. Additional benefits of chiropractic adjustments include helping to treat:
---
How to Find a Chiropractic Doctor
The best way to find a licensed chiropractic doctor in your area is to either ask someone you know for a referral, including your primary doctor, or to search online through any of the large chiropractic organizations that provide databases. A great place to start is by searching for a licensed DC in your area on the American Chiropractic Association website. There you can look up a particular chiropractor's education as well. 
Wondering about chiropractic prices, or whether treatments will be covered by insurance?
The good news is that a written referral is usually not needed to see a doctor of chiropractic (DC). You can visit a chiropractor just like you would an MD, as chiropractic care is included in most health insurance plans, including major many medical plans, workers' compensation, Medicare, some Medicaid plans and Blue Cross Blue Shield plans. You may have to pay a copay and exact prices will depend on your insurance plan, but overall visiting a chiropractor should not be a big expense.
---
Chiropractic History & Interesting Facts
Although it's been practiced for nearly 120 years, chiropractic care has become much more popular and accessible over the past three decades. While chiropractic has typically been thought of as an "alternative" or "complimentary" offering, it's now more mainstream than ever before — indicated by the fact that chiropractors are licensed in all 50 states of the U.S, recognized in many other countries, included in many insurance plans, and generally given the same standing as doctors and nurses.
The man who is considered the "godfather" of chiropractic is D.D. Palmer, who was the first person to make the claim that abnormalities of the spine were the root causes of many diseases. In the 1890s, Palmer began treating patients with a combination of hands-on adjustments, along with energetic/spiritual healing. Palmer treated his very first patient named Harvey Lillard, who suffered from impaired hearing, by realigning his spine in order to improve communication between his brain and his body.
With an intense interest in medicine, especially bone-setting and manipulations of the neck and back, Palmer went on to teach many others his beliefs and techniques. In 1897, he opened the very first school offering training in chiropractic treatments, called the Palmer School of Chiropractic. Since this time more than 40 chiropractic schools/colleges have opened in the U.S. alone, enrolling thousands of future Doctors of Chiropractic every year.
DCs must complete four years of doctoral graduate school in order to qualify for exams that must be passed before becoming licensed. Prior to beginning graduate studies in chiropractic training, four years of pre-medical undergraduate college education must be completed.
---
Precautions Regarding Chiropractic Adjustments
You can rest assure that chiropractic has been shown to be one of the safest treatment approaches in healthcare today, as adjustments are performed very carefully and in a very precise manner. That being said, there some mild side effects following treatment that might occur. These usually go away within 1–2 days and might include temporary discomfort, soreness, stiffness or tenderness in the area of the body where you were adjusted. 
---
Final Thoughts on Chiropractic Benefits
Chiropractic adjustments work by helping to place your body in the proper position that then allows the body to heal itself. One of the key focuses of chiropractic care is realigning the spine and thereby reducing pressure placed on sensitive nerves, which can contribute to dysfunction of the central nervous system.

Chiropractic can be a complementary medical approach to mainstream medicine as well, and it's been proven to be one of the safest approaches to naturally and holistically treating patients with a wide range of symptoms or conditions, including: back or neck pain, sciatica, scoliosis, frozen shoulder, acid reflux or digestive issues, headaches, high blood pressure, injuries and neuromusculoskeletal complaints that may require surgery.