This Dr. Axe content is medically reviewed or fact checked to ensure factually accurate information.
With strict editorial sourcing guidelines, we only link to academic research institutions, reputable media sites and, when research is available, medically peer-reviewed studies. Note that the numbers in parentheses (1, 2, etc.) are clickable links to these studies.
The information in our articles is NOT intended to replace a one-on-one relationship with a qualified health care professional and is not intended as medical advice.
This article is based on scientific evidence, written by experts and fact checked by our trained editorial staff. Note that the numbers in parentheses (1, 2, etc.) are clickable links to medically peer-reviewed studies.
Our team includes licensed nutritionists and dietitians, certified health education specialists, as well as certified strength and conditioning specialists, personal trainers and corrective exercise specialists. Our team aims to be not only thorough with its research, but also objective and unbiased.
The information in our articles is NOT intended to replace a one-on-one relationship with a qualified health care professional and is not intended as medical advice.
Horny Goat Weed Benefits for Libido & Bone Health
October 2, 2018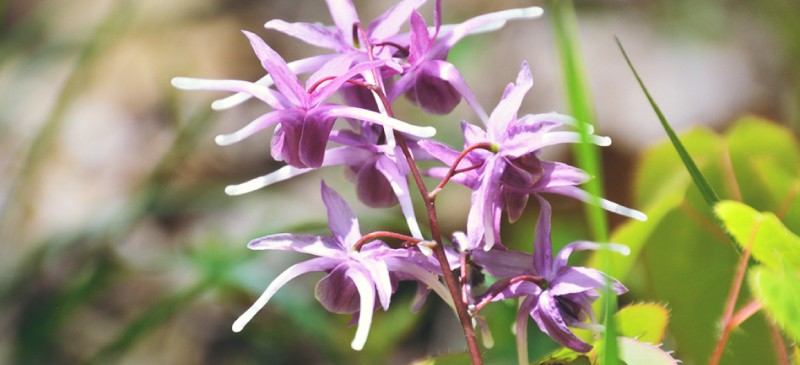 In Traditional Chinese Medicine (TCM), the herb commonly called horny goat weed in the West is known as Yin-Yang-Huo. (1) TCM practitioners have used the leaves of the horny goat weed plant as an aphrodisiac to help enhance sexual health and also to treat various problems such as kidney or bone disease for centuries.
According to an article published by Acupuncture Today, "In Traditional Chinese Medicine, epimedium (horny goat weed) is believed to tonify the kidney by strengthening kidney yang, dispelling wind and eliminating dampness." (2) Western medicine describes horny goat weed's mechanisms of actions as: restoring circulation, supporting hormonal balance, and helping to fight various effects of aging by fighting oxidative stress (free radical damage).
What Is Horny Goat Weed?
Horny goat weed is a herb known as a "natural aphrodisiac," as it has been shown in some animal studies to have positive effects on hormone production and libido. The plant that produces horny goat weed is the species called Epimedium, a member of the Berberidaceae plant family that mostly grows in China, other parts of Asia, and in the Mediterranean. Epimedium contains the active ingredient called icariin, which is responsible for most of it's health-promoting effects.
If you're thinking that horny goat weed has a strange name, then you're on to something. The story behind the name is that it originated when farmers noticed that goats and sheep who ate epimedium herbs became more excited around animals of the opposite sex. Scientists haven't proven that horny goat weed increases sexual function in humans. However, anecdotal evidence, along with certain animal studies, suggests it has some of the following benefits:
Helps to increase increase testosterone production
Helps to increase estrogen levels, particularly in post-menopausal women
Improving libido
Boosting circulation
Helps to treat conditions like impotence (erectile dysfunction, or ED) or vaginal dryness
Normalizing cortisol levels
Helps to increase lean muscle mass
Preventing bone loss
Chemical Composition
According to one producer of horny goat weed (icariin) supplements, Shanghai Natural Bio-Engineering Company, over 60 species of Epimedium have been identified. However, only five of these species are recorded in the Chinese Pharmacopeia handbook and used to make icariin herbal supplements that are available to the public. (3) These include the following epimedium species:
Epimedium wushanense
Epimedium brevicornum
Epimedium sagittatum
Epimedium koreanum
Epimedium pubescens
Epimedium acuminatum
Once ingested, what does horny goat weed do inside the body to produce the effects mentioned above?
Icariin is the active ingredient found in horny goat weed. It's a prenylated flavonoid compound and metabolizes to the flavonoid baohuoside I. Flavonoids are types of antioxidants that have been shown to have many anti-aging properties. They are the same compounds found in some of the healthiest foods on Earth. These foods include blueberries and other berries, teas including green tea or oolong, raw cocoa, and fresh herbs like parsley. Various epimedium plant species contain dozens of flavonoids (some species up to 37 different flavonoid compounds). The highest proportion is prenylflavonoids.
According to certain studies, icariin may help increase testosterone levels, although to be fair most of the research to date has been conducted on animals (in particular, rats or rabbits) rather than humans.
Research suggests that icariin also has PDE5 (phosphodiesterase type 5) inhibitory properties, which means it works in similar ways as certain drugs used to treat erectile dysfunction, such as Sildenafil (which goes by the brand name Viagra). PDE5 inhibitors can help treat sexual dysfunction (or ED) because they enhance the effects of nitric oxide (NO). By increasing levels of nitric oxide, icariin helps to improve blood flow (circulation) by relaxing the smooth muscles of arteries, allowing more blood to reach the reproductive organs.
Another benefit of plants that contain prenylflavonoids is that they serve as natural phytoestrogens, helping to mimic the effects of estrogen in the body. (4)
Several other noteworthy compounds are also present in horny goat weed, including:
Compounds called Epimedium A, B and C have been identified in horny goat weed, which have similar benefits to icariin.
Desmethylicaritin, which studies suggest has benefits for female reproductive health and libido during or following menopause. Although icariin and desmethylicaritin work similarly, the two have different ways of improving sexual arousal and hormone production in males and females.
Anhydroicaritin, which has similar effects to desmethylicaritin.
Quercetin, a bioflavonoid antioxidant that has benefits for heart health, vision/eye health, immunity and cancer prevention. Quercetin is found in many "superfoods" known to fight degenerative diseases and symptoms associated with aging, such as green tea, red wine, leafy greens, citrus fruits, grapes, cocoa and others. (5)
Ikarioside A and B
Sagittatoside B
Diphylloside A and B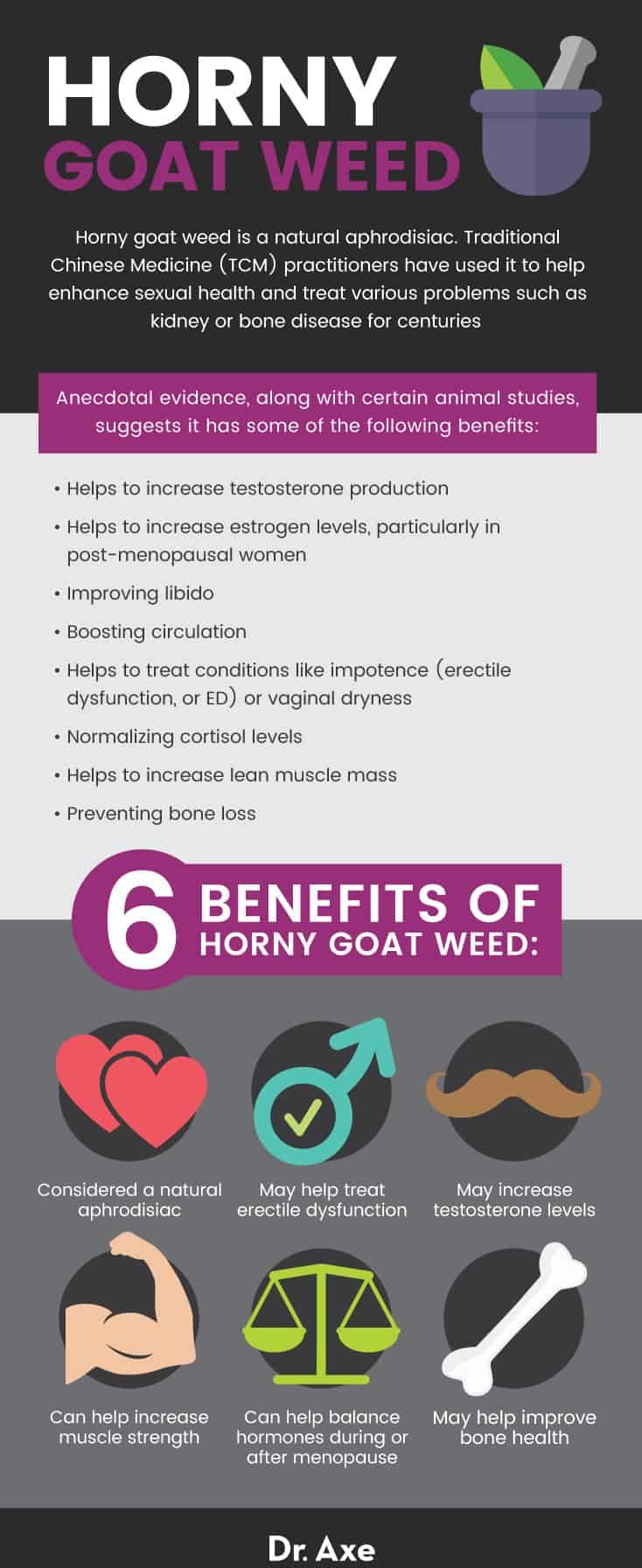 Health Benefits
1. Considered a Natural Aphrodisiac
Horny goat weed may be able to help normalize cortisol levels and reduce some of the negative effects of stress on the body, which can include lowered sex drive, mental fatigue and various problems with hormonal balance or sexual performance. By helping to normalize testosterone and estrogen levels, it may be useful for combatting symptoms like low energy, involuntary ejaculation and vaginal dryness. (6)
Icariin is also a vasodilator, helping to increase blood flow, and has some anti-inflammatory abilities. Another effect that research suggests icariin may have is inhibiting an enzyme called acetylcholinesterase (AChE), which has effects on neurotransmitter synapses and various neuromuscular functions. Use of icariin has been associated with positive changes in body composition — such as increased muscle mass, strength and bone growth — which can enhance performance, energy and even confidence.
2. May Help Treat Erectile Dysfunction
As mentioned above, one suspected mechanism of action of horny goat weed when it comes to treating ED is helping to increase circulation in blood vessels connecting the penis — thus, operating as an erectogenic and improving erectile function.
After sexual stimulation, nitric oxide (NO) is released in order to dilate the blood vessels of the corpus cavernosum (tissue that forms the penis) in order to produce an erection. While this is happening a compound called cyclic guanosine monophosphate (cGMP) accumulates, which can be broken down by the substance PDE5. (7) Because icariin has the ability to stop PDE5 from doing this, it boosts nitric oxide's effects even more, helping to sustain an erection. (8)
In one study involving rats, when icariin was administered as a daily supplement to healthy 12-week-old rats that had undergone cavernous nerve crush injury to the genital area, supplementation significantly improved penile functional outcomes compared to the control group. In the group treated with icariin, increased nitric oxide levels and smooth muscle effects were observed that led to reduced ED symptoms caused by nerve damage. (9)
3. May Increase Testosterone Levels
Icariin has been shown to have natural testosterone-mimicking properties, one reason it helps to improve sexual desire, strength and even athletic performance. In one study involving rats that were given icariin extract, researchers found that icariin improved the overall condition of reproductive organs and increased the circulating levels of testosterone compared to the rats that were not given the extract. (10) More studies are needed to see if it will prove to be a testosterone booster for humans.
4. Can Help Balance Hormones During or After Menopause
In TCM, Yin Yang Huo is considered to help promote "yin" energy, restoring energy levels and balance. With it's "spicy, sweet and warm" properties, it's helpful for people who are feeling fatigued or "yin deficient," especially those going through hormonal changes such as menopause. (11)
Because prenylflavonoids act as phytoestrogens, they have been shown in some studies to help increase estrogen levels and reduce symptoms of menopause in females. Thus, horny goat weed can be considered an estrogenic which contains many different prenylflavonoid compounds that have been associated with decreased symptoms of menopause, such as low libido and bone loss, with the strongest being icariin. (12)
5. Can Help Increase Muscle Strength
In some studies icariin has had positive effects on lean muscle production. Research published in the Journal of Sexual Medicine states "ICA (icariin) may have neurotrophic effects in addition to known phosphodiesterase type 5 inhibiting effects." (13) Neurotrophins are types of proteins that help with development, growth and function of neurons. It's suspected that icariin helps the body secrete proteins that allow cells to grow and contribute to tissue repair.
It's not uncommon for those looking to "bulk up" and put on muscle mass, such as athletes and body builders, to use icariin as an active ingredient in supplements. Its use has also been linked with improved recovery following exercise and better athletic performance. Although it isn't considered to be a stimulant and doesn't work the same way that something like caffeine does, some find that taking supplements containing icariin can help improve their strength, stamina and endurance.
6. May Help Improve Bone Health
Research done by the Department of Chemistry and Biotechnology at the University of Tokyo found evidence that horny goat weed has positive effects on restoring bone density and therefore may help prevent symptoms related to osteoporosis, such as fractures or decreased bone density of the spine. Findings from animal studies done at the university showed that "icariin is a strong candidate for an osteogenic compound for use in bone tissue engineering." (14) The researchers observed significant new bone formation in rats treated with icariin after four weeks, and further increases in bone thickness after six weeks.
Similar research conducted at the Institute of Orthopaedics Center of Lanzhou General Hospital in China showed evidence that icariin can help "prevent osteoporosis by increasing bone density and bone formation, decreasing bone resorption and improving microstructure of bone." (15) Other studies have found that taking horny goat weed extract for 24 months helped to stop bone loss of the spine and hips in post-menopausal women. (16)
How to Find and Use
Look for a horny goat weed product that lists the active ingredient name Icariin and species name Epidemium. Most horny goat weed supplements are in extract or capsule form, filled with a light yellow-brown powder. Other names that horny goat weed may go by include:
Herba Epimdii
Yin-yang-huo
Fairy Wings
Rowdy Lamb Herb
Barrenwort
Bishop's Hat
Sometimes a product may simply be labeled by the active ingredient, Icariin
Concentrations of epimedium extracts can vary substantially, from about 10–98 percent icariin, which will affect the dosage recommendations. Currently, there is not one unified dose. (And some may also include maca root.) Keep in mind that it can take several weeks of taking horny goat weed supplements before you start noticing any effects. Recommended dosages of horny goat weed depend on why you're using it. People with a lower body weight need a lower dose. Always read the dosage instructions of the product you purchase, since percentages of active ingredients differ from product to product, which will alter the dose needed.
Depending on gender and body size, currently the recommended dosage for horny goat weed is as follows:
180–900 milligrams per day for most post-menopausal women or people with a small body size
Around 900–1,500 milligrams per day for most adult men
In some studies, lower doses demonstrated mild benefits, ranging from 60–100 milligrams daily. If you're unsure of how much to take, consider speaking with a herbal specialist or TCM practitioner.
Risks and Side Effects
Because horny goat weed is a herbal remedy and not a medication, the quality of icariin or epimedium supplements on the market is not tightly controlled by the FDA. Always purchase herbal products from a reputable company and read ingredient labels to ensure you're getting the correct product. When taken in high dosages there are some possible side effects of epimedium. While it's usually well-tolerated, these include temporary symptoms such as increased thirst, dizziness, nausea and nosebleed.
According to TCM herbal practitioners, there are no known drug interactions with epimedium. This  makes it generally safe for most adults to consume. However, because it can affect hormone levels, women who are pregnant or breastfeeding should not use horny goat weed without speaking with a doctor.
For anyone with a history of cancer, heart disease, liver disease, kidney disease or other serious health problems such as diabetes that require medication to control symptoms, always speak with a doctor before starting any new herbal treatment. Those with bleeding disorders or who are healing from surgery should also not take epimedium supplements, as they can interfere with circulation and blood clotting.
Final Thoughts
Horny goat weed is a herbal supplement made from the species Epimedium.
In Traditional Chinese Medicine (TCM) horny goat weed is called Yin-Yang-Huo, which is considered a natural aphrodisiac.
Because it contains many flavonoid compounds, especially the active ingredient icariin, horny goat weed has benefits including increasing sexual arousal, helping to balance hormones, reducing fatigue, and increasing lean muscle mass and bone density.