This Dr. Axe content is medically reviewed or fact checked to ensure factually accurate information.
With strict editorial sourcing guidelines, we only link to academic research institutions, reputable media sites and, when research is available, medically peer-reviewed studies. Note that the numbers in parentheses (1, 2, etc.) are clickable links to these studies.
The information in our articles is NOT intended to replace a one-on-one relationship with a qualified health care professional and is not intended as medical advice.
This article is based on scientific evidence, written by experts and fact checked by our trained editorial staff. Note that the numbers in parentheses (1, 2, etc.) are clickable links to medically peer-reviewed studies.
Our team includes licensed nutritionists and dietitians, certified health education specialists, as well as certified strength and conditioning specialists, personal trainers and corrective exercise specialists. Our team aims to be not only thorough with its research, but also objective and unbiased.
The information in our articles is NOT intended to replace a one-on-one relationship with a qualified health care professional and is not intended as medical advice.
Erectile Dysfunction Causes (+ 14 Natural Treatments)
March 11, 2018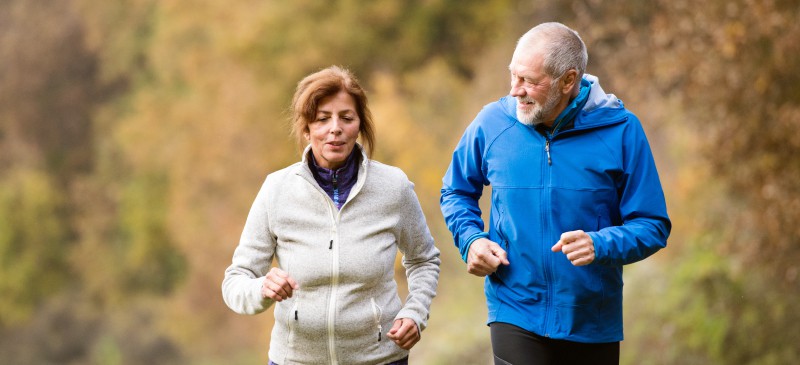 The most common sexual problem facing men living in the United States is erectile dysfunction — which affects about 30 million men in the U.S. (1) Erectile dysfunction can greatly affect a man's quality of life and his relationship with his partner. Plus, research shows that many patients with erectile dysfunction also have signs of depression and anxiety that's related to disappointment about their sexual performance. (2)
It's true that sexual function declines with age, but recent research shows that many aging men and women engage in sexual activity, and 50 percent of older adults indicate that sex is an important part of their lives. (3) In addition to these findings, researchers indicate that there has been a sharp rise in erectile dysfunction, delayed ejaculation, reduced libido and decreased sexual satisfaction in men under the age of 40. This may be caused by porn-induced erectile dysfunction, a growing problem that's caused by the ease and accessibility of internet pornography.
Researchers suggest that because erectile dysfunction is a symptom of a psychological or physiological condition, physicians should work to diagnose the underlying cause of the issue instead of focusing on finding a temporary treatment. Knowing the causes of erectile dysfunction can help you to understand what might be hindering your ability to achieve and maintain an erection. There are also natural remedies for impotence that will help to balance your hormones, increase your libido, improve your blood flow and improve health conditions that are associated with ED. (4)
What Is Erectile Dysfunction?
Erectile dysfunction is the persistent inability to achieve or maintain an erection that allows for sexual activity. This is a common male sexual disorder, especially among older men. Forty-four percent of men between the ages of 60 and 69 years are affected by erectile dysfunction and 70 percent of men over the age of 70 have difficulty maintaining an erection. Among men under the age of 40, only about 5 percent suffer from erectile dysfunction. (3)
Erectile dysfunction is a type of sexual dysfunction that's characterized by the inability to develop or sustain a penile erection. Normally, an erection occurs when blood vessels in the penis relax and open up, allowing blood to rush through and fill the area. The blood is then trapped because of the added pressure, which causes an erection. An erection is reversed when the muscles in the penis begin to contract, which stops the inflow of blood and pressure.
The inability to achieve an erection is a symptom of an underlying health problem or a result of lifestyle factors that aren't allowing the physiological mechanisms of an erection to unfold. For some men, this is only an occasional problem, which may be the result of increased stress, drinking alcohol or fatigue. But for men who experience erectile dysfunction more than 50 percent of the time when they are trying to engage in sexual activity, this may indicate that there's a bigger health problem that needs to be addressed.
The Rise of Porn-Induced Erectile Dysfunction
In recent years, there has been more and more research pertaining to the rise of pornography-related sexual dysfunction. Researchers believe that the unique properties of internet pornography, including its easy accessibility, limitlessness, variety and format, may be conditioning younger men's sexual arousal to aspects of sexuality that do not easily transition to their real-life partners. It's possible that for men who are constantly exposed to internet pornography, sexual activity with their real-life partners often doesn't meet their expectations, which can lead to arousal declines.
According to a review of clinical reports published in Behavioral Sciences, there has been a sharp increase in the prevalence of sexual dysfunctions in men under 40 since the start of "porn tube sites" that allow wide access to sexually explicit videos. In the early 2000s, about 2 percent of European men under the age of 40 experienced erectile dysfunction. By 2011, among European men ages 18 to 40, the rates increased to a range of 14-28 percent. (5)
Another astounding finding came from a 2014 study in which Canadian adolescents reported that 53 percent of males between the ages of 16 and 21 had symptoms of sexual dysfunction, with erectile dysfunction being the most common. Although lifestyle factors, like obesity, substance abuse and smoking, may cause sexual dysfunction in young adults, researchers found that high exposure to pornography videos resulted in "lower responsivity and an increased need for more extreme, specialized or 'kinky' material to become aroused." (5)
Young adult men who frequently turn to pornography for stimulation, or who may even be struggling with a porn addiction, are much more likely to experience sexual dysfunctions in their lifetime.
ED vs. Impotence
The term impotence is often used to describe many forms of sexual dysfunction, including the inability to achieve an erection, and other issues like loss of libido, inability to ejaculate or difficultly having an organism. While impotence is more of a blanket term, erectile dysfunction specifically refers to difficulty developing or maintaining an erection.
Although the two terms are often used interchangeably, erectile dysfunction is usually the term that will be used by doctors or health care practitioners during a diagnosis because it describes the exact symptom of a sexual dysfunction. Other sex issues, like premature ejaculation, loss of libido or inability to orgasm may be caused by other factors and treated in other ways.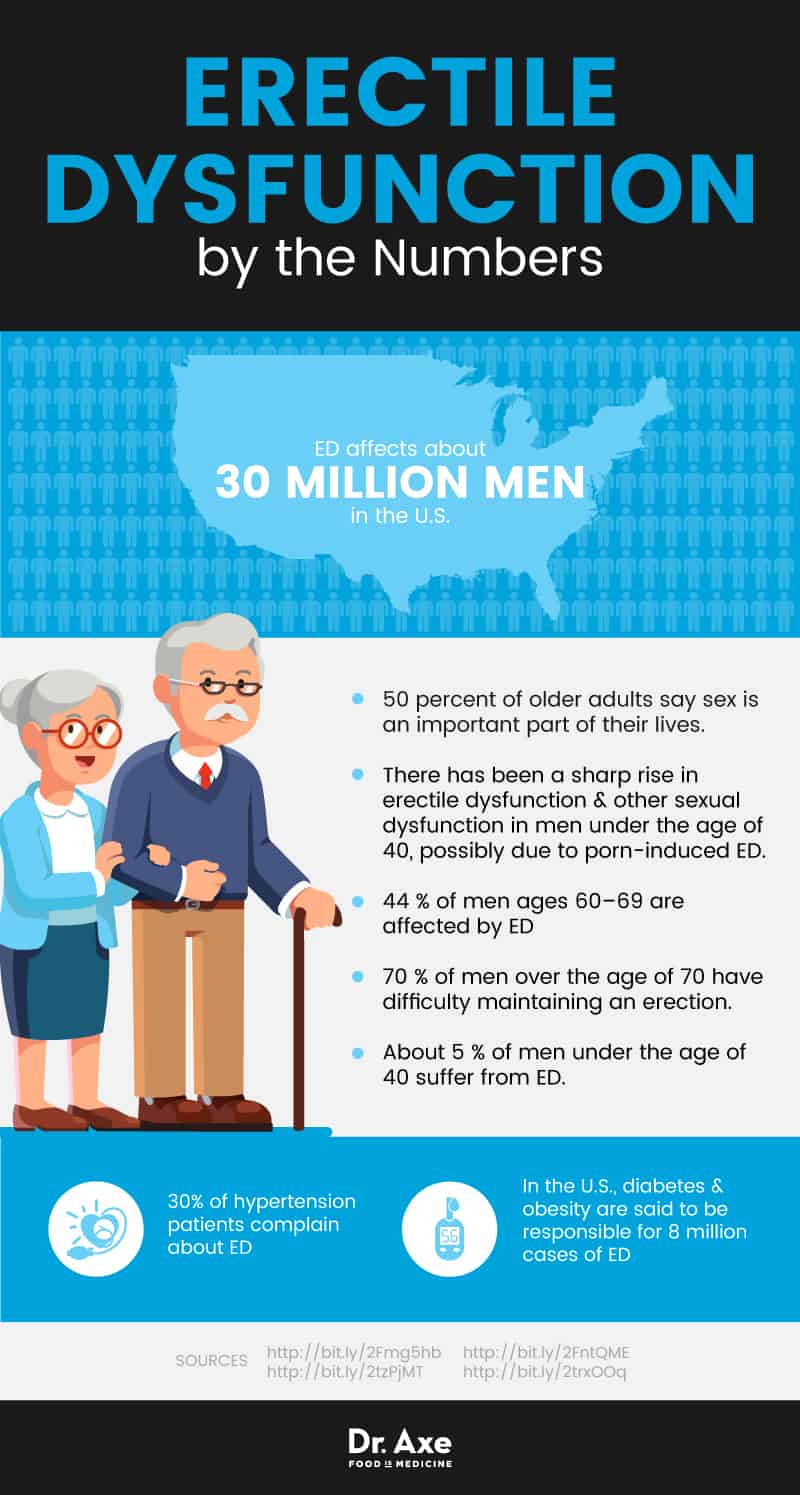 Causes and Risk Factors
Erectile dysfunction can be caused by health conditions and lifestyle factors, including the following: (6)
Because erectile dysfunction is strongly linked to cardiovascular disease, researchers suggest that men with ED should always be screened for cardiovascular disease. Studies show that there's a two- to five-year interval between the development of erectile dysfunction symptoms and the onset of cardiovascular problems. ED is also a risk factor for peripheral arterial disease and stroke.
Natural Treatments
Lifestyle Changes
1. Lose Weight
Obesity is a major risk factor for ED and research shows that the treatment of obesity and a sedentary lifestyle improves this condition. According to a 2004 study published in JAMA, approximately 30 percent of men who lost 10 percent or more of their body weight demonstrated improvements in erectile function. To lose weight, the 55 men in the intervention group reduced their caloric intake and increased their level of physical activity, while the men in the control group only received general information about healthy food choices and exercise. (16)
2. Exercise Regularly
A 2017 systematic review and meta-analysis published in the British Journal of Sports Medicine found that physical activity and exercise, particularly aerobic exercise with moderate-to-vigorous intensity, improves erectile function. (17)
Looking for an easy way to get some aerobic exercise? Start with jumping jacks. They get your blood pumping and warm your muscles. When you feel comfortable, add interval training to your daily routine.
Research also shows that pelvic floor exercises can help to restore erectile function. A study conducted in the UK found that men treated with pelvic floor muscle exercises that were taught by a physiotherapist showed significant improvements compared to a control group that were only advised on lifestyle changes. After six months of practicing pelvic floor exercises and making lifestyle changes, 40 percent of the men regained normal erectile function and 35.5 percent showed improvements. (18)
Adding pelvic floor exercises, or kegel exercises as they are more commonly called, can help to improve erectile dysfunction. To do this, you need to locate your pelvic floor muscles, which can be done by stopping your urination stream midway. When you hold in the urine, you are engaging the right muscles. Contracting these muscles when you aren't urinating will increase their strength. Contract, hold it for five–10 seconds and then relax. Repeat this about 10 times at least once daily.
3. Reduce Stress
Psychological factors, like increased stress and anxiety, can certainly lead to erectile dysfunction and other sexual dysfunction symptoms. Research shows that reducing stress and anxiety levels can help to improve erectile dysfunction.
In a 2014 pilot study, 31 men between the ages of 20 and 55 years old, who were newly diagnosed with erectile dysfunction, received either tadalafil (a medication used to treat impotence) for a five-month period or tadalafil and an eight-week stress management program. Both groups showed statistical significant improvement, but researchers found that the men practicing stress management showed a significant reduction in perceived stress scores and lower daily cortisol levels compared to the men who only received medication. (19)
How can you reduce stress and improve erectile dysfunction? Try practicing breathing exercises that can lower your blood pressure, increase your mindfulness and reduce your anxiety levels. Physical activity will also help to reduce stress, especially practicing yoga, and running or walking outdoors. Did you know that yoga changes your brain and can actually impact your GABA (the "chill out" neurotransmitter) levels?
And if you need support in the process of reducing stress and anxiety, try cognitive behavioral therapy that will help you to work through tough situations that would normally leave you in a state of stress.
4. Stop Smoking
It is well-known that smoking cigarettes can lead to physiological impairments that lead to erectile dysfunction. Research also indicates that this damage is not permanent and can even be reversed if smoking is stopped prior to middle age. For these reasons, it's imperative that men who smoke cigarettes need to stop in order to maintain their health and sexual function. Having trouble quitting smoking? Consider trying some mind-body practices like reiki, acupuncture and spinal manipulation to help. (20)
Dietary Changes
5. Eat Whole Foods
Research published in the Journal of Sexual Medicine examined data relating to erectile dysfunction and dietary factors. Researchers found that a dietary pattern that's high in fruit, vegetables, fish, nuts and whole grains, and low in red and processed meat, is more common in men who aren't affected by erectile dysfunction. These dietary choices, which fall within the guidelines of the Mediterranean diet, are associated with lower all-cause and disease-specific survival, according to researchers. And in clinical trials, following the Mediterranean diet was more effective in improving erectile dysfunction or restoring erectile function in people with metabolic syndrome or obesity. (21)
Here's a breakdown of the type of foods that are best for improving erectile dysfunction and health conditions that can lead to sexual dysfunction symptoms:
Organic grass-fed beef, wild-caught salmon, organic chicken and other organic meats
High fiber foods, including fresh fruits and vegetables
sources of healthy fats, including nuts, seeds, avocados and coconut oil
Gluten-free grains, including oats, amaranth, brown rice, quinoa and teff
6. Avoid Inflammatory Foods
You want to avoid eating foods that can cause inflammation, worsen stress, cause fatigue and even impact your hormonal balance. These foods include:
Packaged and processed foods
Refined vegetable oils
Refined and processed grains
Artificial sweeteners
Sweetened beverages
Too much caffeine
Too much alcohol

Herbs and Supplements
7. Saw Palmetto
Saw palmetto benefits include its ability to help the body retain normal testosterone levels by inhibiting the conversion of testosterone into DHT, a sex steroid that plays a role in the development of health issues related to erectile dysfunction, including loss of libido and an enlarged prostate.
Research shows that saw palmetto extract has been used extensively in the treatment of lower urinary tract symptoms and improves prostate health. And although the results are mixed, studies have shown that saw palmetto is also effective in improving erectile dysfunction. An animal study, for instance, evaluated the erectile functions of rats and rabbits that received saw palmetto extract. Researchers found that saw palmetto caused a relaxant response within the erectile tissue of the animals, allowing for increased blood flow. (22, 23).
8. Yohimbe Bark
Yohimbe is an herbal supplement that's used to improve erectile dysfunction, hormone imbalances and low libido. It's known to increase blood flow to the penis by promoting the relaxation of the penile tissue and opening of the blood vessels. This helps a man to get and sustain an erection.
There's some evidence, from the few well-controlled studies that have evaluated yohimbe, that this herb can help patients with ED, especially when it's used in combination with other treatments or herbal therapies. You can find yohimbe in capsule and tablet forms in health food stores. For erectile dysfunction, most studies have found positive results from taking 10–20 milligrams per day. (24)
9. Red Ginseng
Research shows that taking Korean red ginseng can help to improve erectile dysfunction and other symptoms of sexual dysfunction. When researchers conducted a systematic review evaluating the efficacy of red ginseng in treating erectile dysfunction, using doses ranging from 600 to 1,000 milligrams for a four–12 week period, they found that the herb was associated with significantly better response rates than placebo in all patients. (25)
Ginseng benefits sexual dysfunction because of its ability to affect the central nervous system, allowing the brain to send the necessary signals that initiate an erection. Red ginseng may also help to relax the penile tissue, allowing blood to rush to the area.
10. L-arginine
L-arginine is an essential amino acid that improves blood flow and circulation. It's converted into nitric oxide in the body, which causes your blood vessels to open wider. This is especially helpful for men with erectile dysfunction because the opening of the blood vessels in the penis is what allows for an erection to occur. L-arginine may also help to improve conditions that often lead to sexual dysfunction, including high blood pressure, cardiovascular disease and inflammation.
In a double-blind, randomized, placebo-controlled study, researchers found that oral administration of l-arginine in high doses (5 grams per day for a six-week period) significantly improved sexual function in men with erectile dysfunction, but only if the dysfunction was caused by decreased nitric oxide excretion. (26)
Another placebo-controlled study showed that taking two 800 milligram tablets for two weeks improved erectile function in men with minimal erectile dysfunction. There's also research that suggests using l-arginine in combination with l-glutamate and yohimbine hydrochloride is more effective than using l-arginine alone. (27)
11. Niacin
Niacin, or vitamin B3, is a natural vasodilator that helps to improve blood flow. Taking 250 milligrams of niacin three times daily may help men with erectile dysfunction to achieve and maintain an erection. Plus, niacin is also known to help improve brain function, improve diabetes symptoms and lower the risk of cardiovascular disease — all health conditions that commonly contribute to erectile dysfunction.
A study reported in the Journal of Sexual Medicine found that males with erectile dysfunction who took 1,5o0 milligrams of niacin for a 12-week period showed significant improvements in erectile function. (28)
Essential Oils
12. Sandalwood
Sandalwood essential oil is known to act as a natural aphrodisiac that helps to increase your libido. It can help to balance testosterone levels and works to reduce inflammation that can affect a man's ability to achieve an erection. Traditionally, sandalwood oil was also used to manage depression and promote relaxation. (29)
To use sandalwood oil, combine 2–3 drops with equal parts coconut oil (or any carrier oil) and rub it into your abdomen, back of neck and bottoms of your feet.
13. Rose
Rose essential oil works to fight stress and anxiety, two causes of erectile dysfunction. It's also known to help balance sex hormones and improve libido. A 2015 double-blind, randomized and placebo-controlled clinical trial that was published in Neuropsychiatric Disease and Treatment found that rose essential oil was able to improve sexual function in males with SSRI-induced sexual dysfunction and major depressive disorder. Using rose oil improved the participant's self-rated symptoms of depression and helped to improve sexual dysfunction that was caused by medication use. (30)
To improve sexual function with rose oil, diffuse 5 drops at home or rub 2 drops on your neck before you are planning to engage in sexual activity.
Complementary Therapies
14. Acupuncture
There is some evidence that acupuncture can be helpful in treating erectile dysfunction. Although studies show mixed results, one study found that after 4–10 acupuncture sessions, 13 of the 19 patients in the intervention group were able to obtain a full erection without further therapy and their symptom scores improved by 41.9 percent. This study suggests that acupuncture can be helpful for some men in improving erectile function. (31)
Acupuncture is also known to help improve health conditions that are associated with erectile dysfunction, including anxiety, depression, fatigue and inflammation.
Conventional Treatment
The type of prescription medication that's most commonly used in the treatment of erectile dysfunction is phosphodiesterase type 5 inhibitors (including sildenafil, vardenafil and tadalafil). They are used to relax and open the penile tissue, allowing for blood to enter the penis and cause an erection. Intracavernous (base of the penis) injections of vasoactive agents, such as prostaglandin E1, are also used for ED. (32)
The issue with using these types of medications to treat erectile dysfunction is that they only provide a temporary solution and patients remain dependent on these treatments for the remainder of their lives if they choose to be sexually active.
Surgical interventions for erectile dysfunction include revascularization, which restores blood flow to the penis, and penile prosthesis placement for men who aren't responding to medical therapy or lifestyle changes.
Final Thoughts
Erectile dysfunction is the persistent inability to achieve or maintain an erection that allows for sexual activity. This is a common male sexual disorder, especially among older men, but data shows that ED prevalence is rising in younger men, which may be due, at least in part, to the rise of internet pornography.
ED can be caused by a number of health conditions and lifestyle factors, including obesity, metabolic syndrome, cardiovascular disease, cigarette smoking, lack of physical activity, stress and certain medications.
Research shows that there are natural treatments for erectile dysfunction that help to balance hormones, improve blood flow and reduce symptoms of health conditions associated with ED. The natural treatments for ED include:

losing weight
exercising regularly
reducing stress
quitting smoking
making dietary changes
trying supplements like saw palmetto, yohimbe bark, red ginseng, l-arginine and niacin
using sandalwood and rose essential oils
trying acupuncture
Read Next: Horny Goat Weed Benefits for Libido & Bone Health