This Dr. Axe content is medically reviewed or fact checked to ensure factually accurate information.
With strict editorial sourcing guidelines, we only link to academic research institutions, reputable media sites and, when research is available, medically peer-reviewed studies. Note that the numbers in parentheses (1, 2, etc.) are clickable links to these studies.
The information in our articles is NOT intended to replace a one-on-one relationship with a qualified health care professional and is not intended as medical advice.
This article is based on scientific evidence, written by experts and fact checked by our trained editorial staff. Note that the numbers in parentheses (1, 2, etc.) are clickable links to medically peer-reviewed studies.
Our team includes licensed nutritionists and dietitians, certified health education specialists, as well as certified strength and conditioning specialists, personal trainers and corrective exercise specialists. Our team aims to be not only thorough with its research, but also objective and unbiased.
The information in our articles is NOT intended to replace a one-on-one relationship with a qualified health care professional and is not intended as medical advice.
13 Natural Remedies for Depression: Find Hope Again!
May 11, 2018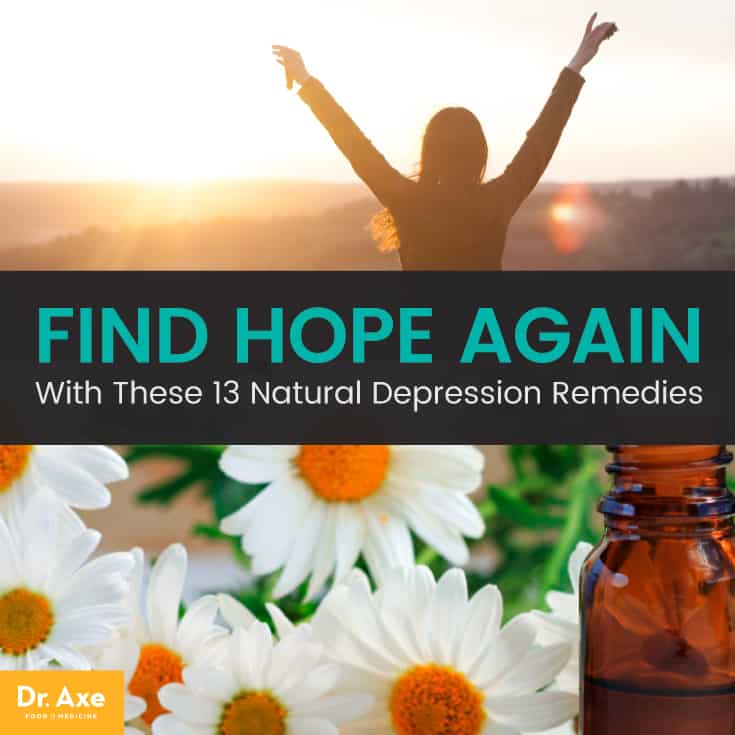 Did you know that 1 out of 7 individuals will suffer from depression symptoms at some point in his or her life? Today, depression is one of the main causes of disability in developed, as well as low and medium income countries. In fact, around 150 million people suffer from depression worldwide. (1)
The World Health Organization predicts that depression will become the second most prevalent disease worldwide by the year 2020. But what are we doing to prevent and treat this life-altering mood disorder? The typical treatment — antidepressant medications — don't work for every person with depression and also come with a slew of side effects. However, sometimes people don't know where to turn to find a treatment that won't bring on more health problems.
The good news is there are natural remedies for depression that are effective and help address the root cause of the disease. If you're looking for a natural way to improve your depressive symptoms, studies suggest that you should focus on eating an anti-inflammatory diet — one similar to the Mediterranean diet that provides critical vitamins and minerals for hormone balance and brain function. A moderate to high level of physical activity/exercise has also been shown to prevent against depression. Additionally, using essential oils for depression and making other lifestyle changes to control stress are some of your best options.
Causes
Depression is when a person experiences low mood persistently, to the point that it starts to interfere with her daily life. Struggling with depression can be extremely painful for both the person experiencing the symptoms and her loved ones.
The causes of depression are varied and include:
unresolved emotional problems
neurotransmitter imbalance
hormonal imbalances
alcoholism
nutrition deficiencies
lack of sunlight
toxicity from metals
Although depression can happen at any age, it often develops in adulthood. For example, it's especially prevalent in middle-aged or older adults who are struggling with other serious medical issues, like cancer, diabetes or Parkinson's disease. But other risk factors for depression include a family history of depression, taking certain medications that cause depressive side effects, major life changes, ongoing stress and trauma. (2)
Symptoms
Depression can manifest with a variety of different symptoms including (3):
fatigue
persistent sadness
low mood
irritability
feelings of worthlessness and hopelessness
difficulty concentrating
difficulty sleeping
changes in appetite
weight changes
feelings of helplessness
disinterest in hobbies or activities
aches and pains
digestive issues
attempting suicide

Conventional Treatment
Conventional treatment for depression typically involves the use of medications and/or psychotherapy. The most widely used form of medication for depression is SSRIs, or selective serotonin-reuptake inhibitors, which include drugs like Celexa, Lexapro, Zoloft, Prozac and Paxil. Research shows that antidepressant medications do help patients with depression, but they work as symptom suppressors rather than cures. Once a patient is no longer taking the antidepressants, the symptoms will probably recur. In addition, antidepressant medications have serious side effects that can include suicidal thoughts, weight gain and personality changes. Another danger of psychotropic drugs like SSRIs is that they can cause neurotransmitter degradation, leading to changes in the brain. (4)
In addition to medication, psychotherapy is another option. There are several forms of psychotherapy that can be helpful, including "talk therapy" or counseling, problem-solving therapy, cognitive-behavioral therapy and interpersonal therapy. A study conducted at the Ohio State University found that when cancer patients suffering from depression were asked if they would rather use individual counseling, antidepressant medications or support groups to address their symptoms, preference for individual counseling was significantly higher than the other options. (5) Counseling can be an effective depression treatment, along with other natural remedies for depression.
13 Natural Remedies for Depression
1. Healthy and Well-Balanced Diet
You may be surprised to learn that your food choices can have a significant impact on your mood. It's key to eat foods that support neurotransmitter function, which are the brain's messengers that control your mood, energy levels, appetite and many other processes in the body. Neurotransmitters are significantly influenced by the foods you put into your body.
Research including a 2018 study published in the journal Primary Care also shows that eating an anti-inflammatory diet, such as one that closely mimics the traditional Mediterranean diet, can reduce your risk for depression. (6) When compared to other balanced diets — including the Healthy Eating Index diet (HEI), the Dietary Approaches to Stop Hypertension diet (DASH diet), and the Dietary Inflammatory Index diet, the study found that the risk of depression was reduced most with adherence to a healthy Mediterranean-type diet.
A 2009 study published in the British Journal of Psychiatry examined the association between dietary patterns and depression. There were 3,486 participants who fell into one of two dietary categories. The first was those who ate a whole food diet, heavily loaded by vegetables, fruits and fish. Second was those who ate processed foods. These foods included sweetened desserts, fried food, processed meat, refined grains and high-fat dairy products. After five years, the participants were assessed. Researchers found that those who stuck to the whole food dietary pattern had lower odds of depression. In contrast, high consumption of processed food was associated with an increased risk of developing depression. (7)
Eating healing foods can be transformative. Here's a breakdown of the whole, anti-inflammatory foods that should be part of your diet to prevent and treat depression:
that should be part of your diet to prevent and treat depression:
Omega-3 foods: Research shows that one of the most important components of your diet in order to prevent or treat mood disorders is omega-3 foods. Your brain lipids are actually composed of fatty acids. Of those those fatty acids, 33 percent belong to the omega-3 family. That means that you need to eat omega-3s in order for your brain to function properly. Omega-3s benefit the brain by promoting communication processes and reducing inflammation. (8) The best omega-3 foods include wild-caught fish like salmon, mackerel, herring and white fish, walnuts, chia seeds, flaxseeds, natto and egg yolks.
Fruits and Vegetables: A diet high in fruits and vegetables increases your intake of vital nutrients that support your mood. Fruits and veggies high in folate, for example, promote the brain's metabolic processes and research shows that a folate deficiency can lead to depressive symptoms. (9) Some of the top folate foods include spinach, asparagus, avocado, beets and broccoli. Your body also needs antioxidant foods to combat the biochemical changes that take place when you're under stress. A study published in the Indian Journal of Psychiatry found that antioxidant therapy for 6 weeks significantly reduced both depression and anxiety scores in observed patients. (10) Some of the top antioxidant foods include blueberries, goji berries, blackberries, cranberries and artichokes.
Healthy fats: Healthy fats provide important vitamins and minerals that boost energy levels and mood. Plus, eating healthy fats helps to prevent free radical damage that may be associated with depression. But it's important to understand that not all fats are created equal. In fact, research shows that there's a detrimental relationship between consuming trans fats (like hydrogenated oils) and depression risk. (11) Stick to eating healthy fats such as avocados, grass-fed butter, coconut oil, extra virgin olive oil and omega-3s like walnuts and flaxseeds.
Lean Protein: Eating protein is critical for supporting neurological function and balancing hormones. Protein foods also provide energy and boost our mood. We need to consume plenty of protein throughout the day because the amino acids allow for many of the body's functions. When you don't eat enough protein, you become fatigued, your immunity weakens and you experience moodiness. The best sources of protein include grass-fed beef, lentils, wild fish, organic chicken, black beans, yogurt, free-range eggs, raw cheese and protein powder made from bone broth.
Probiotic Foods: Eating probiotic foods increases energy levels, supports cognitive function and promotes mental wellness. Some of the top probiotic foods include kefir, yogurt, kombucha, miso, raw cheese and fermented vegetables. In fact, a great way to consume probiotics is to drink kombucha every day because it also contains enzymes and B vitamins that boost your energy levels and helps to detoxify your body.
2. Limited or No Refined Carbohydrates and Sugars
Have you ever wondered why you crave refined carbohydrates and sugars when you're feeling sad? If you tend to reach for the cookies or potato chips in tough moments, it's because high carbohydrates foods trigger a release of serotonin, a natural opioid that acts in the brain similarly to the drug opium. Although these foods are improving your mood for the moment, they are also leading to weight gain, issues with sleep, candida overgrowth and low energy levels, making your depression symptoms worse. (12)
An investigation conducted at Baylor College of Medicine in Texas found that sugar consumption rates were correlated with the annual rate of major depression. (13) And a systematic review published by the American Public Health Association found that there is a significant relationship between unhealthy dietary patterns (such as eating a "Western diet" that's made up of mostly processed foods) and poorer mental health in children and adolescents. (14) Diets that are high in refined sugars are actually harmful to your brain because they promote inflammation and oxidative stress.
To reduce depressive symptoms by supporting the health of your brain and balancing your hormones, avoid eating packaged and processed foods that are made with refined carbohydrates and sugars. Stick to real, whole foods that are in their natural forms.
One specific diet that covers many of these dietary alterations and might have specific impact on depression is the keto diet. Studies in animals have found that pups born to mice on the ketogenic diet have less of a chance of developing depression, and putting animals in a model of depression on keto seems to improve some of the signs of depression. (15, 16, 17)
3. Fish Oil
Omega-3 fats are critical for neurotransmitter function, an important component for emotional and physiological brain balance. Research published in CNS Neuroscience Therapeutics analyzed three studies that involved the treatment of depression with omega-3 fatty acids. One study compared the benefits of omega-3 therapy to placebo therapy, another study tested the effects of omega-3s on children with depression and the third study was an open-label trial using EPA to treat bipolar depression.
Researchers found that omega-3s showed highly significant effects. For example, in the open-label study involving people with bipolar depression, patients who completed at least one month of follow-up achieved a 50 percent or greater reduction of depression symptoms. (18) Fish oil supplements are a great way to ensure you are getting enough omega-3 fats.
4. Probiotics
Research shows that probiotic supplements can improve mental outlook, which is due to the gut-brain connection. Probiotics aid nutrient absorption and promote glycemic control, helping to avoid spikes and drops in blood sugar levels. But most importantly, studies show that there are direct lines of communication from the gut to the brain, so taking probiotics actually changes your behavior and brain chemistry, thereby improving cognitive function and reducing depressive symptoms. (19)
A 2017 study illustrated the correlation between gut health and depression. Researchers analyzed 44 adults with IBS (irritable bowel syndrome) and mild to moderate anxiety or depression. Half of the group took a probiotic (specifically Bifidobacterium longum NCC3001), and the other was given a placebo. Six weeks after taking probiotics daily, 64 percent of the patients taking the probiotic reported decreased depression. Of the patients taking a placebo, only 32 percent reported decreased depression. (20)
5. Vitamin D3
A systematic review and meta-analysis evaluating the efficacy of vitamin D supplement as a natural remedy for depression found that vitamin D supplementation was favorable in the management of depression because it changed vitamin levels in a way that's comparable to antidepressant medications. (21)
Vitamin D acts like a hormone in the body and effects brain function, which is why a deficiency is linked to an increased risk for mood disorders, including depression and seasonal affective disorder (or "winter depression"), a form of depression that comes and goes in a seasonal pattern.
6. Adaptogen Herbs
Adaptogen herbs are a class of healing plants that improves stress hormones and relax the nervous system. They help to balance and protect the body by reducing cortisol levels when your under any type of stress.
Two adaptogens that work as natural remedies for depression include rhodiola and ashwagandha. Rhodiola works by increasing the sensitivity of your neurons, including two neurotransmitters serotonin and dopamine. These neurotransmitters help to increase focus and memory, and improve mood. Ashwagandha works to combat the effects of stress, reduce anxiety and depression and balance hormones. But the best part about these natural remedies for depression is that there are no adverse side effects, as opposed to most antidepressant medications. (22)
7. B-Complex
B vitamins are involved in neurotransmitter function and research shows that low levels of both folate and vitamin B12 levels, in particular, are linked to depressive symptoms. This is especially true for patients who have been treated with lithium and those with alcoholism. (23)
Vitamin B12 supports the neurological system and boosts energy levels, and folate supports nutrient absorption, helps to reduce irritability and fights fatigue. Taking a B-complex vitamin will help to produce serotonin naturally and relieve depressant symptoms, without the need for medications or toxic sugary foods.
8. St. John's Wort
Several studies show that St. John's wort can help to fight mild to moderate depression and anxiety. St. John's wort works as a natural remedy for depression that can be compared to the efficacy of selective serotonin reuptake inhibitors (SSRIs), a common type of antidepressant that's prescribed today. Plus, research shows that St. John's wort has fewer side effects than standard antidepressants. (24)
Although researchers aren't exactly sure how St. John's wort works to fight depression, it's believed that it may be associated with the herb's ability to make more serotonin, dopamine and norepinephrine available in the brain. This is important because these three neurotransmitters help to boost mood and improve the symptoms of depression. Also, if you choose to use St. John's wort as a natural remedy for depression, do it only under the guidance of your health care provider.
9. Lavender Oil
Lavender oil helps to relieve stress, promote a feeling of peace and improve sleep. It actually has a long history of medicinal use for mood disorders because it has sedative and calming properties. Studies show that lavender oil also has neuroprotective effects. It enhances dopamine receptors and works as an antioxidant. (25)
To use lavender oil as a natural remedy for depression, add 5–10 drops to warm bath water, diffuse 5–10 drops in your bedroom at night to promote sleep, and apply 2–3 drops topically to the temples, chest and wrists in the morning.
10. Roman Chamomile
Roman chamomile essential oil works as a mild sedative that naturally calms nerves and promotes relaxation. Research shows that Roman chamomile oil can be used alone or in combination with lavender oil to improve sleep quality and reduce anxiety. (26)
To use Roman chamomile as one of your natural remedies for depression, inhale the vapors directly from the bottle a few times a day, apply 2–3 drops topically to your wrists and back of neck, or diffuse 5–7 drops at home or at your workplace.
11. Relationships and Support
Because depression is most commonly caused by emotional issues, it can become worse due to lack of positive relationships, low self confidence and lack of purpose. Find a strong community of friends that can support and encourage you, and focus on your spirituality. It's also helpful to seek counseling with a professional so that you can manage stress and strategize about your treatment methods and goals.
A 2013 study conducted at the University of Michigan found that the "quality of social relationships is a major risk factor for major depression." Risk of depression was greatest among those with poor overall relationship quality, a lack of social support and social strains. Researchers found that these relationship statuses more than doubled the risk of depression. (27) It seems that personal relationships may be one of the most important natural remedies for depression.
12. Exercise
A 2019 randomized study published in JAMA sought out to determine if physical activity can play a role in reducing risk for depression. Findings from the study showed that higher levels of physical activity were linked to reduced odds for major depression, suggesting that getting regular exercise can be a powerful preventive strategy for protecting mental health. Researchers from the study also point out that "the causality and direction of this association are not clear; physical activity may protect against depression, and/or depression may result in decreased physical activity." (28)
Exercise gives you a boost of energy, helps you to sleep better and builds confidence. These benefits of exercise will improve depressive symptoms and promote feelings of happiness and self-worth. A different 2012 systematic review found that exercise can help to reduce the symptoms of depression, especially when it's done in combination with psychological therapies. (29)
Aim to exercise three to five days a week for 20 minutes or more. You can try any type of exercise that you like, such as yoga, pilates, running, barre, burst training and calisthenics. Even taking a walk outside will boost your happy hormones and energy levels. Of the natural remedies for depression, this is one that offers some of the most variety of options to choose from.
I will note that a May 2018 study found weight training specifically significantly reduced symptoms of depression throughout 33 clinical trials, including 1,877 participants, regardless of health status and even if no improvements in strength occurred. (30)
13. Time Outdoors
Research shows that improving your vitamin D levels can help to reduce the symptoms of depression. In fact, the relationship between depression and vitamin D deficiency from a lack of sun exposure was first noted over two thousand years ago, according to researchers at the University of South Australia. (31) Aim for spending 10–20 minutes in the sun daily.
14. Psilocybin Mushrooms
While still classified a Schedule 1 drug, psilocybin (a powerful compound in so-called magic mushrooms) may assist with serious medical conditions like treatment-resistant depression (which is fairly common), and research institutions like Johns Hopkins University are urging a reclassification of this substance from Schedule I to IV so it can be used for medical treatments.
Related: 5 Emotional Freedom Technique or EFT Tapping Benefits for Stress, Pain & More
Precautions
If you are suffering from depression and want to use these natural remedies for depression to improve your symptoms, do it under the care and guidance of your health care provider or counselor. Don't be afraid to ask for support, as it's so important to get help when you need it. But, if you notice any adverse reactions to these natural treatments for depression, or your symptoms become worse, discontinue the use of that remedy and see your health care provider. Also, it may take three to four weeks to see improvements with some of these natural remedies for depression.
Final Thoughts
Depression is one of the main causes of disability in developed, as well as low and medium income countries, with around 150 million people suffering from depression worldwide.

But, antidepressant medications come with a slew of side effects and people don't know where to turn to find a treatment that won't bring on more health problems.

However, luckily there are natural remedies for depression like dietary changes, using essential oils for depression, supplementing with vitamin D3 and B vitamins, and making lifestyle changes. Seeking counseling and community support has also proven to be beneficial for people who are suffering from depressive symptoms, in addition to these natural remedies for depression.