This Dr. Axe content is medically reviewed or fact checked to ensure factually accurate information.
With strict editorial sourcing guidelines, we only link to academic research institutions, reputable media sites and, when research is available, medically peer-reviewed studies. Note that the numbers in parentheses (1, 2, etc.) are clickable links to these studies.
The information in our articles is NOT intended to replace a one-on-one relationship with a qualified health care professional and is not intended as medical advice.
This article is based on scientific evidence, written by experts and fact checked by our trained editorial staff. Note that the numbers in parentheses (1, 2, etc.) are clickable links to medically peer-reviewed studies.
Our team includes licensed nutritionists and dietitians, certified health education specialists, as well as certified strength and conditioning specialists, personal trainers and corrective exercise specialists. Our team aims to be not only thorough with its research, but also objective and unbiased.
The information in our articles is NOT intended to replace a one-on-one relationship with a qualified health care professional and is not intended as medical advice.
6 Gout Remedies that Work
June 8, 2017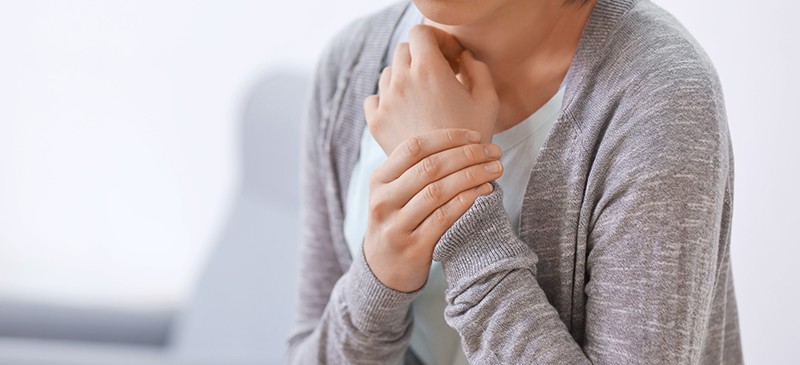 Gout is something that plagues more and more people every day, and it's caused from uric acid buildup in the body. I want to go over my top six home gout remedies — all-natural ways to beat gout symptoms — but right before that, go over the diet that is crucial to get rid of gout, along with the worst food offenders.
So if you have gout, the first thing you have to do is eliminate the excess sugar and grains in your diet, as well as processed meat. That means you need to kick that sugar addiction, as sugar feeds yeast in the body and conventional grains turn into sugar. Meanwhile, those meats are full of unhealthy hormones and antibiotics, and they're so acidic to your system. In terms of beverages, it's important to stay away from alcohol. Diet- and drink-wise, those are the best things you can do right now to eliminate gout symptoms.
In terms of a gout diet, it's key to begin eating plenty of vegetables, fruits and organic meats. Some of the best foods include bone broth and my Chicken Vegetable Soup recipe.
---
6 Natural Remedies for Gout
Studies show that many of the dietary items we consume lead to gout as well as other health problems. Changing your diet and lifestyle may be the easy solution to beating gout. One of the first things to do is eliminate certain foods and beverages from your diet to beat gout.
Now here are my top six all-natural gout remedies to get rid of gout for good. If you follow these tips, you can get rid of gout in 24 hours or less. Yes, that fast, you can get rid of gout pain for good.
1. Celery Seed Extract
Step No. 1 is to consume celery seed extract and celery juice. Celery seed extract actually has been shown to decrease uric acid buildup in the body.
Researchers have identified over a dozen different types of antioxidants that are responsible for the benefits of celery — these include such phenolic acids as caffeic acid and ferulic acid, plus flavaols like quecetin. This makes celery useful for treating a wide range of conditions that are made worse by inflammation: joint pain (such as from arthritis), gout, kidney and liver infections, skin disorders, irritable bowel syndrome, and urinary tract infections, just to name a few.
You can buy the supplement or celery seed extract. You can also use a vegetable juicer to produce celery juice or just eat celery throughout the day — all of which are great for getting rid of gout.
2. Black Cherry Juice
The No. 2 home remedy for gout is black cherry juice or cherry juice extract. Treating gout is one of the many health benefits of cherries. A study published in Arthritis & Rheumatism evaluated 633 individuals with gout who were treated with cherry extract over a two-day period. This cherry treatment was associated with a 35 percent lower risk of gout attacks. When cherry intake was combined with allopurinol use, a prescribed medication for gout and kidney stones, the risk of gout attacks was 75 percent lower.
Cherry juice, then, has very similar benefits to celery juice: It reduces inflammation and uric acid buildup in the body. If you just add celery and black cherry juice to your diet, you will see very fast results in getting rid of gout.
3. Nettles
The third thing you can add is stinging nettle. Stinging nettle is a powerful anti-inflammatory phytonutrient, and you can buy it in tea form. A review of commonly used herbal remedies, including nettles, published in Toxicology and Applied Pharmacology, relays the standing of nettles as an anti-inflammatory food. So again, you can buy nettles as a supplement or drink it as a tea, and it's great for getting rid of gout.
4. Fish Oil
No. 4 on the gout remedies list is fish oil. Now, fish oil doesn't act as fast as the first two, but over time, fish oil can decrease your risk for gout because one of the health benefits of fish oil is it's packed with omega-3 fatty acids that reduce disease-causing inflammation in your body.
Since gout is a form of arthritis and fish oil has been proven to be an effective treatment for arthritis, it only makes sense its omega-3 content benefits people with gout.
5. Proteolytic Enzymes
In terms of supplements proteolytic enzymes like benefit-rich bromelain can treat gout as well. Bromelain is found in the core of a pineapple, and it's a digestive enzyme that's been shown to help reduce uric acid and inflammation.
A review of gout treatment published in the Iranian Red Crescent Medical Journal mentions bromelain, along with many other foods, as part of a gout treatment diet.
6. Magnesium
One other remedy that's been very beneficial in treating gout is magnesium. Magnesium is an alkaline mineral. That alkaline mineral can also decrease uric acid formation in the body, and studies show magnesium is an effective treatment for gout, particularly acute cases of gout.
If you have signs of magnesium deficiency, you may be susceptible to gout, so it's a good idea to add magnesium-rich foods or magnesium supplements to your list of natural gout remedies.
If you get rid of the things that I talked about earlier — the excess alcohol, the sugar, the grains, the conventional meats — and if you add in a diet higher in fruits and vegetables along with those six home gout remedies, you will see your gout disapper in 24 hours or less.
---
The Gout Diet
Gout, also known as gouty arthritis is caused by the buildup of uric acid, a metabolite of protein and can be extremely painful. Gout generally occurs more often in men and second most in post menopausal women.
The excess of uric acid leads to the formation of small crystals of urate (uric acid crystals).  Some of these crystal deposits form in the synovial fluid (lubricating fluid around joints) that then cause inflammation and result in this painful condition.
When someone has a gout attack it can be extremely painful in the area of the big toe and signs also include redness and swelling in the joint.  Other joints may be affected and the pain can be so intense that even touching the area can be excruciating.
Causes of gout include: a diet high in hydrogenated fats, alcohol, conventional meat and refined carbohydrates.  Also having conditions such as insulin resistance, obesity, kidney disease, stress, high blood pressure, and an acidic system can greatly increase the risk of developing gout.
If you want to overcome gout then diet is key. Follow this gout diet for fast relief and do actually address the cause of gout and get rid of it forever.
High-fiber foods – High fiber foods include fruits, vegetables, nuts and seeds that are high in fiber which can help reduce uric acid.

Potassium-rich foods – Foods high in potassium like avocado, raw cultured dairy, coconut water, salmon, squash, bananas and apricots can help balance intracellular fluid relieving gout.

Fresh berries and cherries – Berries and especially cherries can help neutralize uric acid.

Wild-caught fish – Omega-3s help reduce inflammation and can help overcome gout pain.

Water – Drink plenty of water, at least 8 oz every 2 hours to flush uric acid out of your system.
You also want to avoid the following foods:
Foods high in purines – Purines are an amino acid that forms uric acid. Foods that have purines include: fatty red meat, shellfish, small fish, mushrooms, organ meats, peas, lentils, and spinach.

Fried foods and hydrogenated oils – Fried foods and hydrogenated oils like soybean, vegetable, corn, and canola oil can aggravate gout.

Sodium – A diet high in sodium can cause tissue swelling and increase gout symptoms.

Alcohol  – Increases uric acid and toxicity of the liver.

Refined carbohydrates – Sugar and other refined carbohydrates can make insulin resistance and gout worse.
---
Gout Causes
Gout is said to be caused by lifestyle and eating choices. Today the staple American diet has shifted to one full of highly processed foods. Many of these highly processed foods contain high fructose corn syrup which is believed to be a leading contributor to gout.
In fact, a recent study showed that men who consumed two or more sugary drinks per day were 85% more likely to develop gout than those men who only consumed less than one sugary beverage a month. This high sugar intake increases the levels of uric acid in the body. High levels of sugar in the body lead to a number of serious health problems including gout.
It's also been shown that half of all gout sufferers are obese or overweight. And again, a high intake of sugar is shown to lead to obesity.
Another cause of gout is consuming too many high purine foods. These are organ meats, anchovies, herring, asparagus, and even mushrooms.  Eating less high purine foods is one way to try to ward off gout.
---
Conventional Gout Remedies
There are pharmaceuticals that are used to treat gout but I urge you to use these as a last resort. Some of the pharmaceuticals used to treat gout are NSAIDs, Colchicine, corticosteroids, Corticotropin (adrenocorticotropic hormone),Febuxostat, Aloprim, and Zyloprim.
Not only do many of these drugs not work for gout sufferers the side effects of these toxic pharmaceuticals are not worth the risk. This is especially true when diet and lifestyle changes can end or successfully help to manage gout.
Some of the side effects of these dangerous pharmaceuticals are the following:
Side Effects of Pharmaceuticals Used to Treat Gout
Nausea
Vomiting
Diarrhea
Constipation
Rash
Dizziness
Headaches
Drowsiness
Fluid retention
Shortness of breath
Kidney failure
Liver failure
When there are all natural alternatives available to you to fight off gout I suggest you try these methods before you opt for pharmaceuticals and their dangerous side effects.
---
Additional Tips for Treating Gout Naturally
Studies show that many of the dietary items we consume lead to gout as well as other health problems. Changing your diet and lifestyle may be the easy solution to beating gout. One of the first things to do is eliminate certain foods and beverages from your diet to beat gout.
1. Eliminate or reduce sugar intake
As many studies are now illustrating, gout is common in people with excessive sugar intake, especially high fructose corn syrup (HFCS.) It's wise to read the labels of all your food and drinks. If you find HFCS then eliminate that from your diet. In addition, look for sugar added under the guise of other common names for sugar; look for 'cose' at the end of words and these are probably types of sugar you don't want to be consuming.
2. Eliminate grains
Grains in the body are converted to sugars so again you want to limit or avoid grains altogether. They are also very inflammatory to your body.
3. Limit alcohol consumption
Again, alcohol becomes sugar once ingested so eliminate this completely unless you have a healthy body already. Any substance that will be converted to one or another type of sugar by the body should be avoided at all costs. In order to get your uric acid levels down you must consistently avoid sugar in your diet.
4. Eliminate soda and diet soda
Soda and diet sodas are loaded with sweeteners either natural or artificial. It's vital to eliminate them from your diet altogether if you want to be gout-free. Remember the study I mentioned earlier in which just two to three sweet beverages a week increased men's chance of getting gout by a whopping 85%.
5. Consume cherries and strawberries daily
In order to combat the inflammation try adding fresh, organic cherries and strawberries to your diet. Cherries are rich in anthocyanicns and bioflavonoids both which help to relieve and prevent arthritis. In addition, both are high in antioxidants which will help to fight off free radical damage.
6. Exercise
Since obesity is linked to gout, it's a good idea to exercise regularly if you're trying to relieve gout from your life. Include burst training and weight training to maximize your health benefits from exercise. Exercise should be a part of your life no matter if you have gout or not. Burst Training is the best way to get in shape and keep your body healthy. Click here for my burst workout ideas.
As with many health problems there are all natural treatment methods that often involve lifestyle changes that should take place before you opt for pharmaceuticals or other methods.  The same is true for gout. Try these solutions and live an overall healthy lifestyle and you'll be pain free from gout in no time.
If you want to learn more natural remedies and natural cures, subscribe to my YouTube channel.
Read Next: The Arthritis Diet & Supplementation Plan