This Dr. Axe content is medically reviewed or fact checked to ensure factually accurate information.
With strict editorial sourcing guidelines, we only link to academic research institutions, reputable media sites and, when research is available, medically peer-reviewed studies. Note that the numbers in parentheses (1, 2, etc.) are clickable links to these studies.
The information in our articles is NOT intended to replace a one-on-one relationship with a qualified health care professional and is not intended as medical advice.
This article is based on scientific evidence, written by experts and fact checked by our trained editorial staff. Note that the numbers in parentheses (1, 2, etc.) are clickable links to medically peer-reviewed studies.
Our team includes licensed nutritionists and dietitians, certified health education specialists, as well as certified strength and conditioning specialists, personal trainers and corrective exercise specialists. Our team aims to be not only thorough with its research, but also objective and unbiased.
The information in our articles is NOT intended to replace a one-on-one relationship with a qualified health care professional and is not intended as medical advice.
39 Healthy Smoothie Recipes
June 5, 2018
Ahh, the smoothie. It's gotten a bad rap in the past for being a sugar-laden drink more closely resembling dessert than anything remotely healthy. But while that might be true for smoothies purchased at juice shops, you can make healthy smoothie recipes right at home for a fraction of the price in just minutes.
Why do I love smoothies so much? They make a great breakfast or snack anytime of the day and can usually be made ahead of time. These delicious healthy smoothie recipes can help you refuel after a great workout.
You can also load them up with nutrient-dense foods and supplements to help boost your immune system or to give you an energizing power-punch to your metabolism. They require minimal equipment (just a blender) and, by storing them in a reusable drink bottle, you can have an on-the-go meal in minutes.
Ready to make one of these frosty concoctions? I've rounded up some of my favorite healthy smoothies. Whether you want to satisfy a sweet tooth, detox with a green smoothie or indulge in a chocolate drink, I know you'll love these recipes. 
Top 40 Healthy Smoothie Recipes
FRUIT SMOOTHIE RECIPES
This is the perfect smoothie if you're craving something with citrus. You're getting a giant heap of vitamin A, vitamin K, potassium and magnesium with the carrots. With the orange juice, you're getting loads of fiber, vitamin C and potassium. Be sure to use fresh-squeezed orange juice to ensure you're avoiding unnecessary sugars and organic carrots to ensure that you're getting the most nutritional value. This is perfect for early mornings or a midday break to give you the boost you need!
A rich antioxidant superfood, blueberries are good for your brain function and your immune system. And with this truly customizable base, this simple but perfect blueberry smoothie can be tweaked to your liking, though I love the suggestion of serving it in a fancy glass!

High in fiber and antioxidants, papaya is one nutritious fruit! And blended with coconut kefir to keep your gut and immune system going strong, plus whey protein to keep your metabolism up, it makes for a great start to your morning. For variations, throw in a little bit of pineapple or a handful of spinach.
Why should the only pumpkin recipes be pies? In this healthy smoothie, canned pumpkin provides extra fiber and a lovely orange color, while apples and oats will also help you feel fuller longer. And while it's got "breakfast" in the name, I think this smoothie makes a great meal anytime. Try substituting the Greek yogurt with goat milk yogurt!
Reminiscent of a cherry cobbler, this smoothie is loaded with good-for-you ingredients like cherries, almonds and coconut oil. You'll never believe how healthy this sweet treat is!
This is a simple and easy smoothie recipe that's quick and delicious. Raw blueberries support your digestion and add a heap of vitamin K, vitamin C and manganese to your daily vitamin intake. You can add or take away the spinach, but I recommend keeping it because spinach leaves are loaded with vitamin A and vitamin K. All you have to do is place all of your ingredients in the blender and go; It's perfect for a hectic morning, but you can enjoy this smoothie recipe any time of the day.

This concoction of strawberries, blueberries, blackberries, bananas, raspberries and pomegranates creates a delicious and nutritious smoothie. With all of the ingredients combined, you're getting loads of vitamin A and vitamin C. This smoothie is delicious by itself or paired with granola and fresh fruit to create a smoothie bowl.
Kick-start your morning with this dairy-free coffee smoothie. It'll provide the caffeine you're craving along with banana and coconut milk for natural sweetness.
No liquid is necessary in this recipe thanks to the inclusion of juicy watermelon. With three types of fruits and a cup of ice, you'll love this frozen smoothie on a hot summer day.
VEGGIE AND GREEN SMOOTHIE RECIPES
Naturally low-calorie, high-fiber cherries disguise the taste of kale in this tasty smoothie. If cherries aren't in season, feel free to use the frozen variety in place of fresh.

This green smoothie gets a tropical flavor thanks to the inclusion of coconut milk and shaved coconut. Be sure to swap the Greek yogurt for raw, full-fat yogurt or goat milk yogurt for optimized nutrition.
This pumpkin pie smoothie recipe is loaded with protein and fall-inspired flavors, like cinnamon, nutmeg and (of course!) pumpkin. Create your own pumpkin puree to avoid the high amounts of sugar found in canned pumpkin puree.
This drink is chock-full of healthy fats, protein and all-around deliciousness. If you're craving a milkshake, make this your go-to smoothie.
Whether you indulged too much at dinner or just want to get nutrients flowing through your system, this wholesome, healthy smoothie — packed with cinnamon, kale leaves, grapes and just a little cayenne kick — is just what the doctor ordered.
This mega-green smoothie has a long ingredients list, but I promise it's worth it. You'll get a serving of veggies, loads of vitamins and antioxidant effects. If you're looking for a healthy smoothie that packs a lot of punch into each serving, this might be the one.
A fruit bowl that's beautiful and delicious … Mangoes are rich in fiber and great sources of vitamin C and A. If you don't have any hemp seeds (although I highly recommend you get some because they are a great source of omega-3 and omega-6 fatty acids that promote cardiovascular health), you can always substitute them for flaxseeds.
Satisfy all your vitamin A needs in just one meal with this sweet green smoothie. The drink is creamy thanks to Greek yogurt and smooth avocado, while fresh pears, grapes and lime juice disguise any spinach taste. The result is a protein- and veggie-packed smoothie perfect for an AM start.
CHOCOLATE SMOOTHIE RECIPES
Enjoy the rich tastes of chocolate and nuts with this "melt-in-your-mouth" smoothie. With its smooth, creamy texture and healthy protein kick, it will get your morning started right.
This single serving smoothie requires just four ingredients but tastes incredibly decadent. It's like a milkshake that's good for you!
A handful of simple ingredients blend together to produce a smoothie with hints of chocolate, banana and vanilla in this recipe. If you're not following a vegan diet, feel free to use organic, dark chocolate chips in place of the vegan variety.
Chocolate and cherries go hand-in-hand as ingredients in one of the tastiest healthy smoothie recipes. Fresh or frozen fruit are fine — either way, this will be delicious.
How can a smoothie this good be so good for you? Baby spinach charges up your health, banana's potassium wakes you up, avocado comes in swinging with potassium, magnesium and glutathione and chia seeds will help get your metabolism moving fast — all this with the great taste of chocolate for a sweet treat that will keep you satisfied for hours.

If you're craving a simple chocolate smoothie, look no further! This recipe is extremely simple to make but complex in all of the nutrients it provides. The cacao powder is an excellent source of fiber and natural, healthy carbs and has less added sugar than regular cocoa powder. Not to mention, the avocado is rich in magnesium, potassium, iron and copper. You're sure to enjoy this smoothie and be pleasantly surprised you don't taste the avocado.
Get the comforting flavors of hot chocolate with the added nutrients of avocado, chia seeds and raw oats with just a touch of honey (my favorite is Manuka honey) in this nourishing smoothie recipe made with warm milk (ensure that you're using raw milk). It's wonderful on chilly mornings, or as a bedtime treat.
NUT BUTTER AND VEGAN SMOOTHIE RECIPES
Here's a new take on smoothie recipes: these are eaten in a bowl. If you've ever wondered what it's like to eat a bowl of chocolate, this is the recipe for you. While there are two featured here, I prefer the second: almond butter, cacao powder, banana, apple and spinach in a bowl just can't be beat!

A smoothie bowl that's packed with healthy fats and protein is a perfect way to get your morning started and keeps you full. This smoothie bowl is vegan and gluten-free. You can always tweak the smoothie bowl to your liking!
This smoothie is creamy, sweet, nutritious and has a beautiful color, thanks to the blueberries. You can substitute the almond butter for cashew butter or even sunflower seed butter depending on your preference. You can even add protein powder to give this smoothie an extra boost if desired.
Skip the food court kiosk and get a dose of cinnamon roll goodness right at home. This version, made with coconut milk, will curb those cravings and leave you feeling great. Use freshly ground cinnamon for the best flavor. Need protein? Add two tablespoons of almond butter for more staying power.
Wake up and smell the greens with this eye-opening smoothie that has all the vitamin C, antioxidants and a touch of natural caffeine to perk you up and get you going!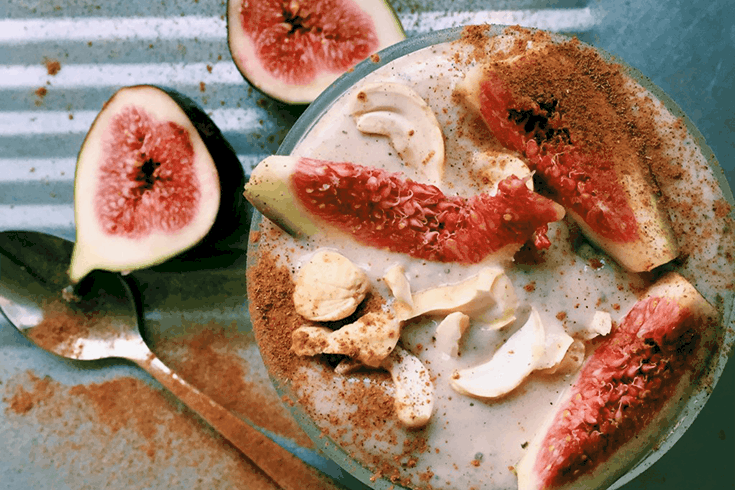 Figs tend to be underrepresented in recipes, but these fruits are rich in fiber, potassium and calcium. They take center stage in this fresh, vegan smoothie. Use soaked, dried figs if you can't get your hands on fresh ones. This will still taste great.
31. Health Nut Blueberry Smoothie
Superfood blueberries shine in this super healthy smoothie. They're blended alongside greens and bananas, with dried coconut flakes adding texture and almond butter ensuring the mixture is creamy. You'll love this one!
If you're dreaming of warmer climates and umbrellas on the beach, try your hand at this Monkeylada Smoothie. The addition of pineapple and coconut will evoke reminders of the beach — but instead of a hangover, you'll be treated with nutritious ingredients.
This is a perfect smoothie for the warm seasons. The pineapple in this recipe add the perfect amount of sweetness, and you can add chia or flaxseeds to help fill you up to keep you going.
A smart way to use up pureed pumpkin you may have left over from another recipe, this healthy smoothie is like autumn in a glass. The addition of blueberries, banana, flaxseeds and cashew butter means it's nutritious — and delicious. Add a little crunch by sprinkling granola on top.
This smoothie is filled with flavors of your childhood with nut butter, berries and oats. Ensure you are using raw milk, almond milk (you can always make your own) or coconut milk for this recipe. This smoothie is one of my favorites, because not only is it absolutely delicious, but it fills you up, too!
This layered smoothie is chocked-full of superfoods — raspberries, mango and ginger all make an appearance.
This delicious drink steps up its game with the addition of toasted coconut flakes on top. Figs also make a welcome appearance among smoothie staples like bananas, almond milk and cacao powder. This one is great any time of year, but especially in the fall.
A cake batter you can feel good about eating? That's the case with this wholesome, healthy smoothie. Made with vanilla extract and coconut flour, it's a cake splurge you can feel good about. Don't have coconut butter on hand? Use almond or cashew butter in its place.
If there is one smoothie recipe that screams, "Autumn is here!" then this is it. Roasted butternut squash, medjool dates and spices comprise this cozy smoothie.
With so many healthy smoothies to choose from, you can try a new smoothie every day!