This Dr. Axe content is medically reviewed or fact checked to ensure factually accurate information.
With strict editorial sourcing guidelines, we only link to academic research institutions, reputable media sites and, when research is available, medically peer-reviewed studies. Note that the numbers in parentheses (1, 2, etc.) are clickable links to these studies.
The information in our articles is NOT intended to replace a one-on-one relationship with a qualified health care professional and is not intended as medical advice.
This article is based on scientific evidence, written by experts and fact checked by our trained editorial staff. Note that the numbers in parentheses (1, 2, etc.) are clickable links to medically peer-reviewed studies.
Our team includes licensed nutritionists and dietitians, certified health education specialists, as well as certified strength and conditioning specialists, personal trainers and corrective exercise specialists. Our team aims to be not only thorough with its research, but also objective and unbiased.
The information in our articles is NOT intended to replace a one-on-one relationship with a qualified health care professional and is not intended as medical advice.
26 Shea Butter Benefits & Uses — for Skin Repair & More
January 21, 2022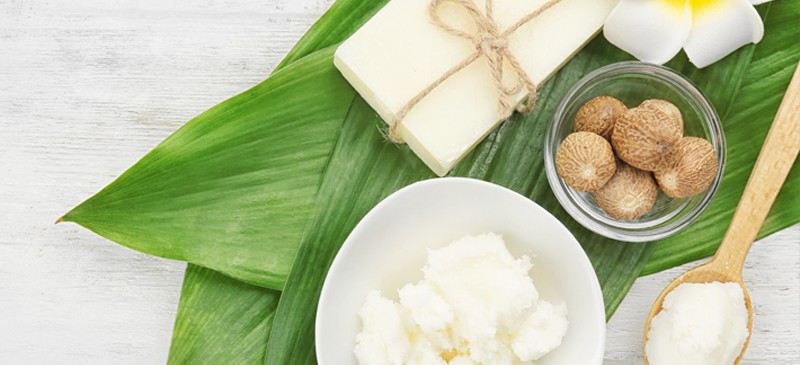 What is shea butter? It's a substance commonly used in cosmetic and natural skin care products. Full of all-natural vitamin A, 100 percent pure, unrefined, raw shea butter can improve numerous skin conditions such as blemishes and wrinkles, stretch mark prevention during pregnancy, muscle fatigue, dermatitis, and radiation treatments for certain medical problems.
Why is shea butter good for your skin? Shea butter, also called Butyrospermum parkii, is extremely moisturizing and very hydrating. When applied to the skin, it provides immediate softness and smoothness. But there's even more proven benefits of shea butter.
The National Center for Biotechnology Information published a study indicating that shea nuts and shea fat (shea butter) constitute a significant source of anti-inflammatory and anti-tumor promoting compounds. Another study from the American Journal of Life Sciences claims that shea butter boosts collagen production, demonstrating some major anti-aging potential.
What Is Shea Butter?
Where does shea butter come from? It comes from the shea tree, Butyrospermum parkii, also called Vitellaria paradoxa. Considered a sacred tree, the shea tree is native to Central Africa.
What is shea butter made from? The shea butter comes from the nuts found on the tree by removing the outer shell. The nuts are crushed by hand so that they can be slowly roasted into the butter.
Once this has been done, the butter is kneaded by hand in a large basin of water to separate the oils, also known as the fatty acids. These fatty acids are what provides the restorative properties making it one of the best options for skin care and more. To get the final product, the shea butter is removed off of the top and cooled until it hardens.
Butyrospermum parkii has been used for topical purposes for centuries and some believe that unrefined shea butter was even used by Cleopatra and the Queen of Sheba! Today, shea butter for skin and hair usage is extremely popular, which is why you'll find it so commonly as an ingredient in cosmetic products.
Is shea butter edible? The pure variety is edible and in African countries, it's often used in food preparation along with other oils. Sometimes raw African shea butter is used in place of cocoa butter, but if you compare the tastes of shea butter vs cocoa butter, they are quite different. Shea offers a mild, nutty flavor.
Shea Butter Composition
Raw shea butter is rich in stearic, oleic acids and benefit-rich vitamin E and vitamin A. The oil from the fruit of the shea tree contains about 45–50 percent oleic acid, 30–41 percent stearic acid, 5–9 percent palmitic acid and 4–5 percent linoleic acid. The best shea butter is extracted using cold-pressed methods without added chemicals or preservatives.
Butyrospermum parkii is smooth in texture and does not liquefy at room temperatures; however, it will soften in your hands, making it easy to apply. Containing vitamins A and E, it has relatively high amounts of saturated fatty acids (like MCT oil) when compared to other plant-sourced lipids, such as grapeseed oil, olive oil and canola oil.
The Food and Drug Administration includes shea nut oil on its list of direct food substances affirmed at Generally Recognized as Safe (GRAS). While it is more common in beauty products, shea butter is also found in a variety of confections and chocolate as a cocoa butter substitute."
Health Benefits
1. Anti-inflammatory Skin Moisturizer
Shea butter for face and body moisturizing is by far one of this natural ingredient's top uses. Too many skin care products contain unhealthy synthetic ingredients. In contrast, Butyrospermum parkii is a natural ingredient that acts as an amazing skin conditioning agent.
Plus, it's anti-inflammatory too! A study published in the Journal of Oleo Science reports that shea nuts and shea fat (shea butter) help to reduce inflammation. In addition, both shea nuts and butter have anti-tumor promoting compounds called cinnamate esters (which are also found in cinnamon).
2. Provides Anti-Aging Properties
Retaining the skin's natural moisture content is a high priority if you want to reduce the visible signs of aging and Butyrospermum parkii is an excellent moisturizer.
Raw shea butter can encourage tissue cell regeneration and softening of the skin, which can help to decrease the appearance of fine lines and wrinkles. The American Journal of Life Sciences reported a clinical study involving 30 volunteers in which shea butter diminished various signs of aging. In another clinical study for dry, delicate or aging skin, 49 volunteers applied shea butter twice daily and discovered that it prevented photo aging. It's no wonder that you can often find shea butter in many natural anti-aging facial products.
3. Moisturizes Both Scalp and Hair
You can also use shea butter for hair and scalp conditions. When used topically, it helps to seal in moisture, conditioning the scalp, alleviating dandruff and providing overall protection from harsh climates — much like how coconut oil works for hair. Is shea butter or coconut oil better for your skin and hair? Both are excellent natural moisturizers and you can use either one on your skin, scalp or hair improve your health and appearance.
Gently warm the shea butter in your hand to soften it and rub it thoroughly throughout your hair and scalp. For best results, leave on for 20–30 minutes. Then, rinse, shampoo and condition as normal. In addition to the moisturizing shea butter benefits for hair and scalp, the butter can also  provide volume when applied to just the roots when styling.
4. Relieves Windburn, Sunburn and Winter Dry Skin
Raw shea butter is perfect to help eliminate that itchy winter skin. Its moisturizing qualities penetrate deep into the skin, offering more moisturizing benefits while preventing windburn. It's perfect for cracked and dry heels, hands, rough elbows and knees.
Shea butter is a much healthier, nourishing choice because most sunscreens are filled with noxious chemicals that penetrate the skin and enter our bodies. While the SPF of this sunscreen is only about 6, it can provide some protection in a more natural way and is perfect underneath makeup. It's really a shea butter moisturizer and sunscreen in one! Butyrospermum parkii is also great for applying if you do get a sunburn. 
5. May Reduce Stretch Marks
How do you get rid of stretch marks? While many believe that Retin-A and laser treatments are the only way to diminish stretch marks, raw shea butter may help with its natural vitamin A content.
Because of its amazing healing properties and hydrating qualities, shea butter may possibly reduce the appearance of stretch marks and other scarring. Some people also use it to naturally improve the appearance of cellulite by smoothing and softening the skin.
6. Prevents Diaper Rash for Babies
Shea butter makes a great diaper rash ointment for your baby because of its anti-inflammatory and antifungal properties that can help fight off yeast. Raw shea butter can help improve blood circulation promoting cell regeneration while providing improved collagen production.
Both cell regeneration and collagen production are important to healing diaper rashes quickly. Since most children are exposed to a large number of chemicals through the numerous products found on the shelf, this is the perfect DIY diaper rash solution to help avoid those chemicals and ensure comfort and rapid healing for your baby.   
Related: Mango Butter for Skin Repair, Healthier Hair & More
Uses
Wondering how to use shea butter on face, hair and maybe even in your next meal? You can actually use shea butter instead of dairy butter or olive oil in recipes. And it's super easy to make your own skin care products right at home. Raw shea butter is gentle enough to use daily and is perfect for many uses from facial creams and body lotions to lip balms and even shaving cream.
These awesome shea butter recipes will give you plenty of ideas for how to use this natural ingredient. Check out this roundup of potential shea butter uses:
Product Questions
Types of Shea Butter
It's important to purchase only high-quality premium raw pure shea butter so that you get the most benefits. The American Shea Butter Institute notes that shea butter contains the ingredient cinnamic acid, an anti-inflammatory agent, which is a substance closely related to the same cinnamon you find in your kitchen cabinet. The less pure the shea butter, the less cinnamic acid present; therefore, the shea butter benefits greatly decrease.
Looked for unrefined shea butter that has a beige color and nutty aroma. Refined shea butter is chemically altered, which takes away the majority of its inherently good properties and it also makes it white in color. Also, many shea butters have added ingredients, such as synthetic fragrances, and these unhealthy additives can dilute the benefits greatly.
Where to Buy
Wondering where to buy shea butter? You can easily find pure, organic shea butter at your local health food store or online. Always look for raw/unrefined and organic to ensure you getting the best quality. You can look for shea butter in facial and body care products. There's also shea butter soap and body wash, too.
How to Store
Always store your shea butter away from heat and light. If you have unrefined shea butter, it's typically recommended that you store it in an airtight container in a cool, dry place. It's recommended that shea butter is used within 18 months of extraction from the seed, as beneficial properties may diminish over time.  
In the colder months, you'll notice that the butter will harder and in the warmer months, it will be softer, which are both normal.
Precautions
Shea butter is generally considered a safe and effective natural moisturizer. Some people are allergic to tree nuts, and that can include nuts from the shea tree. However, there are no well-documented allergic reactions to the butter from the tree. In food amounts, it's generally considered safe as well. 
Final Thoughts
Shea butter (Butyrospermum parkii) comes from the shea tree which is native to Central Africa.
It is a very popular natural moisturizing agent that is commonly found in cosmetic products.
Pure butyrospermum parkii is also used in food and can be substituted for other oils or butter in recipes.
You can find unrefined and organic Butyrospermum parkii at your local health store or online and use it in DIY skincare recipes like the ones provided here.
Butyrospermum parkii is known for its ability to moisturize skin and even encourage collagen production, making it a great choice for a natural anti-aging ingredient whether you buy natural beauty products or make your own.