This Dr. Axe content is medically reviewed or fact checked to ensure factually accurate information.
With strict editorial sourcing guidelines, we only link to academic research institutions, reputable media sites and, when research is available, medically peer-reviewed studies. Note that the numbers in parentheses (1, 2, etc.) are clickable links to these studies.
The information in our articles is NOT intended to replace a one-on-one relationship with a qualified health care professional and is not intended as medical advice.
This article is based on scientific evidence, written by experts and fact checked by our trained editorial staff. Note that the numbers in parentheses (1, 2, etc.) are clickable links to medically peer-reviewed studies.
Our team includes licensed nutritionists and dietitians, certified health education specialists, as well as certified strength and conditioning specialists, personal trainers and corrective exercise specialists. Our team aims to be not only thorough with its research, but also objective and unbiased.
The information in our articles is NOT intended to replace a one-on-one relationship with a qualified health care professional and is not intended as medical advice.
50 Keto Recipes — High in Healthy Fats + Low in Carbs
April 29, 2022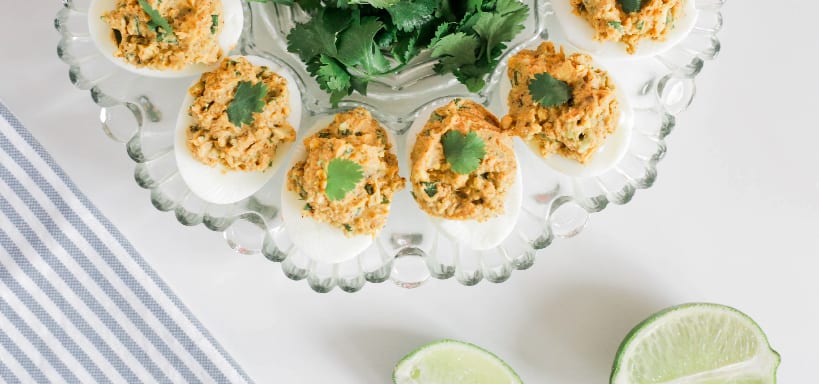 Trying new diets can be tough: all those things to avoid, to eat more  of, new ingredients to buy. It's enough to drive anyone bonkers, but there's one way of eating that's gained notoriety — the ketogenic, or "keto," diet and its keto recipes.
The keto diet is one of the most effective that I've come across and one of the more straightforward (as opposed to easy!) to follow. In a nutshell, when you're on a keto diet, you eat a very low-carb, high-fat diet. That means goodbye pasta and bread, hello cheese and oils.
It's pretty much the opposite of what we've been taught our entire lives, but it works if you follow the keto diet food list. Plus, you can make many favorite recipes keto-friendly.
What makes the keto diet work so well is that, with little glucose from carbohydrates in our bodies, we have to burn something else — fat — for energy. The keto diet can cause the body to burn fat quite quickly (hurray!) through a process called ketosis.
Even if you're not trying to lose weight, the keto meal plans might appeal to you. By limiting sugars and processed grains, you can lower your risk of type 2 diabetes.
Eating an array of heart-healthy fats, like nuts, olive oil and fish, can decrease your risk of heart disease. And while some people stick to a super strict keto diet, with 75 percent of their diet coming from fat, 20 percent from protein and just 5 percent from carbs, even a less intense, modified version can help you reap the keto diet's benefits.
Eating keto doesn't mean eating just any kind of fat or stuffing your face with ice cream. Instead, it's about mindfully choosing foods that are high in healthy fats and low in carbs.
If you're not sure where to begin, have no fear. There are some really delicious, good-for-you keto recipes out there that are begging to be eaten.
Related: Beginner's Guide to the Keto Diet
50 Keto Recipes
On the keto diet, sometimes you fall into a pattern of eating a lot of cheese and other dairy products like sour cream and mayonnaise to get all of your necessary daily fats. This avocado deviled eggs recipe gives you the nutrients you need without the dairy for a nice change in the pattern.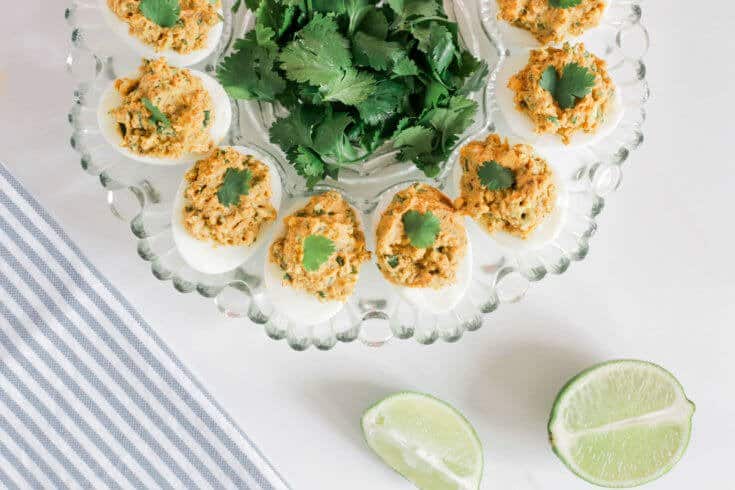 Photo: Dr. Axe
The beauty about the keto diet is that sometimes you just haven't eaten enough fat in the day, so you chow down on "fat bombs" to make up the deficit. These chocolate bombs are one of the yummiest ways to do that. Just mix butter, cream cheese, cacao powder and a small amount of sweetener for some chocolatey goodness that'll do your body good.
3. Cauliflower Crusted Grilled Cheese Sandwiches
Get a load of veggies and cheese with this ingenious keto recipe. You'll dry out the cauliflower, and then bake it into "bread" slices that get stacked with cheese. Use a high-quality, organic cheddar here. It's worth it!
This low-carb chicken pad thai is one of the best keto recipes for replacing Asian takeout. It's got all of the flavors that come with normal pad thai, like ginger, crushed peanuts, tamari and chicken, but all served up on spiralized zucchini instead of carb-heavy noodles. Best of all, you'll have this keto chicken recipe on the table in just 30 minutes.
5. Keto Bread
Bread probably isn't the first thing that comes to mind when you think about the ketogenic diet because it's generally full of carbs. However, if you replace your store-bought bread with a homemade keto bread recipe, it can fit seamlessly into your keto low-carb, high-fat diet.
How does bread even become keto-friendly? With almond flour, a lot of eggs, cream of tartar, butter, baking soda and apple cider vinegar.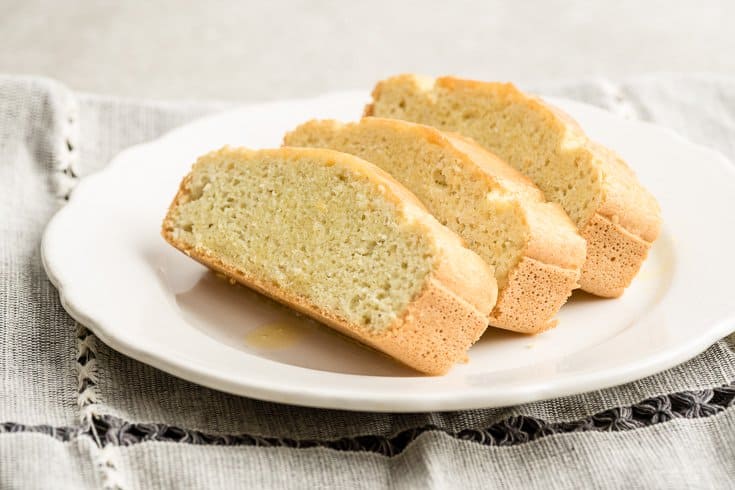 Photo: Dr. Axe
Grass-fed butter is a terrific way to add quality fat into your diet. Plus, it's full of health benefits: This type of butter is anti-inflammatory, better for your heart than standard butter and full of MCTs, which boost your immune system.
If you're not ready to eat a stick of butter solo, just make these cinnamon bombs. By simply adding vanilla extract, cinnamon and keto-friendly sweetener to your butter and letting them cool, you have a little treat that's full of healthy fats and tastes like frosting.
You'll often find keto recipes calling for mayonnaise, but why waste your  money on store-bought varieties that are filled with ingredients like canola oil when you can make your own at home? You'll be surprised by how easy mayo is to whip up at home, and it lasts until your eggs expire!
8. Creamy Cauliflower Mash and Keto Gravy
Potatoes and gravy are total comfort food — and luckily, there's a keto version. These are made with cauliflower, which is quite low-carb, particularly when compared to potatoes.
Made with cream, butter, rosemary and parmesan, this mash is creamy, full of flavor and smooth. You'll finish it all off with a stock-based gravy that would be perfect on a roast, too.
Fortunately, keto recipes can also include quiche. This one looks fancy, but it's effortless to put together. With just a handful of ingredients, including high-protein eggs, lots of cheese and zero grains, it's one of my favorite keto recipes to serve for brunch.
10. Low-Carb Keto Everything Bagels
When you've eaten all of the crustless spinach quiche and keto frittata recipes that you can, these keto everything bagels are another great breakfast staple. With their help, you don't have to cut out your favorite breakfast sandwiches. You can also try a bread-less keto breakfast sandwich with chicken sausage patties as the "buns" when you're craving a keto-approved breakfast option.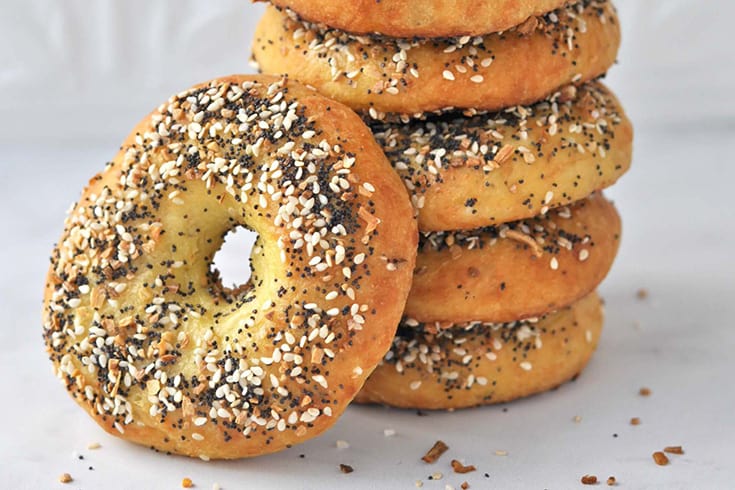 Photo: Peace, Love and Low Carb
11. Simple Paleo Chicken Curry
This coconut chicken curry recipe seems to fit whatever diet you're on because it's gluten-free, dairy-free and uses only the cleanest of ingredients. So, whether you're following the Paleo diet, ketogenic diet or both, this recipe fits your needs. Plus, it's so simple and easy to make.
12. Fat Head Nachos
Keto recipes that include nachos?! Oh yes.
You'll begin by making the fat head tortilla chips first. Did I mention you'll use two types of cheese for this step? Delicious.
Next, you'll load them up with a meaty sauce and finish them off with your favorite toppings, like guac, salsa or sour cream. While these make a delicious keto snack, they're frankly filling enough to share as a meal.
13. Gluten-Free Cauliflower Mac and Cheese
Can you really make a gluten-free, low-carb macaroni and cheese that tastes good? The verdict after trying this keto recipe is yes! Cauliflower, that magical vegetable, stands in for macaroni here, but really the cheese and kefir that make this one stand out.
Kefir is a fermented milk-like keto-friendly drink that's rich in probiotics and great for your gut. We'll also use sheep and goat milk cheese, which are smart options for people who are lactose intolerant or just want to vary up their cheese. You'll love serving this, and your family will love eating it.
Why top a burger with cheese when you can stuff it instead? You'll envelop each patty (your choice of turkey or beef) with a mixture of cheeses, garlic and jalapeño, and then grill or broil to perfection. Each bite is better than the last.
Most popsicles and ice creams have too much sugar to fall under the category of ketogenic, but these popsicles, sweetened with stevia, can help curb your sweet tooth while giving you a little bit of fat from mashed avocado.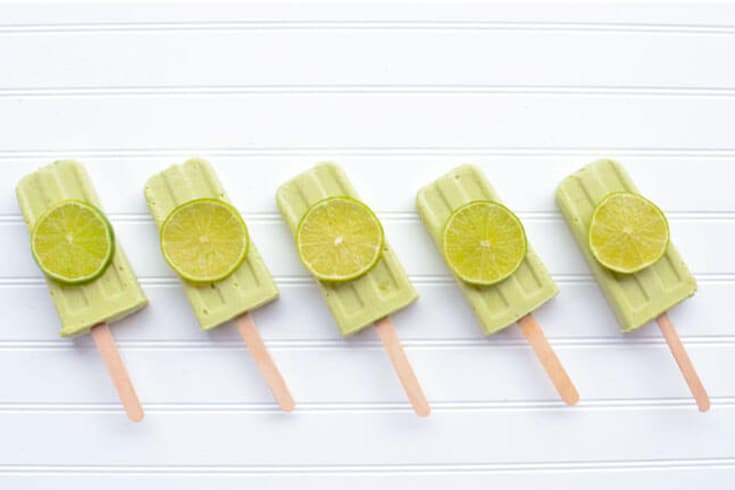 Photo:  Elana's Pantry
16. Onion Soup
Ditch the canned soup, and try this flavorful onion soup recipe filled with powerful nutrients from incorporating both chicken and beef bone broth. This recipe only requires five ingredients total and is quick and simple to throw together. You'll wonder why you ever picked up canned soup in the first place!
17. Keto Spinach and Artichoke Chicken
This juicy chicken has so many rich, delicious flavors happening at once that your taste buds will get a workout. You'll mix spinach, artichokes, garlic, cream cheese, mayo and two types of cheese into a creamy paste, spread it all over the chicken and bake. Bubbly, cheesy goodness awaits after just 40 minutes, with little hands-on time.
18. Keto Grilled Chicken and Spinach Pizza
For a complete keto recipes list, we must include pizza — and this is the ultimate keto white pizza. It's got a crisp crust, white sauce, juicy chicken and fresh spinach. If you're following a keto diet, this pizza is a must-have for weekend nights.  
19. Baba Ganoush
Eat this eggplant dip with celery for the perfect in-between meal nibble. Thanks to a cup of tahini, this dip will add fat and flavor to an otherwise simple snack.
20. Thai Beef Satay
Marinating the beef in this keto recipe infuses it with an impressive amount of flavor in just 15 minutes. While that happens, you can quickly mix together the peanut sauce and accompanying salad for this Asian-style weeknight meal. 
Photo: Low Carb Maven
21. Low-Carb Portobello Sliders
I love the low-carb take on traditional burgers: smaller patties nestled into portobello mushroom buns. These are simple to make and are made using a grill pan on the stove, so you can enjoy them year-round.
22. Secret Ingredient Easy Chocolate Mousse
I don't want to ruin the secret ingredient for this keto recipe, but suffice to say, it makes this incredible keto chocolate mousse deliciously creamy! It's ready in just minutes, perfect for a last-minute dessert or late night chocolate craving.
23. Low-Carb Cheese Taco Shells
Anything tastes good when it's stuffed between these cheesy shells! These are so simple to make: just baked cheese! Stuff these with your favorite meats, veggies (bell peppers and onions are great here), taco fixings and, of course, more cheese!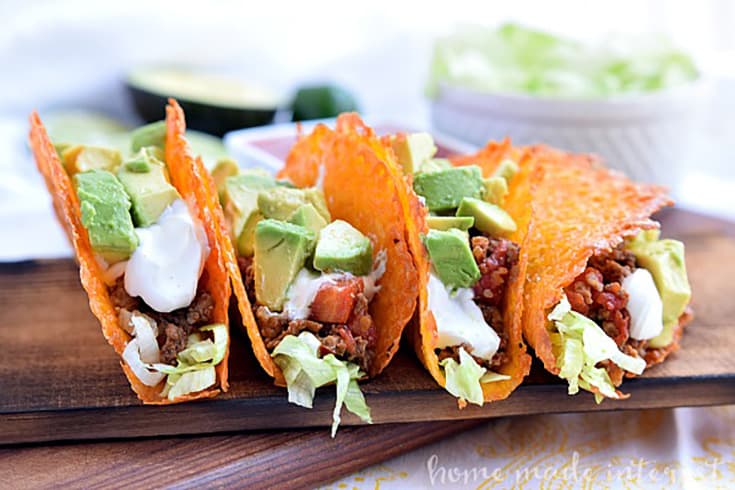 Photo: Home. Made. Interest.
If you're missing traditional burger or sandwich buns, these keto-friendly buns will hit the spot. Using a stick blender, the dough is ready in seconds, and then they're finished off in the oven for fluffy buns that are just begging to be topped with your favorite meats and cheeses.
25. Vegan Alfredo
This rich and cheesy alfredo is not just keto and low-carb — it's vegan, too! You don't need to be vegan to appreciate how smooth and creamy this saucy favorite can be when made with almond milk, cauliflower and nutritional yeast. Keep it low-carb by serving over zucchini noodles.
These keto muffins are a bit labor-intensive, but they're a delicious way to kick off the day. Made with coconut flour, butter, cream cheese and fresh blueberries, you'll never believe they're gluten-free when you see how light and fluffy they are. A crowd favorite!
Photo: Peace, Love and Low Carb
Looking for a new weeknight keto dinner option? Look no further! This Paleo beef with broccoli recipe is ready in just 25 minutes, leaving you with plenty of time to hit the gym, relax with a good book or spend times with friends and family after a long day of work.
28. Salmon Benny Breakfast Bombs
These salmon breakfast bombs are like eggs Benedict on-the-go. They're loaded with smoked salmon, chives and a homemade hollandaise sauce.
The best part is that you can meal prep these on Sunday. Then, you can enjoy what feels like a luxury breakfast any day of the week.
29. Easy Crockpot Chicken Stew
This keto recipe is a double win. Not only is it low-carb and creamy, but you just dump all the ingredients into a slower cooker or instant pot, and let it works its magic. With herbs like rosemary, oregano and thyme all making an appearance and juiced chicken thighs as the protein, this is one stew you'll make over and over again.
30. Keto Oatmeal
Hemp hearts are rich in fat, and oatmeal is a great way to use the healthy ingredient. This collection of hemp-based oatmeal recipes has seven different variations to get your breakfast fix in.
31. Keto Smoothie
If you find yourself not eating enough fat during your meals, trying a keto smoothie may be the solution you're looking for. This smoothie contains a number of fat-containing ingredients, like coconut milk, avocado, almond butter, chia seeds and coconut oil.
Photo: Dr. Axe
32. Pumpkin Spice Keto Fat Bombs
Don't miss out on fun fall flavors while on the keto diet. These pumpkin spice keto fat bombs are, well, the bomb. Made with pumpkin puree, golden flax, cinnamon and nutmeg, you'll experience all of the delicious flavors of autumn in a single bite.
33. Easy Cheesy Zucchini Gratin
Everything is better with cheese — including zucchini. This low-carb, high-cheese gratin replaces potatoes with fresh green zucchini and makes a perfect side dish to accompany one of your favorite keto dinner recipes.
While most people think of reuben sandwiches as a Saint Patrick's Day food, this keto reuben skillet will leave you craving that corned beef and sauerkraut combination year-round, which isn't such a bad thing when you're getting all of the healthy probiotics from sauerkraut.
35. Keto Coffee
Start your morning off right with a cup of keto coffee (sometimes otherwise referred to as butter coffee). One serving of this butter coffee contains 26 grams of fat, setting you well on your way to your daily fat needs.
Guacamole can be a fun way to fit some fat into a snack, but what do you put it on? These low-carb tortilla chips are an excellent option. You can make a bunch, and store them for up to a week for a snack the whole family will love — or just gobble them up on the first day.
Photo: Wholesome Yum
37. Keto Zucchini Bread with Walnuts
This keto recipe is just as simple to make as a normal loaf of zucchini bread, with no crazy ingredients necessary. It's full of warm flavors, like cinnamon, ginger and nutmeg — plus it freezes well. It's great to have for breakfast or as a snack.
Nuts and seeds are excellent vegan fat sources. This granola cereal incorporates almonds, hazelnuts, pecans, pumpkin seeds and sunflower seeds, creating a very well-rounded recipe. I recommend switching out the erythritol this recipe calls for with stevia, though.
I bet you never thought you were ever going to start a diet that considered jalapeño poppers healthy. With turkey bacon, goat feta and antioxidant-rich spices, this recipe is a healthy twist on the popular bar food, and it fits right in to the keto diet guidelines.
40. Veggie-Loaded Mini Meatloaves
While meatloaf is a primarily protein-loaded main dish, you can balance out your protein-to-fat ratio by buying a less lean, fattier ground beef.
41. High-Fat, Low-Carb Pancakes
These high-fat, low-carb pancakes definitely aren't your average pancakes. They're made from almond flour, grass-fed cream cheese, eggs, cinnamon and butter or avocado oil. If they're not full of enough healthy fats for you, you can always top with more butter!
Photo: Dr. Axe
42. Low-Carb Cauliflower Pot Pies
Forget the heavy casserole recipes, and try this low-carb pot pie tonight! Nothing says comfort food like a chicken pot pie.
This low-carb pot pie recipe skips the traditional gluten-filled dough of chicken pot pies and replaces it with cauliflower for a more low-carb option. I simply suggest switching out the cornstarch with arrowroot or tapioca starch.
Some keto cookies or a keto brownie can certainly be delicious, but if you're looking for a dessert that's a little more interesting, then you have to try this chocolate chia pudding!
I love chia seeds for a number of reasons. They're high in antioxidants; vitamins such as calcium, potassium and magnesium' omega-3 ALA; dietary fiber' and even protein.
While this dish feels like a dessert, you're receiving plenty of necessary nutrients. Enjoy guilty-free!
44. Low-Carb Cheesy Garlic Creamed Spinach
It's not too hard to find low-carb side dishes, but being able to pack some fat into them is another story. With this low-carb, cheesy garlic creamed spinach recipe, made out of spinach, garlic, butter, heavy cream and three types of cheeses, you won't have to worry about that any longer!
This chicken in white sauce recipe is sure to be a new favorite. It's simple, quick and easy to make. Some might wonder if this recipe is actually keto-friendly with the addition of white wine, but did you know that one glass of white wine only typically has four to five grams of carbs?
46. Guiltless Garlic Parmesan Wings
No deep fryers or air fryers needed for these wings! Forget those greasy chicken wings you'd order at a restaurant, and opt in for these homemade guiltless garlic parmesan wings. You won't find rancid vegetable oil, gluten or a deep frier here — just avocado oil, healthy pecorino romano and free-range, organic chicken for a twist on an otherwise unhealthy classic.
Photo: Dr. Axe
47. Goat Cheese Stuffed Burgers With Caramelized Onion
Juicy and flavorful are two words I'd use to describe this burger. With goat cheese hidden in the middle, what's not to love? Skip the bun, serve this burger alongside some low-carb vegetables and you have yourself a well-balanced meal.
This is a perfect keto recipe for anyone who loves Italian food. On nights when you're craving a classic, filling Italian meal, try this eggplant rollatini.
While breadcrumbs aren't included, this recipe truly leaves nothing to be desired. It will hit the spot, for sure!
49. Philly Cheesesteak Stuffed Portobello Mushrooms
One of the easiest ways to get creative with cutting out carbs from your diet is by replacing sandwich buns with healthier alternatives. Most people think of lettuce wraps. For this Philly cheesesteak, it's portobello mushrooms.
This salad is a keto twist on a popular dish that originated from Nice on the French riviera. It's one of my favorite French-inspired recipes, and it definitely fits the description of "clean eating." It's full of nutrient-dense ingredients such as olives, tuna, eggs, green beans and turnip.