Keto Pancakes with Almond Flour and Cream Cheese
Pancakes are typically viewed as one of those indulgent foods that you can never enjoy when you're trying to be healthy or lose weight. Luckily, with some great gluten-free, low-carb and high-protein flours on the market today, you can prepare pancakes so that they are actually beneficial for your health — and waistline.
My fluffy keto pancakes (that are also low-carb pancakes) are made with almond flour, grass-fed cream cheese and eggs. If you're on a keto diet, low-carb diet or just trying to keep to a certain amount of net carbs or carbs per day, try these delicious and nutritious pancakes that have the perfect keto macros: 22 grams of fat, 11 grams of protein and just 2 grams of net carbs per serving.
You'll want to make them your new go-to breakfast!
Keto Pancake Ingredients
For the ideal keto pancake, you want to have healthy fats, little to no carbs and moderate levels of protein. These following ingredients deliver, plus they're also loaded with health benefits.
Almond flour: Almond flour is a completely

gluten-free flour

that's made up of ground almonds and comes with a ton of health benefits, like boosting your heart health, managing your blood sugar levels, improving your energy levels and helping you to lose weight. It's low in saturated fatty acids, rich in unsaturated fatty acids, and contains filling fiber, unique and protective phytosterol antioxidants, as well as plant-based protein.
Eggs: For most keto dieters, eggs are mainstay. Eggs are high in a number of important nutrients. Although the exact amount can vary based on the type, size and cooking method, eggs are typically high in healthy fats, protein, selenium, vitamin A, phosphorus, riboflavin and vitamin B12.
Cream cheese: A classic keto food, regular cream cheese is ideal nutrition for the macros you're looking for. A two tablespoon serving provides 96 calories, 9.5 grams of fat, 1.5 grams of protein and 1 gram of carbs.
You may also be surprised to find that this recipe doesn't contain any type of sweetener. Of course, you can always top your almond flour pancakes with syrup just like you would with regular pancakes, but then this would no longer fall under the category of keto recipes.
Instead, if you need extra sweetness, I recommend using stevia along with some berries that you can heat up and pour over. I personally think the cinnamon adds the perfect amount of flavor, though, and you won't need it.
Otherwise, if you crave that maple syrup flavor, you can buy Lakanto Maple Syrup, a keto maple syrup that uses monk fruit extract for its sweetener. It contains only one net carb per serving.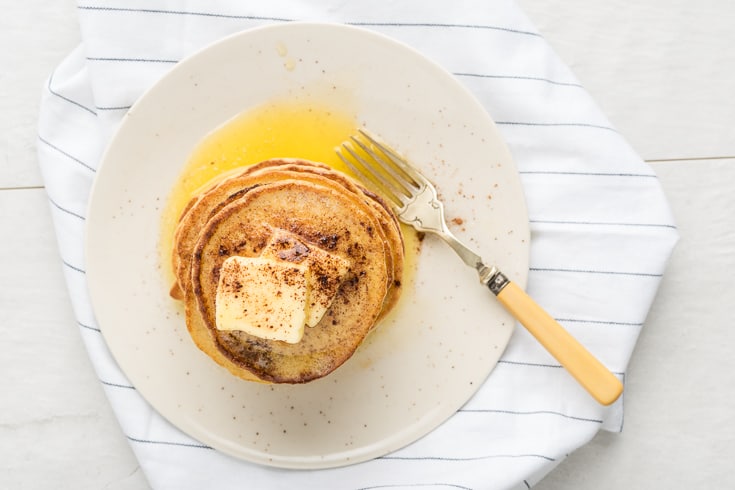 How to Make Keto Pancakes
For this low-carb pancake recipe, you're going to need a blender and frying pan. If you don't have a blender, or you rather mix the ingredients by hand, that will work, too!
Start by combining your ingredients, which includes almond flour, baking powder, grass-fed cream cheese, eggs and cinnamon. You may be worried that with so many eggs, these pancakes will have an eggy consistency, but don't worry! When cooked properly, these pancakes have an incredibly soft, fluffy texture.
Use a blender or fork to mix all of the ingredients up until combined and smooth.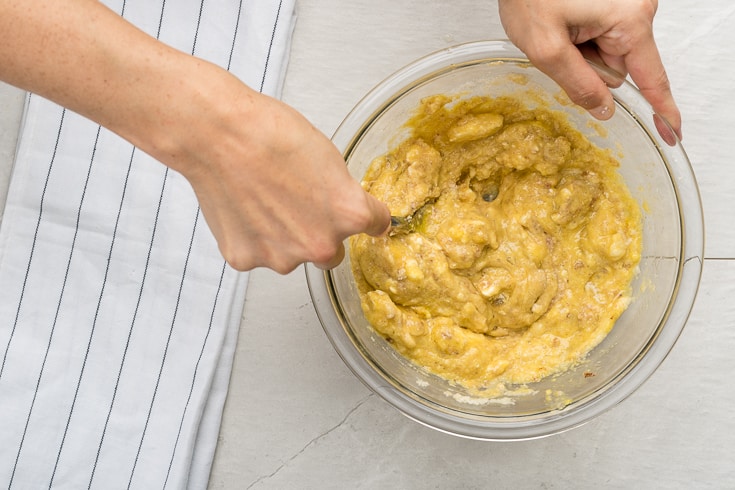 Next, add butter (I prefer grass-fed butter) or avocado oil to a frying pan over medium heat. Once the butter or oil begins to spread, you can start frying up your low-carb, keto pancakes.
Pour in 2–3 tablespoons of batter per pancake. Once the center begins to bubble, which usually takes about 3–4 minutes, it's ready to turn over. If you keep the pancakes on the smaller side, they are easier to handle and turn over without breaking.
Now that's a good looking stack of pancakes to serve!
Just top them off with butter and cinnamon, and your low-carb keto pancakes are ready to enjoy. Alternatively, heat up a half cup of frozen blueberries (a keto-friendly fruit), add a little stevia and pour over the pancakes. Or use a monk fruit–sweetened maple syrup.
Print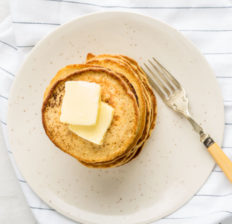 Keto Pancakes Recipe
---
Author:

Total Time:

20 minutes

Yield:

4

1

x

Diet:

Gluten Free
Description
My fluffy low-carb keto pancakes are made with almond flour, grass-fed cream cheese and eggs. You'll be amazed how delicious they are, as well as easy to make.
---
½ cup

plus 1 tbsp almond flour

1 teaspoon

baking powder

½ cup

grass-fed cream cheese

4

eggs

½ teaspoon

cinnamon

1 tablespoon

butter or avocado oil, for frying
---
Instructions
Mix all ingredients in a blender.
In a frying pan, over medium heat, add in the butter or oil.
Pour in 2–3 tablespoons of batter per pancake and turn over once the center begins to bubble (usually takes about 3–4 minutes).
Top with butter and cinnamon. Alternatively, use half-cup of frozen blueberries with a little bit of stevia; heat up in small pan and pour over pancakes. You can also use a keto-approved monk fruit maple syrup.
Prep Time:

10 min

Cook Time:

10 min

Category:

Breakfasts

Method:

Stovetop

Cuisine:

American
Nutrition
Serving Size:

2 pancakes (91g)

Calories:

256

Sugar:

1.8g

Sodium:

194mg

Fat:

22.4g

Saturated Fat:

9.2g

Unsaturated Fat:

12.1

Trans Fat:

0.1g

Carbohydrates:

4.5g

Fiber:

1.9g

Protein:

10.5g

Cholesterol:

198mg
Keywords: keto pancakes, low carb pancakes, cream cheese pancakes, almond flour pancakes