Have you heard about the benefits of probiotics? These foods contain bacteria that line your digestive tract, supporting your immune system and absorbing nutrients from foods. One of my favorite foods, sauerkraut, is one of the greatest probiotic foods out there.
Sauerkraut recipes not only tastes great on organic hot dogs, hamburgers or on their own, but fermented foods are rich in organic acids, which stimulate the growth of good bacteria.
What Is Sauerkraut?
Sauerkraut is a form of fermented cabbage and has been popular throughout Central Europe for hundreds of years. Sauerkraut combines one of the healthiest foods there is (cabbage) with one of the most beneficial and time-honored food preparation methods ever used (fermentation).
Sauerkraut is native to Eastern Europe, especially places like Germany, Poland and Russia where cabbage is considered a staple ingredient. Sauerkraut, which means "sour cabbage" in German, first made its way over to the Unites States in the 1700s. It's been said that immigrants coming over to the Americas at this time on ships carried sauerkraut with them on their long journeys because the fermentation process was able to preserve abundant amounts of harvested cabbage and also provide important nutrients.
Fermentation has been practiced for thousands of years in one form of another in nearly every ancient population on Earth. Fermenting foods stops them from spoiling quickly, which is why it's been a tried-and-true method for using up available vegetables, fruits, grains and legumes.
Nutrition Facts
Sauerkraut is very low-calorie, but it's also an anti-inflammatory food that is packed with benefits. Besides having probiotics to offer, sauerkraut is a good source of antioxidants and dietary fiber, thanks to its main ingredient: cabbage.
A half-cup serving of sauerkraut (about 75 grams) has about:
14 calories
0 grams fat
4 grams fiber
3 grams carbohydrates
1 grams sugar
1 gram protein
496 milligrams sodium
11 milligrams vitamin C (17 percent DV)
10 micrograms vitamin K (8 percent DV)
1 milligram iron (6 percent DV)
1 milligram

manganese

(6 percent DV)
.1 milligram vitamin B6 (6 percent DV)
17 micrograms folate (5 percent DV)
How to Make Homemade Sauerkraut
I know you'll love this homemade sauerkraut recipe. Unlike store-bought options, this version requires just three ingredients for a tasty side that's packed with nutrients!
Before getting started, it's important to note that sauerkraut isn't made to be eaten immediately. The fermenting portion takes time, so you'll want to plan ahead. With this sauerkraut recipe, I recommend letting it stand for at least four weeks before eating. The good part is, sauerkraut is so easy to make that you can whip up a new batch before finishing the current one, so you'll always have fresh sauerkraut on hand!
We'll start with five pounds of shredded cabbage; any type works fine. Mix up the cabbage with the salt and caraway seeds, letting it all stand for 10 minutes.
Next, stuff the cabbage into a large glass food container. Top the container with a quartered onion to weigh it down. This helps pack the cabbage down and keep it in the brine you're making. Then, cover with a paper towel and seal it with a rubber band.
Place the whole thing in a cool spot overnight and, in the morning, make sure the sauerkraut is totally submerged in liquid. This is how the magic will happen. Cabbage "scum" will form. Don't worry, this is totally normal. Check on the cabbage every other day, skimming off any that forms on the surface.
Finally, after at least four weeks, your homemade sauerkraut is ready! Store it safely in an airtight container in the refrigerator for up to six months.
Print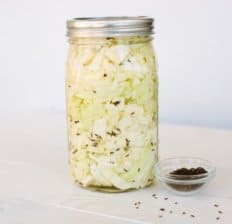 Sauerkraut Recipe
---
Author:

Total Time:

2 to 4 weeks

Yield:

1 gallon

1

x

Diet:

Vegan
Description
Sauerkraut combines one of the healthiest foods there is (cabbage) with one of the most beneficial and time-honored food preparation methods ever used (fermentation).
---
1

large head of shredded cabbage

3 tablespoons

pickling salt

1 tablespoon

caraway seeds
---
Instructions
Place cabbage on a large wooden cutting board. Remove the outer leaves of the cabbage, then cut the cabbage into quarters and trim out the core. Slice each quarter down its length, into thin ribbons.
Place all of the sliced cabbage into a large bowl and mix with 2 tablespoons of salt. Let stand for 10 minutes.
With very clean (!) hands, massage the cabbage for about 10 minutes to release juices. Consider it a great hand and forearm exercise!
Sprinkle remaining salt on the cabbage as well as caraway seeds.
Pack the cabbage mixture into a large glass food container (that is exceptionally clean). Top with a quartered onion to fit inside the container, weighing it down. Or use a glass dish or jar filled with rocks to weigh it down. Cover container with a lid.
Place in a cool spot in your kitchen. Check to make sure the sauerkraut is completely submerged in liquid. Check cabbage every other day for 2 weeks, skimming off of any scum that may form on the surface.
Let stand for at least 2 to 4 weeks total. Then store in airtight container in the refrigerator for up to 6 months.
Notes
While it's fermenting, bubbles and foam may appear on top. This means your sauerkraut is fermenting properly! Skim the scum off the top either every couple of days or before refrigerating. If you see any mold, skim it off immediately. Rest assured that your batch will remain good quality.
Prep Time:

25 min

Cook Time:

2 weeks

Category:

Side dishes

Method:

Fermentation

Cuisine:

Multi
Nutrition
Serving Size:

1/2 cup

Calories:

14

Sugar:

1g

Sodium:

496mg

Fat:

0g

Carbohydrates:

3g

Fiber:

4g

Protein:

1g

Cholesterol:

0g
Keywords: homemade sauerkraut recipe, how to make sauerkraut