Soups are often served as starters or side dishes. But certain soups are hefty and hearty enough to serve and enjoy as a main dish. Imagine an easy soup recipe that's full of healthy ingredients, easy to make and is perfect for serving the entire family. Enter minestrone soup.
What Is Minestrone Soup?
Many people haven't had minestrone soup that's not out of the can. If that's you, you're in for a treat. Minestrone soup is a traditional Italian soup that's loaded with veggies and usually contains either pasta or rice in it. It's heavy on the greens, but contains no meat, making it an excellent dish for vegetarians and vegans.
The beauty of minestrone soup is that there is no one particular minestrone recipe. Instead, recipes rely on seasonal and local availability, leaving room for a cook's creativity.
This tradition dates back to Italy's Roman Empire days, when meat was scarce and broths were bulked up with whatever vegetables people could get their hands on. Because of this, minestrone soup became known as a dish for the poor. Even today, the soup is super budget-friendly, as it relies on vegetables and beans.
How to Make Minestrone Soup
In my minestrone soup recipe, I've loaded up the broth with zucchini, green beans, celery and spinach. The assortment of veggies means you'll get a variety of vitamins and minerals in every bite.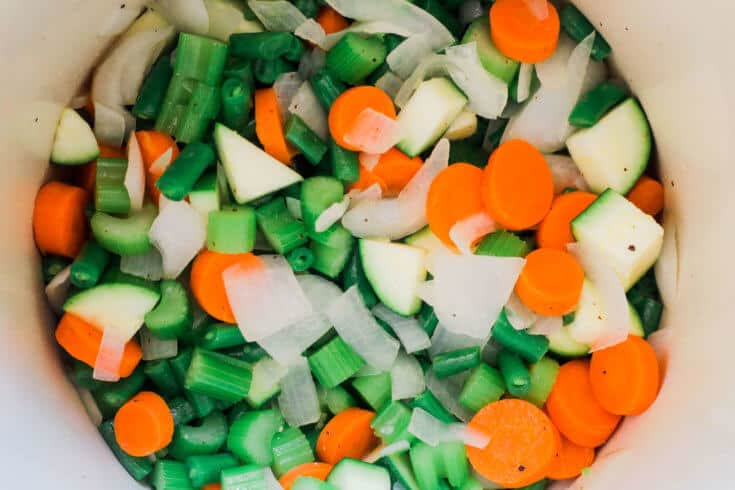 I've also rounded out the minestrone soup with two types of beans for extra fiber, protein and taste. Although this is a vegetarian soup, you won't go hungry with this one!
Finally, we'll use gluten-free pasta to give this soup that traditional Italian pasta feel without hurting your stomach.
Let's get this minestrone soup going!
Start by heating avocado oil in a large pot. (If you don't have that kind of oil on hand, use extra virgin olive oil.)
When the oil is ready, add in the carrots, onions, green beans, zucchini and celery and sauté for 5 minutse.
There are a lot of colorful veggies in this minestrone recipe!
Next, add in the broth, tomatoes, beans and water. Bring the soup to a boil, then reduce the heat and let it simmer for 15 minutes.
Next, add in the fresh spinach and pasta. Stir the minestrone soup until it's all well combined, then allow the mixture to simmer for 20 minutes or until the gluten-free pasta is tender.
When the pasta is cooked, turn the heat off and let the minestrone soup sit for 10 minutes to let all the flavors meld together.
Finally, top the soup with fresh basil and serve!
Ingredients:
1½ tablespoons avocado oil
2 carrots, sliced
1 white onion, diced
2 zucchini, end cut off and chopped
3-4 stalks celery, chopped
2½ cups fresh green beans, end cup off and chopped
4-6 cups chicken broth (substitute vegetable broth to keep this vegetarian and vegan)
One 24-ounce can diced tomatoes
Two 15-ounce cans kidney beans, rinsed
Two 15-ounce cans white beans, rinsed
1½ cups water
3 cups spinach
2 cups gluten-free shell pasta
Fresh basil for topping
Directions:
In a large pot, heat avocado oil and sauté carrots, onion, zucchini, celery and green beans for 5 minutes.
Add in broth, tomatoes, beans and water.
Bring soup to a boil then reduce heat and simmer for 15 minutes.
Add spinach and pasta, stirring until well-combines and allow to simmer for 20 minutes, or until pasta is tender.
Allow soup to rest for 10 minutes then serve topped with basil.